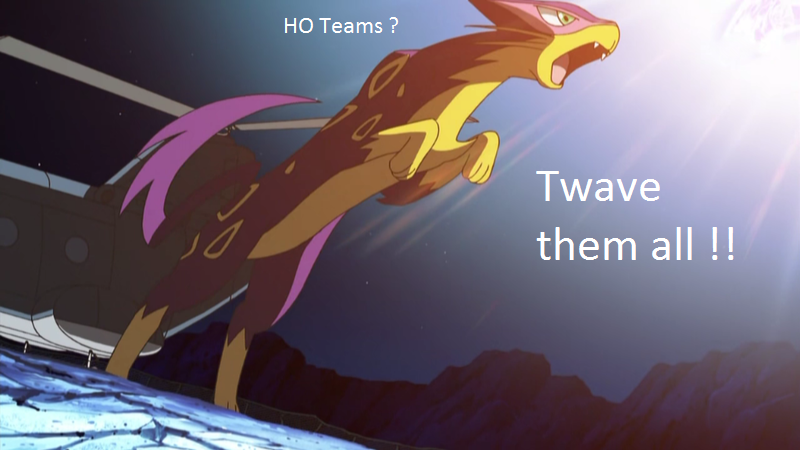 Hi there! Here is my 3rd Ubers RMT! And yeah, about the whole new ORAS Ubers metagame. Like a lot of teams played at the moment, mine is an Hyper Offence team. Whole new titans such as Mega-Rayquaza, Groudon-Primal and Kyogre-Primal appear and completely transform the previous XY Ubers meta. The new meta becomes extremely aggressive.
This team has got a very good success. I reached the TOP 10 ladder in 2 evenings from nothing, and I won an Ubers tournament with it (and the only I did yet)
Teambuilding :
First, my idea is to use some classic offensive Ubers pokemon: Darkrai, Geomancy Xerneas, and SD Arceus Normal.
I opted for Groudon-Primal as a powerful offensive Stealth Rock user and a Kyogre check thanks to Desolate Land.
And of course, my last offensive mon is a very powerful new Mega, and has the Dragon and Flying type. Do you guess who is he?
NICE! You're right! Mega Salamence! :)
Alright seriously, I see a lot of people using the POWERFUL Mega-Rayquaza for good reasons, but I decided to use MegaMence instead as it is surprisely strong too, and I always wanted to use it in Ubers since I saw him kicking asses in OU. Aerilate, OP stats, and Intimidate finally make me use this great mon in my Ubers team.
OK OK, the last mon I choose is...
The weirdest poke for some players, the most annoying and hating pokemon to face in Ubers for some others...
The NU pokemon who is a Solrock's good friend...
This is a prankster pokemon, with access to Taunt, STAB Knock Off and Twave.
I'm not gonna Lie... It's a Liepard !
I guess you will say to me, why a NU pokemon in Ubers, who is also exposed to many Extremspeeds ??
The details and the presentation of my team is just below!
Chatroll (Liepard) @ Focus Sash
Ability: Prankster
Shiny: Yes
EVs: 252 Atk / 4 Def / 252 Spe
Jolly Nature
- Fake Out
- Taunt
- Thunder Wave
- Knock Off
I may be the only one to use it on the ladder. But this pokemon is so good, seriously. Chatroll, the shiny Liepard, give to my offence team great utility. It's excellent against opposing HO teams.
A pokemon who can Thunder Wave threats to revenge kill them? Yes of course, but not only. Liepard is also my main response to Deoxys Leads, who can annoy my team by placing Hazards and Taunt my sweepers to prevent them using boosting moves...
Basically, Fake Out is here to break sashes. But bring me also momentum, guess possible opponent items... and sometimes dealing a bit of damage on pokemon who want to Extremspeed me.
Against opposing HO teams, all I want to do is to Taunt and paralyze threats until Liepard die, which allow me to place a sweeper who can easily setup in the replacement. But if I could, I put Groudon-Primal first and use Stealth Rocks. Groudon's work is easier when the opponent is T-waved by Liepard (ex: Yveltal, Xerneas, Defensive Arceus). He can outspeed with SR and finish the opponent off if he doesn't switch out. And Groudon doesn't have to worry about be Taunted thanks to Liepard's job.
Knock Off is Liepard's main STAB. It KOes Deoxys after Fake Out (and Taunt), removes objects, and hits with honorable power most Ubers pokemon, especially Mewtwo.
Prankster Taunt is extremely useful to prevent Deoxys setting Hazards up, and sweepers like Xerneas using their boosting moves, without fearing the OHKO thanks to the Focus Sash.
Against occasional Stall Teams, Liepard is my trump card for causing great chaos with Knock Off and Taunt.
Ground pokes seems to be annoying against Liepard, but Mega Salamence can come on them. Also, beware of Scolipede who can kill Liepard through its Focus Sash with Pin Missile.
Morphee (Darkrai) @ Focus Sash
Ability: Bad Dreams
EVs: 252 SpA / 4 SpD / 252 Spe
Timid Nature
- Dark Void
- Nasty Plot
- Dark Pulse
- Sludge Bomb
My sashed special Sweeper. Thanks to Liepard's job, Darkrai can always survive one hit with its intact Focus Sash and can become a real monster once placed. Put something to sleep with Dark Void to gain a free Nasty Plot turn, then hit hard with Stab Dark Pulse. Use Sludge Bomb against main Dark resists: Fairy types. You can also use Darkrai to lead against some leads like Groudon-Primal and Mental Herb Shuckle, who seem to give trouble to Liepard.
Number 1 (Groudon-Primal) @ Red Orb
Ability: Desolate Land
EVs: 240 HP / 252 Atk / 16 Spe
Adamant Nature
- Stealth Rock
- Dragon Claw
- Earthquake
- Fire Punch
Groudon in its primal form is a really powerful pokemon, defensively and offensively. Not only by getting great boosts in Attack and Defense, but also by obtaining a new type, Fire, allowing him to hit very hard with Fire Punch, being immune to Will-O-Wisp, and resist Moonblast. To add, Desolate Land makes him a very reliable Kyogre check thanks to its water immunity. All these good points really help my team. Groudon is the chosen mon to put the very needed Stealth Rock. Earthquake and Fire Punch are his main Stabs and both deal great damage, and Dragon Claw is here to hit Mega-Rayquaza and Giratina. I opted for 100% accuracy moves because a miss can make the opponent harder to RK. A Stone Edge miss on SD LO Mega-Ray is something I don't want to see at all, seriously.
EK-47 (Arceus) @
Lum Berry
Silk Scarf
Ability: Multitype
EVs:
232 HP / 252 Atk / 24 Spe
252 Atk / 4 Def / 252 Spe
Adamant
Jolly
Nature
- Swords Dance
- Extreme Speed
- Shadow Force
- Earthquake
Bulky Lum Berry ExtremKiller Arceus. This version of E-killer can stomach at least one powerful hit, setup very easily Swords Dance, and hit pretty hard on everything who doesn't resist Normal with +2 Priority Extrem Speed. Without considering Liepard's Fake Out, he's my only priority user in my team. Shadow Force destroys Arceus Ghost and Giratina. Earthquake is for Steel and Rock types, and also Groudon-Primal. Lum Berry is chosen just in case the opponent try to send to Arceus a status to cripple it, and to not break the rythm of the Hyper Offence. But I consider Silk Scarf as another good item option to hit harder with Extrem Speed.
Repart change to outspeed Mega-Ray and get Speed tie with other Arceus. Silk Scarf to not die quickly by LO recoil.
Curse u tran (Xerneas) @ Power Herb
Ability: Fairy Aura
EVs: 104 HP / 28 Def / 252 SpA / 124 Spe
Modest Nature
- Geomancy
- Moonblast
- Psyshock
- Hidden Power [Ground]
XY Ubers God is still here. GeoXern is bulky, and VERY powerful. A Hyper Offence team doesn't have necessary a Xern check. If you Geo and keep Xerneas healthy enough to survive Extrem Speed assaults, that's pretty much gg. Get a huge boost with Power Herb Geomancy. Moonblast is his move of choice boosted by Stab, Fairy Aura, it's OP, nothing to say much. Psyshock hits occasional Poison Types, Blissey and Co, and Ho-Oh after Rocks. Hidden Power Ground destroys Heatran, hits hard Steels like Klefki and is super effective against Groudon-Primal. Oh well, and Victini.
GeoMence (Salamence) @ Salamencite
Ability: Intimidate
EVs: 252 Atk / 4 SpD / 252 Spe
Adamant Nature
- Dragon Dance
- Double-Edge
- Earthquake
- Roost
The Star of my team. This monster is forgotten with the big presence of Mega-Rayquaza. I choose him and I don't regret it. It hits VERY hard, that's insane! Intimidate the opponent, go Mega and setup just one Dragon Dance. You have enough power to KO full HP Xerneas and Arceus, with Aerilate Double-Edge! This move is devastating against everything who doesn't resist it. Main resistances are Rock, Steel and Electric types, that's why Earthquake is here. This move is also useful against blobs to not take huge recoil. With its good bulk, MMence can Roost in certain situations and recover the lost HPs by Double-Edge.
-> Double Edge is here over Return to ensure key OHKOs. Here are some calcs after a DD :

+1 252+ Atk Aerilate Salamence (145 base attack) Double-Edge vs. 252 HP / 0 Def Arceus: 388-457 (87.3 - 102.9%) -- 93.8% chance to OHKO after Stealth Rock

+1 252+ Atk Aerilate Salamence Double-Edge vs. 104 HP / 32 Def Xerneas: 459-540 (109.5 - 128.8%) -- guaranteed OHKO

+1 252+ Atk Aerilate Salamence Double-Edge vs. 248 HP / 252+ Def Lugia: 271-321 (65.3 - 77.3%) -- 18.8% chance to OHKO after Stealth Rock

+1 252+ Atk Aerilate Salamence Double-Edge vs. 4 HP / 0 Def Groudon-Primal: 301-355 (88 - 103.8%) -- guaranteed OHKO after Stealth Rock
Sadly I don't have replays yet because of some Smogon crashes :/
Threatlist:
- Mega-Rayquaza. Hmm, may I use Solrock again?
- Stone Edge offensive ground pokemon like Double Dance Groudon-Primal.
- Ditto, but with my two sashed pokemon he's not that problematic. Liepard can T-Wave it.
- Scolipede lead who is nearly guaranteed to put hazards.
Thank you everyone to read my RMT! I would be pleased to have your opinions about my team!
Rate My Team, and enjoy ORAS :)
Last edited: