The hidden Targent member.






Moderator
Approved by Kennedy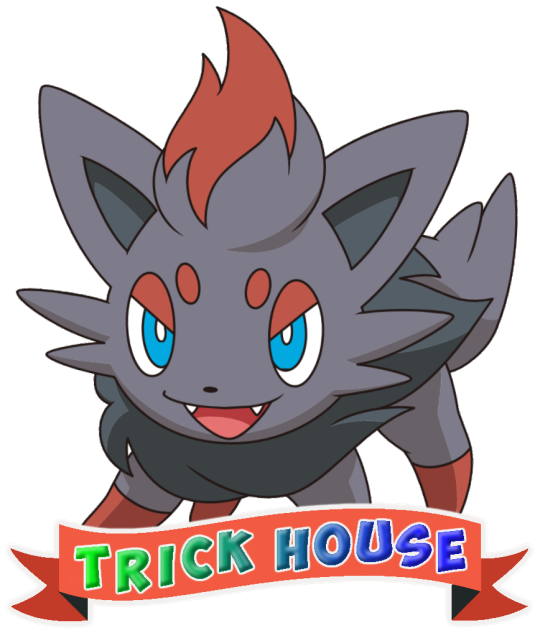 Hi there! Are you interested in battling on PS but are getting bored of regular laddering? Are you looking for a way to spice up your Pokémon games both casually and competitively? Perhaps you've wanted to win a battle in Ubers using only NU or lower Pokémon, or win a battle using at least one move of every typing before the battle concludes? Then
Trick House
is the place for you!
In the Trick House we have challenges galore to try out. Currently we have ladder challenges that can be attempted in battles on the ladder on PS, and in the future we have plans to bring in-game challenges (challenges in the physical games), fast-paced challenges, minigames and more to the forefront!
This is our current set of challenges so you can have a general idea of how they work:
EASY
- "RU" in OU [Amaluna]
Use only pokemon who have "ru" in their name. (CameRUpt, HaxoRUs, TentacRUel, etc)
In any of the eligible formats.
https://bulbapedia.bulbagarden.net/wiki/List_of_Pokémon_by_name
- Ctrl + F "ru"
- Weather Strats [Hielito]
Every Pokemon on your team must have an ability or move relating to weather
Ability Example: Sand Force, Slush Rush, Drought. Move Example: Solar Beam, Weather Ball, Rain Dance
- 0 Moveset Coverages
Win a matchup only using moves with the same type as the mon. Including status moves.
Protean / Libero is allowed.
MEDIUM
- I won't need more [Sificon]
Win a battle only using moves that have 8 PP (5 base PP)
https://bulbapedia.bulbagarden.net/wiki/List_of_moves
- Vampire's Grip [Lucario]
Win a game using only moves that drain your opponent's health to replenish your health. This applies to ALL moves used.
https://bulbapedia.bulbagarden.net/wiki/Category:HP-draining_moves
HARD
- Consonantal Crisis - [Loading0987]
Use a team consisting of Pokemon whose names share no consonants.
- Gen one-er [Loading0987]
You may not use items, and you can only use moves and Pokemon available in Gen 1
If you're interested in giving Trick House a look, join us in our Discord server. You'll need to be in this server if you want to participate in the challenges we offer since this is currently the main platform we use. Please make sure to read over the guidelines of how to submit a challenge and the rules for completing challenges when you get there! You can check the Leaderboards
here
.
Last edited: