Introduction
I made this team around mega lopunny and it's been pretty lit to use. It's pretty coincidental because the 1st semi successful team I ever made in back in oras which was when I started playing was also a lopunny team, so this actually means something to me. I'd like to share the team with all of you today, hopefully you all like it.
Just thought I'd include this picture to show that particular team I had in oras when I was even more nooby than I am now and the highest I climbed with this particular team.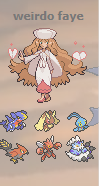 Teambuilding
Lopunny is the best mega imo. It's not as powerful as medicham, pinsir, etc. but it's faster than ashgren and koko but has good utility options which allowed me to win a lot of games that I otherwise wouldn't have won. The team itself aims to support lopunny as much as possible. My zygarde is the standard dd dragon z set to weaken landot for my lopunny. Landot is the standard defensive set. Ferrothorn set spikes to help lopunny and zygarde. Tapu lele is just an extremely potent wallbreaker that can support almost any cleaner or revenge killer, lop included and I have my own set which I love to use and will go into detail about that later. 1 knows lele is good when it actually 1v1s heatran. ._. Latios is the standard scarf set and it definitely appreciates lele weakening steels for it.
Sets
Lopunny-Mega (F) @ Lopunnite
Ability: Limber
EVs: 252 Atk / 4 SpD / 252 Spe
Jolly Nature
- Return
- High Jump Kick
- Power-Up Punch
- Encore
This, is the best lop set imo. I'm not a fan of fake out / ice punch / hjk / return cuz pup + encore just does so much more for your team like allowing to break past toxapex / clef and encore fat or sweepers into moves they don't wanna lock themselves into, especially with hawlucha cuz ppl on ladder seem to think I use fake out ice punch and can use my lop as setup fodder. That's really big cuz everyone who has played high ladder should know that ppl love spamming hawlucha medicham koko offense with sash/helmet landot, which I'm really tired of seeing cuz that kind of team lets you go on autopilot and climb to 1900s on the ladder with minimal thinking, which is really unfair imo.
Zygarde @ Dragonium Z
Ability: Aura Break
EVs: 4 HP / 252 Atk / 252 Spe
Adamant Nature
- Thousand Arrows
- Outrage
- Extreme Speed
- Dragon Dance
Zygarde is primarily used as a landot destroyer primarily to free up my lopunny which gets walled by landot cuz I don't run ice punch on it and a sweeper secondarily. The set is standard and doesn't need much explanation. It also serves as my tran switchin for ferro since most tran run magma storm and not plume anyways.
Landorus-Therian @ Leftovers
Ability: Intimidate
EVs: 252 HP / 188 Def / 68 Spe
Impish Nature
- Stealth Rock
- Earthquake
- Hidden Power [Ice]
- U-turn
Standard defensive landot. I ended up running this much speed on landot cuz of recent rmts like the ultraballz rmt whereby the landot had so much speed and every1 starts running so much speed on landot and I was getting tired of my landot moving last. Rocky helmet definitely helps with pinsir and sash drill leads to ensure rocks go up but i personally prefer lefties to check zygarde better.
Ferrothorn @ Leftovers
Ability: Iron Barbs
EVs: 252 HP / 48 Def / 208 SpD
Careful Nature
- Spikes
- Leech Seed
- Power Whip
- Thunder Wave
Also standard spikes ferro set cept with twave. The reason I use twave on this is to cripple mainly hawlucha, which as I mentioned earlier anyone who has played higher ladder a lot should know how much koko lucha medicham offense is being spammed on there. If one was to be confident they could stop hawlucha from sweeping them, knock off or gyro ball is def 100% better lol.
Tapu Lele @ Twisted Spoon
Ability: Psychic Surge
EVs: 252 SpA / 4 SpD / 252 Spe
Timid Nature
IVs: 0 Atk
- Psyshock
- Moonblast
- Calm Mind
- Hidden Power [Fire]
This is my favorite tapu lele set. Smogon dex describes 4 atks fight z lele as the best right now but I disagree about that. W/o cm, lele honestly cant break fatter teams. Once you use ur z fight, that's it cuz lele doesn't really have means of breaking through especially stall. It's a bit hard to explain this but anyone who uses lele a lot should know this. This is also my stallbreaker. Lele forces so much switches people like landot switching out of lele cuz ppl assume ur specs when ur actually not lol, so it definitely benefits from hazard support and also is my lead to anti medicham teams. Psychic terrain also makes my lop job of rking ashgren that much easier. Also, I like bluffing choice cuz sometimes ppl are lazy to calc and they think I'm specs with that dmg.
Latios @ Choice Scarf
Ability: Levitate
EVs: 252 SpA / 4 SpD / 252 Spe
Timid Nature
- Draco Meteor
- Psyshock
- Defog
- Trick
The standard scarf lati set. Emergency defogger with trick which is honestly really good to cripple fat mons on the switch. The more I use scarf lati, the more I come to realise how good trick really is and I'd use it almost always over twave or water coverage for tran unless I really needed those moves.
Threats
I honestly think this particular can win almost against any type of team if played out optimally but in terms of unfavorable matchups, these would be it. Hawlucha is just a big nuisance for any offensive teams. As for psyspam, feels bad when ferro is my lone steel type preventing zam from reking me cuz of high speed and power.
Replays
https://replay.pokemonshowdown.com/gen7ou-678400857
- I got to 1944
https://replay.pokemonshowdown.com/gen7ou-671855684
- Winning vs. hawlucha offense cuz lop is just that great
https://replay.pokemonshowdown.com/gen7ou-671891341
- Winning vs. same guy
edit got more replays....
https://replay.pokemonshowdown.com/gen7ou-670910634
- Lop saves the day
https://replay.pokemonshowdown.com/gen7ou-670915338
- Lop definitely irritated his team
I actually don't enjoy saving every single ladder replay whether I win or lose cuz honestly ppl will try to scout ur replays to get an upper hand and I definitely do not like ppl doing that to me. Also, the reason why I encourage ppl to not go around saving every single ladder replay they win cuz ur a fool if u do that. If u wna do that, at least hide ur games. I didn't bother to save those games but by some chance, I chanced upon this video so might as include it. I lost 1 game vs. a zam team and played my way out of the same teams.
8:10
and uhh
33:32
for the 2 games, also thanks for shittalking me. :^)
Conclusion
I guess the only person I'd really to shoutout to is
thicctornadus
for a pal and listening to me ramble pointless rubbish about mons and also for insisting 4 atks lele is better (no, it is not! xD)
Let me know what you guys think abt this yea! :D
Importable
Lopunny-Mega (F) @ Lopunnite
Ability: Limber
EVs: 252 Atk / 4 SpD / 252 Spe
Jolly Nature
- Return
- High Jump Kick
- Power-Up Punch
- Encore

Zygarde @ Dragonium Z
Ability: Aura Break
EVs: 4 HP / 252 Atk / 252 Spe
Adamant Nature
- Thousand Arrows
- Outrage
- Extreme Speed
- Dragon Dance

Landorus-Therian @ Leftovers
Ability: Intimidate
EVs: 252 HP / 188 Def / 68 Spe
Impish Nature
- Stealth Rock
- Earthquake
- Hidden Power [Ice]
- U-turn

Ferrothorn @ Leftovers
Ability: Iron Barbs
EVs: 252 HP / 48 Def / 208 SpD
Careful Nature
- Spikes
- Leech Seed
- Power Whip
- Thunder Wave

Tapu Lele @ Twisted Spoon
Ability: Psychic Surge
EVs: 252 SpA / 4 SpD / 252 Spe
Timid Nature
IVs: 1 Atk
- Psyshock
- Moonblast
- Hidden Power [Fire]
- Calm Mind

Latios @ Choice Scarf
Ability: Levitate
EVs: 252 SpA / 4 SpD / 252 Spe
Timid Nature
- Draco Meteor
- Psyshock
- Defog
- Trick
Last edited: