Uh, uh, uh, uh (Yeah)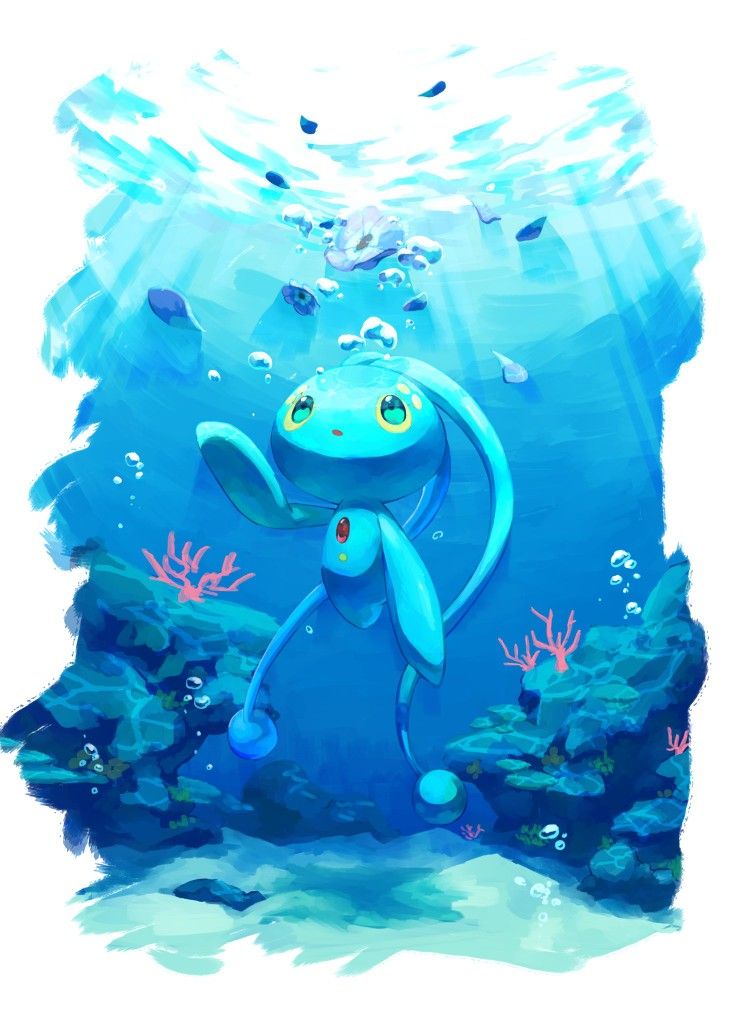 Hey guys, Teambuilding is something i always loved doing, one day my friend Sayuze thought about making a Manaphy rain team, so he hit me up and asked if i could make one for him and i decided to make a Manaphy Rain with included water spam to break most water resists around 2018's OLT meta-game and last cycle Ash Qualified and had a decent run, almost making playoffs despite only really using this rain team which is almost unheard of by itself nowadays. i have decided to update this RMT, to edit some old outdated sets and go into further detail about this team as after its creation in 2018, as it also became very prominent in 2019's OLT's cycles, becoming one of the most defining teams of Gen 7 & the face of Rain, when i made this team i made it in the intent to be similar to xtra$hine's Birdspam but instead of strong flying types, & Set up sweepers, its strong water types breaking each others checks & counters and paving a way to victory, This team heavily effected the metagame as the OLT meta had began building against it and many people qualified for OLT with this team, some players qualified using the more recent version with Tapu Koko over Greninja to help with Dark Pulse & Hurricane, and some just used the classic water spam version with Ash Greninja




/
/
--
In
tr
oduc
ti
on
--

Manaphy on rain is a complete terror as it destroys common water resists such as Ferrothorn & Toxapex, it eliminates the Stall & Balance matchup for rain which makes rain elevate to highs never seen before in gen 7, This team focuses on Waterium-Z Manaphy to break past bulky grass types such as Tapu Bulu, Ferrothorn, & AV Tangrowth and even special walls such as Chansey so Ash Greninja or Tapu Koko can clean late game. I first built this when my good friend Sayuze wanted help building a Manaphy team with a set that High Impulse had made iirc with Tail Glow & Rest. but with some bulk and speed I decided to cut down the bulk that set had and go for max speed to outspeed Banded Zygarde. With Zyagrde banned around early summer i decided to make a spread similar to High Impulses but to ditch the Speed and go full on max HP to become as Bulky as possible, When making the team at first i added Chople Ferrothorn over Magearna to Lure SD Tapu Bulu & with enough attack investment to OHKO Mega Alakazam which is a huge threat to rain builds. after some time Figy Berry is just the most optimal choice as it frees up moveslots on Ferrothron and makes Mega Swampert and Ash Greninja much more threatening. Standard Ash Greninja is the way to go here as Hydro Pump in rain can 2hko a knocked off Chansey from the help of teammates, Spikes Ash Greninja is the most common option to pressure common builds and to destroys Shedinja on stall.I also added Superpower Mega Swampert to punish Ferrothorn & Scarfed Kartana 2 very big threats to rain builds such as this, Stealth Rock or Sub are both fine options however. Tornadus was added to check mons such as Kartana, Tapu Bulu, & Tangrowth & with Metronome Tornadus can pressure Ferrothorn, Celesteela, & Toxapex which is really helpful on a build like this. Peliper can run Pursuit to trap Shedinja if you decide to run Ice Beam on Ash Greninja & Wiki Berry is a fine option on Manaphy if your Z move slot is occupied by another Pokemon, this Rain build is a good template for Building rain as other than Manaphy & Greninja the other 4 are pretty much staples on common rain nowadays.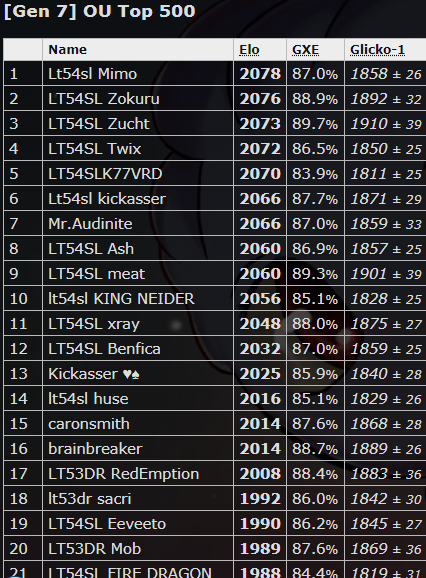 https://www.smogon.com/forums/threads/olt-v-discussion-thread.3639258/page-2#post-7886835
https://www.smogon.com/forums/threads/olt-vi-discussion-thread.3652748/
--
In D
ep
th Buildin
g Pro
cess
--

At first I knew i wanted the combination of Mega Swampert, Waterium-Z Manaphy, & Ash Greninja, Pelipper is self-explanatory as it is the most viable Drizzle mon in OU.






Now that i had the offensive core now i needed a better a defensive one, I then decided to add Ferrothorn to check Psychic/Fairy Types and provide a water resist.





Lastly i added Tornadus to check mons such as Kartana, SD Tapu Bulu as both are very troublesome for this team.


--
In
De
pth
Lo
ok --

Pe

lipp

er

@ Damp Rock
Ability: Drizzle
EVs:

2

48 H

P

/

2

5

2 D

ef

/

8

Sp

D


Relaxed Nature
IVs: 0 Spe
- Knock Off
-

U-

tur

n


-

Sc

al

d


- Roost

One of the most important (If not the most important) mon on any rain team, I run max defense on this to check Mega Swampert as efficiently as possible, it helps pivoting with Physical attackers a lot as well. Knock Off is a amazing tech as it hits every water resist & Chansey which allows Ash Greninja to 2hko with Hydro Pump. Pursuit is a funny tech you can run for Shedinja but Knock Off is much preferred to abuse Chansey switch ins & Water/Grass types that try to switch in. U-turn allows Pelipper to pivot in this teams offensive threats such as Manaphy & Mega Swampert & forms a nice pivoting core with Tornadus. Scald & Roost is self-explanatory on this set as it provides Pelipper with reliable water Stab & reliable recovery.



Sp

read Explanation
Standard max max Pelipper.




Gr

en

inj

a-A

sh

@ Choice Specs
Ability: Battle Bond
EVs:

2

52 Sp

A

/

4

Sp

D

/

2

52 Sp

e


Timid Nature
-

Hy

dro Pu

mp


- Dark Pulse
-

Wat

er Shur

iken




-

S

pike

s



Greninja is the main cleaner & revenge killer as it has solid speed even outside of rain, Hydro Pump is a massive nuke in rain and it allows Ash to evolve easily. Fairly standard EVs allow Ash Greninja to hit as hard & to be as fast as possible. Spikes give pressure to the opposing side & snipes Shedinja trying to cheese Manaphy. Pair this with Spikes Ferrothorn to form an insane double spiking core that make this team even more hard to deal with. Ice Beam is a nice option that lures mons such as Tapu Bulu and punishes Tornadus while also sniping Mega Garchomp. evolving Ash Greninja is very rewarding, as it becomes a water type Mewtwo once it evolves & becomes almost impossible to deal with once Battle Bond activates.



Sp

read Explanation
Standard max max Ash-Greninja.



Sw

ampert-M

ega

@ Swampertite
Ability: Damp
EVs:

4

H

P

/

2

52 A

tk

/

2

52 S

pe


Jolly Nature
-

W

aterfa

ll


-

Ea

rthqua

ke


-

Ice Punch


-

Ste

alth R

ock

/ -

Su

perpow

er /

-

Su

bstit

ute



Mega-Swampert makes a excellent core with Pelipper, Blocking Volt-Switch is amazing for rain teams & Mega Swampert is a really hard mon to switch into, Its base 150 attack & STAB combination make Swampert one of the most threatening Pokemon on rain builds. Max ATK & Speed allow Mega-Swampert to hit as hard & as fast as possible, Earthquake pressures Toxapex which is very important on rain builds, Stealth Rock is the most common option as Mega Swampert forces switches making it a very effective Stealth Rocker. Superpower is very nice here, as it does alot to Ferrothorn as Ferrothorn is a big threat for this team. Substitute is also a amazing option as it makes Mega Swampert even harder to revenge kill. sometimes its best to even sack Mega-Swampert if necessary to get a heavy hit off on Ferrothorn with Superpower as a last ditch effort to have Greninja clean.



Sp

read Explanation
Standard max max Mega-Swampert.




Ma

nap

hy

@

W

ateriu

m Z


Ability: Hydration
EVs:

248 HP

/

236 SpA

/

24 Spe


Modest Nature
IVs: 0 Atk
- Tail Glow
-

S

ur

f


-

Psychic

/ -

Ic

e Be

am


-

Rest



Manaphy is the MVP on this team, Waterium-Z Boosted with a Modest Nature destroys anything that does not have Water Absorb as even water resists get OHKO'd by a boosted Hydro Vortex. Modest Nature is so Manaphy can have a good chance of OHKO'ing mons such as Ferrothorn & OHKO'ing AV Tangrowth. Ice Beam is a tech Mob Barley used on a variation of my team he made that in conjunction with Waterium-Z Manaphy can destroy Mega Latias & Protect Tapu Bulu without 50-50's while also having a roll to OHKO AV Tangrowth. Rest is the preferred option on any Rain Team as it makes Manaphy a insane threat and makes it one of the most dangerous breakers in the entire tier.



Sp

read Explanation
Modest Manaphy allows you to have a good chance to OHKO Ferrothorn,


+3 252+ SpA Manaphy Hydro Vortex (175 BP) vs. 252 HP / 208+ SpD Ferrothorn in Rain: 328-387 (93.1 - 109.9%) -- 93.8% chance to OHKO after Stealth Rock and Leftovers recovery




Fer

roth

orn

@ Figy Berry
Ability: Iron Barbs
EVs:

248 HP

/

8 Def

/

252 SpD


Careful Nature
- Spikes / - Stealth Rock
- Knock Off
-

T

oxi

c


-

P

ow

er W

h

ip



Ferrothorn is a much much needed Water Resist & Fairy Resist on this team, Ferrothorn is so important on this team to deal with the likes of regular & Mega-Gyarados & Ash Greninja. Toxic is needed here to check CM Mega Latias especially on variants without Ash Greninja, Knock Off hits other Ferrothorn which is manditory as this team is very weak to Ferrothorn otherwise. Spikes is here to help the team and form a double spiking core with Ash Greninja but Stealth Rock is also a fine option over Spikes to give Mega Swampert more moveslots.



Sp

read Explanation
Standard max max Ferrothorn.



Tor

nadus-Theri

an

Rocky Helmet
Ability: Regenerator
EVs:

248

HP

/

8 S

pA

/

252 Spe


Timid Nature
-

Hu

rrica

ne




- Knock Off


-

Ut

u

rn


-

Defog



Tornadus is an amazing Pokemon on rain builds as Hurricane becomes a 100% accuracy 110 bp STAB move that becomes hard to switch into, U-Turn is the preferred option here as it allows Tornadus to bring in the Water breakers, However Taunt + Knock Off Tornadus is fantastic on rain as it pressures Toxapex, Celesteela & Ferrothorn, Knock Off removes Ferrothorns Leftovers & Taunt prevents it from leeching & stops set-up sweepers such as Reuniclus & Magearna. Tornados is the Defogger of choice here as its the most consistent Defogger in the tier.

Spread Explanation
Standard max max Tornadus.



--
Th
reat-li
st
--
Meg
a-A
lak
az
am
Alakazam is the biggest threat to rain teams regardless of what version it is, Make sure u keep Mega Swampert healthy at all times and position yourself in a manner where Mega Alakazam doesn't get any free turns.

Ash-Greninja
Original version doesn't have a solid Dark resist so Ferrothorn can get worn down pretty easily, Try to play carefully around it & do not let it evolve,


Tor

nadus-Theri

an


This team has no Flying resist on the original version so Tornadus is a huge problem, Try to pressure it with Mega-Swampert & Ash Greninja as much as possible,





Fer

roth

orn
Ferrothorn is very annoying for this team, Superpower Mega-Swampert & Taunt Knock Off Tornadus can check it but try to play smart around it,




Pyu

kum

uku
Without Energy Ball on Manaphy Pyukumuku Stall can be really hard to break,







--

Replay

s & Showdown Videos

--





Aye shout-out to Blunder for getting this game live, I think it was a great show-case of how the team,
Also check his channel out he makes great content. Shoutouts to Renny for going in depth on the team as well.




https://replay.pokemonshowdown.com/smogtours-gen7ou-392707
A really good & close match respect 2 both players SoulWind & Lopunny Kicks

https://replay.pokemonshowdown.com/smogtours-gen7ou-393736
A game with Ash KetchumGamer & XxKidofDeathxX

https://replay.pokemonshowdown.com/smogtours-gen7ou-393900
Here's a game with my good friends Twixtry & robopoke

https://replay.pokemonshowdown.com/smogtours-gen7ou-392560
The @Redempton & Googly game which series of games was fun to watch imo

https://replay.pokemonshowdown.com/smogtours-gen7ou-396015
https://replay.pokemonshowdown.com/smogtours-gen7ou-396025
https://replay.pokemonshowdown.com/smogtours-gen7ou-398812
https://replay.pokemonshowdown.com/smogtours-gen7ou-431346
Three more games with Ash KetchumGamer vs blarghlfarghl & SoulWind & SPL X Finals game Blunder vs Empo.

Shoutouts to Paycard for spamming this and getting #1 with this a while back before OLT i see you lol.



-- Ash Version--
-- Koko Version--



/


​
Last edited: