INTRODUCTION
first of all good day for all this is my first team that I publish and I ask please help me to improve
it I have been playing many games but I do not raise more than 1600 and that worries me without
more to say here I present my team.
1)MEGA PINSIR
malevolocucarachon (Pinsir-Mega) @ Pinsirite
Ability: Hyper Cutter
EVs: 4 HP / 252 Atk / 252 Spe
Jolly Nature
- Swords Dance
- Return
- Quick Attack
- Earthquake
is a very powerful mega that with some sword dance becomes almost unstoppable
(although low to uubl) but sige being a good pokemon movements are the typical return
by stanb thanks to its ability quick attack by preority and earthquaker for
heatran, tyranitar.mawile .magearna and sword dance to raise the attack to impressive levels.
2)TAPU BULU
Centauro (Tapu Bulu) @ Choice Scarf
Ability: Grassy Surge
Shiny: Yes
EVs: 4 HP / 252 Atk / 252 Spe
Jolly Nature
- Horn Leech
- Wood Hammer
- Stone Edge
- Superpower
my choice scarf user chose it with that variant to surprise one of his check
tornadus-t of 2 stone edje es ohko the jolly nature to pass threats like mega lopunny,
koko and give them ohko with Horn Leech, Wood Hammer super power
for the annoying ferrothorn that appear to stop him.
3)HEATRAN
Erectus acerum (Heatran) @ Leftovers
Ability: Flash Fire
EVs: 252 HP / 252 SpD / 4 Spe
Calm Nature
IVs: 0 Atk
- Magma Storm
- Earth Power
- Protect
- Toxic
my fairy check and psychic as latios (no mega), alakazam
and lele.los ivs 252hp, 252spd and 4 spe to pass other heatran
without investment protec and toxic support, magma storm to damage
little by little to their check as landorus, rotom-wash and earth power for other heatran.
4)MAGEARNA
maricarmen (Magearna) @ Fairium Z
Ability: Soul-Heart
EVs: 252 HP / 4 Def / 252 SpA
Quiet Nature
IVs: 0 Atk / 0 Spe
- Trick Room
- Fleur Cannon
- Focus Blast
- Ice Beam
another great pokemon the variant trick room is the best I've tried
since with it I can beat mega swampert and kingdra in rain and easily
beat the sticky Web fairium z teams to give ohko quickly and upload the attack.
5)HAWLUCHA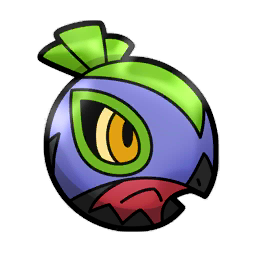 Luchahaw (Hawlucha) @ Grassy Seed
Ability: Unburden
Shiny: Yes
EVs: 80 HP / 252 Atk / 76 SpD / 100 Spe
Adamant Nature
- Roost
- High Jump Kick
- Acrobatics
- Swords Dance
The sweeper when there is no hope comes hawlucha and
traces the game after a sword dance.
the movements are copied from smogon and the
ivs are to overcome other hawlucha.
6)LANDORUS-T
Perrocoptero (Landorus-Therian) @ Rocky Helmet
Ability: Intimidate
EVs: 252 HP / 252 Def / 4 SpD
Impish Nature
- Knock Off
- Earthquake
- Stealth Rock
- Defog
the one who places the rocks removes it mostly from first but I do not end up dying very fast the ivs are to make it as defensive as possible and check threats like mega charizardx, kartana and other landorus.knock Off to remove possible objects to celesteela , ferrothorn because it bothers you a lot.
CONCLUSION
the team is good but I need suggestions to improve. Here are some replay to see
how the team works thank you very much I hope your opinions
REPLAYS
1)
https://replay.pokemonshowdown.com/gen7ou-943690164
2)
https://replay.pokemonshowdown.com/gen7ou-943688872
(team s
ticky Web
)
3)
https://replay.pokemonshowdown.com/gen7ou-943686357
(team trick room)
4)
https://replay.pokemonshowdown.com/gen7ou-943675504
(tapu bulu scarf surprising )
5)
https://replay.pokemonshowdown.com/gen7ou-943669906
(team sand)