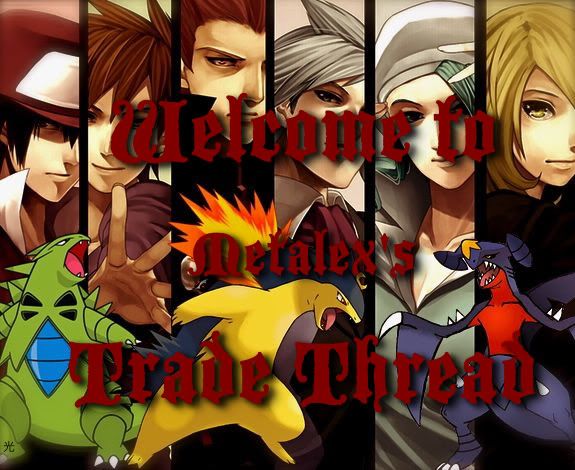 My Banners were made by Robovirtuoso
News

(March 21st
2011)

I will trade Pokemon from both gen4 and gen5

Contents
[Quick Links]
Wants
Trophy case
Kanto
Johto
Hoenn
Sinnoh
Unova
Pokemon XD
Little Cup
Rules
Of My Thread
[

Read Them before posting

]
Absolutely NO Hacks! That means Pokemon generated from Pokesav
And external devices like Action Replay

I cannot stress this rule enough and is my number 2 rule

DO NOT COPY AND PASTE MY FORMAT!!!!!
This goes for redistibutables, If you get a redistributable Pokemon and wish to add it to your thread
please don`t copy and paste it off my thread
, It's not hard to come up with your own format so don't be lazy..

I trade both 4th generation and 5th generation. Most of my Pokémon will be on a 4th gen cartridge

You cannot be ICBB or on the Smogon Blacklist
Do NOT PM ME POST HERE! VMs are aloud after we agree to trade..

You need a trade thread to trade with me sorry, I don't trust other forums with all the
hacks circulating around these days
[You can still trade me if you can verify the Pokemon you offer to me are legit]

I do not want level 100 Pokemon EVER! DO NOT OFFER ME THEM!

I prefer Pokemon in matching balls than bred unless its for a specific egg move
Follow redistribution rights
[Semi-redistributable means you can trade others can not]
[Fully-redistributable means you can trade on Smogon only]
[Non-redistributable means you cannot trade these anyway]

I will only offer my own bred Pokemon or breeding projects done for me for 2 Smogon redistributables
The rest = 1 credit or 1 Pokemon (Semi-Non-Fully redis)


Trainer Information
[ ID's | SID's | FC's ]
Platinum

( For most trades )
OT: MARLIN
Trainer ID: 34555
SID:
58318
Friend Code: 4598 6539 1526

Decent Shiny spreads
[For personal use till I learn how to capture RNG]

PID: 618A04B8 (Adamant, ability 0) 29/27/30/30/25/28 (Seed: 340F059E, Delay: 1438, Method 1: 55, J (synch): 3, J (no synch): 4) HP Fire 43
PID: B823DD17 (Adamant, ability 1) 28/31/27/20/21/31 (Seed: FE050568, Delay: 1384, Method 1: 1061, J (synch): 1042, J (no synch): None) HP Grass 38

PID: 8652E366 (Timid, ability 0) 31/22/24/30/31/31 (Seed: 4C160576, Delay: 1398, Method 1: 7, J (synch): 2, J (no synch): None) HP Water 67
PID: E0C085F1 (Timid, ability 1) 30/27/26/29/27/31 (Seed: 37050744, Delay: 1860, Method 1: 41, J (synch): 18, J (no synch): 30) HP Ice 59

PID: 4339260B (Jolly, ability 1) 28/27/29/24/31/31 (Seed: 481502B6, Delay: 694, Method 1: 77, J (synch): 10, J (no synch): 16) HP Grass 56
PID: 35D250E1 (Jolly, ability 1) 29/31/26/20/26/31 (Seed: 2D0B0487, Delay: 1159, Method 1: 106, J (synch): 61, J (no synch): 79) HP Poison 59

PID: A186C4B6 (Impish, ability 0) 31/31/29/31/27/28 (Seed: 52010B0B, Delay: 2827, Method 1: 93, J (synch): 2, J (no synch): None) HP Ice 62
PID: 3AB85F88 (Impish, ability 0) 31/26/31/27/29/27 (Seed: C3150455, Delay: 1109, Method 1: 305, J (synch): 177, J (no synch): 178) HP Dragon 49


HeartGold

( For trades and my battling cartridge )
OT: Marlin
Trainer ID: 64213
SID:
38407
Friend Code: 4255-1383-4302

Shiny Capture spreads

PID: 63020FD4 (Impish, ability 0) 30/31/31/15/31/29 (Seed: 491502C7, Delay: 711, Method 1: 595, K (synch): 456, K (no synch): 500) HP Dragon 64
PID: 83D0EF05 (Careful, ability 1) 31/30/29/7/31/30 (Seed: 711002ED, Delay: 749, Method 1: 1170, K (synch): 1125, K (no synch): None) HP Psychic 67
PID: 884EE499 (Bold, ability 1) 30/21/30/29/31/31 (Seed: 34010395, Delay: 917, Method 1: 192, K (synch): 166, K (no synch): 167) HP Ice 58
PID: 1D8E715B (Calm, ability 1) 31/16/30/30/31/27 (Seed: 2414034C, Delay: 844, Method 1: 157, K (synch): 124, K (no synch): None) HP Water 68
PID: 803BECE8 (Calm, ability 0) 31/25/31/28/31/30 (Seed: 991402D0, Delay: 720, Method 1: 1860, K (synch): 1841, K (no synch): None) HP Water 58
PID: 28834457 (Lonely, ability 1) 30/27/28/26/27/28 (Seed: BD100292, Delay: 658, Method 1: 97, K (synch): 6, K (no synch): 14) HP Fire 62
PID: 9CC0F010 (Naive, ability 0) 29/29/25/31/30/30 (Seed: 0913022C, Delay: 556, Method 1: 615, K (synch): 600, K (no synch): 604) HP Bug 65
PID: F8A59476 (Naive, ability 0) 31/25/25/31/26/29 (Seed: 200C025C, Delay: 604, Method 1: 23, K (synch): 2, K (no synch): None) HP Steel 61
PID: 1F7173A3 (Quiet, ability 1) 31/7/30/29/29/0 (Seed: CF120588, Delay: 1405, Method 1: 761, K (synch): 704, K (no synch): 712) HP Steel 61



None-Shiny Capture spreads
[I can catch mostly any Pokemon with these spreads]


PID: 5EF76E6D (Modest, ability 1) 31/26/31/30/31/31 (Seed: 5D1303DC, Delay: 988, Method 1: 99, K (synch): 86, K (no synch): None) HP Grass 70
PID: 9684E96C (Impish, ability 0) 31/31/31/17/31/31 (Seed: 4E1003B2, Delay: 946, Method 1: 26, K (synch): 3, K (no synch): None) HP Dark 59
PID: 4ADEB47F (Impish, ability 1) 31/31/31/22/30/31 (Seed: A31305D7, Delay: 1495, Method 1: 15, K (synch): 8, K (no synch): None) HP Ground 70
Pokemon White Shiny Spreads
ID:
49409
SID:
32178
Seed: B4E969C8 - Full Seed: 25F9C8BC9C3B0E4B - Frame 1 - Nearby Shiny 121 - Encounter Slot 3 - Nature Bold - Ability 1 - IVs: 31/9/30/31/31/30 - Hidden Power Psychic 68 - 05/06/11 05:03:15 - Timer0 C7F - Keypresses Left-Up-R
Seed: E9B42829 - Full Seed: E9B42829EAB9D88D - Frame 1 - Nearby Shiny 822 - Encounter Slot 5 - Nature Jolly - Ability 1 - IVs: 31/31/31/22/31/31
Hidden Power Electric 70 - 05/26/11 02:43:55 - Timer0 C7F - Keypresses A-R-Y


Seed: B26C7573 - Full Seed: B26C7573ECCD5E95 - Frame 1 - Nearby Shiny 341 - Encounter Slot 4 - Nature Bold - Ability 1 - IVs: 30/15/30/31/31/30
Hidden Power Electric 70 - 05/05/11 19:22:35 - Timer0 C7F - Keypresses Right-R


Seed: 9AD17A06 - Full Seed: 9AD17A063833C7E4 - Frame 1 - Nearby Shiny 121 - Encounter Slot 5 - Nature Bold - Ability 1 - IVs: 30/30/31/30/31/30
Hidden Power Fire 70 - 05/26/11 20:57:30 - Timer0 C7F - Keypresses Left-R
W
hitelist
[ These Smogoner's have helped me out in the past or just good people to trade with ]
​
KarlMee1234

[My first trade thread partner on Smogon
]
Bakus

[
A fantastic person, Knew her on another website for awhile and she has
been a great friend to me on Smogon aswell, Has helped me with
learning how to RNG ;)]
Skippy The Great

[Knew Skippy on another website, A good guy to trade with
]
Cool Ivysaur

[I EV trained for him for awhile, hes a nice person
who has given me trading rights
to a few of his amazing caught Pokemon]
Miria

[She`s just very friendly to talk to and helped me out with EV training
and got me into the Little Cup metagame]
Arcticuno
[A great guy, he had the patience to answer all my RNG abuse question's, Couldn't have done it
without his help. Thank you!]


AR Codes I Use
Fast Hatch
(I do not use at all I will post under Pokemon if used)
Iv Check
Ev Check
Cloning
All Berries/Medicine/Pokeballs
100% Capture rate (I don`t really use if at all)
Credit System
Credits I have
Bowser
5 credits
[EV training]
Dusk252
5 credits
[EV training]
Zerohorus 9 credits
[Breeding Projects]


icemanu

3 credits


[Calm Zapdos CP]



Credits I owe
Emerald Ryu
has 6 credits
Justinenough215
has 3 credits
Robovirtuoso
has 10 credits
Expert Evan
Has 2 credits
Diabolico
Has 6 credits
Fenix54
Has 3 credits
icemanu
Has 3 Credits
Saeglopur
Has 2-4 Credits
​