Metronome Gengar Bulky Offense (OU Team)
Introduction:
Hey RMT! So I wanted to build a bulky offensive team around Gengar with a metronome, mainly because it's really fun to use. This is just an intro, I don't know what else to say so let's just get right into the team.
The Team:
Of course started with gengar because I wanted to be able to try out the metronome set to surprise bulkier pokèmon that would try to switch in on him.
Gengar @ Metronome
Ability: Cursed Body
Shiny: Yes
EVs: 4 HP / 252 SpA / 252 Spe
Timid Nature
IVs: 0 Atk
- Shadow Ball
- Sludge Wave
- Taunt
- Focus Blast
Scizor is mainly here to help soak up hits, and act as a defogger. Also, since this is a bulky offense team I used scizor because he's great at pivoting out with u turn.
Scizor @ Scizorite
Ability: Light Metal
EVs: 248 HP / 252 Def / 8 SpD
Impish Nature
- Defog
- U-turn
- Bullet Punch
- Roost
This may seem odd, but since ferrothorn is great at setting up spikes and just being annoying in general, I used him. Also another big reason I needed him was to help with tapu koko, which is a big threat to the rest of my team.
Ferrothorn @ Leftovers
Ability: Iron Barbs
EVs: 252 HP / 48 Def / 208 SpD
Careful Nature
- Spikes
- Leech Seed
- Power Whip
- Protect
Shouldn't be a surprise. Of course landorus-t is on the team, he fits so well, as usual for teambuilding. I needed a rocker, ground resist, and electric immunity, as well as a great pivot, and since landorus fulfills of those roles, I added him.
Landorus-Therian @ Rocky Helmet
Ability: Intimidate
EVs: 252 HP / 240 Def / 16 Spe
Impish Nature
- Stealth Rock
- Earthquake
- Hidden Power [Ice]
- U-turn
I wanted a good cleaner, and since gengar can help weaken mega venusaur, I thought that a scarfed keldeo could be a great revenge killer and cleaner.
Keldeo @ Choice Scarf
Ability: Justified
EVs: 252 SpA / 4 SpD / 252 Spe
Hasty Nature
- Hydro Pump
- Secret Sword
- Stone Edge
- Scald
Hoopa Unbound was the final member, as I needed a strong wallbreaker on this team. Hoopa Unbound can easily break through any team and on a bulky offensive team like this, it's fairly easy to get him in safely through pivoting.
Hoopa-Unbound @ Fightinium Z
Ability: Magician
EVs: 252 SpA / 4 SpD / 252 Spe
Timid Nature
- Nasty Plot
- Dark Pulse
- Psychic
- Focus Blast
Weaknesses:

Magearna is easily the biggest threat to my team. Of course it can be worn down by my pivots and be surprised with hoopa's z move, the team does have troubles switching into it.
Despite being worn down and surprised by gengar potentially, mega venusaur is definitely still a big threat to this team, as it easily walls keldeo and gengar. However it's not nearly as bad as magearna because it can be worn down by scald burns and stealth rocks.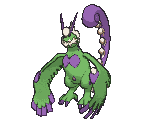 Tornadus Therian (and honestly flying types in general like mega pinsir) are giant threats to this team. I don't have anything that can really beat this thing, besides the scarf keldeo with stone edge but that isn't really good enough.
So that's my team! I know there are a lot of big holes, so any suggestions are appreciated.
Last edited: