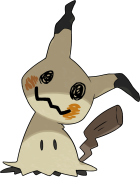 Mimikyu
​



Name -
Mimikyu
Number
- National #778
Type
-

/

Resists:

(x.25)
Immunities:

/

/

Weaknesses:

/

Ability: Disguise
- Once per battle, the shroud that covers the Pokémon can protect it from an attack.
Base Stats
- 55 HP / 90 Atk / 80 Def / 50 SAtk / 105 SDef / 96 Spe
Level Up
Wood Hammer

Splash
Scratch
Astonish
Copycat
Double Team

Baby-Doll Eyes

Shadow Sneak

Mimic
Feint Attack

Charm
Slash
Shadow Claw

Hone Claws

Play Rough

Pain Split
TMs
Work Up

Toxic
Bulk Up

Hidden Power
Taunt

Hyper Beam
Light Screen

Protect
Safeguard
Frustration
Thunderbolt
Thunder

Return
Leech Life
Psychic
Shadow Ball

Double Team
Facade
Rest
Attract
Thief

Round
Fling
Charge Beam
Will-O-Wisp
Embargo
Shadow Claw
Payback
Thunder Wave
Swords Dance
Psych Up

X-Scissor
Infestation
Dream Eater

Swagger
Sleep Talk
Substitute
Trick Room
Dark Pulse
Dazzling Gleam

Confide
Egg Moves
Grudge
Destiny Bond

Curse

Nightmare
Z-Moves
Breakneck Blitz
Savage Spin-Out

Never-Ending Nightmare

Bloom Doom
Gigavolt Havoc

Shattered Psyche
Black Hole Eclipse

Twinkle Tackle
Say Hello to the absolute safest switch-in in Pokemon history. Mimikyu is deceptive in more ways than just the obvious. Fantastic typing grant you a natural 3 immunities, meaning there are a plethora of attacks you can switch into and still maintain your Disguise on top of it. With additional methods of preserving your Disguise in the forms of moves like Substitute and Protect, it will make 55/80/105 defenses go much farther than they would on other pokemon. There are a few directions one could take Mimikyu in, both offensively as well as defensively.
Known Disguise Mechanics
Sunsteel Strike/Moongeist Beam ignore Disguise.
Disguise will not trigger on entry hazard damage or weather damage.
Disguise does not block status moves.
Disguise will be used up if the Pokemon hurts itself due to confusion.
Weakness Policy will not activate if Disguise is activated when a Pokemon is hit by an attack.
When a Pokemon with Disguise is behind a Substitute and is hit by an attack the Substitute will take the damage and Disguise will not be used up.
Sound and Infiltrator moves don't bypass Disguise, but can bypass Substitute to break the Disguise.

Disguise does not prevent flinching from Fake Out or other secondary effects from moves whose damage it blocks. (You can still be burned by Scald for example)
Multi-hit moves like Water Shuriken deal damage after the first hit. Skill Link pokemon are very threatening to Mimikyu.
Swords Dance
Mimikyu @ Red Card/Life Orb
Ability: Disguise
EVs: 252 Atk / 4 Def / 252 Spe
Nature Jolly/Adamant
- Swords Dance
- Play Rough
- Shadow Claw
- Facade/Shadow Sneak
As long as you have a Mimikyu with a Red Card in reserve, your opponent can not perform a boosted sweep (Outside of Mold Breaker). Any attack will do zero damage and they will be forcefully removed from the battle as you can feel free to set up Swords Dance. Ghost and Fairy STABs have great coverage overall, and then Facade is insurance in case the enemy tries to burn you, or you can use priority if you fear faster enemies. Otherwise Life Orb is really needed to make up for Mimikyu's merely ok Atk stat and low BP moves.
SubSD
Mimikyu @ Life Orb/Spooky Plate/Pixie Plate/Air Balloon
Ability: Disguise
EVs: 252 Atk / 4 Def / 252 Spe
Nature Jolly/Adamant
- Substitute
- Swords Dance
- Play Rough
- Shadow Claw/Shadow Sneak/Leech Life
Mimikyu forces switches. The combination of Substitute and Disguise can allow you to boost to absurd levels quite quickly, but also Substitute protect you from status effects which can still apply even with Disguise intact, as well as the secondary effects of attacks like Scald which, while won't do damage, can potentially still burn you. Air Balloon just adds an extra immunity to take advantage of.
Bulky Tank
Mimikyu @ Leftovers
Ability: Disguise
EVs: 252 HP / 4 Df / 252 SpD
Nature Careful
- Bulk Up
- Play Rough
- Shadow Sneak/Shadow Claw/Substitute
- Will-O-Wisp/Thunder Wave/Leech Life
So with plenty of opportunities to sit in front of the enemy, you can start to Bulk Up to pretty good levels with Play Rough as your main STAB. Leech Life has been buffed to 80 BP so its a decent attack to regain HP combined with Leftovers. Your naturally good defensive typing and SpD suffice as you use Bulk Up and WoW to protect yourself on the physical side. Either Shadow Sneak or Thunder Wave are an option to address the speed issue.
Stall
Mimikyu @ Leftovers
Ability: Disguise
EVs: 252 HP / 252 Df/SpD
Nature Impish/Careful
- Protect
- Substitute
- Toxic/WoW
- Play Rough/Pain Split
Protect and Substitute combined can help you maintain your disguise as long as possible. In the meantime, use Status and Pain Split to do your damage, Play Rough in case of Taunt. If using Pain Split consider minimum HP and maxing the defenses for maximum HP differential.
NOTE:
While Z-Splash seems tempting for a +3 boost, as has been discussed in the thread it is utterly outclassed by Swords Dance and a LO in virtually all cases, so please refrain from bringing up Z-Splash for discussion.
Last edited: