PU Leader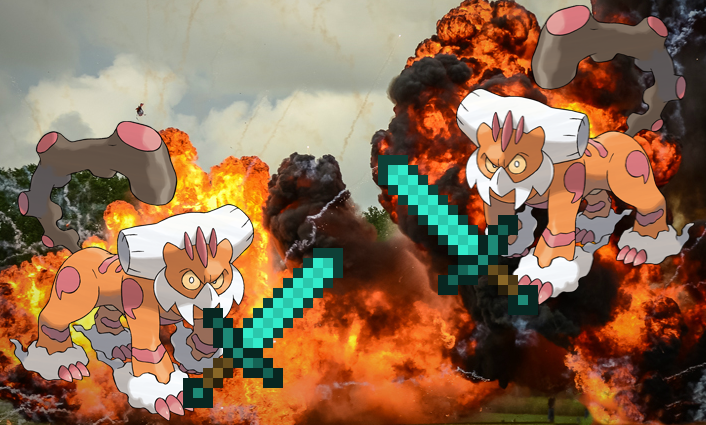 "High-level play."
​
Summary:
The Mix and Mega Council has decided that we will be conducting our next suspect test on Landorus-Therian.
Landorus-Therian has been a potent force in Mix and Mega since the metagame's inception in 2015. Its pre-mega ability of Intimidate, great offensive movepool, and catalogue of support options make it a potent force in many metagames. The ability to give it a solid secondary STAB option, while providing the ability to nuke the majority of the metagame with -ate boosted Explosion, and additions to its already solid attack stat are what make it stand out in Mix and Mega. The fact that it's usually quite difficult to distinguish what its secondary STAB is on matchup makes it an even more threatening Pokemon. Players can choose between two incredible offensive typings Fairy and Flying, which both have very limited resists when paired with Earthquake. There is a very limited pool of Pokemon that can withstand attacks from both formes, especially when considering its access to Swords Dance and the overwhelming attack power of -ate boosted Explosion. Landorus-T is a menace within the Mix and Mega metagame. It's up to you, the community, to decide whether it stays or goes.
We will not be holding a suspect test on Explosion if the result of this suspect test ends in Do Not Ban. The council believes that this is not an appropriate solution to this problem. Please keep this in mind when casting your vote. Do not argue the merits of suspect testing Explosion instead in this thread.
Landorus-Therian will be permitted to bear Mega Stones during the suspect testing process.
Some quick high-level replays showcasing Landorus-T in action:
https://replay.pokemonshowdown.com/gen7mixandmega-838936355
https://replay.pokemonshowdown.com/gen7mixandmega-842619600
https://replay.pokemonshowdown.com/gen7mixandmega-853112369
https://replay.pokemonshowdown.com/gen7mixandmega-822853107
Altaranite |

| Pixilate | 89/185/110/145/80/91

Salamencite |

| Aerilate | 89/155/140/115/90/111
The suspect test will last fourteen days, concluding on March 17th at 11pm EST.
Note: This suspect is solely for Landorus-Therian's ability to hold mega stones.
Requirements:
There are multiple methods for obtaining reqs for this suspect test.
Firstly, the most reliable option of playing ranked games until you obtain a
GXE of 82 in 35 or more games
is recommended. You are required to have the prefix "
LTS
" in your account name. This acronym must precede any other characters in the name. These requirements should not be difficult to obtain in comparison to previous suspect tests, so please ensure you try this prior to relying on the latter method.
LTS Go Pikachu - ✓
leather beLTS - ✗
Secondly, there is an option to earn it via the
Other Metagames room
's daily tournaments. The winner and runner up of both the
Wednesday March 6th
Daily Tournament and the
Wednesday, March 13th
Daily Tournament will gain automatic voting requirements unless they have previously obtained them. I will remind everyone of the times of each of these tournaments in the thread, prior to their occurrence.
Post your suspect requirements proof in this thread, without your vote. You will be eligible to vote as long as you have complied with the listed requirements, have provided a screenshot of said requirements, and have supplied proof that the alt is yours. You may post your opinion on the subject or what you will be voting, as this thread is not limited to posting reqs. However, it is important to mention that solely voting here and not following the instructions given within this paragraph and the following one will ensure your vote doesn't count.
Voting:
Once the suspect period is over, I will tag everyone who has obtained reqs by this point. I will then outline a process of blind voting, which will be clarified once this time arrives. For now, follow the above "Requirements" subheading to ensure that you've posted your reqs correctly. If this is difficult to understand, please message me on my Smogon profile and I will clarify it for you.
A super-majority of 60% ban is required for Landorus-T to be banned from holding Mega Stones.
TL;DR:
- Landorus-T is being suspected from holding Mega Stones.​
- Landorus-T will be able to hold Mega Stones during the testing process.​
- The GXE requirement is 82, the game amount must amount to or exceed 35.​
- Post requirements in this thread. This is not where your vote is posted though. Read the "Voting" subheading for more information.​
- Suspect Test will conclude on March 17th at 11pm EST.​
- A ban vote of 60% is required to remove Landorus-T's ability to hold Mega Stones.​
- Landorus-T's inclusion in OMGS playoffs will be dependant on when this suspect concludes in correlation to when playoffs begin.​
​
You may start laddering right away. Good luck!
Tagging
The Immortal
to implement the suspect alert when matches start up. Thank you :>