No one mourns the wicked









Moderator
Art by
Swiffix
​
Follow all rules listed here.
Schedule via Smogon VMs. It's easier for me to make decisions for activity calls when I can actually see what went down with scheduling.
If you are unable to schedule with your opponent, please let your managers know ASAP so they can communicate that to me or the other team's managers for a potential substitute.
Substitutions may be made after a week has started. When making a substitution, please tag myself, the managers of the opposing team, and all of the players affected by the substitute to ensure that everyone is made aware. Players who have already played in the week or were subbed out in the same week cannot be subbed back in.
If a match remains incomplete by the time of the deadline, it will be subject to an activity call.
Replays are mandatory. Not only are they useful for confirming wins, they contribute to usage stats and allow the people who couldn't watch the games live to watch them later.
Managers: Please send me your lineups in the same format that I used to post pairings. It makes it much easier to post future rounds more quickly.
>>Spreadsheet<<
Courtesy of ken
>>Commencement<<
>>Replays and Usage<<
>>Scheduling<<
vs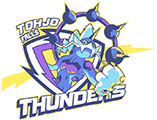 Wayward Wakes
(5)
vs (3)
Tohjo Falls Thunders
SV:
TheWyvernKing
vs
tMoi
SV:
Leafium Z
vs
rs
SV:
ikiarihS
vs
cpt.kraken
SV:
Shaneghoul
vs
Mihowk
SS:
maki
vs
AA
SM:
QWILY
vs
Zap
ORAS:
Dj Breloominati♬
vs
Splash
BW:
Booty
vs
Gondra
vs
Melemele Meloettas
(3) vs
(5)
Hearthome Honchkrows
SV:
Baloor
vs
Vodoom
SV:
kythr
vs
Cell
SV:
Masskeau
vs
Scarfire
SV:
Toadow
vs
Trichotomy
SS:
mushamu
vs
Jojo8868
SM:
Mateeus
vs
Leo
ORAS:
Trouser Snakes
vs
fade
BW:
Gelbel3c
vs
Attribute
Wayward Wakes (0) vs (0) Tohjo Falls Thunders
SV: TheWyvernKing vs tMoi
SV: Leafium Z vs rs
SV: ikiarihS vs cpt.kraken
SV: Shaneghoul vs Mihowk
SS: maki vs AA
SM: QWILY vs Zap
ORAS: Dj Breloominati♬ vs Splash
BW: Booty vs Gondra

Melemele Meloettas (0) vs (0) Hearthome Honchkrows
SV: Baloor vs Vodoom
SV: kythr vs Cell
SV: Masskeau vs Scarfire
SV: Toadow vs Trichotomy
SS: mushamu vs Jojo8868
SM: Mateeus vs Leo
ORAS: Trouser Snakes vs fade
BW: Gelbel3c vs Attribute
The deadline for this round is
Sunday, August 13th at 11:59 PM GMT -4.
​