Eyyyyyyyyyyy this is Uncle Stunny again, here to RMT a water team I've been working on for a little while now. Truthfully, this is the first time I've ever seriously tried out water (and not gimmicky sets like some people.... cough
Megazard
imao). Anyways, I've been wanting to play around with Slowking, as doing some research/experimenting, it makes a great check to some of water's most deadly threats, as well as overall an outstanding special defensive tank. The rest of the team I geared more offensive rather than balanced, because that is the playstyle I work best with, and I tend to not like a lot of stall in matches. The team itself has done well whether it'd be Drunk Laddering, or in light-hearted tournaments/OT's. Also, shout out to
Prosaic
(or TheYellowAce) for helping build a good part of this team, I normally don't use water, so his suggestions were very helpful! Without further ado....let's get started!

Slowking @ Assault Vest

Ability: Regenerator
EVs: 160 HP / 252 SpA / 96 SpD
Modest Nature
- Psychic
- Scald
- Fire Blast
- Power Gem
Slowking is the reason why I went ahead and built a water team. With Assault Vest, he makes for a fantastic special defensive tank, and can actually take quite a bit of hits. Regenerator is also extremely benefiting as Slowking can recover a bit of health upon switchout. What's really amazing about him is that he can check Mega Venusaur efficiently, something water teams have a lot of trouble with. Here's a couple calcs to prove it:
252+ SpA Mega Venusaur Giga Drain vs. 160 HP / 96 SpD Assault Vest Slowking: 146-174 (39.3 - 46.9%) -- guaranteed 3HKO (Note: Most Vensaurs are ran as defensive according to the stats)
252+ SpA Slowking Psychic vs. 252 HP / 4 SpD Mega Venusaur: 230-272 (63.1 - 74.7%) -- guaranteed 2HKO (Vensaur is very very rarely ran special defensive, hence why Psychic is the preferred choice over Psyshock)
Got problems with Char Y? Easy.
252 SpA Mega Charizard Y Solar Beam vs. 160 HP / 96 SpD Assault Vest Slowking: 172-204 (46.3 - 54.9%) -- 59% chance to 2HKO
252+ SpA Slowking Power Gem vs. 0 HP / 0 SpD Mega Charizard Y: 284-336 (95.6 - 113.1%) -- 68.8% chance to OHKO
I think you get the point from here. All in all, Slowking is pretty damn awesome.

Gyarados-Mega @ Gyaradosite

Ability: Intimidate
EVs: 80 HP / 228 Atk / 4 SpD / 196 Spe
Jolly Nature
- Dragon Dance
- Crunch
- Waterfall
- Taunt
Gyarados was my Mega of choice. Naturally it's a great partner for Slowking as it resists Dark and Ghost attacks. I decided to use Taunt instead of an extra coverage attack or sub, mostly because it prevents people from statusing it (w/o losing 25% of your health), and it annoys the living shit out of walls (yes, Taunt does go through Magic Bounce thanks to Mold Breaker, gg Sableye). I usually try to save it late game to sweep, and let it clean once walls and major threats are out. I don't think I need to explain much else here, its overall a great mon.

Swampert @ Rocky Helmet

Ability: Damp
EVs: 152 HP / 96 Atk / 252 Def / 8 SpD
Relaxed Nature
- Earthquake
- Stealth Rock
- Ice Punch / Roar
- Scald
Swampert was who I chose as the obligatory Eelectric immunity. The reason I chose it over Lanturn was mostly bc I could run hazards, and it's an overall better defensive tank. I usually like to run Ice Punch over Roar so I could have something to hit dragons with primarily. From there he's pretty self explanatory.

Keldeo-Resolute @ Life Orb

Ability: Justified
EVs: 252 SpA / 4 SpD / 252 Spe
Timid Nature
- Hydro Pump
- Secret Sword
- Icy Wind
- Calm Mind / HP Electric / HP Grass / Taunt / Scald
Keldeo, a brilliant wallbreaker, sits at a great speed tier with surprisingly good bulk, and it's a fantastic addition to the team. I chose to run LO over Specs/Sub CM because with Specs, your locked into the love you choose, and just to alleviate predicting, and still having a lot of power, I went on the middle road. Hydro Pump is the main stab, and hits super duper hard. Secret Sword is the secondary, and (if you didn't already know), it hits physical defense instead of special (bye bye Chansey). The last slot has a ton of filler options, but I've been using CM, considering you can set it up on switch out, and become that much more powerful. However, any of the slashed options are pretty good.
Cloyster @ Focus Sash
Ability: Skill Link
EVs: 252 Atk / 4 Def / 252 Spe
Jolly Nature
- Shell Smash
- Icicle Spear
- Ice Shard / Razor Shell
- Rock Blast
Cloyster is a secondary late game cleaner, and it attributes to the murder of Flying and Grass teams. The reason I am running Jolly>Adamant is to outpace most common scarfers after a Shell Smash (Outspeeds just below base 110 scarfers), but if you want a bit more power, feel free to change that. Just make sure to keep hazards off your side of the field, and you'll be good to go to, again, set up once walls/major threats are out.

Starmie @ Life Orb

Ability: Natural Cure
EVs: 252 SpA / 4 SpD / 252 Spe
Timid Nature
- Hydro Pump
- Ice Beam / Dazzling Gleam / HP Fire
- Psyshock
- Rapid Spin
Starmie is my Special Sweeper, and Hazards Control for the team. To be honest I don't have a lot to say for him otherwise, he sits at a better speed tier than Keldeo, and he's useful in that because of him I don't necessarily need to run a scarfer on this team. For me at least, he's the better option over other Spinners like Tentacruel. The reason why I'm using Natural Cure as opposed to Analytic is because first off, it already sits at a good speed tier, not much is gonna outspeed it as it is to make that ability useful, and second, it allows it to act as a Status absorber, being relieved of ailments upon switchout.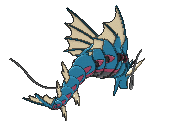 ​
Threats:
Electric Teams: This is really the only type for say this team has trouble with (Grass it actually handles fairly nicely). Swampert is not gonna last you the entire battle, so you need to save him as long as possible to absorb electric hits/play with your opponents head. For Thundy who commonly carries twave, and could stop a sweep, be sure to have Starmie handle him. Once Rotom-Wash is out (and/or Physical Defensive Zapdos), Cloyster and/or Gyarados are good to set up.
Kyurem-B is a problem, both sets it runs can punch holes into the team. If its LO, Keldeo can handle it good, if it's scarf however, make sure to have Cloyster or Gyarados set up prior. Swampert can bide you some time/do a tiny bit of damage, but it isn't a full proof solution.
Victini generally can give the team some problems. Cloyster can outspeed if if Jolly after a Shell Smash, or Swampert can also handle it (just be careful of Energy Ball).
Breloom can often be pretty annoying, especially if it's sashed. Make sure to either have SR up, or have Cloyster take it out (you may need to risk a speed tie, however).
Those are the main threats you should worry about, everything else this team handles pretty well. Thanks for reading this RMT, I'm very new to Water so suggestions are appreciated! So, "Water" you waiting for? Try the team out for yourself! :)
Slowking @ Assault Vest
Ability: Regenerator
EVs: 160 HP / 252 SpA / 96 SpD
Modest Nature
- Psychic
- Scald
- Fire Blast
- Power Gem

Gyarados-Mega @ Gyaradosite
Ability: Intimidate
EVs: 80 HP / 228 Atk / 4 SpD / 196 Spe
Jolly Nature
- Dragon Dance
- Crunch
- Waterfall
- Taunt

Swampert @ Rocky Helmet
Ability: Damp
EVs: 152 HP / 96 Atk / 252 Def / 8 SpD
Relaxed Nature
- Earthquake
- Stealth Rock
- Ice Punch
- Scald

Keldeo-Resolute @ Life Orb
Ability: Justified
EVs: 252 SpA / 4 SpD / 252 Spe
Timid Nature
- Hydro Pump
- Secret Sword
- Icy Wind
- Calm Mind

Cloyster @ Focus Sash
Ability: Skill Link
EVs: 252 Atk / 4 Def / 252 Spe
Jolly Nature
- Shell Smash
- Icicle Spear
- Ice Shard
- Rock Blast

Starmie @ Life Orb
Ability: Natural Cure
EVs: 252 SpA / 4 SpD / 252 Spe
Timid Nature
- Hydro Pump
- Ice Beam
- Psyshock
- Rapid Spin
Too Lazy to do shout outs this time, so I'm just gonna tag scpinion for Team Showcase :s
Last edited: