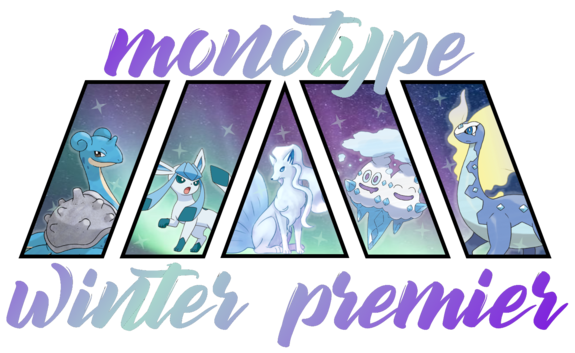 art by
Moosical
​
Welcome to the Monotype Winter Premier. This is a team tournament with a mixture of OM formats (Monotype AAA, STABmons, LC and Ubers along with Monothreat) and 3 USUM Monotype slots. Any discussion is welcome here; I don't mind if you meme a bit as that's part of the fun of events like this, but let's not have any personal attacks.
Don't forget to join the
Monotype Discord
, there will be a channel to talk about the Winter Premier II there.
The metagames are as follows:
Monothreat
Monotype AAA
Monotype LC
Monotype STABmons
Monotype Ubers
USUM Monotype
USUM Monotype
USUM Monotype
Only sign up for what you are willing and able to play. If you sign up for more formats than what you are capable and willing to play, it will reflect poorly on you later. If you are going to be gone or inactive for an extensive period of time at all in the next few months, don't sign up.
The managers and assmen for the Monotype Winter Premier are as follows:
Moosical
(Torkool) &
Tyke
- Rascal Ralts
Ridley.
&
Ticken
- Sootopolis Sealeos
KevinELF
&
Attribute
- Ever Grande Eevees
Eien
&
Leru
- Good Civ Goodras
Zarif
&
Azelea
- Rustboro Raptors
Chaitanya
&
Waszap
- Croissant Copping Chikoritas
StarBlim
&
maroon
- Native Natus
Charmflash
&
Quantum Tesseract
- Dauntless Dewgongs
All battles have to be played on Pokémon Showdown or Smogtours
(smogtours.psim.us).
I am not making an exception for Azure or any other side server.
Regular Season
The regular season will consist of 7 round robin weeks where each team will play the other 7 teams one time. There are 8 matches each round, so ties are a possibility.
Playoffs
The 4 teams with the best records will move on to the playoffs where the #1 seed will play the #4 seed and the #2 will play the #3. The two victors will move on to the finals, with the victor of that week ultimately crowned the Monotype Winter Premier Champions.
In the case of a tie, two tied teams will have their tie broken based on who won the most total games during the battling season of Monotype Winter Premier. If there is a case in which two teams tie in the amount of games won, then the tiebreaker will come down to who won their head to head matchup.
Subs
If you wish to substitute a player for an inactive one in your lineup, you must PM me to let me know what player you are subbing out and in. In addition to this, please make a post highlighting me and the manager of the opposing team on the thread for said week that you are substituting in. If I feel that you are trying to gain an unfair advantage with your substitute, I hold the right to veto it.
Pre-Week Battling
You have substitutes for a reason. You cannot ask another manager to ask him to forfeit the advantage of having flexibility with his lineup by scheduling a game in advance because one of your players will be gone.
Trading
If you wish to trade a player, you and the manager you are trading with must both PM me confirming the player you are trading and the player you are receiving. All trades made in the Winter Premier are on a 1 for 1 basis. No 2 for 1, 3 for 1 trades, etc. Trades are final the end of the week they are conducted in. Players involved in trades must be subbed out the week they are involved in trades. For example, if it's Week 3 and Bushtush is scheduled to play Shadestep, but Bushtush's team wishes to trade Bushtush away for someone new, Bushtush must be substituted out for another player. Bushtush is valid for slotting into the roster of his new team at the beginning of Week 4.
No trades after Week 3. Once I approve a trade, it's done. A manager may, however, ask for a trade to be vetoed within 24 hours of the trade happening. I will review the trade as host and re-finalize or veto it.
Activity Decisions
There will be times when a game is not completed. In these instances, I will undertake my duty as a host to make a thorough investigation. If both sides made no effort or have tried to make every effort but could still not make the match happen, the match will simply result in a no contest. If one side made considerably more of an effort to get the match scheduled and done, that player will be awarded a win. Here are some things you can do to ensure that you do not lose your match via activity: immediately leave your opponent a VM on their profile after you receive the highlight, do not miss you and your opponent's schedule time, provide your opponent with concrete times when you can be reached and reply to your opponent's VM if they contacted you before you were able to contact them. If you think you can't do any of these things, it is likely in your best interest to not sign up.
Rule Breaking
Breaking any rule will result in an automatic loss.
Reverse Rulings
No turning back time. I am going to use the facts at hand to make a decision, whether you like it or not. If you are unhappy with the decision, appeal immediately. I am not going to undo a decision I made 3 weeks ago.
Spreadsheet (Records/Standings):
TBA
Last edited by a moderator: