Necrozma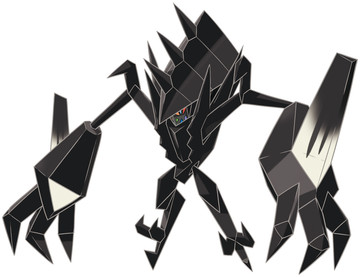 #800 Necrozma-The Prism Pokémon
Resists-



Weakness-




Immunities- None
Ability- Prism Armor: Reduces the power of Super Effective moves used against this Pokémon by 25%
Stats-
97 HP / 107 Atk / 101 Def / 127 SpA / 89 SpD / 79 Spe (600 Total)
Level Up
Start - Moonlight
Start - Morning Sun
Start - Charge Beam
Start - Mirror Shot
Start - Metal Claw
Start - Confusion
L7 - Slash
L13 - Stored Power
L19 - Rock Blast
L23 - Night Slash
L31 - Gravity
L37 - Psycho Cut
L43 - Power Gem
L47 - Autotomize
L53 - Stealth Rock
L59 - Iron Defense
L67 - Wring Out
L73 - Prismatic Laser

TMs

TM03 - Psyshock
TM04 - Calm Mind
TM06 - Toxic
TM10 - Hidden Power
TM15 - Hyper Beam
TM16 - Light Screen
TM17 - Protect
TM21 - Frustration
TM22 - Solar Beam
TM26 - Earthquake
TM27 - Return
TM29 - Psychic
TM31 - Brick Break
TM32 - Double Team
TM33 - Reflect
TM39 - Rock Tomb
TM40 - Aerial Ace
TM42 - Facade
TM44 - Rest
TM46 - Thief
TM48 - Round
TM56 - Fling
TM57 - Charge Beam
TM59 - Brutal Swing
TM63 - Embargo
TM65 - Shadow Claw
TM67 - Smart Strike
TM68 - Giga Impact
TM69 - Rock Polish
TM71 - Stone Edge
TM73 - Thunder Wave
TM74 - Gyro Ball
TM75 - Swords Dance
TM78 - Bulldoze
TM80 - Rock Slide
TM81 - X-Scissor
TM87 - Swagger
TM88 - Sleep Talk
TM90 - Substitute
TM91 - Flash Cannon
TM92 - Trick Room
TM97 - Dark Pulse
TM100 - Confide
New Move:
Prismatic Laser:
The user shoots powerful lasers using the power of a prism. The user can't move on the next turn. 100% accuracy [Psychic] 160 BP, Special.
General Analysis:
A great ability alongside high offensive as well as defensive stats and having access to moves such as swords dance,rock polish,calm mind and stealth rock Necrozma offers a lot of promise.But being a Mono-psychic type and a shallow movepool and Sub-Par speed doesn't help it at all.More than that,The real trouble it seems to face is competition from other psychic types with its only niche over the other psychic types being its mixed defensive and offensive capabilities, and its ability which too isn't as great as Slowbro's regenerator and Reuniclus's magic guard as u don't want to sit on Super effective attacks even when u are gonna take comparatively less amount of damage from those
Potential Movesets
Weakness Policy
Necrozma @ Weakness Policy
Ability: Prism Armor
EVs: 32 Atk / 252 SpA / 224 Spe
Timid Nature
- Rock Polish
- Psychic/Stored Power
- Dark Pulse
- Brick Break
With Prism Armor Necrozma can take most of the super effective moves and can set up on it with Rock Polish.Psychic for strong reliable STAB but stored power can also be used as after a rock polish and weakness policy boost its BP is 140 and makes it extremely powerful though it is completely useless unless u can sweep.Dark pulse to take on Aegi and opposing psychic types and Brick Break can help it take on common dark types In Ou like TTar,bisharp and also Heatran.The Speed EVs makes sure u outspeed scarf Latios at +2 and also speed creeping M-heracross before any boosts.Rock Polish should be used over Automotize(no need for style points) as Celesteela and Mega aggron both get only 2hko ed by +2 SpA Necrozma and their heavy Slam deals a good amount of damage to Necrozma. Timid Nature should be used over naive or hasty so that Necrozma can take most Super Effective moves.(Even a negative natured Brick break can ohko banded and scarfed variants of Ttar at +2 and can 2hko all variants of Heatran at +2)
Calm Mind
Necrozma @ Leftovers
Ability: Prism Armor
EVs: 248 HP / 252 SpD / 8 Def(Iron defense)
Bold Nature
IVs: 0 Atk
- Calm Mind
- Iron defense/Hp Bug
- Stored Power
- Moonlight
Prism Armor is what that makes Necrozma completely different from other calm mind users such as slowbro and reuniclus.With Prism Armor Necrozma can survive Supereffective moves much easier than other CM users and also has a higher speed and offensive power than Reuniclus and Slowbro.
It also has access to stored power which both of the above mentioned lack. After an Iron Defense and Calm mind boost no move can Ohko Necrozma but for the cost of getting walled by Opposing Dark types.Hp bug is also an option to take on opposing dark and psychic types. Dark types go really well with Necrozma as they can pursuit trap opposing psychic types that trouble Necrozma and the the later can boost on opposing fighting types which generally come on dark types.
Defensive
Necrozma @ Leftovers
Ability: Prism Armor
EVs: 248 HP / 252 Def / 8 SpD
Bold Nature
IVs: 0 Atk
- Stealth Rock
- Psychic
- Thunder Wave
- Moonlight
This set utilizes Necrozma's Bulk to take on fighting types and physical attackers such as Mega-Loppuny,Medicham-M,Banded Terrakion and M-Metagross while being able to provide utility in the form of stealth rock and spreading paralysis,Its psychic also hits much harder than other defensive psychic types such as mew and slowbro while also being bulkier than Reuniclus and Starmie.
Mixed Offensive Stealth Rock
Necrozma @ Life Orb
Ability: Prism Armor
EVs: 16 Atk / 252 SpA / 240 Spe
Naive Nature
- Stealth Rock
- Psychic
- Dark Pulse/X-Scissor
- Earthquake/Brick Break
Life Orb Necrozma hits hard and also has a move slot to use stealth rock and is quite bulky too especially on the physical side.This set can generally be used on offensive teams that require a Stealth rocker as Necrozma is capable of maintaining offensive pressure which offensive teams need while also being a decently reliable stealth rocker.Dark Pulse can be used to hit aegi and opposing psychic types while X-Scissor can be used to hit the same psychic pokemons except Jirachi,Victini and Metagross but also being able to take on dark types.Earthquake to hit heatran and Magnezone but also to take on steel types such as Metagross if X-Scissor is chosen,Brick Break to hit Ttar,m-gyarados and bisharp.The Speed evs allow Necrozma to out speed creep jolly bisharp and breloom,Heatran and Mega Heracross
Conclusion:
With a great ability,Good Defensive as well as offensive stats Necrozma could have been a great threat in OU but the bad mono-psychic typing,a shallow movepool and a sub-par speed has let it down.With psychic being one of the most common types in OU it faces a lot of competition from mega-garde,alakazam and mega medicham and m-metagross in the offensive department and slowbro,jirachi,mew and reuniclus in the defensive department.Its new signature move is also useless just being a slightly powerful hyperbeam and its recovery options have only 8pp is dependent on weather.Its good attack stat and access to swords dance doesn't make it any good as psycho cut is the strongest stab it has.To make matters worse it can't even learn Hp fighting. It still has some amount of things going for it, mainly being its ability and its access to stealth rock,thunder wave,rock polish to improvise its speed and it is Attacks are not something to be taken lightly even when running a defensive set.Overall,With other psychic types in OU having better uses it will Definitely struggle to perform in OU but it still has a great potential to become a class threat In Ru and an occasional pick in UU
Last edited: