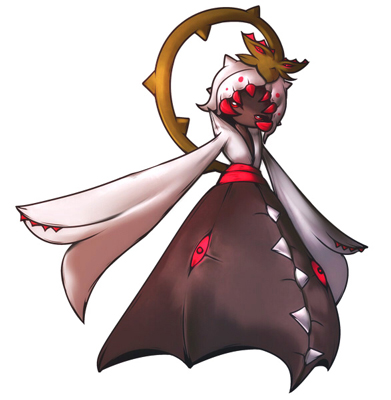 by:
Yilx
Necturna @ Ghostium Z
Ability: Forewarn
EVs: 252 Atk / 4 SpD / 252 Spe
Adamant Nature
- Power Whip
- Shell Smash
- Phantom Force
- Substitute
Necturna is a devastating sweeper in the CAP metagame. Shell Smash allows Necturna to set up quickly, threatening most of the metagame with its strong STAB combination. Phantom Force is a powerful Ghost-type move that serves as a nuke when coupled with Ghostium Z at +2, being able to remove walls such as Ferrothorn and Heatran. Power Whip is also a strong option that is able to threaten Toxapex and Chansey at +2. Another valuable move is Substitute, helping Necturna avoid being easily revenge killed by a Sucker Punch from Mega Mawile or Colossoil. Substitute also helps Necturna prevent status, turning common Pokemon such as Chansey and Zygarde into setup fodder. While Necturna is very strong offensively, it is pretty frail, so it appreciates teammates that can get it in safely for a chance to set up such as Memento Tomohawk and U-turn Tornadus-T. Other strong wallbreakers like Mega Crucibelle and Tapu Lele are also great teammates, as they soften up teams for a Necturna sweep.
Here's a replay from the latest CAPTT of Necturna getting an opportunity to set up and sweep late game:
https://replay.pokemonshowdown.com/gen7cap-791694035
Last edited: