Introduction
​
I know you aren't reading this part and you're just skimming over the team and stealing the importable then going to comment to tell me how weak I am to fire types. Nevertheless, my name is Wyattdev and this is my first rmt. This team was built around the age-old core of Mega Pinsir+Magnezone. This team has been super successful for me in the battles I've played with it. The purpose of the team was for magnezone to trap steel types to allow Pinsir to break through fat teams while having a defensive core in Landorus and Tapu Bulu and Greninja and Scarf Kartana to annoy offense. This team has 1 other variation that I use with SD Z-Knock Off Kartana and Scarf Kartana but I personally prefer the main variation. Give the team a rate and leave your thoughts/suggestions I'm open to all criticism. Nom me for the showcase ;_;

Teambuilding Process

First, I started off with mega pinsir as a mega, breaker, sweeper and primary wincon.


Next I added magnezone to trap steels to support Pinsir.


Next I added Bulu as a basic special pivot that can take on most of pinsir's revenge killers.


Next I added Landorus as a physical pivot, rocker and mon to gain momentum.


Next I added ash gren as a special breaker and spikestacker to weaken mons to put them in range of pinsir.


Next I added kartana as a scarfer and a defogger and to complete the bulu/magnezone/kartana core.





The Team



Pinsir-Mega @ Pinsirite
Ability: Aerilate
EVs: 252 Atk / 4 SpD / 252 Spe
Jolly Nature
- Swords Dance
- Earthquake/Stone Edge
- Return
- Quick Attack

​
The main wallbreaker of the team and in my opinion, the best wallbreaker in ou. Pinsir's returns are extremely strong and 2hko 98% of pokemon that take them neutrally. Venusaur is a bad mon. Pinsir has extremely limited defensive counterplay which includes celesteela, skarmory, rotom and zapdos. Two of those mons get trapped by magnezone, even shed shell skarmory because kartana can bait it in and knock it off. Pokemon like unaware quag and clef, hippowdon, ferrothorn and scizor can all take a +2 return from pinsir and do damage back but even 2 of those mons get trapped. Pinsir and Magnezone were really meant to be. Pinsir's revenge killers in latios, scarf lele, ash greninja, mega diancie, tapu koko can all be taken on comfortably by AV Bulu. However the downside of using pinsir is that it requires a lot of support. It needs a defogger+Magnezone+Mon to knock off skarmory+mon to take on it's revenge killers. Pinsir also works in conjunction with sd gravity landorus which can take out rotom, celesteela, skarmory and zapdos instead of magnezone. The only other team archetype Pinsir works on is HO but I personally prefer Pinsir on bulky offense teams.

Max spe/Max attack jolly is the only thing that should be ran on this mon ever unless you reeeeeaaally want the little bit of extra power provided by running adamant. The last move is a toss up. Earthquake is nice because it can ohko kokos and diancies that try to switch in directly and can ohko heatran. Close combat does a ton to rotom was at +2 while also beating heatran. Stone Edge kills zapdos which is huge for the team but doesn't hit anything else which sucks. Bad options like knock off and substitute in the last slot are bad options so don't use them because they are bad options.


Magnezone @ Electrium Z
Ability: Magnet Pull
EVs: 4 HP / 252 SpA / 252 Spe
Timid Nature
IVs: 0 Atk
- Thunderbolt
- Flash Cannon
- Substitute
- Hidden Power [Fire]

​
This mon traps steel types. That is kind of all I have to say about it. It is also decently strong and can fire off strong hits against offense. Aside from trapping defensive steel types like skarmory, celeseela, ferrothorn and scizor, it can trap offensive steels like Mega Mawile if you outplay the sucker punch with substitute. Not to mention, magnezone can trap steel type scarfers that could revenge kill pinsir like kartana, heatran, excadrill and opposing magnezone. Obviously, these pokemon would have to be locked into moves that magnezone resists for them to be taken out.

Max speed timid is used here but slower, stronger sets can be used. The speed can be reduced to speed creep venusaur while having a modest nature and a bit of bulk. The special attack investment could be reduced to be just enough to ohko celesteela and 2hko ferrothorn to also make room for bulk. With no bulk investment, magnezone is pretty frail and can't take on mons like Tapu Lele, Koko and Latios. You might need to have enough hp investment to guarantee the sub isn't broken by ferrothorn power whip. Electrium is necessary because of how celesteela weak the team is without magnezone and spdef celesteela can take on non-electrium magnezone. Volt switch 4 attack is an option on the z move set for gaining momentum on mons like venusaur, but not having substitute sucks against leech seed ferrothorn and mawile. Don't use hp ice because the team isn't weak at all to landorus and zygarde. Hp grass is only for flexing on low ladder and doesn't even ohko swampert and gastrodon anyway.


Landorus-Therian @ Leftovers/Rocky Helmet
Ability: Intimidate
EVs: 248 HP / 104 Def / 156 Spe
Jolly Nature
- U-turn
- Earthquake
- Stealth Rock
- Hidden Power [Ice]/Stone Edge
​

The main physical pivot and a blanket check to almost all physical attackers. This mon also does so much more. It can bring momentum, get up rocks and still hits hard even with no investment. Landorus can check to many mons in the meta and provides necessary resistances to fighting, bug, poison and an immunity to electric and ground. The only downside of landorus on the team is that it has a bit of an anti-synergy with bulu in the fact that grassy terrain will weaken landorus's earthquakes.

The spread on landorus is a very fast spread for a defensive landorus and fast enough to outspeed adamant landorus. There are a lot of different spreads that you could run with whatever speed you need+252 hp+the rest in defense. You can run 0 spe, 8 spe, enough for av bulu, enough for magnezone, enough for fast ttar, enough for magearna, enough for heatran, enough for adamant lando, enough for adamant zygarde, 1 more than zygarde speed creepers or just run max spe/max hp. I prefer this set because the team is pretty heatran weak as it is and the extra speed for adamant lando is fine as it is. I just used the standard leftovers hp ice set. Stone edge could actually be cool over hp ice as the team is pinsir weak and no pinsir expects stone edge on defensive landorus. Stone Edge also allows landorus to bait in and beat zapdos 1v1, which is huge for the team. Knock off is generally inferior but fine for weakening rotom and removing shed shells. Toxic is cool for wearing down rotom and av bulu. I personally don't like protect on this team even in conjunction with leftovers because the momentum provided by u turn is so nice. Helmet or yache berry could be used on Landorus but the passive recovery provided by leftovers is too nice to pass up.

Tapu Bulu @ Assault Vest
Ability: Grassy Surge
EVs: 248 HP / 60 Atk / 56 SpD / 144 Spe
Adamant Nature
- Horn Leech
- Wood Hammer
- Nature's Madness/Superpower
- Stone Edge/Superpower

​
Tapu Bulu is the hot new set in ou and for good reason. It's super bulky and doubles as a great wallbreaker and horn leech and grassy terrain means it never dies. It's a blanket check to most special attackers and can take on most of the things that revenge kill pinsir like scarf lele, scarf landorus, koko, ash gren, diancie and latios. It can also give some passive recovery to the rest of the team and weaken an earthquake for magnezone in a pinch.

The set is the standard smogon analysis spread which gives it enough speed to outspeed max speed adamant tyranitar. However, most Bandtars run around 200 speed to speed creep venusaurs and stuff so the speed can be reduced to 204 to outspeed 203 mons. You can also give it more speed for faster rotoms to kill with horn leech before being burned. As fore the moves, stone edge is mandatory unless you have it on landorus or pinsir. Superpower is nice for kartana and heatran, but nature's madness is a fantastic move since it does 50% to everything.

Greninja-Ash @ Choice Specs
Ability: Battle Bond
EVs: 252 SpA / 4 SpD / 252 Spe
Timid Nature
- Water Shuriken
- Dark Pulse
- Spikes
- Hydro Pump

​
There isn't much to say about greninja. We all know what this pokemon is capable of. It sets up spikes, breaks through everything then spams it's stab moves and sweeps. Not to mention, spike support is also really helpful for assisting in Kartana or Pinsir sweeps. Greninja has trash bulk but can provide an emergency resist to dark, ghost, water and fire.

Max spe/Max SpAtk timid is obviously a given with this mon. I wouldn't change up the moveset with this mon unless I found that I was always losing to av Bulu in which case I would run gunk shot or ice beam. U-turn bringing momentum is cool but an inferior option to spikes. Extrasensory isn't needed either since the team isn't weak to venusaur and the spikes set can break past venusaur anyway. Surf is a bad option if you reeaally don't want to miss pumper. Scald is wack.


Kartana @ Choice Scarf
Ability: Beast Boost
EVs: 252 Atk / 4 SpD / 252 Spe
Jolly Nature
- Defog
- Leaf Blade
- Knock Off
- Sacred Sword/Smart Strike

​
Kartana is the premier scarfer and defogger in the ou tier. It defogs, and it revenge kills and it might just sweep late game. It has grassy terrain support from Bulu and trapping from magnezone which can make switching into leaf blade deadly with it's 450 attack stat. Max attack/Max spe is the only spread that should be used on this mon as it is a physical scarfer. Kartana can also revenge kill ash greninja which can get out of hand if they bait in Tapu Bulu with a gunk shot.

Defog and Leaf Blade are mandatory on this set. Knock off is also mandatory unless you want to lose to shed shell skarm. Sacred sword is the preferred option in the last slot but can be subbed for aerial ace or smart strike which helps patch up the team's pinsir weakness. Aerial ace also helps revenge kill volcarona. However, dropping sacred sword leaves the team weaker to heatran and opposing kartana, which is a big issue.

Variation #2
​
The only change of this variation was that Kartana was changed to the SD Darkinium set and magnezone got the choice scarf. This variation helps revenge kill opposing pinsir and Kartana can still knock off skarmory shed shells and defog hazards. SD Kartana also adds another extremely strong balance breaker and makes the team even stronger. Another selling point of this variation is that kartana baits in and kills zapdos after rokcs. The volt switch momentum on magnezone was also great for bringing in kartana and pinsir to set up. However, with this change it left the team weaker to spdef leech seed ferrothorn and celesteela. The slower scarfer in magnezone also left the team weaker to ash greninja and Alakazam psyspam teams if Tapu Bulu got lured and killed or worn down and having such a slow scarfer is worse against offense in general. Scarftana is also the ultimate anti-rain mon and if Tapu Bulu somehow gets taken out, the team instantly loses to greninja, swampert or kingdra. There was a third variation of the team with sd gravity Landorus+Pinsir but that variation didn't work nearly as well as the first two variations.


Kartana @ Darkinium Z
Ability: Beast Boost
EVs: 252 Atk / 4 SpD / 252 Spe
Jolly Nature
- Defog
- Leaf Blade
- Knock Off
- Swords Dance



Magnezone @ Choice Scarf
Ability: Magnet Pull
EVs: 4 HP / 252 SpA / 252 Spe
Timid Nature
IVs: 0 Atk
- Thunderbolt
- Flash Cannon
- Volt Switch
- Hidden Power [Fire]


Role Compression

​
This is just a handy dandy spreadsheet I use when making teams to see what the team is weak to and what it is missing. Obviously, most of these roles are things that not every team needs or are only necessary on certain archetypes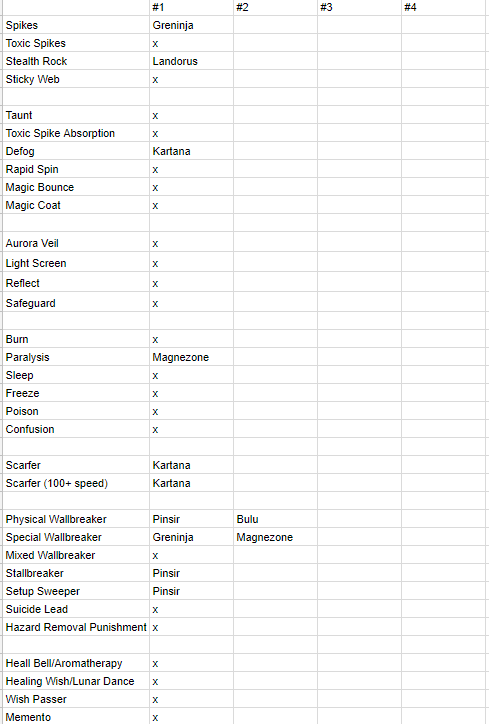 Threatlist
​
Zapdos:


Zapdos walls the teams main breaker in pinsir and can only be broken through by greninja, tapu bulu and magnezone. Roost 3 attacks zapdos is also very hard to switch into outside of Tapu Bulu wich takes a lot from heat wave and can risk getting burned or paralyzed. Without heat wave, Tapu Bulu and magnezone can switch in and break it but not without taking a toll on their health. Pinsir, landorus and bulu can run stone edge to beat it but it is worse generally against every team not containing a zapdos.

Fire Types:


The only fire resist is greninja which is going to get blown away by most common fire types and can probably switch in once at most. The main culprits are volcarona and blacephalon. Volcarona is almost guaranteed a kill when brought in safely and doesn't even need to set up. If set up, it can be revenge killed by pinsir of post-battle greninja with a bit of chip. Greninja can be switched into heatran once but will take a lot from magma storm and 60%+ from firium, or steelium and be ohkoed by grassium or groundium. Luckily, the Landorus spread can revenge kill heatran as well as greninja and pinsir. SpDef heatranBlacephalon is the single best pokemon to beat this team. Specs does 1 million % to greninja and even scarf fire blast 2hkoes. Once greninja is gone fire blast is almost guaranteed a kill. The other ou fire types are less common. Zard y destroys the team but has no usage. Zard x and marowak are walled by landorus and revenge killed by greninja. Landorus can take a hit from z-celebrate victini and do a lot with earthquake and water shuriken and knock off do a considerable chunk

Mega Pinsir (and other birds):




The flying resists for this team are very bad as the only real bird check is landorus. Can be baited in by bulu and has some trouble finding setup opportunities but is deadly at +2 can only be revenge killed by greninja which can't revenge kill pre-battle-bond greninja. Kartana can opt for smart strike or aerial ace to revenge kill with chip as knock off only does ~40. Teams with more than 1 bird are extremely hard to beat since landorus is the main bird check and quickly gets overpressured. Lesser seen mons like z fly dragonite, salamence and gyarados are all huge nuisances to beat since they cant be revenged by the two priority mons and wall kartana (except for gyarados.) Hawlucha can be taken down by a Landorus HP Ice+a priority move but is still very annoying. Staraptor and talonflame are not pokemon.

Rotom-Wash:


Walls pinsir and can burn the whole team and volt switch on everything but lando which fears wisp and hydro. In general a giant pain to switch into but can be broken by everyone but pinsir and landorus (who can u turn on it.) The worst is faster sets which can outspeed bulu and landorus and burn them.

Trick Room:



While most trick room teams get 6-0ed by ash greninja on it's own, some opt for tapu bulu which can easily wall out greninja and break through the team. Trick room teams with Tapu Bulu are a tough matchup but definitely not impossible. Greninja can opt for ice beam or gunk shot but both moves are pretty suboptimal and the spike support is greatly appreciated by the rest of the team. Trick room teams can also opt for other water resists to take on ash gren.

Mega Medicham:


The team doesn't have a mew or sableye so medicham can easily claim a kill vs this team. Obviously, it can be easily revenge killed by pinsir and greninja and kartana (with chip or grassy terrain.) Medicham fake out can also annoy pinsir or greninja while sweeping as it does 25-30 to pinsir and 40-45 to greninja.

Kyurem Black (and other ice types):


Once again no switch in but kyurem black doesn't have switch ins anyway Is a bit of an issue to revenge kill though, nothing can ohko without rocks up and it might just snag another kill. Weavile and mamoswine also have no switch-ins on this team as well but can be more easily revenge killed.

Tapu Lele:



AV Bulu is bad at checking lele as it takes 40 from specs moonblast/psychic and 60 from specs psyshock. Magnezone gets destroyed. You can go hard greninja on psychic if you're a savage. However it can be revenge killed by magnezone and pinsir as well as ash greninja if they're low enough. However, Bulu can easily wall scarf if it's healthy enough.

Stall:


While for the most part the core of Pinsir+Magnezone+Knock Off can do it, the problem is actually getting skarmory knocked off. From team preview, kartana and landorus look like likely knock off carriers and the opponent might opt to not go into skarmory on them. Stalls might pack bulky grasses like tangrowth and amoonguss for kartana and keep skarmory's shed shell safe. Stalls can also carry other mons for pinsir like avalugg, curse quagsire, stone edge hippowdon and weavile. Weavile has to win a 50/50 to trap pinsir though. Obviously, stalls with zapdos are still super hard to beat.

Replays
These are for the most against rather inexperienced, low ladder replays, but they still show how the team functions and I'm bad ;_;

https://replay.pokemonshowdown.com/gen7ou-677256842 vs chansey offense

https://replay.pokemonshowdown.com/gen7ou-677176409 vs bulky offense

https://replay.pokemonshowdown.com/gen7ou-676715191 vs wierd komm-o hyper offense

https://replay.pokemonshowdown.com/gen7ou-676697686 vs psyspam

https://replay.pokemonshowdown.com/gen7ou-673668165 vs semi stall

https://replay.pokemonshowdown.com/gen7ou-678762017 <-bad replay

Absolute 100% Real Not Faked Proof of Peak (it's fake)




Importable

These are the specific sets I use but the slashed moves can definitely be changed.



Pinsir-Mega @ Pinsirite
Ability: Aerilate
EVs: 252 Atk / 4 SpD / 252 Spe
Jolly Nature
- Swords Dance
- Earthquake
- Return
- Quick Attack

Landorus-Therian @ Leftovers
Ability: Intimidate
EVs: 248 HP / 104 Def / 156 Spe
Jolly Nature
- U-turn
- Earthquake
- Stealth Rock
- Hidden Power [Ice]

Magnezone @ Electrium Z
Ability: Magnet Pull
EVs: 4 HP / 252 SpA / 252 Spe
Timid Nature
IVs: 0 Atk
- Thunderbolt
- Flash Cannon
- Substitute
- Hidden Power [Fire]

Greninja-Ash @ Choice Specs
Ability: Battle Bond
EVs: 252 SpA / 4 SpD / 252 Spe
Timid Nature
- Water Shuriken
- Dark Pulse
- Spikes
- Hydro Pump

Tapu Bulu @ Assault Vest
Ability: Grassy Surge
EVs: 248 HP / 60 Atk / 56 SpD / 144 Spe
Adamant Nature
- Horn Leech
- Wood Hammer
- Nature's Madness
- Stone Edge

Kartana @ Choice Scarf
Ability: Beast Boost
EVs: 252 Atk / 4 SpD / 252 Spe
Jolly Nature
- Defog
- Leaf Blade
- Knock Off
- Sacred Sword





Pinsir-Mega @ Pinsirite
Ability: Aerilate
EVs: 252 Atk / 4 SpD / 252 Spe
Jolly Nature
- Swords Dance
- Earthquake
- Return
- Quick Attack

Landorus-Therian @ Leftovers
Ability: Intimidate
EVs: 248 HP / 104 Def / 156 Spe
Jolly Nature
- U-turn
- Earthquake
- Stealth Rock
- Hidden Power [Ice]

Magnezone @ Choice Scarf
Ability: Magnet Pull
EVs: 4 HP / 252 SpA / 252 Spe
Timid Nature
IVs: 0 Atk
- Thunderbolt
- Flash Cannon
- Volt Switch
- Hidden Power [Fire]

Greninja-Ash @ Choice Specs
Ability: Battle Bond
EVs: 252 SpA / 4 SpD / 252 Spe
Timid Nature
- Water Shuriken
- Dark Pulse
- Spikes
- Hydro Pump

Tapu Bulu @ Assault Vest
Ability: Grassy Surge
EVs: 248 HP / 60 Atk / 56 SpD / 144 Spe
Adamant Nature
- Horn Leech
- Wood Hammer
- Nature's Madness
- Stone Edge

Kartana @ Darkinium Z
Ability: Beast Boost
EVs: 252 Atk / 4 SpD / 252 Spe
Jolly Nature
- Defog
- Leaf Blade
- Knock Off
- Swords Dance



LIKE THIS POST AND SUBSCRIBE TO MY SMOGON ACCOUNT
​
Last edited: