It's time to deal with another controversial Pokemon. UU is suspecting
Weavile
. The combination of speed. power, strong coverage moves, and Knock Off being fair and balanced™ is what makes Weavile a major threat in the UU metagame. It's extremely frail, can't trade hits against Pokemon it can't KO, and struggles to switch-in, but once Weavile is play, it threatens a huge portion of the metagame, forces Pursuit-weak Pokemon to play mindgames, and virtually nothing switches into it freely.
The suspect test will have an N value of
20
and a COIL requirement of
2650
. In addition, there will be a
game limit
of
90 games
. It will last for two weeks.
Weavile will be allowed on the suspect ladder.
You can calculate the number of games required using this formula:
N=20.0/log2(40*GXE/2650)
The Immortal
please setup the suspect ladder
with
Weavile.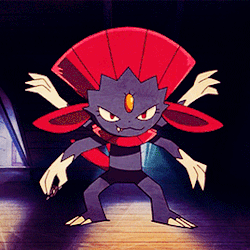 Last edited: