licc licc







Doubles Colonel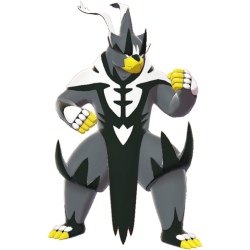 You know I can't stay sober, stay sober
Drowning in the memory of you
Feelings start to take over, take over
Use me to misuse and abuse
'Cause I've got nothing to lose
​
The third suspect test of Generation 8 DOU is about to begin! This time around, Urshifu Single Strike is up for elimination. Upon the release of Isle of Armor, we were blessed (cursed?) with the release of a two-for-one special in the form of Urshifu. While both styles are almost identical save their typing and signature move, the Single Strike Style, also known as "the dark one," has proven to be a much greater threat. For the sake of my sanity I'm just going to refer to Urshifu Single Strike as Urshifu for the rest of this post; know that we are only suspecting Single Strike (again, the dark one) and not Rapid Strike (the water one). Wicked Blow's 100% critical hit rate essentially gives Urshifu a 120 base power attack with 100% accuracy that is immune to Intimidate, which makes this move incredibly spammable. Even Pokemon that resist Wicked Blow have to be wary of switching in, as a Wicked Blow boosted by a Choice Band, Urshifu's most common item, will deal a significant chunk of damage to nearly everything. For example, offensive Togekiss is 2HKOed by Wicked Blow, so not even a Pokemon that theoretically should be a pretty hard counter to Urshifu is safe. Additionally, Urshifu's solid base 100 stat in both HP and Defense mean that it can take physical hits quite well for what is ostensibly an offensive Pokemon.
I have somehow made it an entire paragraph without bringing up what is arguably the dumbest thing about Urshifu - Unseen Fist. This ability allows Urshifu to bypass protection (Protect, Detect, etc.) with any contact move. Conveniently, all of Urshifu's best attacks make contact, so it makes great use of this crazy strong ability. While Protect has classically been a very useful tool in positioning your Pokemon around opposing threats, Urshifu throws that utility off a cliff and will not be denied its chance to attack. This makes pivoting around Urshifu that much harder and is compounded even further by Urshifu's ability to pivot itself through Protect thanks to its (nice) access to U-turn.
Of course, Urshifu does not come without flaws. A double weakness to Fairy means that Pokemon like Togekiss and Sylveon will annihilate Urshifu if given the opportunity, and its good but not great speed tier and poor Special Defense leave it somewhat vulnerable to being revenge killed by the faster threats in the tier like Volcarona or Dragapult. Additionally, Unseen Fist only allows Urshifu to bypass Protect and does not break Protect for Urshifu's partners a la Feint or Hoopa's signature moves. However, conditions need to be pretty perfect in order to take out Urshifu without sacrificing too many resources, landing Urshifu straight in our crosshairs.
Important:
The laddering period will last for a total of nine days.
Laddering Period
Start: Friday, July 31st at 8:00 PM EDT (GMT-4)
End: Sunday, August 9th at 8:00 PM EDT (GMT-4)
All games must be played on the Pokemon Showdown! Doubles OU ladder on a fresh alt with a name of the form "DOUUS [name]. For example, I might register the name "DOUUS Bowman" to use on the suspect ladder.
To qualify to vote, you must achieve a minimum GXE of 80 with at least 50 games played. In addition, you may subtract 1 game for every 0.2 GXE you have above 80 GXE, down to a minimum of 30 games at a GXE of 84. As always, needing more than 50 games to reach 80 GXE is fine.
| | |
| --- | --- |
| GXE | minimum games |
| 80 | 50 |
| 80.2 | 49 |
| 80.4 | 48 |
| 80.6 | 47 |
| 80.8 | 46 |
| 81 | 45 |
| 81.2 | 44 |
| 81.4 | 43 |
| 81.6 | 42 |
| 81.8 | 41 |
| 82 | 40 |
| 82.2 | 39 |
| 82.4 | 38 |
| 82.6 | 37 |
| 82.8 | 36 |
| 83 | 35 |
| 83.2 | 34 |
| 83.4 | 33 |
| 83.6 | 32 |
| 83.8 | 31 |
| 84 | 30 |
Urshifu Single Strike will be
legal
during this suspect.
Last edited: