no longer Harry's house












OU Leader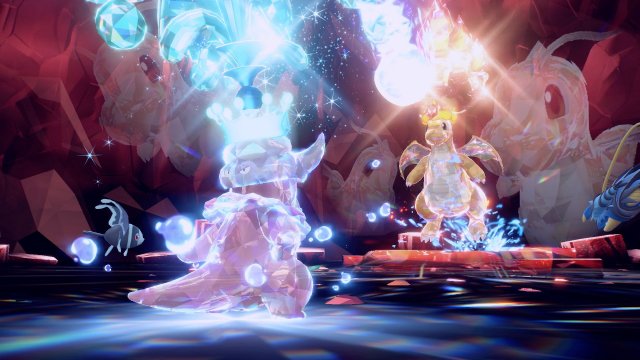 Hello everyone, the OU tiering council has decided to test
Terastallization!
With the release of Scarlet and Violet, Pokemon bestowed upon us the novel mechanic of
Terastallization
! This core feature has defined Pokemon's ninth generation throughout its infancy, changing the
type
of game we play. Terastallization has simultaneously energized certain contingents of the playerbase while drawing the ire of many others, making it one of the most polarizing tiering topics in Smogon's long history. Given the gravity of the situation and the scattered assessment of Terastallization's place in a competitive environment from our constituents internally, the SV OU tiering council has taken numerous steps to gauge community-wide perspective and help progress discussions such as:
Opening accessible discussion threads on the topic of Terastallization
Conducting a community tiering survey on the topic of Terastallization
Posting our thoughts publicly on the topic of Terastallization in the Policy Review thread
Using the data from the aforementioned threads and survey to engage in internal discussions
Ultimately, we have determined that a public suspect test with a creative voting structure would best capture the situation for our community given everything that was presented. This suspect test will help determine the best way for us to tier Terastallization in the Scarlet and Violet Overused metagame! However, it is entirely possible, but not certain, that we reevaluate whatever conclusion is drawn with another suspect in the future. Before we get into the logistics behind the vote and what you will need to do in order to qualify to vote, let's discuss Terastallization in the metagame -- why people may want to keep it, restrict it, or ban it. In addition, what possible restrictions are on the table!
Terastallization as a mechanic takes a plethora of different forms in the SV OU metagame. It is a mechanic that can be applied for both offensive and defensive purposes across the board and many different Pokemon threaten to Terastallize in our metagame! While impossible to sum up the entirety of Terastallization's place in the metagame to just a few paragraphs, we can absolutely generalize how it is used and the strategy (or lack thereof) behind it.
On many offensive Pokemon, Terastallization can be used to bolster their offensive profile in one of numerous ways. The brute force that comes with STAB Terastallization, which gives the most potent attackers in the metagame a boost akin to Adaptability for the remainder of a battle, can make already fierce presences such as Chi-Yu, Dragapult, or Chien-Pao virtually uncounterable. However, this comes alongside the drawback of not being able to use Terastallization to alter your typing drastically to refocus certain forms of counterplay, thus maintaining type-based defensive responses in some scenarios if you are not outright overpowered by the 2x boosted moves. In addition, there is some strategic value that comes alongside maximizing how you utilize this specific boosting mechanism. Many also believe there is a large component of guesswork that makes this less competitively appealing though.
Alternatively, many other offensive presences are able to use non-STAB Terastallization to shift their entire profile within the context of a game, granting them potential for free turns and additional STAB on complimentary attacks. This makes Pokemon such as Dragonite, Roaring Moon, Espathra, and Annihilape particularly menacing when you cannot be sure what to use to keep them in check as the pool of Pokemon that contain them with their original typing differs from the pool of Pokemon that may be able to keep them in check with a suddenly new typing. This dynamic is unlike anything we have seen in competitive Pokemon and some have cited increased abilities to adapt to this aspect of the mechanic with more exposure as specific Tera types become more predictable and the "Tera metagame" grows more optimized over time. Moreover, there is a timing component to this that is similar to the above with STAB Terastallization that makes enacting this strategy come with some risk and a great opportunity cost, but there is also the flip-side where bluffing or deciding to Terastallize can make singular sequences carry disproportionate amount of weight towards dictating game outcomes rather than deeper, competitive strategizing.
Shifting gears, there are also some defensively oriented applications of Terastallization that Pokemon can use as preventative measures or to increase counterplay towards some of the aforementioned dangers the metagame prevents. For example, a Pokemon can shift their typing through Terastallization to thwart sweeping or breaking attempts that the opponent tries to enact. Skeledirge oftentimes Terastallizes into a Fairy type in order neutralize Ground types or minimize Dark types while Kingambit occasionally Terastallizes into a Flying type to lure would-be super effective Fighting and Ground attacks from foes such as Great Tusk. Even things like Hatterene can threaten many teams with the option to Terastallize into a largely neutral type like Water, giving it much more room to operate. These countermeasures have not been classified as problematic relative to other examples mentioned and may constitute healthier applications of Terastallization, but also can be seen as an overexpansion of counterplay that stunts progress within the confines of the metagame.
Needless to say, there are far more applications of Terastallization that can be found within the metagame that span beyond what any singular post can possess. The ultimate thesis of the side favoring action would be that the improvements provided through use of the mechanic, which are alluded to above, provide a boost that is unreasonable to account for in the teambuilder or the battle within the context of a competitively focused metagame state. However, the conclusion drawn by the camp believing Terastallization should remain fully in-tact tends to subscribe to the narrative that any uses of the mechanic are reasonable to account for while maintaining a competitive environment that promotes strategy in the builder and game rather than overwhelming variance.
With this all in mind, let's shift to the information about this unique vote itself and other logistics pertaining to this suspect test!
***VERY IMPORTANT***
The vote will consist of
two questions that all voters must answer
, and we will provide a clear mechanism to do so via a response form that only accepts a response if both prompts are responded to at the time of the vote.
Any misuse of the form will be punished severely!
The first question will be
"Do you want tiering action on Terastallization?"
with the possible responses being
"Action
" or
"No action" (keep as is)
-- if you want a ban or restriction on Terastallization to take place, vote for the former option of "Action". If you want the status quo to remain, vote for the latter option of "No Action".
In order for any tiering action to occur, over 60% of responses must be in favor of tiering action!
This question is incredibly straightforward, but please forum PM me or
Ruft
if you have any questions at any time.
The second question -- which all voters will respond to regardless of their answer to the first -- will be
"What are your (ranked) preferred actions?"
with the possibilities being as follows:
Outright ban (Terastallization will no longer be usable in SV OU)
1 Tera user per team (Only the first member of your party will be allowed to Terastallize during the course of the battle)
Reveal Tera type at team preview (Any Pokemon can Terastallize, but the type they would do so into is disclosed at team preview prior to a battle)
Only STAB Tera types allowed (Any Pokemon can Terastallize, but they may only do so to types that match their initial STAB typings)
You MUST rank all 4.
Any submissions that include an option multiple times will be voided, so be careful when submitting!
If we hit over the 60% threshold on the first vote, then the outcome of the suspect will be determined via
ranked choice vote
with these four options. Ultimately, the option with the most overall support of these four will be the restriction or ban employed in SV OU after the conclusion of this suspect. Please forum PM me or
Ruft
if you have any questions at any time.
So again to summarize: everyone will vote on both questions, the first question needs over 60% support of action to trigger the second question, and the second question requires a ranked vote submission that will determine the verdict via ranked choice vote. We now return to your regularly scheduled suspect programming.
The voting requirements are a minimum GXE of 80 with at least 50 games played. In addition, you may play 1 less game for every 0.2 GXE you have above 80 GXE, down to a minimum of 30 games at a GXE of 84. Also, needing more than 50 games to reach 80 GXE will suffice with 80 GXE being the minimum threshold at any point beyond this game total. Below you can see a chart that outlines the GXE needed given the amount of games you have played.
| | |
| --- | --- |
| GXE | minimum games |
| 80 | 50 |
| 80.2 | 49 |
| 80.4 | 48 |
| 80.6 | 47 |
| 80.8 | 46 |
| 81 | 45 |
| 81.2 | 44 |
| 81.4 | 43 |
| 81.6 | 42 |
| 81.8 | 41 |
| 82 | 40 |
| 82.2 | 39 |
| 82.4 | 38 |
| 82.6 | 37 |
| 82.8 | 36 |
| 83 | 35 |
| 83.2 | 34 |
| 83.4 | 33 |
| 83.6 | 32 |
| 83.8 | 31 |
| 84 | 30 |
You must signup with a newly registered account on Pokemon Showdown! that begins with the appropriate prefix for the suspect test. For this suspect test, the prefix will be OUDJ. For example, I might signup with the ladder account OUDJ Finch.
Laddering with an account that impersonates, mocks, or insults another Smogon user or breaks Pokemon Showdown! rules may be disqualified from voting and infracted. Moderator discretion will be applied here. If there is any doubt or hesitance when making the alt, just pick another name. There are infinite possibilities and we have had trouble for this repeatedly. If you wish to participate in the suspect, you should be able to exhibit decent enough judgement here. We will not be lenient.
We will be using the regular OU ladder for this suspect test. We will not be creating a new Suspect Ladder. At the beginning of every battle, there will be an announcement denoting the ongoing suspect with a link to this thread.
The aspect being tested, Terastallization, will be fully allowed on the ladder.
Any form of voting manipulation will result in swift and severe punishment. You are more than welcome to state your argument to as many people as you so please, but do not use any kind of underhanded tactics to get a result you desire. Bribery, blackmail, or any other type of tactic used to sway votes will be handled and sanctioned.
Do not attempt to cheat the ladder. We will know if you did not actually achieve voting requisites, so don't do it. Harsh sanctions will be applied.
We will be posting the voting identification thread soon after this thread goes up. Your voting requisites will be confirmed by a Council member or OU moderator, to which we will edit in confirmation. Please avoid getting more games before getting confirmed.
The suspect test will go on for longer than your normal suspect given the gravity of the subject, lasting until January 1st at 11:59 pm (GMT-5), and then we will put up the voting thread with the corresponding form and instructions in the Blind Voting subforum.
This thread will be open to allow all users to share their thoughts on this suspect test and discuss with one another their thoughts. However, this thread will be strictly moderated, moreso than the average OU forum thread. Our moderators will apply discretion as to what is appropriate. Please read and keep in mind the following before posting:
No unhelpful one liners nor uninformed posts;
No discussion on other potential suspects -- THIS INCLUDES NO DISCUSSION OF OTHER POTENTIAL SOLUTIONS TOWARDS TERASTALLIZATION;
No discussion on the suspect process -- this includes Terastallization vs other potential suspects;
You are required to make respectful posts;
You are required to read this thread before posting.
Failure to follow these simple guidelines will result in your post being deleted and infracted without any prior warning.
Please also take a moment to read over some suggestions from the OU Council and the OU Moderation team for posting in this thread; adhering these will help out our time moderating the thread and present your arguments better and more educated.

Do not argue because it's your favorite mechanic or because of any arbitrary, personalized reasoning. This should be common sense, but please don't do this, because we will delete posts like this.
You do not need a boatload of experience to have an informed opinion, but please try to minimize the theorymon aspect and use your experiences watching and playing. Playing some on the ladder before posting is plenty if you're concerned about this.
Do not flame, belittle, or be disrespectful to users in this thread. While not everyone will read this post in its entirety nor will everyone have informed opinion, please be sure not to be disrespectful. If there's an issue, bring it up to a moderater.
Do not use the argument of broken checking broken. Should your argument rest on your opinion that banning the Pokemon or mechanic being tested in this suspect test will make a Pokemon or mechanic broken, overpowered, and/or uncompetitive; don't. If something needs to be banned because of the result this suspect, then so be it.
This thread is not to voice complaints about the suspect process or decisions of the council. While we are more than open to hearing complaints that may arise, this isn't the place for it. I suggest you message the OU Council, PM our Tier Leaders, Finchinator and Ruft, or make a post in Senior Staff requests, should you have a badge.
Should you have any questions about the suspect test, feel free to message the
OU Council
. And if you have any questions about the moderation of this thread, feel free to message the
OU Forum Leaders
. Finally, if you have any questions at all about SV OU, message me and I will do everything I can to help! I hope you all have an enjoyable suspect.