I figured this is where this analysis should go, Move it to OU if thats where this belongs

With the release of BW2 I have decided to make a new team that uses the new goodies, Therian form Landorus and DD outrage moxie salamence. While other teams focus on trying to control the weather, this team completely ignores weather and simply attempts to allow some of the best sweepers that hate rocks a chance to shine.
Goals:
Control the Hazard game to make the best use of 3 of the best mons crippled by rocks
Ignore Weather Completely
Break through the enemy walls with punishing setup sweepers
Ultimately sweep with Salamence
Highlights:
2 spinners makes switching pain free, and my team promotes plenty of switching
2 drag emulates 4 drag 2 mag well enough for my purposes, If dragonite can get 2 dd's off its game over, because salamence will rip apart the team after dragonite has weakened their counter(s)
bulky volcarona is just crazy good. she takes care of steels(minus heatran) that threaten the team.
3 setup sweepers punish stall
Team at a glance:
Act 1 The Spinners
Forretress@Leftovers
Sturdy Relaxed(+Def -Spe)
252 HP/176 Def/80 SpD (0 Speed IV)
*Spikes
*Rapid Spin
*Gyro Ball
*Stealth Rocks
My first spinner and my hazard layer. Forretress is my favorite pokemon, but unfortunately he really isn't the best mon out there. He does have a nice niche though that he can come into many choiced physical attacks and outraging dragons and set up lots and lots of field hazards. It's good ferrothorn never got Rapid Spin or forretress would be completely outclassed.
Starmie@Choice Specs
Natural Cure Timid(+Spe/-Atk)
252 SpA/4 SpD/ 252 Spe
*Hydro Pump
*Thunderbolt
*Ice Beam
*Rapid Spin
My second Spinner. My aim with my spinners is that they should also be able to fill another role if they don't spin and specs starmie does just that. A fantastic revenge killer. Spin on a specs set can get you into trouble sometimes, but this can be alleviated with good prediction skills. The extra power on hydro pump is necessary on starmie. I wanted to try and fit trick onto this thing But starmie really needs the coverage boltbeam provides.
Having two spinners is necessary for it to be reliable enough. Starmie and Forry complement each other well, taking many super effective attacks aimed at eachother, and if they can spin, get rocks up and get a kill they have done their job very very well.
Act 2 The Support Sweepers
Volcarona@Leftovers
Flame Body Bold (+Def -Atk)
240 HP / 216 Def / 52 Spe
*Quiver Dance
*Fiery Dance
*Bug Buzz
*Roost
This is just crazy good when you have control over rocks. Although she does have problems with rain when it comes in, its not too bad now that she has roost. And anyways, the goal of the team isn't for her to sweep (although it does happen quite a lot). My team has 3 weaknesses to ice and not only does Volcarona handle ice attacks but she actually loves them. Most carriers of ice attacks are setup fodder for her (bulky waters in particular) or choiced which gives her a free setup turn.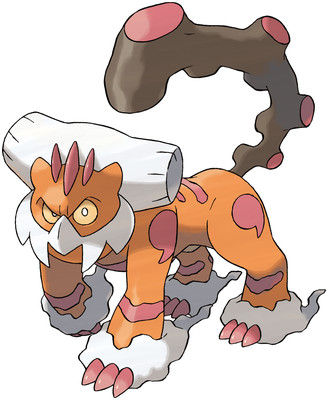 Landorus-Therian@Choice Scarf
Intimidate Jolly(+Spe -SpA)
*Earthquake
*Stone Edge
*U-turn
*Hammer Arm
Ok I lied. THIS is my new favorite pokemon. Therian form Landorus is situational over regular Landorus. If you are not using sandstorm then therian form is better. If you are double dancing Therian form is better. One downfall of using therian form landorus is that you can't outspeed shell smash cloyster. Which is unfortunate because he destroys my team outside of forry.
This guy is designed around being able to come in and out more than regular landorus. With better physical bulk due to intimidate and 2 immunities he finds many chances to come in and either scout with u-turn or hit with the famous Edgequake combo.
Act 3 The Dragons
Dragonite@Leftovers
Multiscale Adamant(+Atk -SpA)
252 HP / 44 Atk / 212 Spe
*Dragon Dance
*Dragon Claw
*Fire Punch
*Roost
This is why this team works. Without stealth rocks dragonite provides me with a wall, a setup sweeper, and a wall breaker. He is THE most broken pokemon without stealth rocks. He isn't a big fan of sandstorm but can deal with it.
Salamence @ Lum Berry
Moxie Naughty (+Atk -SpD)
252 Atk / 4 SpA / 252 Spe
*Dragon Dance
*Outrage
*Earthquake
*Fire Blast
This is scary. Moxie. Dragon Dance. Outrage. Salamence. Stand in awe of the menace. He comes in after dragonite's rampage and picks up right after him. Lum berry serves a dual use in blocking toxic, burn and paralyze or stopping confusion from outrage. Saying anymore would be an insult to your intelligence.
Goals:
Control the Hazard game to make the best use of 3 of the best mons crippled by rocks
My spinners are very reliable, while also not hindering the team if they are not needed for spinning.
Ignore Weather Completely
Rain and Sun can both be used by my team well. Sand is only a very slight hinderance
Break through the enemy walls with punishing setup sweepers
Volcarona and Dragonite Both target different counters of salamence. They are highly reliable and can both sweep if the need arises
Ultimately sweep with Salamence
This Happens. A lot.
Shell Smash cloyster is my biggest enemy. I have to sacrifice something to allow forry free entry to take care of it. I am also fairly vulnerable to enemy dragon dance dragons, i can deal with them but if they are running anything near mine (such as double dance kingdra/ddmence) I'm done for. If this becomes more popular I may be forced to switch to scarf flygon.
Comments/Questions/Concerns/Suggestions are all welcomed! Thank you for reading my RMT :D