Pure Hackmons

VR update! (3/24/22)



Wonder Guard VR



UP

to #1 in S


UP

to #2 in S


DOWN

to #3 in S


DOWN

to #4 in S

UP

to #1 in A+


DOWN

to #2 in A+


UP

to #2 in A


UP

to #3 in A


UP

to #4 in A


UP

to #1 in A-


UP

to #2 in A-


UP

to #3 in A-


DOWN

to #4 in A-


DOWN

to #7 in A-


DOWN

to B+


UP

to B


UP

to B-


UP

to C


DOWN

to C-


DOWN

to UR

Regular VR



UP

to #2 in S


UP

to #3 in S (Imposter)


UP

to #1 in A+


DOWN

to #2 in A+


DOWN

to #1 in A


UP

to #2 in A

DOWN

to #3 in A


DOWN

to #4 in A


UP

to #1 in A-


DOWN

to #2 in A-


UP

to B-


DOWN

to B-


UP

to C


DOWN

to D

___________________________________________________________________ Wonder Guard VR Explanations:

These two Pokemon are the best Wonder Guard users in the metagame. While worse defensively, Xerneas outdoes its main competitor in Mega Audino overall due to its ability to pressure much of the metagame with Moonblast. In addition, Xerneas is an extremely potent SubPass user, which capitalizes on Moonblast's amazing offensive typing to force Magic Bounce users out, letting it set hazards with near impunity. Primal Kyogre has grown increasingly dominant as a support Wonder Guard that can force Primal Groudon out with Scald, and can run both physically and specially defensive sets; its amazing special bulk lets it tank Freeze-Drys from most attackers and even switch into some Choice Specs Mold Breaker users. Xerneas and Kyogre's strengths put them a fair bit above other Wonder Guards, and have been moved to the top of the Wonder Guard VR as a result.

These two Wonder Guards, however, have fallen off quite hard. Arceus can still fulfill many useful support roles due to having a great defensive typing and stats; however, its Speed prevents it from being a truly effective pivot and somewhat restricts its movesets. Mega Audino's main issue is that it's outclassed by Xerneas due to its bulk not mattering in the majority of situations (for example, the vast majority of Huge Power and Protean users OHKO both Xerneas and Audino), but still has a substantial place in the metagame due to strongly checking Mega Gengar lacking Sludge Wave. Both Wonder Guard users have dropped because of these reasons, and can only realistically go down from here.

Slaking isn't far away from Arceus viability-wise, and works about as well in practice because special Fighting-type moves are virtually non-existent. It's been raised to the top of A+ rank as a result.

Mega Scizor struggles slightly more due to Primal Groudon's reign; its physical bulk doesn't matter very much due to Groudon's dominance. It's also forced out often by the metagame's top Mold Breakers. That being said, it's still a solid scouter for Huge Power sets and a decent support set user so it only drops a little bit to #2 in the A+ rank.
These three Pokemon have risen in popularity as the metagame has become slower and extremely fast Pokemon like Mega Aerodactyl lose ground. Mega Mewtwo Y has a good Wonder Guard typing, can fulfill support roles and hits strongly. Mega Beedrill hits slightly less hard, but threatens Psychic-type Wonder Guards with U-Turn, can support its team quite well, and is a great momentum grabber. Mega Manectric can run SubPass effectively by threatening Primal Groudon with Scald or Steam Eruption and annoy opposing Prankster switch-ins with burns. These three Pokemon's speed tiers getting better as Mega Aerodactyl becomes less relevant warrants rises to A rank.
Cresselia has great bulk, a good Wonder Guard typing, and slow enough Speed that it's a good pivot. While the weakness to Pursuit users is a concern in a good portion of games, its ability to support its team with a support moveset effectively calls for a slight rise to the top of A- rank.
Dusclops has a very similar role to Cresselia; in exchange for less item variability and more vulnerability to Knock Off, it isn't weak to U-Turn and is slightly slower. It can perform its job effectively enough that a rise to #2 in A- rank was warranted.

Despite its weakness to Ground-type moves (Fissure weakness is problematic but is only so in a relatively narrow portion of matchups), Primal Groudon is a strong Wonder Guard user because of amazing stats and STAB on great attacks in Thousand Arrows and Sacred Fire. A workable Speed and Thousand Arrows' near-perfect coverage means Groudon works as a SmashPass user. Offensive sets also work well due to Groudon's STABs and amazing offensive stats. The previous placement at B was far too low for it, and it has been raised to #3 in A- rank.

Mega Sableye's typing has only one weakness, but its stats (bar Speed) are terrible. In fact, FEAR is Sableye's best set because one can't really count on it to check any metagame threats bar Huge Powers lacking Play Rough or Gastro Acid. Mega Swampert suffers from being outclassed by Primal Kyogre due to its 4x weaknesses to Freeze-Dry and Grass-type moves; however, it can take advantage of STAB Thousand Arrows to run diverse SmashPass sets. Both Mega evolutions drop to A- rank, with Sableye at #3 and Swampert at #7 within the rank.
Regigigas is outclassed even harder than Mega Swampert is by Primal Kyogre, being worse than Slaking in virtually any situation. However, it's not worse by a huge amount in practice, so a relatively conservative drop to B+ was made.

Both Pokemon may be weak to Stealth Rock (holding them back from rising much higher), but they're very good Huge Power checks due to how uncommon Electric, Water, and Rock-type moves are on them. Ho-Oh can also check Mega Gengar decently well without Stealth Rock on the field, while Volcarona can outspeed base-90s and has a spammable STAB in Blue Flare. Ho-Oh rises to B, and Volcarona to B-, as a result.
While it's 99% outclassed by Arceus, Slaking, or Blissey (depending on intended use), Snorlax rises slightly to C due to combining extremely low Speed with workable Attack, as well as special bulk that exceeds that of all common Wonder Guard users bar Primal Kyogre and Blissey.

Electrode is completely outclassed by Mega Manectric and has no reason to be higher than C-. It is only on the VR because it can speed tie MMY and run extremely niche Pain Split strategies slightly better than Manectric.
As an offensive Dark-type, Darkrai is completely outclassed by Hoopa-U, and defensively it's outclassed by Mega Sableye. Darkrai is removed from the VR because it sucks.
Regular VR Explanations:

I'll be brief because I intend to write a post on Primal Groudon sometime soon.
Groudon is a top 2 Pokemon (debatably top 1) in the metagame, and isn't far off from Giratina. Due to its incredible stats, defensive typing, and STABs, it has a great many Mold Breaker sets and can run a vast number of support options (a few examples are Stealth Rock, King's Shield, Recover, Substitute, Nuzzle, Sacred Fire, and even Sheer Cold), and can fit on a variety of playstyles including ones that minimize its weaknesses, like
spam
or
Sun
. Its "checks" are nothing more than obstacles that Groudon can easily work around, for example with Choice Band Beat Up, Trick, paralysis, OHKO, or even indirect chip with hazards or Toxic. Additionally Mold Breaker isn't all it can run - it has a beastly Huge Power set that can outright remove opposing Giratina and revenge-kill most opposing sweepers, including traditional offensive checks like Mega Rayquaza, Mega Mewtwo Y, and Mold Breaker Mega Diancie. Groudon is also just barely worse than Mega Mewtwo X as a Huge Power coverage user because of how easily it can get in on passive Wonder Guards. In short, Groudon is versatile, unpredictable, and near impossible to check reliably. Altogether Primal Groudon is far above the likes of Mega Mewtwo X and Y and completely deserves a rise to S rank.
Imposter is crazy good in this metagame, not only because of the insurance it provides, but also because the user gains information about the opposing team that can be used to formulate a gameplan. This is especially important in this stage of the metagame, where Mold Breaker sweepers are the premier way to make quick progress. Additionally, Imposter users can pressure sweepers immensely in a game because of how they can run Choice Scarf (faking out Eviolite in Chansey's case) and potentially revenge-sweep. And last but not least, Imposter users put insane pressure on teambuilding, forcing answers to teams' offensive Pokemon on the same team. It's worth noting that Imposter would be even more effective with a better playerbase, as such a playerbase would innovate more and take advantage of all the strategies Hackmons allows for. Imposter users also have niche options in Plates and Light Ball Pikachu to pressure potential sweepers harder, though forgoing the guaranteed outspeed is a big sacrifice. All things considered, Imposter has a place in the metagame that warrants S rank placement on the Viability Rankings.
Mega Gengar benefits from a slower metagame, boasting a threatening Imposter-proof sets with amazing Ghost / Fighting coverage. Additionally, it doesn't make much of a sacrifice running Sludge Wave over Secret Sword, or even forgoing a sleep move to run a 3-attack set. Resisting Pixilate users is useful when Gengar is unboosted, and it's also immune to Shadow Tag and Huge Power Extreme Speed users (unless they opt for a situational coverage option in Shadow Sneak). All this outweighs Gengar's weakness to Pursuit and its waxing place in the metagame, and it has risen to the top of A+ rank as a result.

Mega Diancie is still an insane Shell Smash sweeper, but without King's Shield it struggles to deal with most -ate and Huge Power priority users. Its Pixilate set is also on the wane thanks to Primal Groudon's prominence in the metagame. Don't get me wrong, Diancie is still insane, but it drops just a bit due to its weak points.
Arceus is a good Mold Breaker user, with good bulk, being untrickable, and having STAB Boomburst, but the lack of immediate power and Giratina's prevalence makes it difficult to use for less experienced players. It also struggles with running non-Mold Breaker sets, with Magic Bounce, its next best non-Wonder Guard (or No Guard) set, being fairly niche. On the flipside, however, Arceus spam teams are still highly effective, though perhaps slightly less so due to Primal Groudon necessitating switch-ins for it. Arceus' previous placement of A+ was too high for it, and it has dropped to the top of A rank.
While Mega Latios has taken a relative backseat as a Mold Breaker user due to being vulnerable to Pursuit, priority users, and faster Pokemon in general, its newer set in Protean has taken off explosively, doing ridiculous damage to nearly everything. While Latios' lack of Speed relative to Mega Mewtwo Y is a slight liability, it doesn't matter significantly in-battle because of how easy it is to get it in against passive Wonder Guards. Latios' strong points mean it rises just a bit to #2 in A rank.

Not much has changed for Slaking and Regigigas; they fall a bit because Arceus and Mega Latios move to A rank above them.
With Primal Groudon rising, what forces it out also rises as well. Mega Gyarados has STAB Pursuit, Water Shuriken, and Knock Off, allowing it to run a menacing Huge Power set that forces even King's Shield Primal Groudon out. Additionally, it has moveset options in Sucker Punch, Trick-Or-Treat, Gastro Acid, and even niche ones like Gunk Shot. With Primal Groudon taking to the forefront of the metagame Mega Gyarados' role has become ever more important, justifying a rise to the top of A- rank.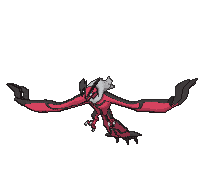 Yveltal, faces strong competition from Mega Gyarados as a Huge Power Pursuit user. While it may also have several other sets, like Regenerator, Magic Bounce, and Prankster, they're fairly niche sets that rarely strongly impact the outcome of games. Sets that check the likes of Mega Gengar and Mega Latios more reliably, such as Poison Heal and Regenerator, are vulnerable to Shadow Tag, while Shed Shell sets struggle with said sweepers. Yveltal has been lowered to A- rank, just below Mega Gyarados, as a result.
Dialga can run an effective Mold Breaker set with Iron Plate Judgment, Spacial Rend, and Fire-type coverage in Blue Flare or Searing Shot. After a Shell Smash, it 2HKOes the vast majority of the metagame, and only Pokemon with extreme special bulk like Blissey can safely switch in. Iron Plate Dialga can somewhat prevent Choice Scarf Imposter users from making progress by pairing it with a Fairy-type Wonder Guard and Giratina. Dialga can also run Draco Plate so Prankster Giratina can Imposter-proof instead, although the weaker Steel-type STAB hurts its sweeping potential. Resistances to Aerilate and Huge Power FakeSpeed also help significantly. Dialga's strong points earn it a place in B- rank.
Mega Slowbro hasn't been doing very well for itself, as it's basically outclassed by Giratina. Poison Heal is its best set, and even that is situational and only fits on bulkier teams; Huge Power users, some of what the set tries to check, can even break through. Fur Coat sucks due to Mold Breaker ignoring it, and Shadow Tag sets are unreliable due to the introduction of Shed Shell Primal Groudon. Slowbro drops to B- rank.

Mega Garchomp struggles to compete with Primal Groudon, but it does have one valuable quality in being a physical Mold Breaker user that immediately threatens Giratina AND Primal Groudon. STAB Thousand Arrows and Dragon Claw mean that alternative options to Giratina must often come in, so Garchomp can grab KO's without too much trouble. That being said, having less bulk means it struggles with faster offensive Pokemon. All this means Garchomp rises to C rank.

Mega Altaria exists on ONE outdated team and is useless otherwise as far as the council knows, so it drops to D rank.