This would be my first "1st Gen Only" team, so help would be nice.
​
Meet The Team​
Ninetales @ Leftovers
Trait: Drought
EVs: 136 HP / 252 SpAtk / 120 Spd
Modest Nature (+SpAtk, -Atk)
-
Will-O-Wisp
-
Sunny day
-
Fire Blast
-
Solarbeam
​
I pulled Ninetales from the list of 1st Generation pokes because it plays a very important by putting the sun up. Of course this team would revolve around weather, for it's very important part of OU. I gave Ninetales a suggested Sunny Day set to pull the sun back up to force opposing weather inducers to switch out. STAB Fire Blast under the sun is monstrous which is why it's Ninetales's main STAB move. Solarbeam requires no charge up with the sun, and can OHKO Politoed or do good damage on Tyranitar who, with sunny day, gets no SDef boost.
​
Venusaur @ Life Orb
Trait: Chlorophyll
EVs: 80 HP / 252 SAtk / 176 Spd
Timid Nature (+Spd, -Atk)
-
Growth
-
Giga Drain
-
Sludge Bomb
-
Hidden Power [Fire]
​
Venusaur is my weather abuser, and it just so happens to be in First Gen, so I figured hey, why not? He has a Growth set with max speed, if switched in at the right time, Venusaur can get a Growth off and that's always great. Giga Drain has good synergy with Life Orb. Sludge Bomb is just to have another STAB move for those who resist Giga Drain and Hidden Power Fire is for checks to Venusaur such as Scizor, Ferrothron, Forretress, or Jirachi whom he won't damage otherwise.
​
Dugtrio @ Focus Sash
Trait: Arena Trap
EVs: 4 HP / 252 Atk / 252 Spd
Jolly Nature (+Spd, -SAtk)
-

Reversal
-
Earthquake
-

Stealth Rock
-
Stone Edge
​
Dugtrio is my quick revenge killer / stealth rocks and I chose him because of his speed, movepool, and ability to revenge kill potential sweepers. Dugtrio really plays a good role in keeping my team's momentum under the sun. SO far he's done a pretty good job at being able to lay down the stealth rocks. With STAB Earthquake he can even take out some things on his own with his great speed.
​
Cloyster @ (Leftovers)
Trait: Skill Link
EVs: 248 HP / 84 Atk / 176 Def
Impish Nature (+Def, -SAtk)
-
Rapid Spin
-
Icicle Spear
-
Toxic Spikes
-
Ice Shard
​
Cloyster was chosen to be my physically defensive utility to lay down Toxic Spikes and his good bulk allows him to do so. My team has had issues with entry hazards so I slapped rapid spin on him. Icicle Spear is for predicting an obvious switch in for those that can check Cloyster with special attacks like Latios. Ice Shard is his pirority STAB that just there for the misc.
​
Dragonite @ Choice Band
Trait: Multiscale
EVs: 60 HP / 252 Def / 196 Spd
Adamant Nature (+Atk, -SAtk)
-
Extremespeed
-
Outrage
-
Fire Punch
-
Earthquake
​
I decided to make Dragonite a part of this team because of his bulk in his ability Multiscale. I decided to give him a Choice Band set to intensify his raw power and check pokes who would otherwise resist my team. Outrage has the potential to tear teams apart. Fire Punch is there for more coverage and its power increases in the sun, and Extremespeed is to finish off any threats who have been damaged. Earthquake is there for greater coverage and power.
​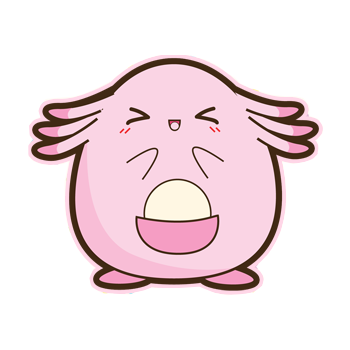 Chansey @ Eviolite
Trait: Natural Cure
EVs: 4 HP / 252 Def / 252 SDef
Bold Nature (+Def, -Atk)
-
Wish
-
Softboiled
-
Toxic
-
Seismic Toss
​
Chansey is my special wall with the ability to heal my team and/or herself. With eviolite, Chansey is extra bulky and can take a good number of hits. Seismic Toss is it's only attack and does about 25% damage, just so she doesn't get shut down by a Taunt. Chansey really rounded this team off very well to give the team the bulk it needed. Toxic cripples those that levitate over the Toxic Spikes or if Toxic Spikes have been rapid spun away. Chansey's EV Spread allows it to keep good HP with impressive bulk and take many more hits.
​
Ninetales (F) @ Leftovers
Trait: Drought
EVs: 152 HP / 108 SDef / 248 Spd
Timid Nature (+Spd, -Atk)
- Will-O-Wisp
- Substitute
- Fire Blast
- Hidden Power [Fighting]​
Venusaur (M) @ Life Orb
Trait: Chlorophyll
EVs: 76 HP / 180 SAtk / 252 Spd
Timid Nature (+Spd, -Atk)
- Growth
- Giga Drain
- Sludge Bomb
- Hidden Power [Ground]​
Dugtrio (M) @ Focus Sash
Trait: Arena Trap
EVs: 4 HP / 252 Atk / 252 Spd
Jolly Nature (+Spd, -SAtk)
- Reversal
- Earthquake
- Stealth Rock
- Sucker Punch​
Cloyster (M) @ (Leftovers)
Trait: Skill Link
EVs: 248 HP / 84 Atk / 176 Def
Impish Nature (+Def, -SAtk)
- Rapid Spin
- Icicle Spear
- Toxic Spikes
- Ice Shard​
Dragonite (M) @ Lum Berry
Trait: Multiscale
EVs: 252 HP / 44 Def / 212 Spd
Adamant Nature (+Atk, -SAtk)
- Dragon Dance
- Outrage
- Fire Punch
- Roost​
Chansey (F) @ Eviolite
Trait: Natural Cure
EVs: 252 HP / 252 Def / 4 Spd
Bold Nature (+Def, -Atk)
- Wish
- Softboiled
- Protect​
- Seismic Toss​