The Enterpriser.

The Team
Because Deoxys-D will probably be banned, I thought I would share my very own Deoxys-D team. I made it long ago with
CTC
to make requirements last suspect test, but ultimately IRL stuff got in the way and the variation system sucked for the duration I was on. However, I've consistently hit 1500s on PO with this team, and when the ladder reset I laddered "seriously" and hit number one. However, I let that alt decay because I'm mostly studying and I ended up just laddering on different alts to test and eventually just didn't care about maintaining the number one spot. This team is pretty good and I personally enjoy'ed using this team. In my opinion, this team has no weakness to team matchups alone unless the opponent as like 3 specific threats, but even then smart playing allows this team to beat virtually everything. I've begin to lose interest in this team though since it's quite easy to win with so this suspect test is almost relieving.​
I started this team with Deoxys-D since hazards make sweepers very threatening. I prefer the Mental Herb + Thunder Wave variant since its great for both crippling opposing sweepers and preventin others from setting up taunt in its face.
I added Gengar to add the infamous DeoGar core, and decided on the sash variant. Since SubSD Terrakion can give my current one problems, this one can come in and Destiny Bond or simply KO the ladder and has a decent chance vs. Starmie.
This is probably the MVP of this team. I added ThundyT since its so easy to set up with a bulky set. Get this, ThundyT can set up easily on the following Pokemon: Starmie, Forretress, Tentacruel, Scizor, Lucario, and Jellicent. Do these Pokemon have any relevence? Of course they do! They're the biggest threat to all DeoD teams and ThundyT has no problem setting up on either of them, as well as murdering rain offense / rain stall teams.
Keldeo came because of the great synergy it brought to the table. I chose the EB variant so I could run both Rain Dance and so I could catch the opposition off guard. The EB set works so well with this team because the hazards can put everything into KO range for its EB coverage, and ThundyT helps get rid of virtually all of its counters. By beating Tyranitar and in general being a pain for SandStall to face (since ThundyT hates facing them), I felt it was a good addition. With Rain Dance, I can easily stop a sun sweep as well.
SubSD Terrakion is only adding to the synergy of this team. It consistently can abuse hazards while appreciating ThundyT's ability to eliminate Scizor and Breloom and Jellicent. Terrakion can manhandle sand offense and it can provide some good lategame sweeping with its salac berry. It's also a great Pokemon to hit Ninetales with, as everything else really just hates anything in sun as only Keldeo can resist fire attacks.
Choice Scarf Jirachi fills the next bill, and it's quite important. It can resist Tornadus's (both formes at the time this was built) STAB, and can also tank a few Dragon hits. With Zen Headbutt, I can beat Toxicroak and Keldeo with enough ease as well as check SD Scizor with Fire Punch. Its a great revenge killer (and Dragon Slayer) and it's U-turn utility is amazing for grabbing momentum.
@
Trait: Pressure
Nature: Timid
EVs: 252 HP / 20 SDef / 236 Spe
- Stealth Rock
- Spikes
- Taunt
- Thunder Wave
Overview
Deoxys is a suicide lead. Usually I will try to predict the Gengar lead and lead off with my own so usually I'm always in a good matchup. I can usually get SR + 1 layer of Spikes up on the field, but sometimes I can rack up para-haxes for an extra layer (example: Scarf Politoed gets paralyzed and misses Pumps, etc.). Deoxys-D is a great Pokemon to check Venusaur since I run Thunder Wave so I'll generally try to keep its health in check when I see sun teams. Stealth Rock is the most important move in the game; seriously, how else are you supposed to deal with Dragonite and Volcarona? Spikes is there for the additional damage racking (fuck you stall). Thunder Wave is great for hitting Laitos / Latias / Politoed / Scarfers / Terrakion / etc. and I've found the utility quite useful.
Why Mental Herb set over the Red Card?
I prefer the utility of the Thunder Wave and its crippling capabilities. I've never liked playing mind games with Magic Coat since 50/50 tosses in the beginning of the match is not something I like to encounter at all when I like to play lax my first three turns. Bri recommended I use the Red Card variant for SubSalac Terrakion but I find that I much prefer the utility of Thunder Wave and that I have enough checks for it already.
@
Trait: Leviate
Nature: Timid
EVs: 4 HP / 252 SpA / 252 Spe
- Destiny Bond
- Taunt
- Shadow Ball
- Focus Blast
Overview
He's a decent spinblocker. By playing rather offensively with him and being bold he can be quite effective. His ability to check Terrakion is pretty neat, as well as his ability to cripple stall and opposing Deoxys-D with his amazing taunt. Destin Bond alongside Taunt is a great means of eliminating SubToxic Tentacruel early game as well as netting extra KOs on slower set up Pokemon like CM Keldeo, SubSD Gliscor, SubSD Terrakion, SD Breloom, SD Lucario lacking Bullet Punch, and other useful Pokemon. Shadow Ball is a great STAB and Focus Blast actually hits quite hard than one would suspect and they both have decent coverage's.
Why Focus Sash over SubSplit or SubDisable
Gengar's ability to Destiny kill SubSD Terrakion and slower spinners is quite important. SubSplit has lost merits in my opinion in this metagame when Disable is just much better, and SubDisable struggles vs. spinners in general which is why I've opted to use SashGar instead.
@

Trait: Volt Absorb
Nature: Modest
EVs: 40 HP / 96 Def / 252 SpA / 16 SDef / 104 Spe
- Nasty Plot
- Agility
- Thunderbolt
- Hidden Power [Ice]
Overview
Thundurus-Therian is an underrated sweeper. Hazards make it ridiculously easy to set up a sweep. I don't really care much for bluffing a choice set with Expert Belt since Leftovers provides so much bulk. At 100%, after miracolously getting +6 / +2 on DeoD, a priority core of three Pokemon (Lucario, Dragonite, Scizor) could not KO me, just so you get an idea of its insane bulk. The EVs are from BKC so props to him, and although 152 HP might seem like its equivalent; this spread is slightly more physical bulky, which is major important for tanking priority attacks. Thunderbolt is used since I don't own rain (and even if I did I would use Thunderbolt) because Thunderbolt is great for hitting outside of rain (beats any team if you can successfully set up with SR + 1 Spike). ThundyT is amazing at beating most of the top threats used to beat DeoD archetypes.
Why Double Dance and not an EB Bluff or Choice set?
Because they can't get a midgame sweep or abuse the hazards nearly as well as Thundurus-T can, not can they set up on common spinners and threats to DeoD. The Specs and Scarf set kill offensive momentum with their choice'd attributes while the EB set is just weak.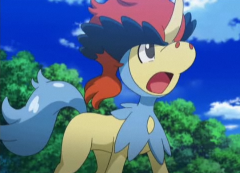 @

Trait: Justified
Nature: Timid
EVs: 4 HP / 252 SpA / 252 Spe
- Hydro Pump
- Secret Sword
- Icy Wind
- Rain Dance
Overview
This thing is amazing. Icy Wind is used over HP [Ice] to abuse the ability to switch attacks and KO faster threats. Hydro Pump offers an incredibly powerful STAB to use, and Secret Sword is great for pumping those KOs. Blufing a choice set is great on this DeoD team since the hazards put everything into KO range and I can easily swap out attacks in crucial moments. The most important thing this set does though is use Rain Dance. It stops sun teams cold (it lives Giga Drain from Timid LO Venu as it only does 83%). Its amazing utility and synergy with ThundyT an its ability to wreck both sand stall (Amo after SR + 1 Spike and sand damage is 2HKO'd by Icy Wind doin around 46%).
Why Expert Belt over Choice Scarf or CM?
CM is too slow paced for this team and (bar the fact that I already have a scarfer) the Choice Scarf set just can't beat sun, which otherwise threatens me so badly. The utility to both Rain Dance and netting surpise KOs (or simply damaging crucial Pokemon; say I go from Hydro Pump to Secret Sword to smack Wash for 47%, etc.) I've found that even if my opponent knows I'm EB that its still quite threatening with RD present to remove Stout + Venu sweeps and its excellent coverage's that prevent Pokemon from setting up on the usually-choiced Keldeo.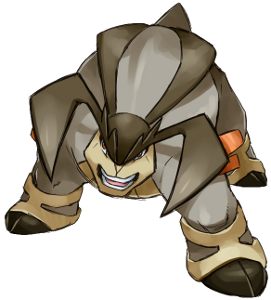 @

Trait: Justified
Nature: Jolly
EVs: 4 HP / 252 Atk / 252 Spe
- Swords Dance
- Substitute
- Close Combat
- Stone Edge
Overview
This guy is amazing at abusing hazard support as well as appreciating its teammates' ability to check and counter Scizor, Breloom, Skarmory, Hippowdon, and Jellicent. Beating sand offense and generally being a good answer to sun if I can get rid of their blasted Chloro sweeper, Terrakion is an amazing addition to this team. I often use it to get lategame sweeps with its salac berry, typically abusing the hazard support Deoxys-D brings. Swords Dance and Substitute are a great combination for breaking stall, alongside Salac Berry to go on latesweeping. Close Combat and Stone Edge abuse Dual STAB and can make quick work of teams unprepared for this top dog threat.
Why SubSalac over Double Dance or Choice Band?
This set can lategame sweep to the extent where neither of its counterparts can. Choice Band ruins offensive momentum when I'm forced and locked to use one attack, while not gaining much coverage in return. I've found the power difference in this case is really redundant since hazards are all I need anyway and Substitue is enough to help with stall regardless.
@

Trait: Serene Grace
Nature: Jolly
EVs: 4 HP / 252 Atk / 252 Spe
- Iron Head
- Zen Headbutt
- Fire Punch /
Ice Punch
- U-turn
Overview
This Pokemon is amazing at revenge killing. Zen Headbutt is both unexpected and incredibly useful for hitting Toxicroak and Scarf Keldeo. Iron Head can abuse a strong STAB that can flinchkill many Pokemon under the support of SR + Spikes. U-turn allows me to nab momentum with hazards, which is quite awesome. Fire Punch vs. Ice Punch is really the question here. Fire Punch beats down in case Scizor gets +2, but Ice Punch easily knocks Landorus / Garchomp / Dragonite, etc. I use both so feel free to test this out yourselves! It greatly synergizes with the team as it can beat down on Toxicroak, quite a big threat, as well as fast Dragons like the Lati twins. It's ability to use U-turn is amazing for pulling momentum for ThundyT.
Why Scarf over the bulky set?
Because the bulky set doesn't hit the speed tiers I need nor can it abuse hazards like my fellow Scarf Jirachi. Being able to revenge kill dragons is super important as well as hitting that much-needed speed tier.
Conclusion​
Deoxys-D, you will be missed. I'm happily retiring this team so you all can use it before Deoxys-D hits the ban (but even if it doesn't I'll probably never use this team again). This team is packed with fast-paced threats as well as having almost perfect synergy. I guess Sun Stall can be quite annoying to face as well as Amo if it isn't in sun. Swords Dance Scizor is also quite annoying but ultimately I have enough checks to it. Chlorophyl sweepers are the biggest issue so I always just try to get up Rain Dance after Ninetales inevitably uses itself as death fodder.
I would like to give a few shoutouts to a few users:
CTC:
For originally getting me started with this team.
Princess Bri:
For giving me suggetions (despite me not really liking Kingdra over Keldeo, the LO really puts a strain on it)
Alexwolf:
For playing with the team before I RMT'ed it and for being a good friend XD
Lavos Spawn:
For giving me a good reason to retire this team
Be sure to Luvdisc :P
Deoxys (Deoxys-D) @ Mental Herb
Trait: Pressure
EVs: 252 HP / 20 SDef / 236 Spd
Timid Nature (+Spd, -Atk)
- Stealth Rock
- Spikes
- Thunder Wave
- Taunt

Thundurus-T (M) @ Leftovers
Trait: Volt Absorb
EVs: 40 HP / 96 Def / 252 SAtk / 16 SDef / 104 Spd
Modest Nature (+SAtk, -Atk)
- Agility
- Nasty Plot
- Thunderbolt
- Hidden Power [Ice]

Keldeo @ Expert Belt
Trait: Justified
EVs: 252 SAtk / 4 SDef / 252 Spd
Timid Nature (+Spd, -Atk)
- Rain Dance
- Secret Sword
- Hydro Pump
- Icy Wind

Jirachi @ Choice Scarf
Trait: Serene Grace
EVs: 252 Atk / 4 SDef / 252 Spd
Jolly Nature (+Spd, -SAtk)
- Iron Head
- U-turn
- Zen Headbutt
- Ice Punch

Terrakion @ Salac Berry
Trait: Justified
EVs: 4 HP / 248 Atk / 4 SDef / 252 Spd
Jolly Nature (+Spd, -SAtk)
- Swords Dance
- Substitute
- Close Combat
- Stone Edge

Gengar (M) @ Focus Sash
Trait: Levitate
EVs: 252 SAtk / 4 SDef / 252 Spd
Timid Nature (+Spd, -Atk)
- Destiny Bond
- Shadow Ball
- Focus Blast
- Taunt
​