Considering we wanted to make this bit more active, and everyone has updated their post we will be closing of the round earlier. I'll be updating the archives with all the submitted post and there where lots of good submissions this week with such let's take a closer look at some of them.

Highlights


:This is a really simple corm that forms an astounding VoltTurn that are able to pivot out that able to bring each other into much more favorable matchup and Scizor is able to bring in Zeraora safely, and with Knock Off wearing down the opposite side makes Scizor formidable late game.

:Similary as the partner above being able to form a VoltTurn core while covering each other weaknesses fairly well, with Koko's ability to reliably check Tornadus-T and Zapdos better by having access to Roost for longevity.

:Choice Specs Dragapult can easily break through most teams setting up for Scizor in the late game to spam Bullet Punch in a weakened team, constant pressure by supporting each other and yet another effective VoltTurn core.

:Hydreigon appreciates being brought in safely by slow U-Turns from Scizor in unfavorable matchup that Hydreigon can do better against, have nice defensive synergy with their typing. Just like Dragapult this core can cause heavy pressure in opposing teams due to the breaking capabilities these two have, and can play around with Hydreigon's moveset for favorable matchups.

Additional Notes


:while the set given still pairs really well with Scizor but would be paired better if the Scizor was more offensive set, however, it still works well.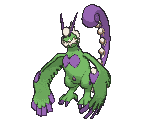 Round 16: Nasty Plot Tornadus-Therian
Tornadus-Therian @ Heavy-Duty Boots
Ability: Regenerator
EVs: 4 Def / 252 SpA / 252 Spe
Timid Nature
- Nasty Plot
- Hurricane
- Focus Blast/ Heat Wave
- Knock Off / U-Turn / Heat Wave
Tornadus-T new found access to Nasty Plot has made it become one of the best wallbreakers in the tier with a great speed tier preventing it from getting revenge killed easily and an amazing ability in Regenerator makes it a meta defining mon in the tier. Access to moves such as Focus Blast and Heat Wave for coverage against those that think it's safe to switch into, along with great utility moves in Knock Off being able to remove crucial items to help switch in against Tornadus-T or can ever afford to run U-Turn to pivot out in any unfavorable matchups and providing that recovery due to Regenerator. All of this makes Tornadus-T one of if not the best mon in the tier as of right now, as usual what pairs well with Tornadus-Therian.
Deadline is at 29th March, Monday
​