Approved by Codraroll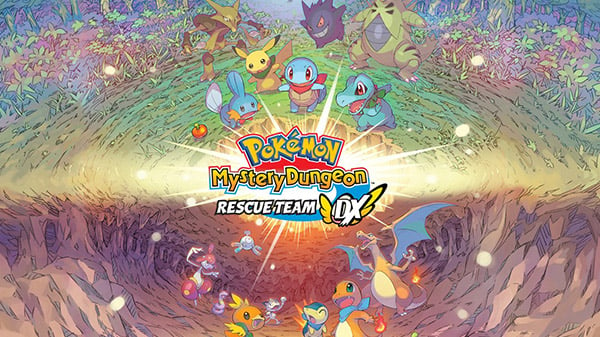 1st Official Trailer
2nd Official Trailer
Secret of the Makuhita Dojo
What is this game?
Pokémon Mystery Dungeon: Rescue Team DX is a remake of Pokémon Mystery Dungeon: Red Rescue Team and Pokémon Mystery Dungeon: Blue Rescue Team for the Game Boy Advance and Nintendo DS respectively. This game is being released for the Nintendo Switch worldwide on the 6th of March, 2020. The game is an RPG that has roguelike elements. The main bulk of the game occurs in Mystery Dungeons, dungeons where the floors are randomised. The game is being developed by Spike Chunsoft, the same development team who developed all the previous Mystery Dungeon games (Rescue Team, Explorers, Gates to Infinity, Super Mystery Dungeon).
What makes this game different from the originals?
Among what little we know:
-Added Pokémon to the Game: All evolutions and pre-evolutions of Pokémon Gen III and earlier that debuted in Gen IV and later, and Lucario
-Mega Evolution is now in the game
-An array of new items such as Dojo Tickets and new Orb items
-The Makuhita Dojo has been reworked to make use of the aforementioned Dojo Tickets and operates differently compared to the original
-General QoL updates and balances that were introduced in later installments, particularly Super Mystery Dungeon
-Friend Areas appear to be replaced by Rescue Camps, which appear to be Friend Areas with a different coat of paint?
-Anything else I've missed
Demo
The demo for this game is out now on the Nintendo Switch eShop and takes up roughly 2.1 GB of Download Space. The Demo covers from the start of the game up until just before the start of the third dungeon of the game: Mt. Steel, allowing you to complete the first two dungeons of the game and a few Rescue Missions.
What is this thread for?
This thread is for pretty much anything related to the game. You can discuss anything pertaining to the game, but make sure to follow the forum rules. You can also discuss your demo impressions, the trailer, the art-style, any new updates, comparisons to the original, your experience of the game once it inevitably comes out, anything really.
REMEMBER TO MARK SPOILERS FOR THOSE WHO HAVE NEVER PLAYED THE ORIGINAL VERSION
.
I (or a moderator) will update this post with new trailers/content as they turn up. I will also probably make this OP a little better sometime soon. Happy Posting.
Last edited: