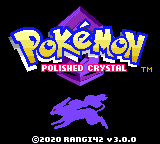 Good Eeveening everyone! I was bored and decided to return once again to Johto, despite having played the hardest version of it (Midele Crystal) years ago. Pokemon Polished Crystal is certainly than Midele Crystal, but still sounds like an interesting games.
You can Google up all the changes from vanilla Crystal but I will list the important ones anyway:
- All Pokemon of this game can be caught or evolved to.
-New Pokemon:Leafeon, Glaceon, Sylveon, Togekiss, Weavile, Honchkrow, Mismagius, Electivire, Magmortar, Magnezone, Tangrowth, Rhyperior, Porygon-Z, Yanmega, Gliscor, Mamoswine, and Munchlax. Basically, Gen 4 evolutions + Munchlax and Sylveon.
-Some were removed, since in second generation there could only be 253 Mons: Spearow, Fearow, Lickitung, Goldeen, Seaking, Hoppip, Skiploom, Jumpluff, Shuckle, Aipom, Stantler, Cleffa, Igglybuff, Smoochum, and Delibird . From these, the only relevant from Nuzlocke perspective are Jumpluff and Shuckle.
-A lot of new Moves have been added and some were removed. Some moves were upgraded too.
-There is Physical and Special split. Now Razor Leaf is a physical move, for example.
-Existing Pokemon were improved, Yanmega is Bug-Dragon for example.
-There are abilities. There are natures too, though you can desactivate them.
-Some other mechanics are updated to current Gen and there are some new ones: Hail now boosts 50% the Defense of Ice types.
-There are new locations. For example, Safari Zone is available in Kanto.
-There is new content in the story.
-Trainers are harder than in vanilla Crystal (though, as already said, not as hard as in Midele games).
-The AI has been improved too.
And well, there are many more changes that you can Google, as I already said. Now, onto the rules of the NuzBLocke:
-If a Pokemon dies, it can,t be used again. Exception: if a battle is supposed to be lost in early game (Don,t think there will be such a battle).
-I can only catch the first Pokemon that appears on each location unless I already have it.
-As an added rule to the above one, I can only catch Pokemon that has
never ended a generation in the OU Tier (according to Smogon Tiers).
This is the BL in the Nuzblocke. I will give example with Eeveelutions: Vaporeon has been OU from Gen 2 to Gen 5, so I can,t use it. Jolteon was OU from Gen 1 to Gen 5 too, so I can,t use it. Flareon was never OU, so its fine. Espeon was OU in Gen 5 alone (and not even good there), but thats enough to forbid me using it. Umbreon was OU in GSC and DPP, so no Stalling tactics for me. Leafeon and Glaceon are fine, they have never been OU. Sylveon was OU at some point in both Gen 6 and Gen 8, but didn,t end the generation in that Tier, so I can use Sylveon.
- Gift Mons and Static encounters (such as Sudowoodo) are not considered the first catch of their locations, meaning I can catch them on top of catching one more Pokemon on that location. However, they need to fulfill the rule of never being in OU Tier. If a gift Pokemon has been in OU, I can,t use it, but can trade it away. There is Wonder Trade service in this game that I am yet to know how it works. Still, I am only allowed to use such service after I get to Kanto.
-Shiny Pokemon can be caught and used at any time, provided they have never been in OU. However, if they have been in OU, I can still catch them and trade them away.
-Legendary Pokemon can be catched and used. However, only Articuno and Entei have never been OU among the legends.
-Set Mode is enabled.
-I can use a healing item in battle for each one the opposing trainer uses and only after they use it.
-Before starting the game, I requested Shiyo to
fucking make Midele Leaf Green or Platinum already
to tell me the number of Mons each Gym Leader and important trainer (not counting Rival) has and the highest level of their Mons (I gave him the link with the teams of the trainers, not reading it myself). I won,t be able to use more Pokemon than the leaders or start the battle with Mons that have higher level than their aces (if my Pokemon overlevel during the actual battle, its fine).
So, lets begin the challenge.
Chapter 1. A new Johto.
The game starts as your average Pokemon Crystal starts, with Profesor Elm introducing you to the world. The Pokemon he uses for it is a new one, however:
So, I choose my name and start the journey in my room. I look the map and its different too, showing some new locations:
I do downstairs and reveive a PokeGear and Running Shoes from Mom. Also I eat a tasty...
Outside of my house, I notice that Elm's lab has changed too:
In the second floor there is nothing of interest except Elm's family. When I try to enter through the main door, Lyra appears: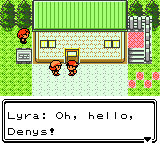 In this game she will be battling me as a friendly rival. For now though, Lyra just guides me to Elm, who needs us to do some research by raising his Pokemon.
Its time to pick the starter! Apart from Alola, Johto is the only region in which neither of the starter has ever been OU. All of them started in BL and then slowly sinked down to irrelevance as generations passed. In-game they have been better, especially Totodile, who usually just sweeps through Johto alone. In Nuzzlocke challenges however, the has always been a better starter than Totodile, and my favorite one overall (favorite starter in 8 generations, by the way):
So, this is my starter. I desactivated the natures, but not the abilities, so I get Overgrow. Its not the worst ability (that title goes to Leaf Guard), but would have liked to have Natural Cure. Chikorita line is better in this game, since Meganium is Grass-Fairy.
Before I have the chance to leave the Lab, Lyra challenges me to a battle:
Lyra has her starter nicknamed Toto. It uses Leer and takes a Tackle from Dinosorio.
Dinosorio crits with Tackle and takes a Scratch.
Both Pokemon crit the next turn.
Toto leaves Dinosorio with 3 HP next turn, but Dinosorio crits for third time in a row, leaving it in red too. It will all depend on who attacks first next turn.
Unfortunately, I lose the Speedtie and the battle: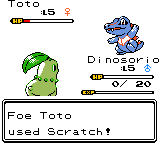 Of course, being a practice battle with no previous training, this one doesn,t count for Nuzlocke. I would have won if I didn,t take away the Oran Berry Dinosorio was holding. Well, we will take our revenge in the future.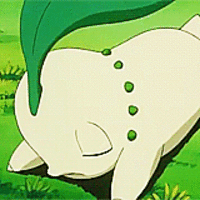 Lyra goes away after the battle, while I receive the Potion from Elm's aide.
I go through the route 29, where I still can,t catch Mons. Dinosorio battles some wild Mons and grows to level 6, learning Razor Leaf.
Cherrygrove City in this game actual looks like Cherrygrove: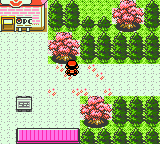 After healing Dinosorio, I visit Mr. Pokemon's house and get the Mistery Egg and the Pokedex. On my way back to the Lab, Dinosorio grows to level 7. This will certainly be useful in the upcomming battle:
Oh, wait. He has 2 Mons? I am fucked, loool. First one is Rattata who uses Leer and takes Razor Leaf.
Rattata damages Dinosorio with Quick Attack and dies to the second Razor Leaf:
Cyndaquil comes in, fortunately he is still at level 5. Even at level 5, the fire rat is faster and uses Tackle, receibing back the same move.
Cyndaquil uses Tackle again. Dinosorio hits it too, after eating Oran Berry.
Cyndaquil uses another Tackle and Dinosorio does the same. Unlike Lyra, this rival did keep his Oran Berry, so Cyndaquil heals.
Both Pokemon exchange Tackles.
Both Pokemon exchange Tackles again, Dinosorio is now in yellow.
Dinosorio resists another Tackle and uses Razor Leaf, which leaves Cyndaquil in red.
Dinosorio survives the last Tackle with just 2 HP and wins the battle:
The rival escapes and Dinosorio grows to level 8.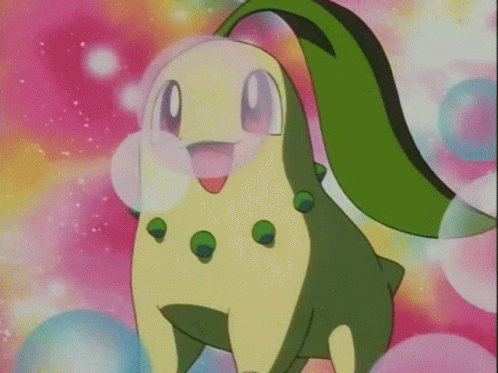 After that I go back to the Lab and tell the police that the thief is named Shiyo, since he is bad and evil (doesn,t do Midele).
Lyra waits for me in route 29 and after showing me how to catch Mons, gives me 5 Pokeballs. I use one of them to catch a second Mon in Route 29. Every Mon here is legal and this is what I catch: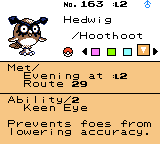 Poor Noctowl has never been even close to OU with its horrible Stats, but he would surely have been in GSC if he was Ghost-Flying like in this game (forcing Snorlax to use either Rock Slide or Shadow Ball is huge). Unfortunately, Hoothoot is still Normal-Flying, so I need Hedwig to survive until level 20. Of course, Hedwig has the worst of the 3 available abilities (Insomnia and Tinted Lens are way better).
Finishing this first chapter here.