Psychic Terrain Offense ​
Hello, my name is AnythingGoesLegend, I have been playing anything goes for about 3 years now and I have been laddering seriously for about 2 of those. Over the past couple months, I have become decently well known among the ag community for using psychic spam on ladder. Psychic Spam is a variant of Hyper offense that Abuses Pokemon that are better in psychic terrain.
Deoxys is a prime example of a pokemon that is boosted by psychic terrain when deoxys is in psychic terrain, Deoxys-Attack's biggest weakness is priority moves when in psychic terrain all pokemon are immune to priority moves thereby negating deoxys's biggest weakness.
I have been laddering with this psyspam team for about 2 months now and here is my peak: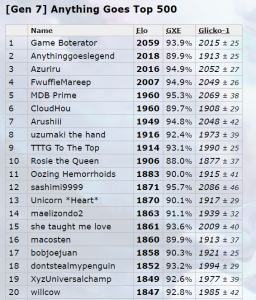 Here is a song to listen to because most rmts have one and I didn't want to feel left out:
Without stalling too much here is the team:
Deoxys-Attack @ Focus Sash
Ability: Pressure
EVs: 8 Atk / 248 SpA / 252 Spe
Hasty Nature
- Psycho Boost
- Low Kick
- Stealth Rock
- Taunt
This Deoxys is on the team as the team's honorary lead, it is the first line of attack. This pokemon's main job is to set up rocks and beat opposing leads with powerful psycho boosts and low kicks. Taunt prevents opposing leads from setting up their own hazards and is actually very effective at preventing rocks from going up on the field.
Necrozma-Dusk-Mane @ Ultranecrozium Z
Ability: Prism Armor
EVs: 252 Atk / 4 SpD / 252 Spe
Jolly Nature
- Swords Dance
- Photon Geyser
- Earthquake
- Stone Edge/Rock Blast
Necrozma dm is the teams physical sweeper, if you see a pokemon on the opposing team that deoxys would normally have trouble with I would use necrozma dm instead. Necrozma also can beat the steel types that deoxys and xerneas have trouble with by using earthquake and blast through defensive walls with a powerful light that burns the sky. Rock blast can be run over stone edge if you want a more accurate move that beats baton pass and vivillon.
Deoxys-Attack @ Focus Sash
Ability: Pressure
EVs: 252 SpA / 4 SpD / 252 Spe
Timid Nature
IVs: 0 Atk
- Nasty Plot
- Psychic
- Ice Beam
- Dark Pulse
Nastly plot deoxys is probably the scariest pokemon on this team, after a nasty plot deoxys proceeds to sweep through many teams without a problem Psychic ohko's almost everything in the game, Ice beam allows deoxys to kill zygarde without boosts and allows it to deal damage
to darkeus before it dies as well as beating yveltal. Dark pulse is on the set because it can deal massive damage to necrozma dm and sometimes manage to kill in two hits if it flinches.
Xerneas @ Power Herb
Ability: Fairy Aura
EVs: 164 Def / 252 SpA / 92 Spe
Modest Nature
IVs: 0 Atk
- Geomancy
- Moonblast
- Focus Blast
- Psyshock
Xerneas is probably the highlight of this team, Xerneas in psychic terrain is one of the scariest threats in the game, many teams rely on poisonceus or blissey/chansey to beat xerneas but under psychic terrain that is no longer the case, suddenly psyshock can ohko blissey and arceus poison and those teams suddenly have no answer to xerneas. Xerneas also runs focus blast to beat steelceus and ferrothorn.
Deoxys-Attack @ Choice Scarf
Ability: Pressure
EVs: 4 Atk / 252 SpA / 252 Spe
Mild Nature
- Psycho Boost
- Ice Beam
- Superpower
- Dark Pulse
Choice scarf deoxys is in the teams as sort of an in case of emergency pokemon, this pokemon can beat other scarfers that normally threaten this team as well as beat pokemon such as xerneas after a geomancy and mray after a dragon dance, psycho boost deals a ton of damage to most pokemon and superpower is able to break through mons like steelceus, ferrothorn and arceus dark.
Tapu Lele @ Terrain Extender
Ability: Psychic Surge
EVs: 252 SpA / 4 SpD / 252 Spe
Timid Nature
IVs: 0 Atk
- Taunt
- Magic Coat
- Moonblast
- Psychic
Tapu lele is the team's psychic terrain setter and support. Taunt and magic coat allow it to play a support role on the team while psychic and moonblast can deal surprising amounts of damage to common threats. Lele if played correctly can also beat many of the teams threats such as yveltal and darkeus. Lele also acts as a fantastic anti lead against pokemon like shuckle and deo speed
Other options:
Deoxys speed instead of lead deo attack makes the team more predictable but better against leads that deo a can't beat such as ferrothorn
Safeguard over magic coat on lele allows the team to beat stall consistantly
Mewtwo could work on the team but is not as powerful as deoxys
Replays
https://replay.pokemonshowdown.com/gen7anythinggoes-869916745
Vs Mixing Dat Beat
https://replay.pokemonshowdown.com/gen7anythinggoes-869897033
Vs Robyn
https://replay.pokemonshowdown.com/gen7anythinggoes-867258429
Vs Shivam
https://replay.pokemonshowdown.com/gen7anythinggoes-865977704
Vs AYG
https://replay.pokemonshowdown.com/gen7anythinggoes-865817213
Vs Shiratzu
https://replay.pokemonshowdown.com/gen7anythinggoes-863582433
Vs Tic Tac Toe guru
https://replay.pokemonshowdown.com/gen7anythinggoes-863541844
Vs Pulsar512b
https://replay.pokemonshowdown.com/gen7anythinggoes-862577376
Vs Lorgone
Threats to the team:
Fast Choice scarfers are a huge threat to this team, usually able to out speed most of the team's sweepers and put an end to their sweeps,
When ever I see a ditto in team preview I almost want to forfeit, usually a well-played scarf ditto destroys this team
+
the Darkeus + special Defensive Necrozma DM is a relatively common core and beats this team very reliably With both mons able to wall the entire team collectively
Ferrothorn is hard to break through for my team and can be really annoying at times
Celesteela is here for the same reason as ferrothorn
Walls every special attacker on this team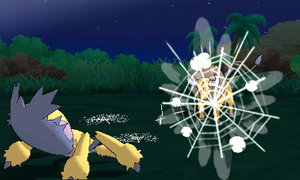 Sticky webs are a major hindrance to the team, usually to beat a stick webs team I have to lead lele and magic coat the webs so there are webs on both sides. But because all of my pokemon are grounded sticky webs affects all of my pokemon
Deoxys speed can almost always get rocks up on the team, this team has no way to get rocks off the field so you are essentially playing without your nasty plot deoxys
(Too lazy too add picture but imagine trick room) Trick room is a very difficult matchup, every pokemon is insanely fast and insanely frail making trick room a terrible matchup
Deoxys-Attack @ Focus Sash
Ability: Pressure
EVs: 8 Atk / 248 SpA / 252 Spe
Hasty Nature
- Psycho Boost
- Low Kick
- Stealth Rock
- Taunt

Necrozma-Dusk-Mane @ Ultranecrozium Z
Ability: Prism Armor
EVs: 252 Atk / 4 SpD / 252 Spe
Jolly Nature
- Swords Dance
- Photon Geyser
- Earthquake
- Stone Edge

Deoxys-Attack @ Focus Sash
Ability: Pressure
EVs: 252 SpA / 4 SpD / 252 Spe
Timid Nature
IVs: 0 Atk
- Nasty Plot
- Psychic
- Ice Beam/Thunderbolt
- Dark Pulse

Xerneas @ Power Herb
Ability: Fairy Aura
EVs: 168 Def / 252 SpA / 88 Spe
Modest Nature
IVs: 0 Atk
- Geomancy
- Moonblast
- Focus Blast
- Psyshock

Deoxys-Attack @ Choice Scarf
Ability: Pressure
EVs: 4 Atk / 252 SpA / 252 Spe
Hasty Nature
- Psycho Boost
- Ice Beam
- Low Kick
- Dark Pulse

Tapu Lele @ Terrain Extender
Ability: Psychic Surge
EVs: 252 SpA / 4 SpD / 252 Spe
Timid Nature
IVs: 0 Atk
- Taunt
- Magic Coat
- Moonblast
- Psychic
Whoever told me about nasty plot deo in psychic terrain (Forgot your name)
Shivam For raging every time I fight him
Legendoftish for the idea of using geoxern on psychic terrain
Last edited: