gold rush





Moderator
approved by Akir
op stolen and adapted from here
art coming soontm maybe, maybe not idk
The PU Low-Budget Tournament!
Due to the PU Circuit, Snake, and Victreebels eating our funds, you will have a limited budget for teambuilding. You're given $50, and the price of a Pokemon is based on their placement in the Viability Rankings. So for example, Eelektross will take a large amount of your budget, 15$, while the cheap alternative Manectric will only cost you 7$. This tournament tests your teambuilding skills on a whole new level, forcing you to build your team around the budget you're given.

Prices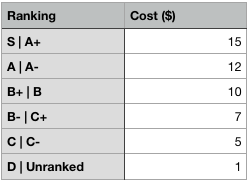 ​
Tour-specific Rules
This tournament is single-elimination.
Players will play a best of one series of USM PU each round.
Matches are to be played on Pokemon Showdown!--- main server or smogtours should work.

If you don't post the replay, you have to redo the match or I will coinflip.

If Pokemon are banned after a round is posted, they remain unbanned for the rest of the round.
You can use less than 6 Pokemon and you can spend less than 50$ if you want.
The list of Pokemon will be affected by VR changes for the remainder of the tournament.
Be mindful that prices might be subjected to variations during the tournament, depending on the economic situation of the tier (this will not occur r1).
Standard Rules and Clauses
Sleep Clause: A player cannot put two or more different opposing Pokémon to sleep using attacks that induce sleep to opposing Pokémon.
Species Clause: A player cannot have two of the same Pokémon on their team. For example, a player cannot have two Cherrim on their team.
Evasion Clause: A player cannot use the moves Double Team or Minimize in their Pokémon's movesets.
OHKO Clause: Players cannot use Horn Drill, Guillotine, Sheer Cold, or Fissure in any of their Pokémon's movesets.
Timer Clause: If a player exhausts the timer, they lose.
Endless Battle Clause: Any moveset on any pokemon that is capable of intentionally causing an endless battle is banned from competitive play.
Signups are closing a week from now!!
the budget this week is 15$, and Throh costs 10$ and Silvally-Poison 5$
im in btw
Last edited: