art by HotFuzzBall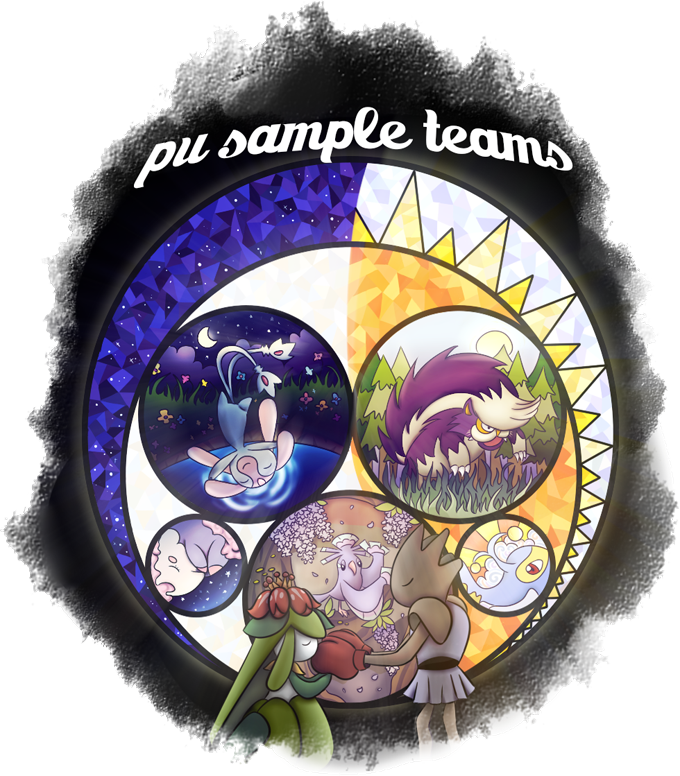 Teams to get into PU. Feel free to post your good teams, but keep in mind that I will be strict and will only add the teams that I believe are good enough to be sample teams. Don't forget to add descriptions of your team with at least one paragraph and an importable.
Submissions for new teams are always open
.
So to help people get into PU this is going to be like a repository of decent / good PU teams made by people who actually do play this game on a consistent basis. Some of the teams are better than others, and all of them will probably need some kind of work for it to be the best team it can be, but these teams are available for anyone to use if they are struggling making a team. I know we have the RMT section for this, but honestly most RMTs are just for showing off this is for actually helping people. What I want in this thread is good teams that you have been working on for a while and that you guys want to share with new players.
This is not a thread to dump your teams as you build them
.
Rejected Sample Team posts will be deleted
this is to avoid confusion about which teams are accepted as sample teams among newer users viewing the thread.
Click this for SM sample teams
Click this for ORAS and XY sample teams
Click this for BW sample teams
Click this for DPP sample teams
Click this for ADV sample teams
USUM Sample Teams
Aggron Offense
-
Akir
This team is an offense team with a pretty big focus on defensive synergy. Almost bulky offense but benefits massively from good play and momentum with lots of options to create both without relying on either. Aggron is Offensive Stealth Rocker with Taunt. Jolly is chosen to outspeed Aurorus and Lanturn. Good defenses and access to Taunt means that it can reasonably stallbreak while adding a lot of defensive utility. Also takes Normal moves like a champ and is in general very difficult to switch in on, even without a damage boosting item. Choptle is chosen as the item to ease the Fighting matchup and help beat Scyther/Kangaskhan. Togedemaru is added for speed control and U-Turn momentum generation. The immunity to Electric also gives the team the ability to punish Volt Switch, and the additional speed is critical for dealing with threats like Choice Scarf Primeape and other faster threats. STABs are chosen, with U-Turn for momentum and Toxic to punish common switchins like Lanturn. Qwilfish works overtime as the defensive backbone of the team, checking huge threats like Kingler, Scyther, Hitmonchan, and more. Spikes add pressure to the opponent, and Thunder Wave is key for the team because it is fairly slow beyond Togedemaru. Taunt and max Speed is there to outspeed Skuntank and Taunt before it can get the Defog off. Rocky Helmet is chosen to punish U-Turn users, Fighting-types, and Rapid Spin. Mesprit is a Choice Specs wallbreaker that adds a ton of options to the team. Each time Mesprit is out, it can choose between getting switch priority with U-Turn, nuking with Psychic/Dazzling Gleam, or reviving a partner with Healing Wish. Mesprit also adds a lot of defensive synergy as well, dodging Ground moves and double padding the Fighting answers. Lilligant is the sweeper for the team, utilizing Quiver Dance and Z-Sleep Powder to do so. Sleep Powder puts threats to sleep, and sleep = death more often than not, with Z Sleep Powder giving Lilligant a free +1 Speed. Quiver Dance is crazy good, and with Giga Drain as STAB Lilligant can dismantle teams out of sheer bulk and power...especially if you kept the Z move for later. HP Ice is chosen to hit Flying, Grass, and Dragon threats like Altaria and Bellossom. Lilligant also rounds out defensive synergy by double padding resists to Water and Ground. Last mon is Hitmonchan to add priority, removal, and more consistency via soft checking a ton of threats. Stone Edge is chosen so Hitmonchan can still hit Flying mons but also smash Froslass, offense's new favorite spinblocker. Assault Vest lets Hitmonchan reasonably tank a decent amount of special moves, and from there Hitmonchan works as a decent special tank that balances out bulk from Qwilfish and Aggron.
Aggron @ Chople Berry
Ability: Rock Head
EVs: 252 Atk / 4 Def / 252 Spe
Jolly Nature
- Taunt
- Stealth Rock
- Heavy Slam
- Head Smash

Togedemaru @ Choice Scarf
Ability: Lightning Rod
EVs: 252 Atk / 4 SpD / 252 Spe
Jolly Nature
- Zing Zap
- Iron Head
- U-turn
- Toxic

Qwilfish @ Rocky Helmet
Ability: Intimidate
EVs: 248 HP / 8 Def / 252 Spe
Jolly Nature
- Spikes
- Waterfall
- Taunt
- Thunder Wave

Mesprit @ Choice Specs
Ability: Levitate
EVs: 252 SpA / 4 SpD / 252 Spe
Timid Nature
- Psychic
- Dazzling Gleam
- U-turn
- Healing Wish

Lilligant @ Grassium Z
Ability: Chlorophyll
EVs: 252 SpA / 4 SpD / 252 Spe
Timid Nature
IVs: 0 Atk
- Sleep Powder
- Quiver Dance
- Giga Drain
- Hidden Power [Rock]

Hitmonchan @ Assault Vest
Ability: Iron Fist
EVs: 244 HP / 152 Atk / 112 Spe
Adamant Nature
- Drain Punch
- Mach Punch
- Stone Edge
- Rapid Spin
Kanga Spikes
-
Taskr
This team is built around the core of Kangaskhan and Qwilfish as the aim of this team is to lay up hazards and use the residual damage in combination with the teams priority users in Kangaskhan and Hitmonchan. Hitmonchan is able to rapid spin away hazards on your own side of the field whilst bulky Oricorio-Sensu is able to spinblock opposing rapid spinners. Choice Scarf Aurorus adds more speed to the team and also provides chip damage from Hail which is helpful in some situations. Clefairy rounds off the team as a blanket special wall that sets up Stealth Rocks.
Clefairy @ Eviolite
Ability: Magic Guard
EVs: 252 HP / 4 Def / 252 SpD
Sassy Nature
IVs: 0 Atk / 0 Spe
- Moonblast
- Soft-Boiled
- Calm Mind
- Stealth Rock

Kangaskhan @ Silk Scarf
Ability: Scrappy
EVs: 252 Atk / 4 SpD / 252 Spe
Adamant Nature
- Fake Out
- Earthquake
- Double-Edge
- Sucker Punch

Qwilfish @ Rocky Helmet
Ability: Intimidate
EVs: 248 HP / 8 Def / 252 Spe
Timid Nature
IVs: 0 Atk
- Scald
- Spikes
- Sludge Bomb
- Taunt

Aurorus @ Choice Scarf
Ability: Snow Warning
EVs: 252 SpA / 4 SpD / 252 Spe
Timid Nature
IVs: 0 Atk
- Blizzard
- Freeze-Dry
- Hidden Power [Rock]
- Earth Power

Hitmonchan @ Assault Vest
Ability: Iron Fist
EVs: 244 HP / 140 Atk / 124 Spe
Adamant Nature
- Drain Punch
- Mach Punch
- Ice Punch
- Rapid Spin

Oricorio-Sensu @ Flyinium Z
Ability: Dancer
EVs: 248 HP / 172 Def / 88 Spe
Timid Nature
IVs: 0 Atk
- Hurricane
- Roost
- Taunt
- Calm Mind
Volt Turn
-
LordST
This a bulky offensive team that I used in my win of the finals of PUPL built around giving Bulky SD Scyther all the support it needs to be successful while also creating a strong volturn core. The team started with the core of Gurdurr + Scyther because of Gurdurr's unparalleled ability to check and pressure every Scyther check in the tier and how well they can break down defensive teams together. Defog Rotom was added since Scyther obviously needs good removal in order to mitigate its crippling Stealth Rocks weakness. Rotom can do this while being a soft check to Aurorus and Snowslash which both force out Scyther while also keeping up momentum and offensive pressure via Volt Switch. Defensive Mesprit was added for rocks, the primary fighting check so Scyther doesn't have to, slow Uturn to keep up the voltturn vortex even more, and Healing Wish support for Gurdurr and Scyther. Type: Null completes the defensive backbone as a catch all special wall to especially threatening breakers like Pyroar, Aurorus, Omastar, and Lilligant thanks to it's ungodly bulk. It can do this while still keeping up momentum with slow Uturn. Kabutops was added as the team's speed control. Because Type Null can more or less pretty comfortably deal with Omastar, Lilligant, and Z Kiss Jynx (the biggest reasons to run a fast scarfer) I'm free to choose a slow scarfer if I want. Kabutops gives me added insurance against Pyroar which can potentially break through Type: Null as well as a solid Flying resist to take on the likes of Oricorio and Scyther. Crucially, it also gives the team a second form of hazard removal to further support Scyther.
Gurdurr @ Eviolite
Ability: Guts
EVs: 248 HP / 16 Atk / 204 Def / 36 SpD / 4 Spe
Adamant Nature
- Bulk Up
- Mach Punch
- Knock Off
- Drain Punch

Type: Null @ Eviolite
Ability: Battle Armor
Happiness: 0
EVs: 248 HP / 8 Def / 252 SpD
Careful Nature
- Frustration
- U-turn
- Rest
- Sleep Talk

Kabutops @ Choice Scarf
Ability: Swift Swim
EVs: 252 Atk / 4 Def / 252 Spe
Adamant Nature
- Liquidation
- Stone Edge
- Rapid Spin
- Knock Off

Rotom-Frost @ Icium Z
Ability: Levitate
EVs: 4 Def / 252 SpA / 252 Spe
Timid Nature
IVs: 0 Atk
- Volt Switch
- Blizzard
- Defog
- Will-O-Wisp

Scyther @ Eviolite
Ability: Technician
EVs: 248 HP / 8 Def / 252 Spe
Jolly Nature
- Aerial Ace
- Swords Dance
- U-turn
- Roost

Mesprit @ Colbur Berry
Ability: Levitate
EVs: 176 HP / 252 Def / 80 Spe
Bold Nature
- Psychic
- U-turn
- Stealth Rock
- Healing Wish
Last edited: