art by HotFuzzBall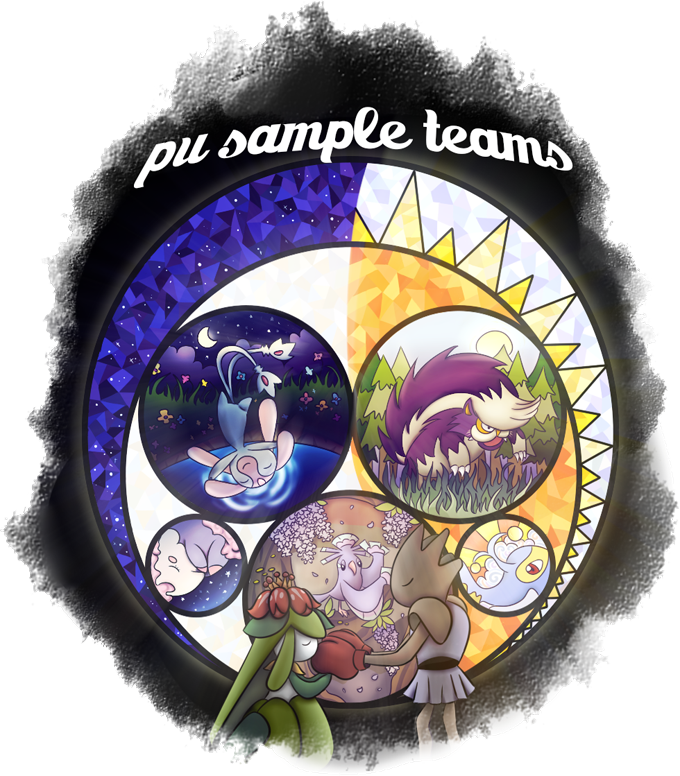 Teams to get into PU. Feel free to post your good teams, but keep in mind that I will be strict and will only add the teams that I believe are good enough to be sample teams. Don't forget to add descriptions of your team with at least one paragraph and an importable.
Submissions for new teams are always open
.
So to help people get into PU this is going to be like a repository of decent / good PU teams made by people who actually do play this game on a consistent basis. Some of the teams are better than others, and all of them will probably need some kind of work for it to be the best team it can be, but these teams are available for anyone to use if they are struggling making a team. I know we have the RMT section for this, but honestly most RMTs are just for showing off this is for actually helping people. What I want in this thread is good teams that you have been working on for a while and that you guys want to share with new players.
This is not a thread to dump your teams as you build them
.
Click this for SM sample teams
Click this for ORAS and XY sample teams
Click this for BW sample teams
Click this for DPP sample teams
Click this for ADV sample teams
USUM Sample Teams
Kingler Offense
-
Megazard
Kingler @ Life Orb
Ability: Sheer Force
EVs: 252 Atk / 4 SpD / 252 Spe
Adamant Nature
- Agility
- Liquidation
- Knock Off
- Superpower

Mesprit @ Colbur Berry
Ability: Levitate
EVs: 248 HP / 252 Def / 8 SpA
Bold Nature
- Stealth Rock
- Psychic
- U-turn
- Healing Wish

Pyroar @ Firium Z
Ability: Unnerve
EVs: 252 SpA / 4 SpD / 252 Spe
Timid Nature
IVs: 0 Atk
- Fire Blast
- Hyper Voice
- Hidden Power [Grass]
- Taunt

Togedemaru @ Choice Scarf
Ability: Lightning Rod
EVs: 252 Atk / 4 SpD / 252 Spe
Jolly Nature
- U-turn
- Zing Zap
- Iron Head
- Encore

Hitmonchan @ Assault Vest
Ability: Iron Fist
EVs: 208 HP / 84 Atk / 216 Spe
Jolly Nature
- Drain Punch
- Ice Punch
- Mach Punch
- Rapid Spin

Spiritomb @ Rocky Helmet
Ability: Infiltrator
EVs: 248 HP / 252 Atk / 8 Spe
Adamant Nature
- Pursuit
- Sucker Punch
- Will-O-Wisp
- Foul Play
This is an offense team featuring Kingler, a Pokemon which has gotten significantly better since gaining access to Liquidation through Ultra Sun and Moon move tutors. It's strong as both an Agility sweeper and a wallbreaker which requires no boosts to break through most of the metagame. Mesprit provides pivoting, Stealth Rock, and Healing Wish support, all of which massively benefit Kingler. As a secondary wallbreaker, Pyroar helps to pressure bulky Water-types and provides some Speed control. Choice Scarf Togedemaru also helps with Speed control, checking Electric-types and making sure dangerous sweepers such as Jynx and Lilligant can be revenge killed. Assault Vest Hitmonchan provides excellent role compression in removing entry hazards while being a check to strong special attackers like Magmortar. While Hitmonchan lacks recovery, the team's offensive nature means it won't need to switch into strong wallbreakers frequently. Finally, Spiritomb helps keep common Psychic- and Fighting-types like Mesprit and Primeape in check while Rocky Helmet punishes many U-Turn users which might otherwise freely pivot on the team.
Most sample teams got outdated with the recent shift so I'm going to wait until the meta is stable enough to accept new sample teams.
Last edited: