art by HotFuzzBall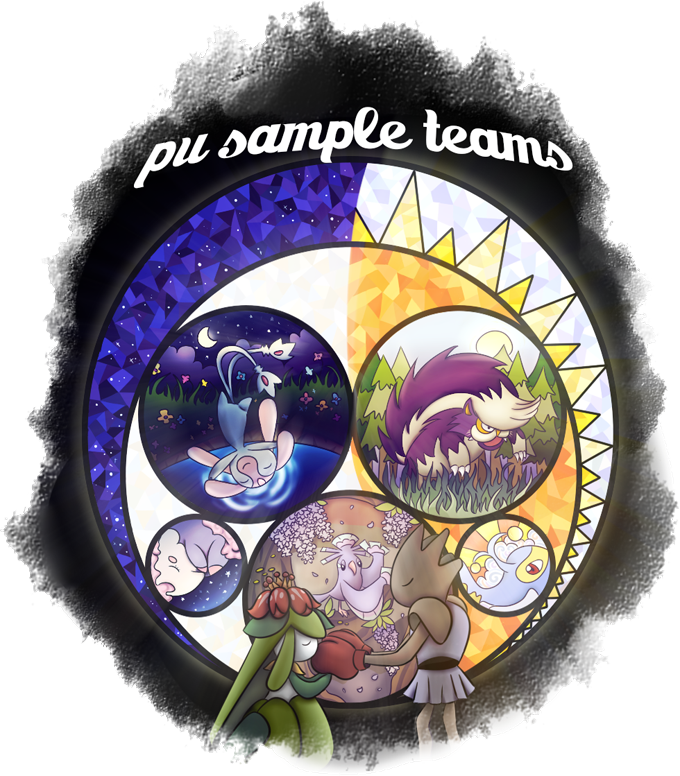 Teams to get into PU. Feel free to post your good teams, but keep in mind that I will be strict and will only add the teams that I believe are good enough to be sample teams. Don't forget to add descriptions of your team with at least one paragraph and an importable.
Submissions for new teams are always open
.
So to help people get into PU this is going to be like a repository of decent / good PU teams made by people who actually do play this game on a consistent basis. Some of the teams are better than others, and all of them will probably need some kind of work for it to be the best team it can be, but these teams are available for anyone to use if they are struggling making a team. I know we have the RMT section for this, but honestly most RMTs are just for showing off this is for actually helping people. What I want in this thread is good teams that you have been working on for a while and that you guys want to share with new players.
This is not a thread to dump your teams as you build them
.
Rejected Sample Team posts will be deleted or moved.
This is to avoid confusion about which teams are accepted as sample teams among newer users viewing the thread.
Click this for SM sample teams
Click this for ORAS and XY sample teams
Click this for BW sample teams
Click this for DPP sample teams
Click this for ADV sample teams
USUM Sample Teams
Bulky Offense
-
curiosity
This is a bulky offence team that I used to experiment with Dodrio when the new drops were released, built around SD Flyinium Dodrio and providing it with the proper support it requires, which includes hazard control and a Regirock check or a secondary breaker that heavily pressures certain physical walls, with the most notable example being Regirock, which would otherwise invalidate it. Skuntank happened to fulfil many of the required roles, in addition to pressuring many of Dodrio's defensive checks, including Mesprit, Sableye and the aforementioned Regirock, which it traps and fears with a poison respectively. It also threatens many of Dodrio's offensive checks, trapping the likes of Froslass, Haunter and Alolan Raichu, which is especially notable, as this build struggles dealing with the latter defensively. Mesprit provides the team with hazards support, while also providing the build with a general blanket check versus problematic threats, including Gurdurr, Togedemaru and Qwilfish, in addition to invaluable Healing Wish support, which allows the team to be played more aggressively in general. Togedemaru provides this team with speed control, while improving the team's matchup versus Scyther, opposing Dodrio, Froslass and Lycanroc lacking sucker punch. Togedemaru also forms a very potent Voltturn core with Mesprit, which allows nearly everything to come in without much repercussion, which is especially useful in the offence matchup. Jellicent was added for a multitude of reasons - for one, it improved the team's matchup versus Aggron, as the following spread outpaces Jolly Aggron, while maximising bulk to improve the matchup versus prominent breakers such as Qwilfish, Swanna, Sandslash and Hitmonchan. Jellicent also gave the team a competent stallbreaker, allowing this build to easily bypass stall, in addition to improving the build's matchup versus rain. Finally, last mon Gurdurr gave this team priority, a reliable method to deal with Aggron, defensive Jellicent and Aurorus, while providing this team with a second form of priority.
Mesprit @ Colbur Berry
Ability: Levitate
EVs: 252 HP / 240 Def / 16 Spe
Bold Nature
- Stealth Rock
- Psychic
- U-turn
- Healing Wish

Skuntank (M) @ Black Sludge
Ability: Aftermath
EVs: 4 HP / 252 Atk / 252 Spe
Jolly Nature
- Defog
- Pursuit
- Sucker Punch
- Poison Jab

Dodrio (M) @ Flyinium Z
Ability: Early Bird
EVs: 252 Atk / 4 SpD / 252 Spe
Jolly Nature
- Swords Dance
- Brave Bird
- Return
- Jump Kick

Togedemaru (M) @ Choice Scarf
Ability: Iron Barbs
EVs: 252 Atk / 4 Def / 252 Spe
Jolly Nature
- Zing Zap
- Iron Head
- U-turn
- Toxic

Jellicent (M) @ Colbur Berry
Ability: Water Absorb
EVs: 80 HP / 252 Def / 176 Spe
Timid Nature
IVs: 0 Atk
- Taunt
- Hex
- Recover
- Scald

Gurdurr @ Eviolite
Ability: Guts
EVs: 248 HP / 44 Atk / 216 Def
Adamant Nature
- Drain Punch
- Mach Punch
- Knock Off
- Bulk Up
Stall
-
Funbot28
So I have noticed the thread lacked some stall teams even after the drop of Quagsire which is quite astonishing for me as I feel the blue blob has brought the playstyle some viability oncemore. Both Articuno and Altaria form the reliable entry hazard removal core which can be extremely important in this Spikes infested metagame. Articuno is great in checking most special attackers ranging from Mesprit, Lilligant, Oricorio-G, Jellicent, and offensive Froslass. It also provides the team useful Pressure support which can be great in counteracting certain anti-stall measures like Taunt users, status spreaders and of course entry hazards, applying pressure on the opponent from clicking these moves. It also has enough speed to outspeed Modest Jellicent which is extremely important. Altaria acts as the main Fighting resist of the team, checking threats such ass Gurdurr, Hitmonchan, and Primeape and and is also great in absorbing annoying status. Audino is the cleric and almost mandatory special sponge for any stall team due to how well it can support via Wish and Knock Off support in tandem with its great special bulk and Regenerator, enabling more pro-active plays for such as passive playstyle. Bronzor is the Steel-type and SR user of the team, checking the likes of Aggron, Kangaskhan, Stoutland, Lilligant, Jynx and Alolan Sandslash. Quagsire is the setup sweeper check and also provides the team a reliable wincon through Curse which can be great in breaking through things its intended to check such as Gurdurr, Dodrio, and Lycanroc. Also having another Band Head Smash swichin helps, while Rocky Helmet helps chip pivot users, wearing down the likes of Togedemaru and Primeape immensely. Lastly, we have offensive Z-Move Skuntank (which previously was a CroTomb) to help offensively check some dangerous stuff like Jellicent, CM / Specs Mesprit, Lilligant, CM Clefairy and Froslass. It cannot be stressed enough how great Pursuit can be at times for defensive teams like these to disrupt the aforementioned threats from going out of hands if Skunk's teammates have been worn down. Like I said, Crotomb can be run to have a secondary Fighting check and another wincon, but I have been liking this combination of the build due to balanced move called Pursuit. Threats to the team include: Taunt Jellicent, Specs Aurorus, Grass Knot Alolan-Raichu, and HP Grass Omastar.
Articuno @ Leftovers
Ability: Pressure
EVs: 248 HP / 204 SpD / 56 Spe
Calm Nature
IVs: 0 Atk
- Roost
- Freeze-Dry
- Toxic
- Defog

Altaria @ Leftovers
Ability: Natural Cure
EVs: 248 HP / 240 Def / 20 Spe
Bold Nature
IVs: 0 Atk
- Defog
- Roost
- Haze
- Dragon Pulse

Audino @ Leftovers
Ability: Regenerator
EVs: 248 HP / 8 Def / 252 SpD
Careful Nature
- Wish
- Protect
- Knock Off
- Heal Bell

Bronzor @ Eviolite
Ability: Levitate
EVs: 252 HP / 144 Def / 112 SpD
Bold Nature
- Psywave
- Toxic
- Stealth Rock
- Rest

Quagsire @ Rocky Helmet
Ability: Unaware
EVs: 252 HP / 252 Def / 4 SpD
Impish Nature
- Curse
- Earthquake
- Scald
- Recover

Skuntank @ Darkinium Z
Ability: Aftermath
EVs: 4 HP / 252 Atk / 252 Spe
Jolly Nature
- Crunch
- Pursuit
- Sucker Punch
- Poison Jab
Alolan Persian Offense
-
yogi
Hjad originally built a team similar to this for our pu ghosting tour match, and after like a serious amount of testing i started to edit a few things. the original team was overall quite weak to flying-types so i edited it to have a faster choice scarf user while also doubling down on electric-types. Alolan Persian is a fantastic pivot in the current meta and i'm so glad people are picking up on that, as its ability to threaten the millions of strong physical sweepers, like dodrio and lycanroc, while also providing taunt + toxic + parting shot support is just so good. Specs jellicent really doesn't need any explanation, it's just a stupidly good breaker and basically makes my stall mu 10x better just by existing. Alolan raichu rounds out the strong breaker core by just messing up basically every specially defensive wall, like lanturn and hitmonchan, but it also means i don't get wrecked by shit eviolite scyther. Togedemaru is the best choice scarfer in the tier and, like with jellicent, doesn't need much explanation; it basically revenges shit and keeps flying-types in check, while also soft checking stuff like kangaskhan and lycanroc. Mesprit with hidden power ground and enough speed to creep jolly aggron just makes my match up versus aggron and skuntank way more manageable. Finally hitmonchan is here to blanket check special attackers and spin, but the priority can also be nice and it stop stuff like special skuntank getting too dumb.
Persian-Alola @ Darkinium Z
Ability: Fur Coat
EVs: 248 HP / 8 Def / 252 Spe
Jolly Nature
- Foul Play
- Taunt
- Toxic
- Parting Shot

Jellicent @ Choice Specs
Ability: Water Absorb
EVs: 4 Def / 252 SpA / 252 Spe
Modest Nature
IVs: 0 Atk
- Water Spout
- Hydro Pump
- Shadow Ball
- Ice Beam

Raichu-Alola @ Life Orb
Ability: Surge Surfer
EVs: 252 SpA / 4 SpD / 252 Spe
Timid Nature
IVs: 0 Atk
- Thunderbolt
- Psyshock
- Grass Knot
- Nasty Plot

Togedemaru @ Choice Scarf
Ability: Iron Barbs
EVs: 252 Atk / 4 SpD / 252 Spe
Jolly Nature
- U-turn
- Zing Zap
- Iron Head
- Toxic

Mesprit @ Colbur Berry
Ability: Levitate
EVs: 252 HP / 156 Def / 100 Spe
Bold Nature
- Psychic
- U-turn
- Stealth Rock
- Hidden Power [Ground]

Hitmonchan @ Assault Vest
Ability: Iron Fist
EVs: 248 HP / 132 Atk / 128 Spe
Adamant Nature
- Drain Punch
- Thunder Punch
- Mach Punch
- Rapid Spin
Kanga Spikes v2
-
Taskr
Firstly I started off with the core of Jellicent+Roselia since they have a lot of synergy together since Roselia can check Grass types like Lilligant well whilst also setting Spikes and Jellicent can spinblock for Roselia whilst also checking Ice type Pokemon such as Alolan Sandslash which Roselia doesn't like. The next part of the core is stolen from
jklioe
's build as Mudsdale offers good support in being able to check Skuntank and Rock Types like Aggron and Lycanroc whereas Alolan Sandslash is a decent spinner being able to hit Froslass super effectively with Iron Head and checking Pokemon like Aurorus better. Kangaskhan thrives on these like of teams with Spike stack and a good defensive backbone as with Fake Out and Sucker Punch it can deal with a lot of offensive threats and Spikes help it break past defensive Pokemon a lot easier. Lastly, added Choice Scarf Mesprit which can sometimes be a decent cleaner but also has invaluable Healing Wish support to give one of the defensive mons without reliable recovery like Mudsdale a second life if it's needed later on in the game too.
Roselia @ Eviolite
Ability: Natural Cure
EVs: 248 HP / 236 SpD / 24 Spe
Calm Nature
IVs: 0 Atk
- Spikes
- Sludge Bomb
- Giga Drain
- Synthesis

Jellicent @ Waterium Z
Ability: Water Absorb
EVs: 248 HP / 196 Def / 64 Spe
Bold Nature
IVs: 0 Atk
- Scald
- Taunt
- Will-O-Wisp
- Recover

Kangaskhan @ Silk Scarf
Ability: Scrappy
EVs: 252 Atk / 4 SpD / 252 Spe
Adamant Nature
- Fake Out
- Earthquake
- Sucker Punch
- Double-Edge

Mudsdale @ Leftovers
Ability: Stamina
EVs: 252 HP / 56 Atk / 32 Def / 164 SpD / 4 Spe
Adamant Nature
- Stealth Rock
- Earthquake
- Toxic
- Rock Slide

Sandslash-Alola @ Leftovers
Ability: Slush Rush
EVs: 248 HP / 208 SpD / 52 Spe
Careful Nature
- Rapid Spin
- Toxic
- Iron Head
- Earthquake

Mesprit @ Choice Scarf
Ability: Levitate
EVs: 252 SpA / 4 SpD / 252 Spe
Modest Nature
- Psychic
- U-turn
- Trick
- Healing Wish
Double Dog
-
Megazard
Stoutland plays fast and aggressive, and should always be picking up at least
one kill per match. Fat Normal-resists can get played around in a variety of
ways depending on the matchup, correct predictions can wildly swing the game
in your favor, and Pursuit is a broken and stupid move. Seriously, why can my
slowish banded Normal-type wallbreaker remove Togedemaru? No customization
on the moveset, dropping Facade is something I've contemplated a lot since the
team has Healing Wish but I'm hard pressed to think of a better move that isn't
some random, surprise factor-oriented gimmick.
Also completely lacking in novelty or customization, Lycanroc is going to be the
wincon in approximately 75% of games. This can vary if they have very particular team
structures, usually involving pivot Alolan Persian or Mudsdale + another really fat Stoutland
resist, but it's kinda rare. It is, however, really good at coming in to pop the Z-move early
to grab a random kill versus non-Mudsdale having teams. Weirdly enough I feel like Accelerock
is a legitimate option here over Sucker Punch since the team chips away at Togedemaru pretty
well, especially if this team's Togedemaru was swapped to Iron Barbs, but aside from that it's just
your basic, run-of-the-mill, store-brand rock doggo.
Ok now we can have some fun. Choice Specs Alolan Exeggutor is a weird choice in
the current meta simply because there are so many stupid wallbreakers it's hard to
justify the more niche ones like eggy. Still, the defensive utility is really what sells him
on this team. No hazard control cripples a lot of the good special wallbreakers, not
being allowed to use a Z-move cuts out a lot more, and the need to check Lilligant
rounds out the trifecta of things it can do. Oh yeah, and it also just murders everything
with barely any need for predictions, trades with practically the entire metagame since
it's really hard to OHKO without an Ice move, and forces people to play extra careful
just in case you're OTR. I love this mon, but I really won't be all that disappointed
when it ends up rising to NU, just clicking Draco Meteor and killing things is super safe.
The Speed beats Drampa, 0 Speed Lanturn and Roselia, and all the random base 50's.
Look I never claimed this team was built around innovative sets or Pokemon. Rocks, pivoting, and Healing
Wish are all incredibly good and everyone knows exactly what it does for a reason. Mesprit is very
easy to play extremely aggressively and often gets sacked without even getting off a Healing
Wish, but that's ok because you're pretty much never going to fail to at least get off Stealth Rock
and get one or two free wallbreaking opportunities for Stoutland or Alolan Exeggutor. No customization
or random lures in the last slot or anything, it just plays the same it does on most every other offense team.
Real talk I almost never see other Choice Scarf Togedemaru actually clicking Encore and it just
baffles me, it's an awesome move that has a bunch of random utility in situations you'd never
expect but I can't recall watching another person's game and seeing them use it well. Togedemaru
is just so good, free Speed control with the ability to clean teams and check half the meta while never
being useless, even versus full stall teams. In the rare cases Lycanroc can't be your win condition,
trying to win with Spikes + Togedemaru is weirdly effective. This Pokemon just scares me, it's
somehow on just about every good team and never worthless. You can play it highly aggressively by
pivoting into strong stuff like Dodrio and using Encore a lot, you can play it safe and save it
for a sweep, you can just save it to revenge kill one specific threat like Nasty Plot
Alolan Persian, it really doesn't matter.
Qwilfish rounds out the team doing its general "check
everything, get helmet + Spikes chip and die" routine except with the occasional
ability to actual kill things because Taunt + Destiny Bond is a great combo for pressuring
teams. You could legit run this with 0 attacks and it would barely make a difference
for Qwilfish's damage output, it's just so good at constantly chipping and checking
and annoying everything. The offensive nature of the team means you can
afford to literally sack this for just 2 rounds of Rocky Helmet versus something like
Kangaskhan and it'll be completely worth it, which is really where this Pokemon is
at its most effective.
Stoutland @ Choice Band
Ability: Scrappy
Happiness: 0
EVs: 252 Atk / 4 SpD / 252 Spe
Adamant Nature
- Frustration
- Pursuit
- Superpower
- Facade

Lycanroc @ Lycanium Z
Ability: Keen Eye
EVs: 252 Atk / 4 SpD / 252 Spe
Jolly Nature
- Swords Dance
- Stone Edge
- Drill Run
- Sucker Punch

Exeggutor-Alola @ Choice Specs
Ability: Frisk
EVs: 72 HP / 252 SpA / 184 Spe
Modest Nature
IVs: 0 Atk
- Leaf Storm
- Giga Drain
- Flamethrower
- Draco Meteor

Mesprit @ Colbur Berry
Ability: Levitate
EVs: 248 HP / 252 Def / 8 SpA
Bold Nature
- Stealth Rock
- U-turn
- Psychic
- Healing Wish

Togedemaru @ Choice Scarf
Ability: Lightning Rod
EVs: 252 Atk / 4 SpD / 252 Spe
Jolly Nature
- U-turn
- Zing Zap
- Iron Head
- Encore

Qwilfish @ Rocky Helmet
Ability: Intimidate
EVs: 248 HP / 8 Atk / 252 Spe
Jolly Nature
- Taunt
- Spikes
- Waterfall
- Destiny Bond
Last edited: