Que Sera Sera
​
Hi, I'm Brap. Some of you may remember me from escapades such as 'I got haxed in a tournament, like I do in 99% of tournaments', 'are you...? Yes.', and 'stupid americans ;)'. I like using brackets a lot, by the way. Important parts are in bold, as per.
A bit of background info first off. I'm a Gen 4 player by trait, it was the generation I got into Pokemon with. I was a pretty handy DPP UU player and I got pretty high on the ol' Shoddy Battle ladder a few times (bet some of you newer folks will have no idea what that is). I also did quite well in numerous tournaments in a different... er... site?? Anyways, I really struggled with the transition to Gen 5 and ended up taking a break from the game altogether (yes I'm aware I sound like an injured footballer with a drink problem). When I came back it took me a long time to adapt and I never really got into the swing of things in any tier. I was starting to fall out of love with the game, but with Gen 6 just around the corner, I decided I'd make one last push for glory in Gen 5.
And another thing, if you like jokes you should read this, I tried to put a few in. Compensates for the 20 minutes of your life you'll waste reading this very long piece.
* * *​






So without further tis-was, I present to you: Que Sera Sera (whatever will be, will be. The future's not ours to see. Que Sera Sera.). The title is a reflection of what's going on in my own life at the minute (deep, you soppy get) and is what I've started to go by in the face of adversity. In terms of the team itself, it's about how thinking ahead is key, even it we don't know how it'll end up. I've got 2 set-up sweepers. As soon as the team preview is up (I miss gen 4 :(), I decide which one will serve me best in a late game clean up, and we use the rest of the team to get rid of things which the designated sweeper of the game can't beat.
I think the team falls under the category of Bulky Offence (+ Forretress). Under the alt Brap test VI, yes, that shows how many alts I went through in order to prove this team was good, I got to just shy of the 2,000 mark which isn't that spectacular, but it got me on the ladder which was the main thing for me. The team has a record of 14-2 under this alt (1 of the losses was through hax only). I could have got more wins and gone higher with this team, but the ladder was re-set for the Keldeo test the very next day after I made the ladder (which made the achievement all the more sweeter). Plus in case Keldeo does go uber (as this team uses the wee pony) it could be a retirement of sorts.
The team though is actually based around a Jirachi which I discovered after plonking it on another team. Although the team itself was shite, this particular Jirachi stood head and shoulders above the rest of the team and I knew I could do something worthwhile with this set, accompanied by the right support.
* * *​
Here's how the team was made.
Team building process







Jirachi.
As mentioned the team was based around Jirachi. As you'll see further down, this Jirachi relies very heavily on its massive super-effective coverage. So I drew up a list of all the Pokemon Jirachi couldn't hit super-effectively and looked at their potential counters.


Jirachi. Latios.
Jirachi struggles to break down things with high defences and not many weaknesses, so I needed a powerhouse to muscle through them. Who better than Latios with its almighty special attack stat. Plus Steel & Dragon types go hand-in-hand.



Jirachi. Latios. Scizor.
Now to keep the team even I wanted a physical thingy who could bypass the walls that Latios couldn't, while also having some type synergy with the same Pokemon. I was torn between Tyranitar & Scizor, but eventually opted for the latter because of its better resistances and I didn't really want sandstorm. Plus Scizor can beat that pesky Ferrothorn that plagues Latios and usually beats Jirachi 1-on-1 if it carries Leech Seed.




Jirachi. Latios. Scizor. Garchomp.
I decided to continue with the Steel/Dragon theme by adding in Garchomp. I went for Garchomp over Dragonite or Mence or anyone else because it's not weak to Stealth Rock and very diverse from Latios. Plus his lecy immunity would turn out to be vital at times.





Jirachi. Latios. Scizor. Garchomp. Keldeo
A water type fits in perfectly on a Steel/Dragon team, providing key resistances to both fire and ice. Once again I was torn as who to pick. This time between Keldeo & Starmie. Having been underwhelmed by Starmie's offensive prowess outside of rain before, I chose Keldeo. A weakness to psychic and a resistance to dark instead of the opposite was another reason I didn't chose Starmie.






Jirachi. Latios. Scizor. Garchomp. Keldeo. Forretress
Oops, I've got no hazards of my own, plus the team so far looks like it could get worn down pretty quickly by Stealth Rock and other hazards. I needed a Rocker & Spinner to fill the last slot. No, not Mick Jagger (really bad I know). Donphan and Forry were the only 2 options. I was always edging towards Forry. I didn't need any priority plus the resistances Donphan offered were virtually negligible. At one point in time I'd never been able to make Forry work on any team, but I know how to use it properly these days. He was a welcome addition to the team despite only being added because nothing else could fill the role.
* * *​
Ok, so onto the main part. A quick foreword; this team went through at least 4 previous versions before I got the balance I wanted. They all involved the same 6 Pokemon, just different sets including CB Scizor, Yache Berry Garchomp and Scarfed Keldeo to name just a few. I toyed with different combinations of sets for those 3 Pokemon for days before finally finding a happy medium.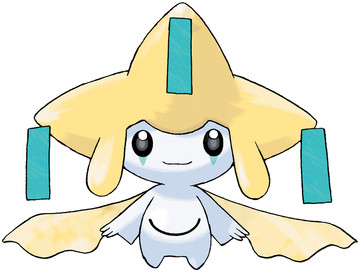 Jirachi
@ Expert Belt
Trait: Serene Grace
EVs: 196 Atk / 200 SAtk / 112 Spd
Naive Nature
IVs: 30 Atk / 30 Def
- Iron Head
- Fire Punch
- Thunderbolt
- Hidden Power [Ice]
Overview:
Oh Jesus, Muhammad, Abraham, Vishnu and others. If you haven't tried this Jirachi set yet; you simply have to. It's truly amazing. The crux of the team, which otherwise wouldn't function without Jirachi.
How it plays:
This Jirachi can hit so many things super-effectively, it's unbelievable. Early game I'll revenge a low health Tyranitar with Iron Head or something to feign a Choice Scarf. Then I'll use Iron Head again a bit later on. People then switch to their Landorus-T, Skarmory, Forretress, Gliscor, or other Steel resist, only to get promptly 1-shotted by the appropriate move. Seriously, no-one, I mean no-one sees this set coming. It's surprise value is immense. Sometimes this Jirachi can hit whole teams (usually balanced rain teams) super-effectively. What's more, Serene Grace means random burns and paralysis happen to the opponent twice as often, another big advantage in my favour. If I think I can cause some havoc early game then I'll lead with Jirachi.
Moveset:
Iron Head:
The obligatory STAB move, hitting Rock & Ice types for six. It's 60% flinch chance always comes in handy too.
Fire Punch:
The other physical move and main weapon against Steel-types (minus Heatran which is pretty much the perfect counter to Jirachi), taking out Scizor, Magnezone's who think they can come in and trap me, opposing Forretress, Lucario (who can otherwise pose a threat to my team with Garchomp on low health) and it's my best weapon against Venusaur.
Thunderbolt:
With so many water (and flying) types around in OU these days, Thunderbolt is the move I'm going for the most. Ousts rain teams after Stealth Rock just like that.
Hidden Power Ice:
Used the least at of the 4 moves, but definitely the most unexpected out of them all. So many Lando's and Gliscors have perished to it. Beats dragons too, but often it's better to Iron Head them (Latias) or switch out (Garchomp) to hit super-effectively another day.
Item:
Expert Belt just thrives off Jirachi's un-matched type coverage, adding to the damage done, gets the KO on specially defensive Skarmory after Rocks or something like that. All the while giving that extra boost required because 100/100 attack/special attack isn't quite strong enough on its own. As I touched upon it bluffs a choice item beautifully which is another reason why this Jirachi works so well.
Nature & EVs:
A plus speed nature coupled with 112 EVs allows Jirachi to outspeed max speed neutral nature Gliscor & Kyurem-B (base 95) and below in order to 1-shot them with Hidden Power and Iron Head before we get Earthquaked and Earth Powered, respectively. It also outspeeds positive speed nature Gyarados (base 81) and below. The remaining EVs are distributed equally into attack and special attack, the extra 4 into special attack as Iron Head & Fire Punch don't get any extra KOs with 1 more stat point, while Thunderbolt can, I think... Also Hidden Power Ice requires a 30 attack IV, so adding the extra 4 to compensate for that would be pretty redundant. Naive over Hasty to take Mach Punch, Aqua Jet and the likes better, this is often teams' only answer to Jirachi.
Synergy:
Ground ---> Latios
Fire ---> Latios, Garchomp, Keldeo
Possible changes:
None, it's great.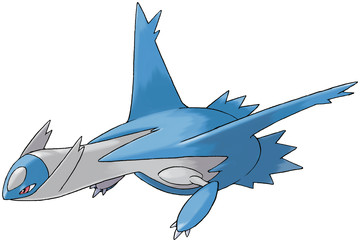 Latios
(M) @ Choice Specs
Trait: Levitate
EVs: 252 SAtk / 4 SDef / 252 Spd
Timid Nature
IVs: 0 Atk
- Draco Meteor
- Psyshock
- Surf
- Trick
Overview:
Let me draw a comparison from the media as to illustrate how hard Latios hits. Remember the explosion in that Terminator film. Which one? All of them put together. That's how we roll with Latios.
How it plays:
Latios is my main weapon in the early game, powering through walls and other defensive Pokemon including Heatran, Blissey, Tentacruel, Jellicent, Hippowdon, Rotom-W and Politoed to name but a few. With them out of the question Jirachi and the 2 set-up sweepers have a much easier time going about things. Latios isn't intended to go the distance and is often the first to perish, but it very very rarely goes down without having taken out at least 1 of the opponent's Pokemon. I often lead with Latios against Rain teams
Moveset:
Draco Meteor:
This move just oozes power. There are very few things in OU that can avoid a 2-shot from it. Those being Heatran, Jirachi, Forretress, Ferrothorn and Blissey (nearly all must be in their specially defensive guise though). If I can eliminate the opponent's one of them or Steel-type them I'm free to keep clicking the Meteor button until Latios dies or it's special attack goes too low.
Psyshock
: Secondary STAB move, nails all the fighting types, especially Keldeo, while also being the ideal move to take on the few Poison types in the tier; Gengar, Tentacruel, Toxicroak & Venusaur. Makes Scizor's job even easier as Psyshock can defeat the two Happiny evos before Scizor's even been introduced.
Surf:
The coverage move. Only Empoleon and Shedinja now do not take at least neutral damage from one of the 3 attacking moves. Many people still switch Tyranitar directly into Latios which is always a risky play. I rarely switch out against Tyranitars, Surf 2 shots them (even the sp.def after a bit of prior damage) as we just survive the pursuit.
Trick:
This team doesn't really like stall teams, especially rain stall with Ferrocent/Cruel and Chansey. Trick allows me to give one of those a pointless item, take their Leftovers, as well as effectively ending that Pokemon's participation in the stall.
Item:
Choice Specs just adds to what Latios already has in abundance, pure special attacking power. Being locked into one move doesn't really matter because as mentioned Latios usually doesn't stick around too long.
Nature & EVs:
Simple here, max special attack and speed to hit as hard and fast (Timid) as possible. Latios can't take priority moves anyways so the remaining 4 are best placed in special defence (never health because of an even HP number must always be avoided). 0 Attack IVs to minimise confusion and foul play damage. Neither's actually happened in battle yet, but it's a good precaution just-in-case.
Synergy:
Bug ---> Scizor, Keldeo, Forretress
Dark ---> Scizor, Keldeo, Forretress
Ghost ---> Scizor, Forretress
Ice ---> Jirachi, Scizor, Keldeo, Forretress
Dragon ---> Jirachi, Scizor, Forretress
Possible changes:
Hidden Power Fire for Ferrothorn which is a problem for this team, but I don't fancy a guaranteed speed loss to Gengar and other Lati@s.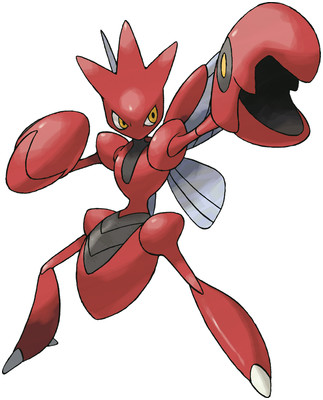 Scizor
@ Life Orb
Trait: Technician
EVs: 252 Atk / 4 SDef / 252 Spd
Adamant Nature
- Swords Dance
- Bullet Punch
- Bug Bite
- Superpower
Overview:
Set-up Sweeper #1, the physical one. This is the first time I've used Swords Dance Scizor, throughout the whole of Gen 4 & 5. I'd always played safe with Choice Band or the occasional Choice Scarf. I was pleasantly surprised, but this set could still use a bit of tweaking I think.
How it plays:
Out of the 2 sweepers, I play less conservatively with Scizor. I'm not afraid to bring it out earlier than I would like to, to either use Bullet Punch as and when required, or to take out some walls early on who expect in to be the Band set. I come in after something's died or via Forry's Volt Switch against something Scizor immediately threatens or a Pokemon locked into a choice move which does little damage to Scizor. Swords Dance on the switch and then use the appropriate move. Works just as well late-game as it does mid-game. Very occasionally my lead too.
Moveset:
Swords Dance:
Boosts Scizor's 130 base attack to massive levels and allows the sweeping to begin. Simples.
Bullet Punch:
Scizor's #1 move since Platinum. Rightly so too. A poor offensive typing is made redundant by its massively increased power from Technicy & STAB. If Garchomp's not available then it's all I've got to take out low health Dragonites and the likes.
Bug Bite:
Take out the slow walls like Vaporeon and Gastrodon, even the rare Metagross. Also the best weapon against Jellicent. Almost as powerful as a Draco Meteor even before the Swords Dance. Eating random berries is nothing to scoff at either he he (that was better than my previous joke right?).
Superpower:
Required over brickbreak to beat Ferrothorn which as I've said already is one of the biggest thorns in our side (not very original that one but meh, life goes on). Stuffs up other steel types including slow Heatrans and MZones too.
Item:
Without a Choice Band Scizor needs Life Orb for Bullet Punch still to be effective as a revenge move. As the only priority move on the team, Leftovers would mean many threats would survive the BP. I've not experimented with Metal Coat as an alternative, but it could be an option, albeit meaning the other 2 moves have no boost.
Nature & EVs:
As I said, this is the first time I've used SD Scizor, so I didn't want to try anything fancy so went for a simple max attack, max speed with Adamant as a given. Doesn't really matter which defence the 4 remaining EVs go into.
Synergy:
Fire ---> Latios, Garchomp, Keldeo
Possible Changes:
Metal Coat as an item perhaps to feign a choice item.
Changing the EVs so that it's slower but more bulky.
Adding Roost in for a greater life-span, but then we'd either stuggle against slow walls (if lacking Bug Bite) or the already very troublesome Ferrothorn (if lacking Superpower).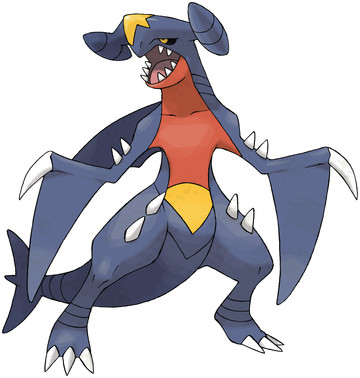 Garchomp
@ Choice Scarf
Trait: Rough Skin
EVs: 252 Atk / 4 Def / 252 Spd
Jolly Nature
- Outrage
- Earthquake
- Stone Edge
- Dual Chop
Overview:
Obligatory Choice Scarf user on an offensive team. Garchomp serves its purpose very well. It does what's required of it time and time again. A very reliable Pokemon and one of the best in OU.
How it plays:
The main revenge killer for when we accidentally let Forry become set-up fodder, which is surprisingly often as opponents see that as their only chance to set-up (the other being Latios at -2/-4 sp.atk), given it's our only defensive Pokemon. Garchomp has decent enough coverage with just its STABs, even if it doesn't get as many super-effective hits as other common Choice Scarf Pokemon. Besides it makes up for this in pure power terms. His electric immunity is pivotal on a team plagued by the fast electric types.
Moveset:
Outrage:
I have to be very careful not to use this too early and send Garchomp to its grave or become fodder for a steel type. Anything that doesn't resist it not named Hippowdon or Slowbro is still taking plenty from it. I often finish off teams with Outrage
Earthquake:
The best move in the game appears on this team too. Solid power, no drawbacks, coming from Garchomp it's obviously going to be doing some damage. Only qualm is the high number of Pokemon who are immune to it.
Stone Edge:
Purely for coverage. Meant to be for use against Thundurus-T for I've only seen once or twice and Volcarona to which Earthquake usually suffices. Move of choice against Gyarados too, but they're really uncommon these days which is a shame.
Dual Chop:
The move I use to revenge low health things early game. If anything's got a sub up I can always damage it with this too, however that 90% accuracy can let me down at the worst of times.
Item:
Choice Scarf gives the speed boost required so we don't get swept by +1 Volcarona, Dragonite, Salamence, and Haxorus. Otherwise they'd tear through my team.
Nature & EVs:
Standard again here, max attack and speed for maximum damage output and highest speed possible, boosted by Jolly. The last 4 in defence because that's Garchomp's already better defence of the 2.
Synergy:
Ice ---> Jirachi, Scizor, Keldeo, Forretress
Dragon ---> Jirachi, Scizor, Forretress
Possible Changes:
Stone Edge very rarely gets used. Maybe Aqua Tail or Fire Blast/Fang would be better here.
Dual Chop to Dragon Claw?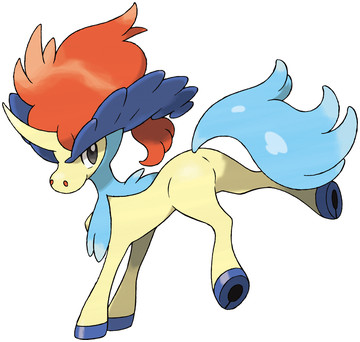 Keldeo
@ Leftovers
Trait: Justified
EVs: 252 SAtk / 4 SDef / 252 Spd
Timid Nature
IVs: 30 Def / 30 SDef
- Calm Mind
- Hydro Pump
- Secret Sword
- Hidden Power [Ghost]
Overview:
Set-up Sweeper #2, the special one. Originally a choice scarf set, now I've plumped for the Calm Mind set. As I said in the opening, it gives an extra dynamic to the team and I always think about how I can leave it best set for Keldeo to sweep.
How it plays:
I very seldomly bring Keldeo out early game. It's only out in the first 10 turns or so if it's absolutely necessary. Although it doesn't play a primary role on this team, I can see from this set alone why it's borderline Uber. Perfect coverage as well as a very powerful main STAB move, if the opponent's brought rain then all the better for me. Sometimes it doesn't even need to get up a Calm Mind or 2 before it starts bringing down stuff, Hydro Pump does the job by itself sometimes. I like setting up against Vappy's. Burn/Poison doesn't really bother me much.
Moveset:
Calm Mind:
Boosts Keldeo's already ace special attack and it's slightly above average special defence. Once I've got a few boost then if the opponent doesn't have a Choice Scarf Pokemon or Lati@s left, then it's nigh on impossible to stop.
Hydro Pump:
Never been a conservative player (much like my political views. Tory scum...), so Surf wasn't even considered. Always more power. I actually love playing against offensive rain teams or rain teams lacking Ferrothorn in general. Hydro Pump's power boost is just one of the many reasons for this. It misses sometimes, but 'That's life. That's what people say...'
Secret Sword:
The exact same purpose as Psychock on Latios. A secondary STAB move which hits on the defence of the special walls. One of my few ways of getting through Ferrothorn, but only after prior damage to it or a couple of Calm Minds.
Hidden Power Ghost:
Laughs at Jellicent coming in who think they can wall it. Won't do much to them straight away, but Jellicent poses no offensive threat to Keldeo whatsoever so it's just another set-up opportunity for Keldeo. Catches any psychic types like Lati@s, Celebi or Reuniclus off guard too.
Item:
Keldeo honestly doesn't need Life Orb. Appreciates the health from Leftovers much more, especially with Sandstorm and Scald burns so common. Life Orb Keldeo just dies too quickly and the extra power isn't required. More evidence for Keldeo being slightly 'too good' there.
Nature & EVs:
Once again standard, Timid max special attack and speed. 4 in defence because Keldeo has the same defence and special defence, but in case of any Download ability Pokemon switching in.
Synergy:
Electric ---> Latios, Garchomp
Grass ---> Jirachi, Latios, Scizor, Forretress
Psychic ---> Jirachi, Latios, Scizor, Forretress
Flying ---> Jirachi
Possible Changes:
I don't see any, Keldeo is top-notch as it is, but I'm open to suggestions.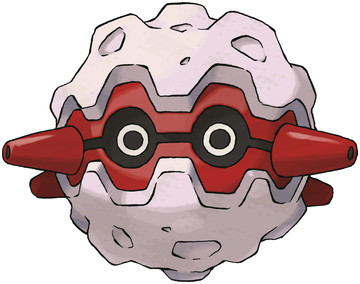 Forretress
@ Leftovers
Trait: Sturdy
EVs: 248 HP / 8 Def / 252 SDef
Sassy Nature
IVs: 0 Spd
- Stealth Rock
- Rapid Spin
- Volt Switch
- Gyro Ball
Overview:
Even though Forry was plonked on the team because nothing else could perform the role, Forry's done so admirably. Without Forry the team really wouldn't function and he really holds the team together.
How it plays:
Forry's my go-to guy and designated random status absorber. I like to get Stealth Rock down fairly early in the game, especially if my opponent lacks a Rapid Spinner. Saying that though, I won't go out of my way to get them up; Forry's rarely my lead. It's often my initial switch-in to Ferrothorn which is a perfect opportunity to use Stealth Rock. He can stop certain middling non-boosting physical and special attacking orientated Pokemon early game, Volt Switch out of there Forry counter, thus giving me the upper-hand. Late game he's little more than death-fodder, but he's still a very valued member of the team.
Moveset:
Stealth Rock:
A necessity move on nigh on every team, turning so many 2HKOs into one-shots as well as giving me a massive upper hand on fire, flying, bug and ice types. With Jirachi needing all the coverage it can get and Garchomp not being a defensive set
Rapid Spin:
Again a virtual given on any team that has plans on sticking around a little while, such as this one. Even though we have no Stealth Rock weaknesses, only 2 Pokemon can get any health back, which is only Keldeo and Forry through Leftovers. Therefore Stealth Rock and other hazard damage can be a big detriment to my team.
Volt Switch:
My 'Get out of jail free' card. Forry is a magnet for all things Swords Dance, Nasty Plot, Calm Mind and Quiver Dance, so often needs to make a swift (well as swift as Forry gets) exit. Gives me much needed momentum and a free-switch in for one of the set-up Sweepers.
Gyro Ball:
Just a filler move really. I've used Pain Split in the past but that was generally on more defensive teams when Forry was needed to stick around for a while. The way this team works is by wearing things down early game, so Pain Split would be completely inappropriate. This set doesn't really allow me the time for setting another hazard, plus the team functions just fine with only Stealth Rock. Gyro Ball I can use against Dragons who are tring to set up, then kill them with Bullet Punch. I also use it against Gengar and Terrakion, as well as other very frail/weak to Steel Pokemon.
Item:
Lefties, standard item on single hazard Forry. More health = good.
Nature & EVs:
I chose specially defensive because I've used it well in the past, plus with this being a mainly defensive team, I have no need to have a designated wall to the likes of Haxorus, Garchomp and Conkledurr. I decided to make the best I can out of Forry given the current metagame and what I needed it for. With so many water-types and therefore the horrible move Scald around, specially defensive makes Forry a good a mixed wall as possible. Max Sp. Def, 248 in Health because I really don't like having an even number HP, the final 8 in defense as in either of the attacks we wouldn't get anything extra. Sassy lowers speed to maximise Gyro Ball power, be slower/equally slow as other Forries (Rapid Spin wars) and to get a slow a Volt Switch as possible which is what you want. 0 Speed IVs for the same reasons.
Synergy:
Fire ---> Latios, Garchomp, Keldeo
Possible Changes:
Again I don't see any, all the common moves over Gyro Ball I've said why I'd rather not use. But if someone can come up with a great move I haven't thought of to have in place of Gyro Ball, then I'm all ears.
:)

* * *​






So that just about concludes my first RMT. A quick little
threat list
to finish off.

Ferrothorn
Probably not
the
biggest threat to my team, but because it's so common it's the one I notice the most. The physical defensive variants are worst; because even these can take Latios' Draco Meteor, but it also means it take considerably less from Keldeo's Secret Sword and Fire Punch too. They completely wall Garchomp too. Leech Seed makes if even worse because we have no grass type and it gives it the upper hand on Forry. I just have to do my best to play around it, hitting it when I can until I can get Scizor in when possible and Superpower it.

Life Orb Starmie in rain
Never actually encountered one of these, but in theory this could 2HKO my entire team, taking out Latios, Garchomp, Scizor and 0 CM Keldeo in 1, with Ice Beam, Ice Beam, Hydro Pump and Thunderbolt, respectively It's touch and go with Hydro Pump on Jirachi, while all Forry can do is Volt Switch out.



Electric types
My major nemeses. A very early version of this team got torn apart 5-0 by a Sub Calm Mind Raikou of all things. Electric types usually carry an ice move and the BoltBeam combo works very well against my team. Rotom-W doesn't cause us too much bother despite not having a grass-type move. We do have trouble with Life Orb Jolteon and some versions of Thundurus-T though. Luckily they aren't too common, but we also struggle against the even rarer Zapdos and still Raikou.
* * *​
Here's an
Importable
version if you want to steal it
Jirachi @ Expert Belt
Trait: Serene Grace
EVs: 196 Atk / 200 SAtk / 112 Spd
Naive Nature
IVs: 30 Atk / 30 Def
- Iron Head
- Fire Punch
- Thunderbolt
- Hidden Power [Ice]

Latios (M) @ Choice Specs
Trait: Levitate
EVs: 252 SAtk / 4 SDef / 252 Spd
Timid Nature
IVs: 0 Atk
- Draco Meteor
- Psyshock
- Surf
- Trick

Scizor @ Life Orb
Trait: Technician
EVs: 252 Atk / 4 SDef / 252 Spd
Adamant Nature
- Swords Dance
- Bullet Punch
- Bug Bite
- Superpower

Garchomp @ Choice Scarf
Trait: Rough Skin
EVs: 252 Atk / 4 Def / 252 Spd
Jolly Nature
- Outrage
- Earthquake
- Stone Edge
- Dual Chop

Keldeo @ Leftovers
Trait: Justified
EVs: 252 SAtk / 4 SDef / 252 Spd
Timid Nature
IVs: 30 Def / 30 SDef
- Calm Mind
- Hydro Pump
- Secret Sword
- Hidden Power [Ghost]

Forretress @ Leftovers
Trait: Sturdy
EVs: 248 HP / 8 Def / 252 SDef
Sassy Nature
IVs: 0 Spd
- Stealth Rock
- Rapid Spin
- Volt Switch
- Gyro Ball
* * *
​
(Images from http://pokemondb.net)






Thanks for reading; I put a lot of effort into my writing even though it's not my strong point. It would be very nice if I could get as many rates as I can from you wonderful guys. Thanks in advance,
~Brap