Hi all, it's Samallmighty! Today I'm producing you my new toy: a caveman style rain-team! The idea is really basic: spam hazards->click pivot moves-> clean up late game. Simple to understand yet difficult to master as you need to make some very agressive plays in order to keep the momentum versus certain builds. Before continuing, I'd like to thank Stellar Flares for recognizing the potential of this team after playing some matches vs me and helping me by making some fine tweaks. Without further ado, let's dwelve in the teambuilding process:
Edit: I usually don't save my achievements, I don't care about the ladder just about the fun of playing. However since some toxic people have been quite offensive in the comments, I have a proof of peak of 1797 for now until I climb back. Love you haters:
Note that Stellar Flares is also using the team and that he's usually in the 1900's so once again, that's very bad sorry for our noob level.
The Team:
Stand Atlantic (Pelipper) (F) @ Damp Rock
Ability: Drizzle
EVs: 248 HP / 8 Def / 252 SpA
Quiet Nature
IVs: 0 Spe
- Surf
- Knock Off
- U-turn
- Hurricane
Well, it's a rain team so pelipper is mandatory because we don't want to play politoed haha. More seriously, that set may look very uncommon and I'm still rather unsure about it. It's actually one of the adjustments made by Stellar Flares to this team. Originally, pelipper was invested fully in physical bulk because I like that bird and want to keep it alive a little bit so that I can have rain in the endgame for barraskewda eventually. As it turns out, denying the opponent from defogging or setting up too easily seems quite important as well, hence the focus on special attack. Surf is preferred instead of scald because the burn rarely ever comes out handy (and given my rng, I never have it anyways). Min speed is here so that we have a slow u-turn and potentially outslow tyranitar to keep our weather. Defog, though tempting because I have no hazard control in my team doesn't do much at all since pelipper can't defog safely vs many of the stealth rock users of the tier: even heatran and landorus-t deny the opportunity to do so with taunt and stone edge respectively. Hurricane is to avoid grasses coming in for free. Overall, this set looks like a mix between the standard defensive pelipper and choice specs: there is less power behind it but 7 turns of rain is way better than 4 and pelipper's goal is not really to wallbreak, just to not be setup fodder.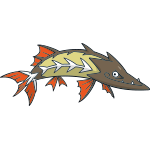 Whitesnake (Barraskewda) (F) @ Choice Band
Ability: Swift Swim
Shiny: Yes
EVs: 252 Atk / 4 Def / 252 Spe
Adamant Nature
- Liquidation
- Close Combat
- Flip Turn
- Psychic Fangs
Barraskewda is the heart and soul of the team which was greatly made around it. The gist of it is to abuse flip turn to it's fullest by making win-win scenari as often as possible. When given a free switch vs a frail, weakened or water weak mon, flip turn is a no drawback play early game forcing the opponent to take serious chip damage while retaining momentum and potentially establishing a virtuous loop for us. Even without rain, barraskewda is still decently fast so you don't have to set the rain every time you want it to hit the field. But in the rain, barraskewda outspeeds absolutely everything bar Dragapult at +2 or some select setup sweepers boosted at +3 which is wishful thinking at that point. Hence barraskewda not only serves as a potent pivot and cleaner, it's also a powerful revenge killer that allows the team to not be 6-0 by many setup sweepers. Close combat is here because a good ferrothorn is a dead ferrothorn. Before cinderace ban, I had aqua jet instead of psychic fangs just to kill the bunny without taking 70% on sucker punch (or potentially 100% if banded). Now although it can't be bad to have another priority move, barraskewda is already extremely fast under rain, I have two absurdly powerful priority moves in the team and I feel like I need psychic fangs more. The main reason is not toxapex: yes it does 2hko it but it's only useful late game, early game even a brainless stall player will pivot out and regenerate almost all the damage done while you took chip damage from rocky helmet (which tells you how disgusting that thing is). No, the main reason is so that I do not get swept by hawlucha under screens. Psychic fangs secondary effect comes in very clutch in that particular instance.
Genesis (Mew) @ Mental Herb
Ability: Synchronize
EVs: 252 HP / 4 Atk / 252 Spe
Jolly Nature
- Stealth Rock
- Spikes
- Taunt
- Explosion
Every time I see comments about a rain team it's: "well, ferrothorn is mandatory". Don't get me wrong, ferrothorn is a great mon for sure but it just doesn't fit this particular build. Why that? because it's slow, passive and welcomes any defogger to come in and waste our hard work. Then why not other suicide leads like landorus-t or excadrill and the answer is spikes. Spikes is often even more important than stealth rocks because the targets we want to weaken are bulky grasses, waters and grounds which are generally hit much harder by the spikes. Taunt is here to prevent defog, setup or weird shenanigans. The player's ability to set up and then maintain hazard(s) is instrumental to this team's success as with all our pivot moves, the opponent will be forced to switch out a lot.
Cutting Crew (Scizor) (F) @ Choice Band
Ability: Technician
EVs: 248 HP / 252 Atk / 8 Def
Adamant Nature
- Bullet Punch
- U-turn
- Knock Off
- Superpower
Scizor is the heat of the team and I'll explain why. Think of the mon that is most likely to sweep a rain team almost entirely? Rillaboom. When it gets rid of ferrothorn via hazards and a well timed superpower, it then only has to click grassy surge to 6-0. Here comes our scisorhands! It totally flips the tables versus rillaboom, making it almost detrimental to the opponent as it is just a free u-turn for scizor. As he switches out into a fire or ground type, you'll most probably pivot into barraskewda and then proceed to click flip turn and that's a loop. The opponent can't get away without sacrificing a mon. If he sacks something else than rillaboom, scizor can reinitiate the loop vs it at every opportunity. But if the opponent realizes it and sacks rillaboom, then not only did I got rid of a potent sweeper and breaker but I paved the way for a sweep of my own with barraskewda. The same can be said about many some bulky grasses (tangrowth, zarude,...) and psychic (slowbro, slowking(g), ...) all of which are otherwise pretty problematic for the team. Bullet punch is a very strong priority. Knock off is nice for both utility and power. Superpower is here because a good ferrothorn is a dead ferrothorn.
Gorillaz (Rillaboom) (F) @ Choice Band
Ability: Grassy Surge
EVs: 252 Atk / 4 Def / 252 Spe
Adamant Nature
- Wood Hammer
- Grassy Glide
- U-turn
- Superpower
Rillaboom is the third sweeper of the team. But just like barraswkewda and scizor, it's also a breaker and a pivot all in one package. Grassy glide is an absurd priority. Wood hammer breaks through fat cores. U-turn is here because real men click u-turn and superpower because a good ferrothorn is a dead ferrothorn. You can see a great offensive synergy here between the three sweepers breaking walls for each other. Additionally, although the primary goal of the team is to avoid switching into powerful attacks, it's nice to see the defensive synergy that rillaboom and scizor have with rain allowing for instance scizor to live a galarian slowking flamethrower from full if needed. Rillaboom is also generally very good under my rain but also versus opposing rain and sand.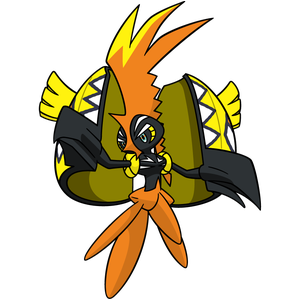 AC/DC (Tapu Koko) @ Choice Specs
Ability: Electric Surge
EVs: 252 SpA / 4 SpD / 252 Spe
Timid Nature
- Thunder
- Volt Switch
- U-turn
- Dazzling Gleam
This is the mon I'm the least sure about. One thing for sure though is that I need a decently fast electric type at least to keep the spirit of the team alive by adding yet another pivot. Joke aside, Tapu Koko's primary role is to threaten flying types with a strong volt switch. Remember, we want win-win scenari. You may wonder why threatening flying types is so important. Well, that's because most of the defensive flying types of the tier are... defoggers. And I want the hazards to stay otherwise Mew would have died in vain. Also worth noting is that most of these birds are roadblocks to the rest of my team: corviknight/skarmory and mandibuzz prevent a rillaboom sweep, tornadus-t makes use of my own rain, tapu fini (yeah, that one is not a bird but it doesn't like electricity either) is a check to barraskewda and zapdos is... reaaaaaally annoying. The choice for the electric type is hpwever up to debate. Originally it was zapdos because hurricane, despite the unreal miss chance outside of rain is a good spammable move which 2hkos every relevant ground type and Ohkos every faster ground type bar garchomp which survives by a thread and excadrill which takes very little at all. Hurricane is also very useful for threatening grass types and thus alleviate scizor's job with them. Thundurus-t is another option, having a bit of extra power and speed and a better ability for this team: volt absorb, letting it act as a check to electric mons most notably regieleki and zapdos which are extremely problematic. The drawback is that grass knot, while doing the job vs grounds is a horrible move to be locked into, which loses a lot of momentum and allow the opponent to pivot too easily. Both zapdos and thundurus-t are also weak to stealth rocks which is a big drawback for a pivot and changing the item to heavy duty boots makes their attacks less powerful. Tapu koko on the other hand is a decently faster than both zapdos and thundurus-t, hits harder with choice specs than them without or has better longevity than them with specs, still 2hkos every relevant ground type bar excadrill with dazzling gleam or u-turn out of it. In the end, the choice is yours.
Other options: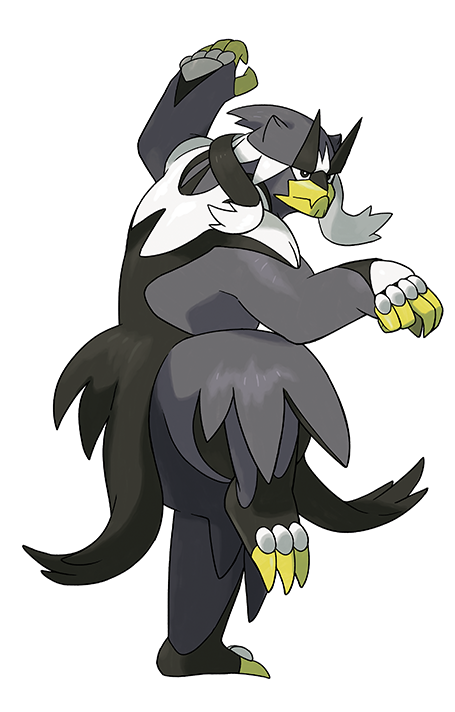 For the most part, urshifu rapid strike is an ersatz of barraskewda under rain: it's uncomparably slower, doesn't have flip turn, and takes an unbelievable amount of damage versus rocky helmet users. There is however one reason to consider it and that is... toxapex. Provided rain is set, stealth rocks or spikes are both up, and if there are exactly nine three quarter leprechauns dancing under a blue moon in your garden, an adamant urshifu has a 86.7% chance to 2hko toxapex and subsequently almost every stall mon in the opponent's team. Of course, it's a suboptimal choice compared to other team members but I hate stall in general and toxapex in particular sooooo much that I needed to at least mention it.
Often considered mainstream in rain teams, tornadus-t can efficiently check grass types all through the match with stab hurricane and regenerator. Apart from that though, I feel like he doesn't bring me enough: it can either serve me as a passable pivot with a weak u-turn or as a very gimmicky stallbreaker with a set hurricane+nasty plot+taunt+focus blast. Overall, I feel like scizor takes better advantage of grasses than tornadus-t does. It's also worth noting that the team appreciates more the strong priority in bullet punch than the extra speed since tapu koko and especially barraskewda under rain are already speed demons.
Defiant makes bisharp an interresting option in order to deter the use of defog. The problem is that most of the time I need to win the 50/50 in order to take advantage of the defog user. Outside of defiant and sucker punch, bisharp is slow, not exceptionnaly strong and not unbelievably bulky which makes it a bit hard to slap on this team.
Azumarill deserves fringe attention for several reasons: a belly drum set with aqua jet can on a very very good day sweep an unprepared team. But belly drum azu needs a great deal of support to set up properly and doesn't offer very much that barraskewda already does. There could have been an argument though for perish trapper azu because it sort of checks grass types and most importantly, it lures pex. That was until some pex players went with shed shell to avoid being trapped by heatran's magma storm...I'm never gonna find a decent solution versus toxapex...
Some people may consider regieleki for the electric type slot. It has a highest power and speed than any of the options I've tested. However, its inability to touch ground types while not threatening grasses makes me feel quite iffy about it, forcing me to overpredict yet again. I could benefit a bit from the rapid spin option, although it seems gimmicky, but the team doesn't benefit at all from dual screens since most of the time I click a pivot move and thus do not take any damage.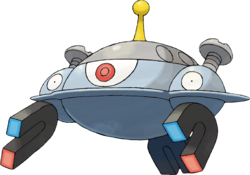 Magnezone is yet another possibility to trap annoying steels which both rillaboom and scizor would really appreciate. However, it's a lot slower than all of the other options and most importantly lost access to hidden power fire which prevents him from reliably trapping ferrothorn (he has to use iron defense+body press), the main reason why I'd take it in a rain team despite the fact that rain halves hp fire damage. I also find that between the hazards, the pivot moves, the potential fighting coverage lure and the lack of reliable recovery, ferrothorn isn't as much of a problem as vs other rain teams, making magnezone's niche less needed.
Threatlist:
As emphathised before, I need to play very agressively around defoggers such as corviknight, skarmory or mandibuzz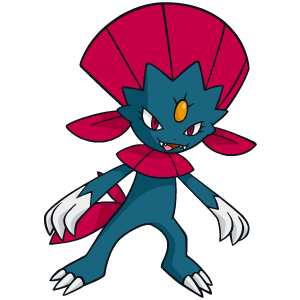 Banded weavile outspeeds and ohkos mew, denying me any hazards. It's always sad to start at 5-6...


Similarly to banded weavile, specs dragapult outspeeds and ohkos mew. Sub dd dragapult is also very threatening, forcing me to rk it with rillaboom and scizor double priority, usually taking down two of my mons while limiting the hazards laid.
Banded kartana outspeeds and ohkoes mew. It threatens to grab a kill every time it comes in. Not unmanageable but not a good sight by any means.
Zapdos has defog, is relatively difficult to kill, threatens all my team (bar thundurus if I choose to take it) and even when I manage to kill it with barraskewda, I get paralyzed by static... A true annoyance.
Offensive banded landorus-t only has 56% to ohko that with earthquake, life orb adamant excadrill has 6.3%, pivot tapu koko's thunderbolt doesn't come near. If you're a biased stall lover, you'll ask me how is that relevant, you only need a 2hko. But of course not. Of course not because it has regenerator. It can take any hit, cripple you with toxic, knock off or scald burn, pivot out and come in healthy again any time it wants. If you tell me it is passive, ok, fair enough, how do you set up vs that when it has haze and taunt users are nowhere to be seen. It's literally unkillable, not fun, thoroughly uncompetitive and needs to be banned as soon as possible. Not much you can do except praying that you have enough hazards to make flip/u-turning vs it a viable trade compared to the chip of rocky helmet. Psychic fangs is a clean 2hko and will catch the opponent offguard at some point. But don't rely on that, regenerator will destroy all your careful preparations. Most of the time, if you can't break the zapdos check that your opponent's team is carrying, you click x. #banpex
Closing thoughts: I'm really happy of this team, it brings me joy every time I play it and unlike cancer toxapex stall teams require skill to play it. I really feel like just playing it makes me a better player. Although I believe it's already a very good team as it is, I feel there's still room for improvement. If any of you has suggestion(s) to make it more efficient (particularly vs pex) feel free to do so!
Last edited: