Hey guys - long time pokemon lover, but I've always sucked at teambuilding. This is my first team here, so I hope I'm following the rules. Gen 9 has been absolute carnage so far, but I've been having a great time laddering with this bulky offense (?) team. Looking for tips on how to improve the sets and general playstyle ideas/tips.
Great Tusk @ Booster Energy
Ability: Protosynthesis
Tera Type: Fighting
EVs: 252 Atk / 4 SpD / 252 Spe
Jolly Nature
- Headlong Rush
- Close Combat
- Rapid Spin
- Stealth Rock
Love this mon. On paper, this is my lead, consistently checking cyclizar and glimmora, breaking sashes with rapid spin and rampaging through unprepared teams. Found strength to be a little lacking without the booster energy. Tera fighting gives close combat extra oomph. Checks include: chien-pao, iron valiant, corviknight, and dondozo. No answer to air balloon gholdengo, which is annoying.

Rotom-Wash
@ Leftovers
Ability: Levitate
Tera Type: Water
EVs: 252 HP / 4 Def / 252 SpD
Calm Nature
IVs: 0 Atk
- Thunderbolt
- Protect
- Hydro Pump
- Will-O-Wisp
More often than not, I actually lead with Rotom-W. It checks many offensive threats with Will-O-Wisp and generally cripples the offensive metagame as few things hit it supereffectively - notably Iron Moth, which is a big threat for the whole team. The mon is hurt by lack of reliable recovery, hence protect, but is happy that knock-off is no longer very common. SpD investment helps it against Chi-Yu.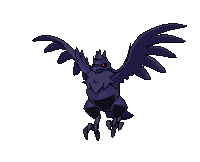 Corviknight
@ Leftovers
Ability: Pressure
Shiny: Yes
Tera Type: Water
EVs: 252 HP / 252 Def / 4 SpD
Impish Nature
- Body Press
- Roost
- U-turn
- Defog
Honestly, this might be the most useful mon on the team. Feels exceptionally strong this generation, beating out a plethora of physical attackers: great tusk, roaring moon, garchomp, lokix, kingambit (even tanking a hit or two from iron valiant). U-turn allows me to bring in chi-yu for free. Tera water to take a hit from chi-yu and OHKO with body press if absolutely necessary. IMO, best Chien-Pao counter in the game. Defog necessary because great tusk often dies early leaving the team without another method of hazard removal, but can be outplayed by defiant annihilape/kingambit switch-ins, to which corviknight has no answer.
Roaring Moon @ Focus Sash
Ability: Protosynthesis
Shiny: Yes
Tera Type: Dragon
EVs: 252 Atk / 4 SpD / 252 Spe
Adamant Nature
- Dragon Dance
- Iron Head
- Crunch
- Outrage
Flexible role as either a late-game sweeper or a nuke against iron valiant: focus sash lets it live a hit, and either OKHO with iron head or DD. Outrage + tera dragon feels underwhelming in terms of flexibility, but hits like a truck. Crunch is super spammable. The mon has decent special bulk, working as a Chi-Yu counter, but I feel like it suffers from 4-move syndrome - earthquake would be nice, allowing it to hit kingambit and other steel types like tinkaton.
Chi-Yu
@ Choice Scarf
Ability: Beads of Ruin
Tera Type: Dark
EVs: 252 SpA / 4 SpD / 252 Spe
Modest Nature
IVs: 0 Atk
- Overheat
- Flamethrower
- Dark Pulse
- Psychic
I love this lil fish so much. Scarf works as speed control, only consistently outsped by iron valiant, which is handled by roaring moon as mentioned. Overheat tears unaware mons like dondozo and clodsire apart, and psychic is there for poison types like iron moth and fighting types like great tusk etc. People seem to forget that chi-yu is just as much a dark type as it is a poison type - tera dark dark pulse hits monstrously hard and works great as late-game cleanup.

Gholdengo
@ Leftovers
Ability: Good as Gold
Shiny: Yes
Tera Type: Flying
EVs: 240 HP / 244 Def / 24 Spe
Bold Nature
IVs: 0 Atk
- Thunder Wave
- Make It Rain
- Hex
- Recover
The most annoying mon in the game (if you can't beat 'em, join 'em). Takes 78.4-92.8% from 252+ SpA iron valiant shadow ball and OHKOs with Make It Rain. T-wave has great synergy with hex obviously, but feels a little wasted on a (mostly) fast team. 24 Spe allows gholdengo to outspeed 4 Spe glimmora. Tera flying allows earthquake dodging, but I almost never end up using it as I have corviknight and rotom-w. This set suffers against other more powerful gholdengo sets, taking 76.8 - 91.2% from 252 SpA gholdengo shadow ball, and unable to use T-wave in return, leaving hex rather lacklustre.
I've been having some success with the team in general but am finding it tricky to deal with some of the OU staples like chi-yu, ting-lu, iron moth (especially scarfed). I especially hate seeing revival blessing teams, but I suspect everybody does. Grimmsnarl turns annihilape from annoying to impossible to break past. Special mentions go to SpDef, tera water garganacl with iron defense, salt cure, and body press (purifying salt is *very* annoying) as my rotom-w doesn't have the strength to break past it. Iron valiant continues to be a nuisance, but I feel like corviknight, roaring moon, and gholdengo have that covered. I often don't end up getting hazards up, and might need to rethink my great tusk set, but on the occasion that it rips the enemy team apart, it's incredibly fun. All tips/swaps very appreciated!
Last edited: