After the
Valentine Venture
success, March is having a new Seasonal Ladder which is going to feature the beginning of the Spring season, Easter, and St. Patrick's day (rather month).
I'd like people to point out anything that sounds weird or that could be improved, but this is going to be the ladder:
---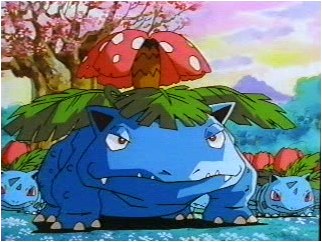 ​
We are going to welcome the upcoming spring with a 3 VS 3 with no Team Preview random battle featuring some Flower, Egg, and Green Pokemon!
We all know that March and April showers bring May flowers, so Drizzle will be activated upon battle start 75% of the times! Rain always ruining the spring!
You'll find Egg, Flower, Bunny, and Green Pokemon.
Shiny Pokemon that are green have decided to put on their special clothes to celebrate St. Patrick, so they are found too!
That's not all! St. Patricks spirit has been imbued all over this Seasonal, so luck is will be very important - all Pokemon will have either Super Luck or Serene Grace as their ability.
To celebrate Easter, Pokemon have been gathering delicious chocolate eggs that have empowered them. All Pokemon will have one of the following moves: Softboiled, Barrage, or Egg Bomb!
Yes, yes, we all know these two attacking moves suck. That's why these egg-related moves have been super boosted:

Softboiled is now healing 75% of the user's Max HP.
Barrage is now a Special Grass-type now that hits from 3 to 5 times, every move having 35bp, has a high crit chance and heals user 1/40 of their Max HP per hit and it never fails!
Egg Bomb is now a Special Grass-type move with 100bp, it always crits, heals user 1/8 of their Max Hp, and never fails! But not everything is cool, it lowers Speed by two stages and Special Attack by one stage upon use. Furthermore, Spring Forward is plagued by foes resisting Grass-type moves.

All moves have had their crit ratio increased, so they all have a base high crit ratio now!
All Pokemon will know Metronome too as their first move!
Pokemon that usually use Choice items will find themselves using the Metronome item.
All green Pokemon have been partying too much celebrating St. Patricks, so they will be confused upon switch in for a very short duration!
Togepi, Togetic, Togekiss, Happiny, Chansey, Blissey, Exeggcute, Exeggutor
Cherrim, Gloom, Vileplume, Bellossom, Lileep, Venusaur, Sunflora, Lilligant
Lopunny, Bunneary, Azumarill
Bulbasaur, Ivysaur, Venusaur, Caterpie, Metapod, Bellsprout, Weepinbell, Victreebel, Scyther, Chikorita, Bayleef, Meganium, Spinarak, Natu, Xatu, Bellossom, Politoed, Skiploom, Lavitar, Tyranitar, Celebi, Treecko, Grovyle, Sceptile, Dustox, Lotad, Lombre, Ludicolo, Breloom, Electrike, Roselia, Gulpin, Vibrava, Flygon, Cacnea, Cacturne, Cradily, Gardevoir, Gallade, Keckleon, Tropius, Rayquaza, Turtwig, Grotle, Torterra, Budew, Roserade, Carnivine, Yanmega, Leafeon, Shaymin, Shaymin-S, Snivy, Servine, Serperior, Pansage, Simisage, Swadloon, Cottonee, Whimsicott, Petilil, Lilligant, Basculin, Maractus, Trubbish, Garbodor, Solosis, Duosion, Reuniclus, Axew, Fraxure, Golett, Golurk, Virizion, Tornadus-I, Tornadus-T, Burmy, Wormadam (Plant Cloak)
Kakuna, Beedrill, Sandshrew, Nidoqueen, Zubat, Golbat, Oddish, Gloom, Mankey, Poliwrath, Machoke, Machamp, Doduo, Dodrio, Grimer, Muk, Kingler, Cubone, Marowak, Hitmonlee, Tangela, Mr.Mime, Tauros, Kabuto, Dragonite, Mewtwo, Marill, Hoppip, Espeon, Teddiursa, Ursaring, Cascoon, Taillow, Swellow, Pelipper, Masquerain, Azurill, Minun, Carvanha, Huntail, Bagon, Shelgon, Salamence, Latios, Tangrowth, Seismitoad, Jellicent (male), Elektross, Druddigon, Bronzor, Bronzong
Murkrow, Honchkrow, Absol, Pidove , Tranquill, Unfezant
Dunsparce, Jirachi, Deerling, Sawsbuck, Meloetta