GSC has had many threats and issues being still to this day being worked on on other Pokemon Forums, but setting all of that aside what is still special is the combination of Skarmory and Blissey. I've tried time and time again to make a solid team with them on it but it's always missing a piece.
Taken straight off the Smogon page's moveset Blissey commonly packs Heal Bell and Soft-Boiled, and thats about all they have in common. On Pokemon Showdown I would like to say using Ice Beam over Flamethrower is better because there is no Freeze Clause. Sing would be wonderful asset if it wasn't competing for a spot over the powerful Light Screen that makes SkarmBliss a staple IMO.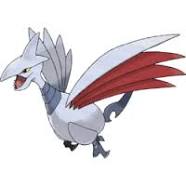 Skarmory always packs Drill Peck, Whirlwind and Rest. The last slots being Thief or Curse if you like to PP stall or want to wall them out with defense; or just straight win outright with powerful Drill Pecks. On Pokemon Showdown Skarmory performs the same valuable slot to the team as it does on the cartridge.
So my question to you is if you could make a SkarmBliss team what would it look like and why.