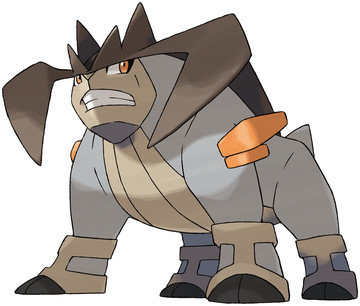 Hi everyone, in an effort to promote activity here in the VGC subforum, we'll be holding a practice tournament
this Friday at 5 pm US central time
(GMT -6). If this tournament goes over well enough, we'll do more like it and hopefully have more fun stuff for everyone.
This week, we'll be giving away a Jolly Terrakion
(soft reset by
Pyritie
) to everyone that enters the tournament to use in future live tournaments, or one of the many premier challenges being held across the US (and the world?).
This week, either
Professor Birch
or myself will be running the bracket, so send your PMs to us when you see us on IRC! Additionally, you can pester
TheMantyke
and
Laurel
to add you to the bracket.
Or, you can create a Challonge account and
register here
.
The rules are simple:
Flat Doubles, pentagon Pokemon ONLY. Basic VGC rules here, folks. If it's not allowed on ORAS Battle Spot, it isn't allowed here.
For the purpose of having the tournament run on time, strategies such as Minimize are STRONGLY discouraged. Id' like to keep this tournament fun and fast; these strategies are neither.

Competitors will need a copy of Omega Ruby or Alpha Sapphire to enter.

The tournament will be Swiss, best of one with a top cut that will be determined by how many people enter (or depending on time constraints)

Each round will last a maximum of 30 minutes. If the match is not completed within the timeframe, it will be up to the host to decide who wins or who loses.
If there is a disconnection, it will be up to the host to decide who wins or who loses. Make sure to have a camera handy to get some proof if you're nervous about this.

Since this is a non-weighted practice tournament, you may change your team between rounds. However, it might be better practice for you not to do so.
You must join the IRC channel #smogonvgc in order to participate. PM whoever is running the tournament your username and friend code to enter. Make sure to join the chat and register early! The link will be provided at the end of this post.
Halvard -
Terrakion

Nature: Jolly - Ability: Justified - Location: Pokemon Omega Ruby
IVs: 31/31/31/x/31/31
​
This week, we'll be giving away Halvard the ORAS-caught Terrakion. Terrakion remains a solid threat just as it was since its introduction back in VGC11, and although it has suffered from the introduction of Fairy-types, it gained some new prey in the form of Mega Kangaskhan, Talonflame, and the popular Bisharp.
So even if you're not confident in your skills or your team, remember that this is just for practice and that you're getting a free Terrakion and stop by #smogonvgc this Friday to show your support for VGC on Smogon! I hope to see you then!
The link for the IRC channel, #smogonvgc is Here.

HOW TO RECEIVE TERRAKION:
Step 1: Catch a Tentacool

Step 2: Offer the Tentacool for a Terrakion on the GTS
Step 3: Enter your username that you entered the tournament with in the message box. If you don't do this, you'll be ignored!
Step 4: Refresh the GTS to receive your Terrakion. Enjoy!
Participants:
Takeko
Chipndip
SeveninHand
coolking49
IGN Pope FC 5043-1710_6824
Last edited by a moderator: