C+ Rank

Glastrier
I know Glastrier is at LEAST b rank and I'm nominating this mon for
B+ rank
in the OU VR. Now, why such a jump? I know for a fact most of you do not use this mon and it is extremely underutilized, overlooked, and undervalued. The value add this mon brings is almost invaluable depending on your teams. It is so bulky, so powerful that you can just shrug off most mons super effective attacks that will hit you. I am not afraid of ttar, bisharp, kartana and sometimes heatran actually, since you can kill all of these mons from full and most of the time they will not kill u: god knows trash ass kart has no shot. Why is that? it's because your natural bulk is so astronomically high.
For those that need visual, this mons stats are 100 Hp/ 145 Attack / 130 Defense / 110 Special Defense/ 30 Speed. An incredible bulky pokemon with VERY high attack and the phenomical boosting moveset and ability. Once this starts stacking, there is Very little to do it stop it. You can shrug off bitchmade attacks from a attempting to stall kyurem, as well as outspeeding and killing toxapexes that are running around. Very few physical attacks will kill you, while you can oko or 2hko (oko with swords dance and no life orb) most things. I personally have a set that uses swords dance nad leftovers which takes advantage of said bitchmade mons and sets,which really cant hit. you at all and u can just setup on them withvery little issue. Because your defense is so high and speed so low, many mons who would body press you or gyro ball you are pretty much setup bait to a fault, you still need to hit them. Lastly, I believe a huge issue that people have with this is that they see the speed and auto think trick room. No.you can shit on weavile,kill the the torn and slow twins, shit on the balance squads and disrupt offense since it;s so frail. you don't need trick room at al. I have never used it on there and it's done a phenomenal job for me. Good day yall.. and remember, it get cold at night.
IIght so my next nom is for braviary.
Braviary should definitely be B tier.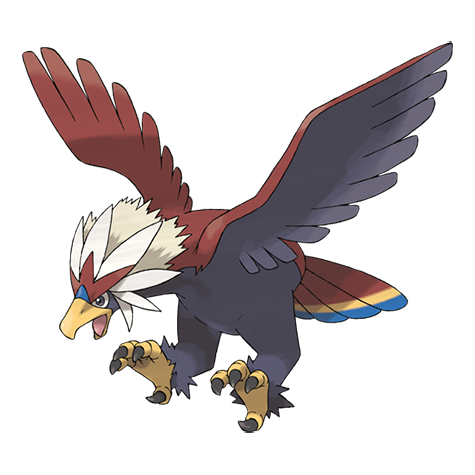 This mon is actually incredible. It has 3 really good abilities, with 2 being the main ones: sheer force and defiant. It has a good typing, really powerful moves, mad decent bulky, good hp, and great attack. It gets some cool moves such as rock slide, shadow claw, iron head, bulk up and uturn to supplement it as well. And with it's sky high attack it can nab REALLY nice scarf or banded okos. I prefer defiant and will refer to that ability through the rest of this post.
Now for the white elephant in the room, what sets this apart from
Galarian Zapdos
?
This can easily be boiled down into a few points:
Since braviary's speed tier is different, It can afford to be adamant.

braviary lived lele's psychic and okos at +0 with scarf and obvs with anything else
it lives lando stone edge and if you're defiant it okos back easily.

Because it's normal type, it is actually effectively much bulkier than galarian zapdos.

not being weak to moonblast nor brave bird is super vital.
being immune to ghost and forcing a draco is amazing
being able to not just shit on clef and fini, but to get a boost from them is outright fucking hilarious.
people think their landos can live
even joey thought he could live a banded brave bird with his galarian slowing since it can live a banded zapdos brave brid but forgot that the murica bird is adamant lmao and it's VERY noticeably stronger and loses less hp to brave birds.

It's effectively stronger in most situations

unless you are trying to take out like a corv or whatever with scarf close combat, in most situations u either oko anyway or you hit MUCH harder than gzapdos bc u are going to be adamant. it's great.
You also can run different sets than gzapdos because of ur different move set. Other than band I like the moveset of: adrenaline orb, bulk up, brave bird, roost, close combat and it is FIRE.
having rock slide is fucking great. fuck the fucking birds up. fuck em up fuck em up.
People underestimate it because they some gargling groupthinkers

It's Omari P™ certified
Now how does it mesh well with other teams? You can easily have this replace gzapdos in most situations but id suggest taking advantage of the ghost immunity and setting up on dracos.
Now for the replays, I got up to damn near 2000 with this great American bird, which is far better than the dirty trash staraptor wannabe galarian zapdos, mon just needs to
wade
.
Replays:
go bird go:
https://replay.pokemonshowdown.com/gen8ou-1393590548-l1gyhh1jcxfhdrztx3tu1ooapq6ddg2pw
yeehaw:
https://replay.pokemonshowdown.com/gen8ou-1391191943-q6j6gsrcafkjnmrovrqmf6s9uwi6ujipw
https://replay.pokemonshowdown.com/gen8ou-1397652374
https://replay.pokemonshowdown.com/gen8ou-1393551771
https://replay.pokemonshowdown.com/gen8ou-1395396235-71h29hd4fcot2z7hcobfl17qstfp2nwpw
https://replay.pokemonshowdown.com/gen8ou-1394531896-9wn59qvgvjt8euwz15357baglir24hjpw
lol
Let me know what u think. don't be ignorant
Last edited: