STALL! THE STRATEGY SMOGON WANTS YOU TO PLAY! This is my team that I got first on showdown, Pokemon Online, and PokeBattle with. Here is my Showdown Screenshot:
Here
, Pokebattle Screenshot:
h
ere, and sadly everything on my comp got washed off so there's no PO screenshot :[[ just believe in me plz






Team building process:
When I first made this team, my intentions were clear: I wanted to bring back SkarmBliss (Chansey, but SkarmBliss sounds so much cooler right?). I wouldn't exactly say that SkarmBliss stall was non-existent when I made this team, but the best SkarmBliss based teams were mostly either semi-stall or just a team I didn't really like overall because of overall standard other pokes. Even though I say this, the Skarmory+Chansey core helped me immediately counter some threats, such as Greninja, Mega Pinsir, Diggersby, Charizard-Y. So, I decided I give it a shot.


Keep in mind, before this team, I had two other stall teams, both from Gen 5. On both of these stall teams, only one Pokemon stayed the same. That Pokemon is the one and only, The Sleeping God[chomp] set. On one of the teams I had before, the Garchomp set really helped support Skarmory's weaknesses and vice versa, so I decided to bring the same idea to 6th gen, which surprisingly worked well. The only difference, obviously, is that Mega Garchomp was not in 5th gen, but this wasn't too big of a problem since all it really made me do was made me change my EV spreads. If anything, this helped my team for two reasons. It gave my team a Knock Off absorber (this was amazing because this team was made when Defiant Bisharp got extremely popular), and it also gave me a major increase in bulk (Chomp last gen wasn't exactly the bulk god it is today since it required you to outpace threats like Lucario and Toxicroak). This set was also/still is great because it is also a momentum stopper to Volt-Turn teams, which is something every stall should have so it isn't just Volt-Turned until everything is worn down and dead. However, little did I know at the time is that this Pokemon would also become a key role on the team, because it helps me revenge kill threats like Mega Mawile and +6 Azumarill, while still having a bulky, stall-like presence.



At this point of team building, I see that I counter a lot of individual threats physically, but I'm missing some coverage specially. Though Chansey is hands-down the best specially defensive wall in the meta, there are still certain Specially/Mixed attacking based threats can deal with Chansey, especially without Toxic. So, I decided to give Chansey some other special defensive support, to form a specially defensive core. The first special defensive core this team had was Heatran+Chansey, mostly because it countered most of the 5th gen special attacking meta game amazingly, and was still able to counter Genesect, so at the time it seemed great.




At this point of the team, I realized the core Amoongus+Slowbro patched up most of the remaining weaknesses, helping me counter threats like Talonflame, Azumarill, Mamoswine, Mega Gyarados, Aegislash, etc much more easily and efficiently, while having a good Regenerator core. For about a couple days or two, my team originally looked like this.






However, problems did arise. Though I did have an easier time checking threats like Belly Drum Azu and SD Mawile, I did find myself beat by other threats, such as Calm Mind Gardevoir and Tail Glow Manaphy. I don't mean just beaten by these threats; I mean demolished. I could outplay these things all I want, but generally, they both were going to comeback to usually sweep me either late game or until some said teamates were on low enough health or crippled enough to a point where it was worthless. Eventually, obviously, I made the change that had to be done, a change that put me outside my comfort zone for awhile; changing Specially defensive Heatran for Specially Defensive Aegislash. Not only did specially defensive Aegislash help me counter the two threats that knocked me down the most, it even helped the other threats that Heatran countered, such as Genesect, Latios, and Latias.






All in all, the team was looking good at the time. However, my last few problems arose. Hazards, late game Dragonite, and Mega Tyranitar. As you see on my team, the only Stealth Rock poke I have (bar Chomp), is Skarmory. Since Skarmory had Rocks, I had no Pokemon that could lay down Spikes. This wasn't a huge problem until I started running into teams that may have had some of the said threats below (in the threat section), which made those threats harder to take out, since I could not really wear them down massively with hazard damage. Another problem that arose was that I only had 2 Pokemon that could properly deal with late game Dragon Dance Dragonite: Skarmory and Slowbro, and since Skarmory has no offensive moves, it makes Slowbro the only real Pokemon that could actually fight back against +1 Dragonite, which I should add that it's usually a fight it can not win by itself. Did I mention my only way of touching +1 Mega Tyranitar was to wear it down with hazards? This is why I added Chesnaught over Amoongus. Chesnaught provided Spikes for the team, along with a good way to wear down late game Dragon Dance Dragonite and to kill Mega Tyranitar. Even with these amazing qualities, it also gave me an A+ counter to the standard Mixed Aegislash set. This is how I have my team today.






Sets and EVs Breakdown:

larry (Skarmory) (M) @ Leftovers
Ability: Sturdy
EVs: 252 HP / 188 Def / 68 SDef
IVs: 0 Atk
Bold nature
- Stealth Rock
- Roost
- Whirlwind
- Defog
Skarmory's actual role on the team supportingly is very easy; it sets up Stealth Rock, can Defog at will, and can Whirlwind when it sees be (mostly +2 threats or if your hazards are up and you want to rack up damage). This Pokemon is generally great on the team because with its typing, it gives me a ground and poison immunity, a flying, bug, fairy, steel (not so important bar Scizor), grass (also not very important since most grass type moves are special attacks, usually partnered with a coverage move that can hurt Skarmory), psychic (also semi-irrelevant), and dragon resistance. These immunities and resistances makes Skarmory an instant counter to most of these offensive typings, making a Skarmory a good poke on the team. The EVs listed is so that Timid Landorus-I can not kill with Focus Blast after SR damage, which leaves this Skarmory as a good "just-in-case" option if you
absolutely need
to get hazards down against an offensive team.

ur mum (Chansey) (F) @ Eviolite
Ability: Natural Cure
EVs: 252 HP / 240 Def / 16 SDef
IVs: 0 Atk
Calm nature
- Wish
- Softboiled
- Seismic Toss
- Heal Bell
Wow, I really love ur mum. Ur mum serves a huge role to this team. Ur mum helps me counter almost all the special attacking threats you standardly see in OU, with few exceptions (we will get more in depth on that later). With it's godlike bulk after Eviolite and giving it moves such as Wish, Softboiled (Protect makes this setup bait to all the scrubs out there still using Wish+Protect), and Heal Bell, makes this an amazing cleric that will generally only be taken down with great plays, unexpected mixed attackers, or hax (or all 3). 252 HP/16+ SpD makes ur mum able to switch into Landy-i Focus Blast with rocks up, having no worries about being 2hko'd. The rest of the bulk goes into defense to maximize it's ability to deal with mixed attackers and/or Psyshock.
sp00ki (Aegislash) (M) @ Leftovers
Ability: Stance Change
EVs: 252 HP / 20 Def / 236 SDef
IVs: 29 Spe
Sassy nature
Shiny: Yes
- Shadow Ball
- Iron Head
- Toxic
- King's Shield
Some of you new to the stall playstyle might wonder a single question. Why Aegislash? Aegislash, specifically specially defensive Aegislash, is one of the Pokemon that patches this team together. With specially defensive Aegislash, I now have a Chansey + Aegislash specially defensive core (which has pretty good synergy, I should add), which helps my team deal with certain threats that would be much harder to deal with without Aegislash. For example, Manaphy. Since my Chansey cannot afford Toxic in its set, my team would appear to be extremely Manaphy weak, since the only way the team could kill a Manaphy with Chansey by Seismic Tossing, but even then, Manaphy's (common) Leftovers would help it's survival against beating Chansey with +6. However, with Aegislash, all I have to do is wait for Manaphy to come in, switch in, eat up the +3 Surf (which has a chance of not even 2hko'ing with Leftovers recovery), and switch into Chansey to Softboiled stall Manaphy until it dies (did I mention +6 Surf doesn't 2hko my Chansey spread?). Even besides Manaphy, specially defensive Aegislash helps my team deal with certain threats that my team would not be able to deal with by using any other Pokemon, such as Calm Mind Mega Gardevoir (Iron Head kills), Mixed Genesect, Calm Mind/Cosmic Power Clefable, Mixed Thundurus-I, Life Orb Latios and Latias, and even more unexpected special wallbreakers. The Def EVs are so that 252 Attack Landy-t and Excadrill can never 0HKO Aegislash with Earthquake (which you will rarely have to stay in on, but sort of a "just-in-case" EV spread like Skarmory's), while the rest is thrown into the other HP and specially defensive stats to help counter the list above. 29 Spe IVs is so that it can potentially check other Aegislash's by eating up their Shadow Ball first, putting them in it's offensive form, and then hitting them in their more frail form with Shadow Ball. The reason it is 29 Spe Ivs over 0 IVs is so that it can still outrun Pokemon that are nice to outrun such as Chansey (to flinch to make the stallwar not as long) and Donphan (so you don't have to switch if it's weakened).

wtf is this (Slowbro) (M) @ Leftovers
Ability: Regenerator
EVs: 252 HP / 252 Def / 4 Spe
IVs: 0 Atk
Bold nature
- Scald
- Psychic
- Toxic
- Slack Off
Some people call it a bear, but I can really not see the connection between a bear and a water psychic type like really
Slowbro plays a big role on my team that is sort of hard to explain, but is somewhat easier to see. However, everyone knows from ladder that I'm a lazy asshole so I'm not going to play+record games with me using Slowbro the way it's supposed to be used, so I'll just write out what I mean in the most simple way possible and hope some of you grasp the concept I'm throwing at you.
Slowbro is a wall. But it's more. It's an amazing Knock Off absorber against certain pokes that Garchomp wouldn't exactly love to take its chances with, such as Conkeldurr and LO Deoxy-s, seeing it can't be 2hko'd by either at full Knock Off power (with the item). Another thing Slowbro does is
test
Pokemon. Test simply means that it switches into threats that I want to see what move it's going to use. An amazing example of this is Specs Keldeo, where you will almost always see me switch into Slowbro when I see it to see if it will Scald/Hydro Pump or Secret Sword. If it Scald's/Hydro's, it's a safe switch into Chansey, and if it Secret Swords, I can either stay in or go to Aegislash, which I then recover the lost damage with Regenerator if I switch. This same reasoning applies to Banded/Scarf Pokemon that Slowbro does not have much of a problem with, such as Terrakion, Garchomp, Talonflame, Mamoswine, and Azumarill. Along with this, Slowbro can take care of threats like SD Talonflame, LO Mamoswine, and even Calm Mind Keldeo. You may be thinking, "why run Psychic when you can run Psyshock for Calm Mind Keldeo". The answer to that question is Chesnaught. If you look at my team hard enough, you'll see that I can barely touch Chesnaught. With Psyshock, I would be able to hurt it, but Psychic really lets me put a big dent in it. Generally, Psychic still messes up +1 SpD Keldeo anyways. Though I did originally have a more unique EV spread for Slowbro, I had to revert back to 252 HP/252 Def since Mega Mawile 2hkos Slowbro with Play Rough with anything else that I could have potentially used ;-;. You may see that I have 4 Spe in Slowbro, which is laughably a better investment than SpD, since 4 Spe lets me always outpace 0 Spe Amoonguss, which can be more useful than 4 SpD since it really doesn't help Slowbro tank anything in particular.

chess>checkers (Chesnaught) (M) @ Leftovers
Ability: Bulletproof
EVs: 248 HP / 240 Def / 20 SDef
Impish nature
- Spikes
- Spiky Shield
- Leech Seed
- Hammer Arm
Like really who plays checkers lool
Chesnaught is a very interesting Pokemon on my team, because the biggest contribution it gives to my team as a physical wall is being able to counter a Special threat, which is obviously Aegislash. You may be wondering why I run more Defensive EVs then, but really Chesnaught helps me check other physical attackers too, just not as well as the other teammates on my team, which the few exceptions being Excadrill (Chesnaught can set up in this spinner's face, ironically), Dragon Dance Dragonite (Slowbro can touch it too, but Chesnaught can help wear it down better and then switch to Skarmory to just wait for its eventual death), and Breloom, since it immune to Bullet Seed (Bullet Proof coming though), eats its Mach Punch up like a pot-pie, and resists Rock Tomb. Leech Seed helps stall out certain Pokemon Chesnaught can stay in on, while Spiky Shield helps it get an extra recovery turn, which can also potentially do damage to the opponent even without them being Seeded. Spikes is obviously just for stallish hazard support. Hammer Arm is actually
needed
on Chesnaught so the team can actually kill +1 Mega Tyranitar without making Skarm forcing the switch with Whirlwind and wear down with SR and/or Spikes. The HP and SpD EVs listed let Thundy-i's non-Life Orb unable to 2hko it.
It's also really important to note that despite this being my only Dark resistance, this does not mean you want to switch in Chesnaught into Knock Off every. Single. Time.
Slowbro and Garchomp generally are the ones who take all the Knock Off's on the team, and unless it's an emergency, I recommend you don't full willingly Knock Off Chesnaught's item, because it's really helpful to him to helping him survive.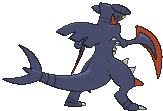 SHARKEISHA NO (Garchomp) (M) @ Garchompite
Ability: Rough Skin
EVs: 252 HP / 140 Def / 32 SDef / 84 Spe
Impish nature
- Earthquake
- Dragon Tail
- Rest
- Sleep Talk
Ah, the Pokebattle set that I posted and actually got semi big. This Garchomp has a lot of different diverse role's on the team, which aren't really sophisticated, but should really be noted if you plan on using this team. Garchomp's main roles are to 1)Counter Bisharp by absorbing the Knock Off, 2)Stopping the momentum of Volt Switch, mostly against Rotom-w, but can even be done to Pokemon such as Raikou and Mega Manetric so you aren't eventually worn down and by killing both with EQ, while HP Ice 2HKOs you, 3)Test out which Charizard-Mega Charizard is is by Dragon Tailing it (if you already sent in on it), since Char-X can't kill with unboosted Dragon Claw, while Char-Y is usually window dressing to this set, 4)Revenge kill Belly Drummed Azumarill's and +2 Mega Mawile's, and 5)Potentially abuse other people's sand against them (Sand Force can make you 2HKO Defensive Clefable on the switch, which most people surprisingly don't get), and 6)Be a sleep absorber just incase Chesnaught dies. 252 HP/32 SpD allows you to tank a +Special Attacking Nature Aegislash Shadow Ball twice, while 84 Spe allows you to outrun Max Speed Aegislash and Adamant Bisharp. The rest is put into Defense to help you tank physical attacking threats better, while obviously Rest Talk helps your survivability and can generally make this set a status absorber.
Importable:
larry (Skarmory) (M) @ Leftovers
Ability: Sturdy
EVs: 252 HP / 188 Def / 68 SDef
IVs: 0 Atk
Bold nature
- Stealth Rock
- Roost
- Whirlwind
- Defog

ur mum (Chansey) (F) @ Eviolite
Ability: Natural Cure
EVs: 252 HP / 240 Def / 16 SDef
IVs: 0 Atk
Calm nature
- Wish
- Softboiled
- Seismic Toss
- Heal Bell

wtf is this (Slowbro) (M) @ Leftovers
Ability: Regenerator
EVs: 252 HP / 252 Def / 4 Spe
IVs: 0 Atk
Bold nature
- Scald
- Psychic
- Toxic
- Slack Off

sp00ki (Aegislash) (M) @ Leftovers
Ability: Stance Change
EVs: 252 HP / 20 Def / 236 SDef
IVs: 29 Spe
Sassy nature
Shiny: Yes
- Shadow Ball
- Iron Head
- Toxic
- King's Shield

chess>checkers (Chesnaught) (M) @ Leftovers
Ability: Bulletproof
EVs: 248 HP / 240 Def / 20 SDef
Impish nature
- Spikes
- Spiky Shield
- Leech Seed
- Hammer Arm

SHARKEISHA NO (Garchomp) (M) @ Garchompite
Ability: Rough Skin
EVs: 252 HP / 140 Def / 32 SDef / 84 Spe
Impish nature
- Earthquake
- Dragon Tail
- Rest
- Sleep Talk
Threat List:

Just like my buddy Zak would say, Mawile is a fret. And let me tell you, Mega Mawile is a fret indeed. After a SD boost, it can 0HKO and 2HKO my whole team. However, my team can take care of this threat, even if they are sort of desperate attempts. One way of this is Skarmory, by Whirlwinding it out, which works fine for the most part, since not everyone runs Fire Fang. If it does, however, and I know this beforehand of sacking Skarm, I can either A)still sack Skarm, or B, make the play to Garchomp on the predicted Swords Dance, where Garchomp can kill. Another way I can deal with this is by Slowbro, if I can Scald burn it. However, +2 kills Slowbro with Sucker Punch AND Play Rough, so my only real chance of doing this is if they switch in Mawile into Slowbro or by Scalding it on the predicted Swords Dance. It's SubPunch set can also be very damaging, but generally I can wear this set down with Slowbro+Aegislash+Skarmory plays, so it isn't really a huge deal.

Mega Heracross. And yeah, it is really weak to it... without plays. You can surprisingly beat this threat on most offensive teams if you make the right plays with Skarmory+Aegislash+Chesnaught. An example of this is switching to Aegi on the predicted Close Combat, and then Toxicing it, when at that point it is not that much of a burden to deal with. Another way you can do this is by going to Skarmory on a predicted attack such as Pin Missile or Earthquake, which then you double into Aegislash on the predicted Close Combat and then doing the same as above. Chesnaught is nice since it can switch in on Earthquake and help Leech Seed stall it a little bit, but even with that, you still have to obviously make this Aegi+Skarmory+Chesnaught plays, since you'd have to convince them to Earthquake, predicting the switch to Aegislash. Chesnaught can also set up spikes, along with Skarmory setting up Stealth Rock (both most likely being prior to Heracross being brought in) to help wear down the threat. Another option you have for wearing down this Pokemon is getting a safe switch in to Mega Garchomp and Dragon Tailing, but it's important to note that this is only a good way to wear it down; don't expect this to be your all time counter to Mega Heracross since it will only help you get this threat on lower HP, so it will be easier to kill later.

As a trapper, you'd think this Pokemon being on a team would beat me alone. It doesn't. Gothitelle really isn't the counter to the team itself; it's Gothitelle and threat-like friends that truly counter this team. However, let's say, I finally kill Gothitelle, but the threats their team have left still can't beat the walls I still have left. This means that I still won the game, despite their trapper doing a good one to part of my team. It should be noted that Gothitelle is more a situational counter to my team than anything, and just like anything, can be outplayed (mostly switching to Aegislash or Chomp on the prediction of them coming in).

Swords Dance Bisharp isn't the problem at all; Garchomp counters the SD set, and even if I fuck up with Garchomp, I still have Chesnaught in the back. The real threat that emerges from Bisharp is Pursuit. Though Slowbro really isn't as scared as Pursuit, Aegislash and Chansey are. If Bisharp can weaken Aegislash and Chansey with Life Orb Pursuit, they have a better chance of dominating my team with a strong Special attacking threat, such as maybe Mega Gardevoir, Manaphy, Charizard-Y, etc.

Mega Absol is more of a threat late game if it is Swords Dance, so it can have some damage on my counters to this set such as Chesnaught and Mega Garchomp before it sets up, so it be in KO range with it's last move after +2. Another way Mega Absol can be a threat if it's a Mixed set, but Mega Absol itself is rare so I wouldn't sweat it too much.

The mixed Mega Garchomp set can potentially mess this team up, but Slowbro+Skarm/Chesnaught can help defend against this Pokemon. The same really applies to the Swords Dance set it may carry.

Mixed Hydreigon on paper seems like it is the best counter to this team, but in all honesty, you can misplay against this threat and still beat it. If it's 4 Moves Hydreigon, that means it'll just wear itself down with LO, which means you just have to make the right switches for a certain amount of time, while if it's 3 Moves with Roost (no Dark Pulse), Aegislash is a decent switch in and only has to Toxic it before there's yet again another timer on it.

This thing is really just a great wall to 5/6th's of my team, but generally, it can't do too much to this team unless it's Nasty Plot, which is rare and can still be taken care of with Aegislash.
How much this thing can be a threat to me varies on the set. If it's the standard Prankster set, this team is perfectly fine. If it's the Nasty Plot set, you have to remember to preserve Aegislash to Toxic this thing and then you have a switch to Chansey, which then you can Softboiled stall. If it's the standard Mixed set, Chesnaught/Garchomp+Aegislash can usually bring it to a halt if you didn't misplay beforehand (you honestly can still get past this set if you didn't misplay too hard).

You may be wondering how Greninja could ever be a threat when I have Chansey, but if they somehow find a way to get rid of Chansey (trapping, Pursuit), Greninja becomes an automatic threat that will be very difficult to play around. Just remember that if you see a Greninja on a team to never sack Chansey until you're sure Greninja cannot do anything more to your team (basically after it faints). If you see this on a team with Gothitelle, I hope you're ready to make large plays!

Belly Drum Azumarill can be trouble for this team potentially. If you preserve Mega Garchomp (and Chesnaught just in case Earthquake does not kill) long enough, you can usually go against this thing without sacking more than 1 thing if you predict the Belly Drum correctly.
Shoutouts
i dont have frens
Last edited: