Introduction
Yo whatsup Smogon, Daxdleader here with my first RMT! Quick disclaimer, I wanna give a huge shoutout to my man AsterJ (you might know him as the coach of the Montreal Habsols in the GBA and other draft leagues) for playing with this team and achieving such an impressive peak. Again, peak was Aster, not me. In fact he's the one who suggested I make this thread, so without further ado, let's meet the team.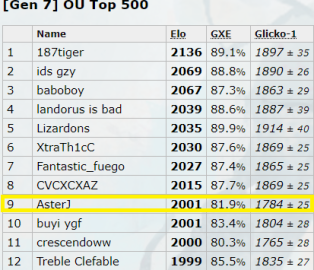 I've been a fan of gimmicky HO since my debut in gen 6. Webs, spikes, screens, you name it, I'll use it. Sun and Moon saw the rise of these playstyles like never before with influential players such as aim and mostly njnp spamming Sticky Web and Aurora Veil teams on the ladder because they were good, but also because they were so damn fun. The goal with this team was to take advantage of the popularity of the first 5 mons. I asked my friends "at team preview, what sets are you expecting from this team?" Most said offensive Koko, specs Ash Gren, AV Magearna, banded Zygarde, and defensive lando. Those 5 mons make a solid volt-turn team on their own, but that's what I want you to think! This team actually contains dual screens Koko, hazards Gren, and setup everything else. Surprise!
The Team and Building process
Tapu Koko @ Light Clay
Ability: Electric Surge
EVs: 248 HP / 8 SpD / 252 Spe
Jolly Nature
- Taunt
- Light Screen
- Reflect
- U-turn
As the fastest non mega or battle-bonded pokemon in the tier, Tapu Koko makes a great lead on hyper offensive teams. Tapu Koko will almost always be able to set up a Light Screen or a Reflect on turn 1, and if not, it can taunt, preventing slower leads from setting hazards, or u-turning out of a bad matchup. Once screens are set, all you have to do is u-turn out into the following pokemon, or if the matchup allows it, win the game on the spot with one of your 3 setup sweepers!
Greninja @ Focus Sash
Ability: Protean
EVs: 252 SpA / 4 SpD / 252 Spe
Timid Nature
- Spikes
- Toxic Spikes
- Taunt
- Ice Beam
Greninja is the best combined hazard setter on hyper offensive teams this generation due to its speed and ability to threaten common hazard removers. Spikes and Toxic Spikes should be set as early as possible to wear down the opposing team and punish switches to make sweeping that much easier for the other members. Taunt stops Defog as well as opposing setup, and Ice Beam is a good attack with no immunities that deals heavy damage to defoggers such as Latios, Landorus, Gliscor and Kartana.
Zygarde @ Iapapa Berry
Ability: Aura Break
EVs: 160 HP / 176Atk / 28 SpD / 144 Spe
Adamant Nature
- Thousand Arrows
- Extreme Speed
- Dragon Dance
- Coil
Zygarde is arguably the most threatening setup sweeper in the tier with screens support, equipped with an excellent spamable move in thousand arrows, good offensive and defensive stats, and the ability to boost both its defense and its speed alongside its attack. Coil and dragon dance make Zygarde incredibly difficult to revenge kill. Lastly, Extreme Speed ensures that Zygarde is not picked off by strong priority attacks such as Ash-Gren's Water Shuriken or Weavile's Ice-Shard. The EVs allow Zygarde to outspeed scarf Kartana at +2 as well as avoid being 2hkoed by hp ice from defensive Lando or Tangrowth.
Magearna @ Leftovers
Ability: Soul-Heart
EVs: 252 SpA / 4 SpD / 252 Spe
Timid Nature
IVs: 0 Atk
- Thunderbolt
- Ice Beam
- Shift Gear
- Calm Mind
Not only is Magearna a great setup sweeper in it's own right due to having great bulk, SpAtk, and a way to boost its defenses as well as its speed, it also has near perfect defensive synergy with Zygarde. The only attacks capable of damaging one super effectively without being resisted by the other are ground type attacks. Magearna racks up boosts incredibly quickly thanks to Soul Heart and is also hard to revenge kill because Shift Gear raises its speed two stages and calm mind boosts its already high SpDef. Bolt-Beam is the coverage of choice being basically unresisted across the tier. Any pokemon capable of standing up to Magerna falls to Zygarde anyway.
Landorus-Therian @ Flyinium Z
Ability: Intimidate
EVs: 252 Atk / 4 Def / 252 Spe
Jolly Nature
- Earthquake
- Smack Down
- Fly
- Stealth Rock
Landorus provides a much needed Stealth Rocker to the team, in addition to being an offensive threat that lures in bulky grass types that resist Zygarde's Thousand Arrows such as Mega Venusaur and Tangrowth, and KOes them with a Supersonic Skystrike. It's likely that you've revealed screens Koko already by the time Lando hits the field so many opponents will scout the set by switching, giving you the opportunity to set up Stealth Rocks to support the sweep of your teammates. Smack Down is used over Gravity to chip down Skarmory and Zapdos rather than just forcing them out.
Gyarados @ Gyaradosite
Ability: Intimidate
EVs: 252 Atk / 4 SpD / 252 Spe
Jolly Nature
- Dragon Dance
- Crunch
- Waterfall
- Earthquake
Gyarados is another great bulky setup mon that takes advantage of the screens provided so graciously to us by Tapu Koko. Gyarados greatly appreciates Zygarde and Lando's ability to pressure bulky Grass types, as Gyarados sets up on threatening ice and water type attacks. It is also worth noting that before mega evolution, Gyarados and Landorus form an intimidate core, making setup even easier. They are also both immune to ground, covering Magearna's other weakness not already dealt with by Zygarde.
Threat list
While laddering, Aster found the following mons to be the most threatening:​
-Defog Landorus can intimidate this team's physical attackers, forces out Magearna, and can remove screens and hazards.
-As this is a hyper offensive team, it is susceptible to rain teams which can get their sweepers in much more quickly than this team can.
-Gyarados must be preserved to deal with stall teams featuring unaware pokemon. Sableye can bounce back Greninja's hazards, Skarmory can phaze setup sweepers with whirlwind or even kill off offensive threats with sturdy+counter.
-Scarf Tapu Lele outspeeds and heavily damages the entire team, blocking Zygarde's priority and even stopping Koko from getting up screens if lead off with. Magearna can take a hit but the bolt beam set can't do much back.
-Mega Lopunny outspeeds the entire team and its coverage is unresisted, making it difficult to deal with. Similarly to Lele, it can prevent screens if lead off with, and can even prevent Greninja from setting up hazards if running Fake Out.
Replays
​
Aster is the GOAT
https://replay.pokemonshowdown.com/gen7ou-707598842
http://replay.pokemonshowdown.com/gen7ou-706838237
https://replay.pokemonshowdown.com/gen7ou-706795279
Importable
​
This team has proven success and is incredibly fun to use at any point on the ladder, so I encourage you all to use it!
https://pokepast.es/5f925a7d26b28933
Last edited: