(picture by kirbezman of youtube)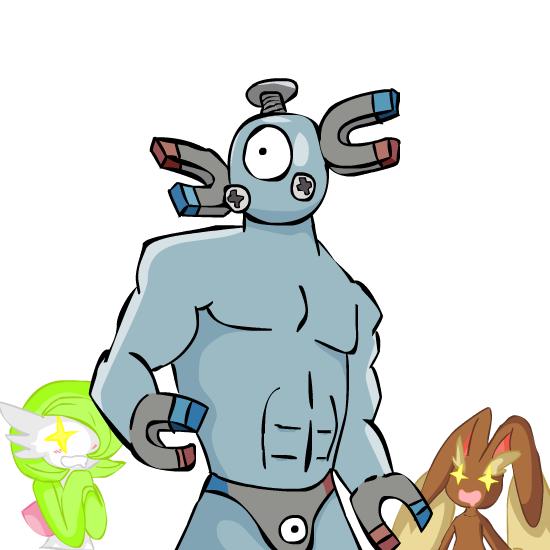 dat swag
Magnemite @ Oran Berry
Timid | Sturdy
No EVs
~Recycle
~Protect
~Endure
~Magic Coat
Credit for this set goes to Chimpact.
This set is pretty self explanatory. At level one, Swagnemite's HP is at 11. With Sturdy now acting like a Focus Sash in 5th gen, Swagnemite can take any hit and fully recover with an Oran Berry. Use Recycle to get the Oran Berry back, rinse, repeat. Get some Toxic Spikes up, and with Recycle + Protect, Swagnemite can stall entire teams. That's right, a level one Magnemite can stall entire teams. Don't think it will work?
Check it out in use here.
​


​
Magnemite
(Shawk - 13860

)
(
★
)
Nature: Timid | Ability: Sturdy | Location: Iron Island
IVs: 31 | 30 | 31 | 30 | 31 | 30 | Hidden Power:
Fire 70
--------------------------------------------------------------------------------
Level 1 UT -
Recycle
| Protect
|
Endure
| Magic Coat
--------------------------------------------------------------------------------
​
Rules:
Read these simple rules or you can't trade Swagnemite.
-Swagnemite is fully redistributable by everyone. Because of this, winners of the giveaway will get a little extra something for winning.
-Winners must have a trade thread. After they get it, if you want it and don't have one, you can get it from them. This is just to spread it around quicker.
-You cannot alter Swagnemite's nickname in any way. Make sure you include this when you add Swagnemite to your trade thread.
Bonus:
The bonus for winning the giveaway is two credits in my thread to use on whatever you want, or one credit plus semi-redistributable rights on whatever you choose (unless it was a B/CP for someone else).
How to win:
Tell a story about something cool. Something cool you saw, heard, did, whatever, just something cool. It has to involve you in it somehow. Doesn't matter how long it is, but if it's something like "1 time i got in a fight" you probably won't win. There will be ten winners. Winners will be chosen on
Saturday, June 25th
.
Winners:
1. Shinyweavile
2. Luxpluff91
3. Ames
4. Shiny Mew2
5. SigmaEpsilon
6. Iceman Hotty
7. Percussionist
8. Dr. Alex
9. tomtom5858
10. Mmeyer
Distributors:
pokeman42
and
hipoke
Winners contact either of the two distributors to receive your pokemon.
Good luck!
​