​
​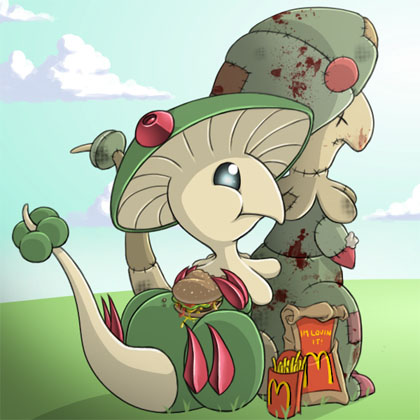 ​
Hey There! Welcome to my 2nd RMT(The first one wasn't even rated :O), and this one too, is based on Breloom. I tried to make the best out of this team, and so far I'm in successful with it. Feel free to criticize and suggest/recommend anything which you find faulty in the team :)
​
​
​
​
Breloom (F) @ Toxic Orb​
Trait: Poison Heal​
EVs: 12 HP / 252 Atk / 244 Spd​
Adamant Nature (+Atk, -SAtk)​
- Spore​
- Focus Punch​
- Stone Edge​
- Substitute​
​
The team is based on Breloom. I used this set so that it can survive the sand team in which it is in. Spore simply puts all the opponent to the sleep and it's pretty much necessary in every Breloom set. Focus Punch is used along with Substitute, and its really strong. I used Seed Bomb at first, but then it was useless against Dragonite, Salamence and Volcarona, so I put in Facade, but then I was useless against Jellicent and other ghosts, so I put in Stone Edge.​
​
​
Tyranitar (F) @ Leftovers​
Trait: Sand Stream​
EVs: 252 HP / 4 Atk / 252 SDef​
Careful Nature (+SDef, -SAtk)​
- Stealth Rock​
- Pursuit​
- Crunch​
- Superpower​
​
Tyranitar is used along with Breloom to resist all Breloom's weaknesses. I used the support set to heed the same. Stealth ROck is used for checking Volcarona, and Crunch and Superpower for coverage. Used Stone Edge before, but then since 2 more Pokemon used Stone Edge, then why not Superpower?​
​
​
Terrakion @ Choice Scarf​
Trait: Justified​
EVs: 4 HP / 252 Atk / 252 Spd​
Jolly Nature (+Spd, -SAtk)​
- Close Combat​
- Stone Edge​
- X-Scissor​
- Rock Slide​
​
In conjunction with Sand, it can turn out to be pretty amazing. The set is pretty much explanatory, Close Combat and Stone Edge for dual STAB, X-Scissors for Psychics and Rock Slide for STAB + flinch rate.​
​
​
Latios (M) @ Choice Scarf​
Trait: Levitate​
EVs: 252 SAtk / 4 SDef / 252 Spd​
Timid Nature (+Spd, -Atk)​
- Draco Meteor​
- Psyshock​
- Surf​
​
- Trick​
​
I was using Salamence at first, but then I replaced it with Latios because I was unable to answer the likes of Donphan and Landorus-T. A Scarf was used to outspeed common threats. Draco Meteor and Psyshock for Dual STAB, Surf for various ground types and then Trick for preventing walls from doing anything weird.​
​
​
​
Forretress (M) @ Leftovers​
Trait: Sturdy​
EVs: 252 HP / 252 Def / 4 SDef​
Relaxed Nature (+Def, -Spd)​
- Gyro Ball​
- Spikes​
- Rapid Spin​
​
- Volt Switch​
​
Now we needed a spinner and to counter Ice, so I chose Forretress. I thought of Scizor before, but then Forretress provided Rapid Spin support that Scizor couldn't. Gyro Ball for an attacking move, Spikes since I already had SR on TTaar, Rapid SPin for obvious reasons and Volt Switch as a scouting move to escape the likes of Jellicent.​
​
​
Jirachi @ (Leftovers)​
Trait: Serene Grace​
EVs: 252 HP / 100 Def / 156 Spd​
Timid Nature (+Spd, -Atk)​
- Substitute​
- Calm Mind​
- Thunderbolt​
- Psyshock​
​
This was a random choice, to wall certain more common moves. Calm Mind is downright deadly, so it was quite natural. Sub and Calm Mind for obvious reasons, Thunderbolt for those pesky Jellicents and Gyarados, and Psyshock for nailing the fighting types around. Tried some other moves before, but this was the perfect choice.​
​
​
​
So, this was it. Took me a whole lot of time, but it all ended really nice. Feel free to give any criticism, or suggest anything. I'd be more than happy if someone rates this team. :D
​
​
​
​
Breloom (F) @ Toxic Orb​
Trait: Poison Heal​
EVs: 12 HP / 252 Atk / 244 Spd​
Adamant Nature (+Atk, -SAtk)​
- Spore​
- Focus Punch​
- Stone Edge​
- Substitute​
​
Tyranitar (F) @ Leftovers​
Trait: Sand Stream​
EVs: 252 HP / 4 Atk / 252 SDef​
Careful Nature (+SDef, -SAtk)​
- Stealth Rock​
- Pursuit​
- Crunch​
- Superpower​
​
Terrakion @ Choice Scarf​
Trait: Justified​
EVs: 4 HP / 252 Atk / 252 Spd​
Jolly Nature (+Spd, -SAtk)​
- Close Combat​
- Stone Edge​
- X-Scissor​
- Rock Slide​
​
Latios (M) @ Choice Scarf​
Trait: Levitate​
EVs: 252 SAtk / 4 SDef / 252 Spd​
Timid Nature (+Spd, -Atk)​
- Draco Meteor​
- Psyshock​
- Surf​
- Trick​
​
Jirachi @ Leftovers​
Trait: Serene Grace​
EVs: 252 HP / 100 Def / 156 Spd​
Timid Nature (+Spd, -Atk)​
- Substitute​
- Calm Mind​
- Thunderbolt​
- Psyshock​
​
Forretress (M) @ Leftovers​
Trait: Sturdy​
EVs: 252 HP / 252 Def / 4 SDef​
Relaxed Nature (+Def, -Spd)​
- Gyro Ball​
- Spikes​
- Rapid Spin​
- Volt Switch​
​