Approved by
UT
and
in the hills
The Loser's Game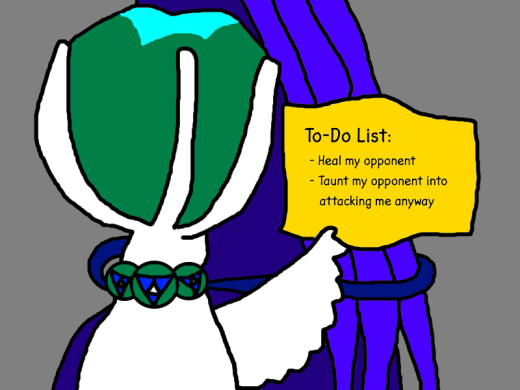 (Art by
Lectrys
)​
Unlike all other metas, in The Loser's Game, you win by having all 6 of your Pokemon KOed first at the same time instead of KOing your opponent's Pokemon! Isn't all this losing instead of winning unusual?
As you might expect, move and item selection can look really suboptimal at times! Self-OHKO moves such as Explosion and Healing Wish are banned due to helping you lose a little
too
quickly. However, opponent-helping moves such as Heal Pulse and double-edged swords such as Substitute, Steel Beam, Belly Drum, Shed Tail, and Perish Song are not! The majority of Pokemon can only KO themselves with the help of self-injuring items, the big 3 being Toxic Orb, Black Sludge, and Sticky Barb. Using Trick and/or Switcheroo to put healing or damage-preventing items such as Pecha Berry, Sitrus Berry, and Leftovers on opposing Pokemon is sure to jam those works! Even assigning EVs and IVs on your Pokemon gets downright suboptimal too, as you'll be wanting low bulk, low attacking stats, and high Speed!
However, some moves and abilities are still good regardless of whether you want to win or lose! Quite a lot of those moves and abilities restrict your opponent's options. Taunt is a mainstay that often restricts your opponent into using only Struggle, Steel Beam, Knock Off, Nuzzle, or Snore. Encore locks your opponent into spamming the same move, preferably one they'd rather not use twice in a row. Imprison prevents opposing Pokemon from using any moves you have in your moveset, especially common ones such as Substitute and ones that Taunt cannot block such as Steel Beam. Be on the lookout for Pokemon with Magic Bounce or Good as Gold who ignore or reflect Taunt, Encore, Heal Pulse, Whirlwind, and more! All the same, Mold Breaker bypasses those dastardly abilities and lets you disrupt their users more easily. Prankster users go first at the cost of Dark-types ignoring them Good as Gold-style. But even outright detrimental abilities such as Sword of Ruin, As One, and Intrepid Sword may not harm some Pokemon's chances enough in The Loser's Game if their stats, movepools, and typings are good enough!
Rules
Mechanic:
The first player to have all 6 of their Pokemon KOed at the same time wins.
Clauses:
Standard OMs Clauses except for OHKO Clause
Min Source Gen=9 Clause
All Pokemon must be Level 100
You must have a full team of 6 Pokemon
Family Clause: You can only use one Pokemon from their respective evolutionary line
Banned Items:
Banned Moves:
All self-OHKO moves:

Explosion
Self-Destruct
Memento
Healing Wish
Final Gambit

Magic Room
Banned Abilities:
Strategy
Unless you're using Trick Room - and, on some Pokemon, even if you are - make sure to max out your Speed EVs and IVs and grant a Speed-boosting nature to your Pokemon! With the status move-reflecting Magic Coat being snapped in Gen 9, raw Speed is more important than ever. Also make sure to make those Attack, Defense, Special Attack, and Special Defense EVs and IVs as low as possible. On Pokemon that self-2HKO with moves such as Steel Beam, Belly Drum, and Ghost Curse along with Substitute and Black Sludge, make that HP stat divisible by 8 so the self-2HKO is possible! Otherwise, dropping that HP stat as low as you can is probably the best course of action. Note that if you plan to switch your Stealth Rock-weak mon into Stealth Rock, you likely want its HP to be divisible by 8 again!
The premier items of The Loser's Game are Toxic Orb (which places a helpful self-injuring status on you and is better at self-KOing Pokemon who like to stay in, but Steel-types and Poison-types cannot profitably use it), Black Sludge (which chips out 1/8 of your max. HP per turn except on Poison-types), and Sticky Barb (which chips out 1/8 of your max. HP per turn, including on Poison-types, but is slightly prone to getting removed). Healing and damage-preventing items such as Pecha Berry, Sitrus Berry, and Leftovers are viable on Trick and Switcheroo users. Item manipulation is so important in The Loser's Game that Knock Off is also a threat to watch out for!
Substitute is a staple of The Loser's Game, as it rips out 25% of your max. HP and grants protection from dangerous moves such as Trick, Heal Pulse, and Knock Off.
Prankster users go first with priority status moves but are blocked by Dark-types and Psychic Terrain (probably set by Psychic Surge).
Court Change, Cinderace's unique move, swaps around which side gets which hazards. Combine this with a Stealth Rock setter and Stealth Rock-weak teammates such as Talonflame, Charizard, Murkrow, and Chien-Pao and you can KO your own team at unprecedented speed! Good Stealth Rock setters include the trapper Dugtrio, the self-2HKOing Pawniard and Iron Treads, and even the disruptive Taunter Lycanroc. Gholdengo makes a dream partner for Court Change teams due to its unique ability Good as Gold blocking Defog (the premier hazard-removing move in The Loser's Game) as well as other annoying moves such as Trick and Heal Pulse, as well as its ability to self-2HKO with Steel Beam. Even Cinderace is no slouch at blocking hazard removal attempts itself (including from Maushold and Mold Breaker Hawlucha, who Gholdengo cannot block) thanks to its high 119 base Speed and access to Taunt! Be on the lookout for opponents with Taunt who are determined to prevent hazards from going up and Court Change from being used.
Speaking of Steel Beam, it is among the best moves at enabling the self-2HKO due to Taunt being unable to stop it as well as its wide distribution. You could very well fill an entire team with nothing but Steel Beam users! Your opponent has to respect the 12-turn clock such a team provides. And they will do so with tactics such as Steel Beam fodder mons who get OHKOed by every Steel Beam in the meta (e.g. Impidimp, Ralts), Taunt to try to force Steel Beamers to switch or hit multiple fodders, ways to remove your safe self-2HKO-enabling Black Sludge such as Trick, Switcheroo, and Knock Off, Imprison-Steel Beam sets (such as for Klefki) to prevent you from using that move that rips out 50% of your max. HP, Encore to lock you into Substitute instead of Steel Beam, and you-healing moves such as Heal Pulse and Pain Split. Funnily enough, the Steel Beamer Gholdengo dodges all of those disruptive tactics except Imprison-Steel Beam (that mon even takes more than 25% of its max. HP from a variety of viable Knock Offs) and OHKOing a single Steel Beam fodder, and phazer Steel Beamers such as Cufant can push out the Imprison-Steel Beam users.
Heal Pulse partners well with Taunt or even Imprison to prevent opponents from using Substitute and let you heal them. Heal Pulse even outpaces opposing Struggle and ties with opposing Steel Beam! Due to the current fastest Taunt/Imprison-Heal Pulse users after Calyrex-S being the flawed-speed Indeedee-F and Gardevoir, Pain Split is increasingly viable this generation as a sufficient substitute. Its premier users have low base HP, such as Flutter Mane, so you might actually want to max out your Pain Split users' HP!
Perish Song-Baton Pass is a nifty way to get your unfortunately Tricked/Knocked Off mons KOed, and the fast and disruptive Scream Tail is the premier user of this strategy. Be aware that opposing phazing moves can blow away your Perish Songed mons and wipe Perish Song off them!
Belly Drum is a decent alternative to Steel Beam in self-2HKO sets that gets stopped by Taunt and locked into by Encore but doesn't injure the opponent. Note that the Slowpoke line has access to both Belly Drum and the Taunt-ignoring ability Oblivious.
Terastallization is sure to make an impact in Gen 9 The Loser's Game in a variety of ways! Disruptors such as Electrode-H, Noivern, Shroodle, and Calyrex-S as well as exposed self-2HKOers such as Zacian and Charizard will want Tera Dark to prevent opposing Pranksters from spoiling their fun (except with Imprison). Tera Ghost will make a lot more Pokemon suddenly have access to the self-2HKO-enabling Ghost Curse, especially the Magic Bounce user Espeon. Tera Ice will enhance the viability of Stealth Rock setters on Court Change teams by making them weak to both Stealth Rock and Steel Beam. (Note that Gholdengo prevents all sides' Pokemon from losing any HP to Ghost Curse just by switching in, thus adding even more defensive utility to a The Loser's Game team.)
Watchlist
Gholdengo
Calyrex-S
Shed Tail
Steel Beam
Resources
Council:
Playable In:
The main Pokemon Showdown server - The Loser's Game is challengeable there!
Discord:
https://discord.gg/wGVJyqW45n
Gen 8 Thread:
https://www.smogon.com/forums/threads/the-losers-game.3657270/
Changelog
May 30, 2023: HOME compatibility released for Pokemon Scarlet & Violet; Calyrex-S reinstated into the watchlist from Gen 8
Last edited: