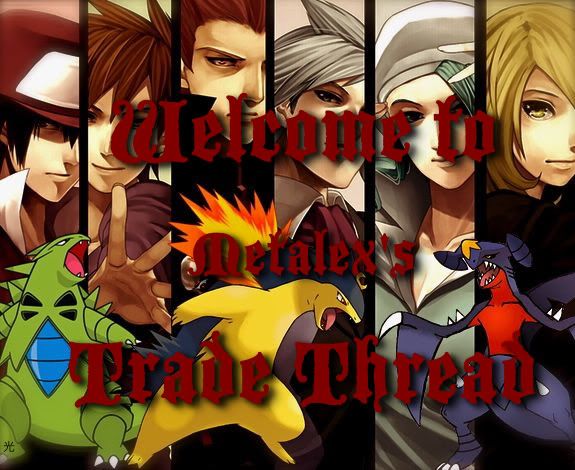 Welcome to my part of the thread! My Partner Jones115 has his Pokemon on page 2 so be sure to check out his awesome stuff!
Jones is currently on hiatus and I am not sure if or when he will come back so please just ask for my Pokemon since you won't get a response at the moment from Jones. Thank you!
~Info before browsing~
- I can currently only trade on 5th Gen due to my current internet not compatible with any 4th Gen games, Sorry for the inconvenience!
- All of my Pokemon are RNG abused on retail carts
- I do RNG abuse on Gen 3 to 5, If you don't like it then please look elsewhere for a trade
- Please refer to my wants section since any Pokemon on the list is an automatic trade
- I am a busy guy so please have patience if we have a pending trade
- Please let me know before hand if you want a nickname on any of my Pokemon since it can be hard work to name and shift over to Black And White.
- Thanks and please follow my rules below
~Rules~
• Yeah like everyone else absolutely no
HACKS!
I cannot stress this enough, Why would you bother trading me hacks when you can just hack the Pokemon your would want for me anyway?
• All of my 4th gen Pokemon come uncapped (eg. HERACROSS named Heracross) even un evolved Pokemon (eg. Dratini named Dragonite) if this is an issue let me know before hand if you want it changed and to what.
• Please specify who you are talking to (Metalex and Jones115), Theres 2 people operating this thread. It helps us understand what you want from us.
• I am sorry but I do not trade with people on the official Smogon Wi-Fi blacklist.
• My Pokemon are absolutely non-redis
• Do not make me wait forever on a trade or in the Wi-Fi room
•
I will not tolerate any kind of rude/racist comments in my thread, Doing so on my thread will result in a report to a mod.
• I know a lot of Smogoners don't speak english as their first language so please speak clearly as you can
•
As of right now I would prefer you had a trade thread on Smogon or give me a link to a list of your Pokemon (Pokecheck) in order to trade with me, There has been a lot of hacks circulating in other forums (Marriland, Serebii, etc)
• Don't offer me Pokemon off Pokecheck when I could just get them for free if I wanted, I also want trades done in the Wi-Fi room, No .pkm file trading.
~Contents~
(Quick links use these instead of scrolling through my thread)
Services
What's New!
Wants
3rd Gen RNG's Pokemon XD resets
Kanto Region
Johto Region
Hoenn Region
Sinnoh Region
Unova Region
Kalos Region
~Trainer Info~
Pokemon Sapphire
OT:
ID:
SID:
Pokemon Emerald
OT: Marlin
ID: 28543
SID:
Pokemon Pearl
OT:
ID:
SID:
Pokemon Platinum #1
OT: MARLIN
ID: 34555
SID: 58318
Pokemon Platinum #2
OT: Marlin♪
ID: 12121
SID: 44835
Timid/Modest - Ability 1 - 31/2/31/30/31/31
Hidden Power Grass 70
Pokemon Heartgold
OT: Marlin
ID: 64213
SID: 38407
Pokemon SoulSilver
OT: Marlin♪
ID: 27967
SID: 03448
Adamant - Ability 1 - 31/31/31/17/31/31
Pokemon White
OT: Metalex
ID: 49409
SID: 32178
Pokemon White #2
OT: Amelia
ID:
SID:
Pokemon Black
OT: Rayver
ID: 35965
SID: 00055
Pokemon Black2
OT:
ID:
SID:
Pokemon White2
OT:
ID:
SID:
~Action Replay Codes~
I do in fact use an action replay, Here is the codes I currently use.
- Cloning code on both 4th Gen and 5th Gen to trade my Pokemon
- Re-Battle legendary Pokemon codes on 4th Gen only
- EV/IV Check on both 4th and 5th Generations
- Allow Rotom forms on Wi-Fi 4th Gen only
- Max medicine/TM/berries and battle points on 4th Gen only
- Max items/medicine/berries on 5th Gen
- 100% Capture rate on 4th Gen Safari Zone Abuse only
~Credit System~
- Trophy Case Pokemon are not redeemable by credits
- Gen 3 RNG's and XD Gale of Darkness Pokemon will be worth 2 credits each
Credits I have with other people
Bowser 5 Credits
[EV training]
Dusk252 5 Credits
[EV training]
Zerohorus 3 Credits
[Breeding Projects]
Cool Ivysaur 18 Credits
[Breeding Projects]

Credits people have with me

Hozu 1 credit
Luxpluff91 20 Credits
[Banners]
TombStoner 1 credit
[Chansey]
Emerald Ryu 6 credits
[Cyndaquil, Wailmer & Pidgey BP`s]
Justinenough215 3 credits
[XD Zapdos, Hypno & Togepi]
Robovirtuoso 10 credits
[Banners]
Expert Evan 2 credits
[Volcarona & Timburr]
Fenix54 3 credits
[Sawk, Cofagrigus & Darmanitan]
Saeglopur 2 Credits
[Timid HP Ice Joltik CP]
MeGaMaNx 2 credits
[Bold HP Grass shiny Quagsire BP]
Biosci 3 credits
[Shiny Regigigas, Duskull and Mesprit CP's]
~Useful Links~
For personal reference
Metalkids IV calculator
Psypokes stat calculator
Serebii BW dex
Pokemon Sprites
Smogon strategy
Bulbapedia
~Pokemon Thread Format~


*Do not use my format without permission please!*
Sprite/Pokeball
Nature | Male

Female

| Ability
IV's: 3

1/

31/31/

31

/31/31 HP
Move 1 - Move 2 - Move 3 - Move 4
Untouched at level 1
Hatched at
~~~~~~~~~~~~~~
~Pokeball Sprites from Bulbapedia~

Last edited: