Hello everyone!
Here I am with a team specifically for Battle Spot Singles battles or to put it simply, 3v3 Singles. I want this team to be fully prepared to take on opponents in Ranked Battles with maximum potential and efficiency. After a lot of thinking, here's the team planned for the Battle Spot. Each one plays an important role but I would like to find if there are any improvements that must be made to make it stronger.
Without further ado, here it is:
~ THE TEAM ~
Kommo-o
Nature: Timid
IVs: 31/x/31/31/31/31
EVs: 4 HP/252 Sp.Atk/252 Spe
Abilty: Bulletproof
Held Item: Throat Spray
Clanging Scales
Aura Sphere/Flamethrower
Flash Cannon
Clangorous Soul
This is the Pokemon I believe we don't see much of compared to the other powerhouses in the meta-game. But that doesn't mean it still doesn't know how to fight. In fact, it finally got the popularity it deserves thanks to an even more variety of moves. It's signature move, Clangorous Soul is what makes Kommo-o a very powerful underdog. Once the bells start ringing and the Throat Spray was used up, a sweeping sensation will take place. Not to mention the sheer power Clanging Scales has. Bulletproof makes this Pokemon completely immune to bomb and ball attacks so Gengar's Shadow Ball and Toxtricity's Sludge Bomb are just smoke in the wind.
Clanging Scales is Kommo-o's most powerful move but every time it is used, it's defense goes down, making it a punching bag to other Pokemon. So every move counts. The second option could either by Aura Sphere for more damage or Flamethrower to get through the likes of Aegislash. It all depends on the synergy of the team. Flash Cannon is to have a chance against Fairy-types such as Alcremie and Slurpuff and Clangorous Soul to set up just right with the combination of the held item.
Fairy-types are the bane of its existence. You know how fairy tales always have an happy ending? Well, it doesn't apply to Kommo-o here. It has absolutely NO chance of surviving a Fairy-type move due to it being a Dragon and Fighting-type. There's a slim chance for it to prevail with a Flash Cannon but it depends on how much specdial defense the opponent has, especially Sylveon. Fast Dragon-types such as Dragapult and Hydreigon can also put this Pokemon to bed with just one move so the best idea is to leave this Pokemon for last for a late-game sweep.
Mimikyu
Nature: Jolly
IVs: 31/31/31/x/31/31
EVs: 4 HP/252 Atk/252 Spe
Ability: Disguise
Held Item: Life Orb
Play Rough
Shadow Claw
Shadow Sneak
Swords Dance
This poor, lonely Pokemon is something you'd really want to make friends with after looking at it's Disguise, seeing it plop to the floor after surviving one attack. Heck, it even has a song dedicated to it. But on the other perspective, it's one of the most ferocious, aggressive and vengeful Pokemon in the Battle Stadium! That's right, this Pokemon ain't no slouch! Once it Dynamaxes, the opponent would make sure to sign a will before getting clobbered by it after a Swords Dance. This physical sweeper is a Pokemon adored by many.
Play Rough is the best move for bigger chances of OHKO'ing opponents, especially Hydreigon and Conkeldurr, Shadow Claw to give Ghost-types such as Gengar, Dusclops and even Galarian Corsola a run for their money, Shadow Sneak to give it a Speed priority to finish off opponents and Swords Dance for some extra oomph!
Ghost and Steel-types can give it problems in battle but when facing with Pokemon that can bypass abilities, it's gonna be a world of hurt. Mold Breaker Excadrill and Stalwart Duraludon can completely obliterate poor Mimikyu into bits. Since it's also a physical sweeper, a single Will-O-Wisp from the likes of Galarian Corsola can break it. If I ever see the chance of any of these these threats shown on the other side of the field, I switch out to save Mimikyu from harm.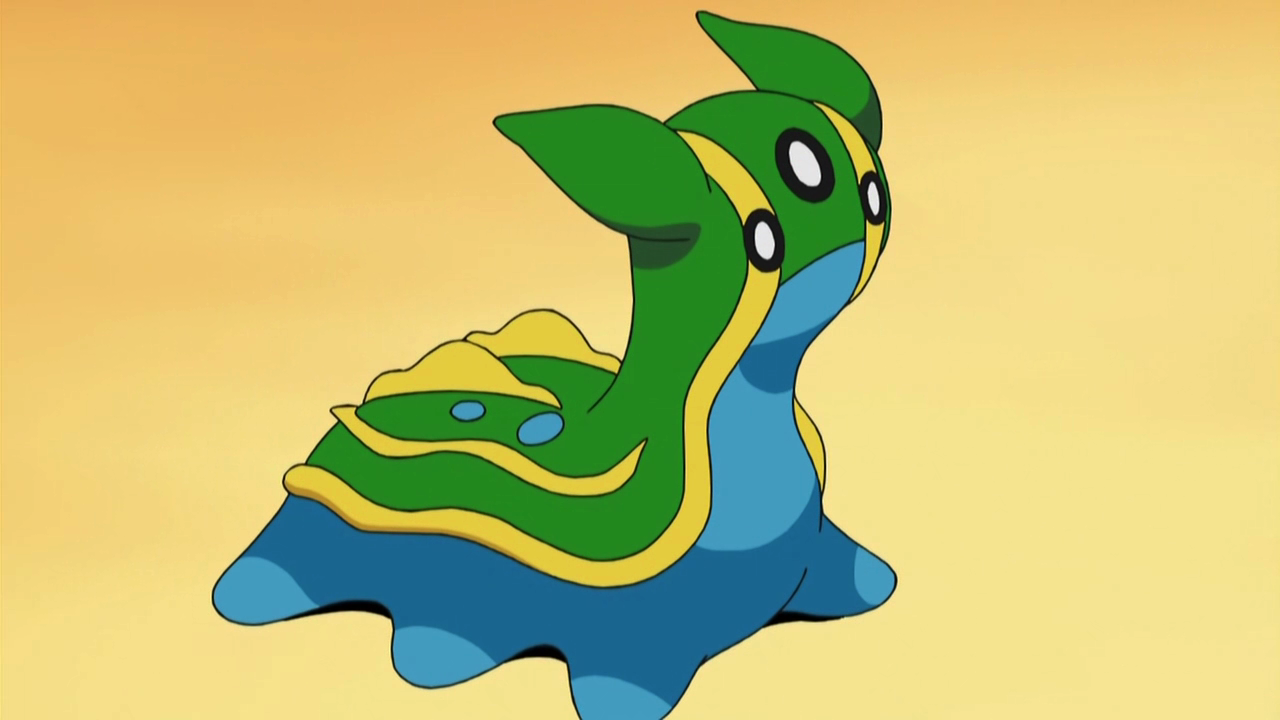 Gastrodon
Nature: Bold
IVs: 31/0/31/31/31/31
EVs: 252 HP/192 Def/64 Sp.Def
Ability: Storm Drain
Held Item: Rindo Berry
Earth Power
Scald
Clear Smog/Stockpile
Recover
The fourth team member option was either gonna be Seismitoad or Gastrodon. Both Pokemon play a similar role as an anti-Rain Dance Pokemon cause we all know how dangerous they can be. Out of the two Pokemon, Gastrodon is the superior choice as it knows Recover, is able to increase it's Special Attack with Storm Drain and act as a phazer to stop opposing sweeps. Due to the Item Clause, is the other viable option so it could survive one Grass-type attack but I think that's the one that needs to be changed the most. Despite that, this team member is what's needed to play the long game in many battles.
It's not a strong Pokemon without Earth Power and Scald. both STAB moves have great secondary effects which can turn the tide if the cards were played right. Any physical attacker that is not a Fire-type can get burned by the Scald, making them shut down. The third option is either Clear Smog or Stockpile. Both moves are great on Gastrodon but only one of them could only perfectly fit. Stockpile for extra Defense or Clear Smog for phazing, which one is better?
Any Grass-type Pokemon, especially Rillaboom, Appletun, Ferrothorn and Vileplume can easily overcome this Pokemon with no exceptions. Every one of them is a thorn to Gastrodon and it's dangerous to keep it in the ring. That's where THIS team's Ferrothorn comes into play to resist these attacks. Choice Trick user and possibly Taunt users can stop this Pokemon from recovering for a chance to finish it off. Although, it can retaliate with attacks if the other item is a Choice Specs or a Choice Scarf.
Ferrothorn
Nature: Sassy
IVs: 31/31/31/x/31/0
EVs: 252 HP/68 Def/188 Sp.Def
Ability: Iron Barbs
Held Item: Leftovers
Gyro Ball
Power Whip
Leech Seed
Protect
This spiny fellow takes the role as a specially defensive wall, strongly holding it's ground in the arena...that is not a Fire or Fighting-type. I thought Ferrothorn needed some physical bulk as well to handle physical blows as well since it plays the role well on both ends. As a second wall to the team, it helps wear down other Pokemon until they are no longer able to fight. The best item is definitely Leftovers because aside from Leech Seed, it does not have much recovery option.
Thanks to the Speed- Nature, Gyro Ball hits a bit harder. We already know that Ferrothorn's sluggish Speed really comes in handy. Speedy Pokemon such as Weavile better watch out or they'll get the slam. Power Whip is chosen to take on opposing Water and Grass-types such as Quagsire, Seismitoad and even Gastrodon. Leech Seed as I said, wears down enemies with the use of Protect. Leftovers + Leech Seed makes Ferrothorn a mighty warrior.
Ferrothorn is one of the best walls in the metagame, but it's also one of the most predictable Pokemon to face. Like MImikyu, a single burn can make it fall to it's knees or...base or whatever. Pokemon with Trick can cripple it so it could only use one move if that item is a Choice one and worst of all, a single Fire and even a Fighting-type form the likes of Arcanine, Cinderace, Charizard, Hawlucha and Conkeldurr spells doom if it stays on the battlefield. Since the Battle Spot Singles is a 3v3 format, careful considerations must be made so that Ferrothorn can work in a safe area.
Cinderace
Nature: Jolly
IVs: 31/31/31/x/31/31
EVs: 4 HP/252 Atk/252 Spe
Ability: Blaze
Held Item: Focus Sash
Pyro Ball
High Jump Kick
U-Turn
Taunt
This happy-hopping soccer player never fails to bounce in and make a grand entrance for its crowd! Once it's out, the crowd goes wild! The favorite out of the three Galarian starters takes the role as a lead, raising the flag for its team to achieve victory. Depending on who it's facing, it could either go for the win scout out for another team member that can take hits or prevent whatever strategy they could come up with such as Trick Rooms. With Focus Sash, it does not fear those who out-speed it for so it could still pull off its move for one turn.
Pyro Ball is not only a very strong move but it's always amazing to look at. Once it hits Pokemon that are Grass, Ice or Steel and those with frail physical defense, it scores a GOAL for the winning team! High Jump Kick, although very risky is needed to kick Normal, Rock and Dark-types right in da face as long as they don't use Protect and not a Ghost-type. U-Turn is to retreat back in the sidelines and Taunt to cripple moves that are not attacks. Trick Room? Tailwind? Bulk Up? Nasty Plot? Dragon Dance? DENIED.
Even though Cinderace is a pro player, faster Pokemon such as Dragapult, Choice Scarf Hydreigon, Inteleon and even Choice Scarf Galarian Darmanitan can be big issues to deal with as Speed plays a vital role in Battle Spot Singles. Once it goes second, it's vulnerable to what's heading its way even with the Focus Sash equipped. Another thing to mention is that physically bulky Pokemon like for example, Toxapex, Quagsire, Seismitoad and Rhyperior can take it down with ease if I don't switch out. Whenever I face these kind of threats, Gastrodon is the kind of Pokemon for these kind of scenarios. This Pokemon is like a double-edged sword, it has great benefits but with risky consequences. I have to be lucky so that the consequences don't happen.
Ditto
Nature: Relaxed
IVs: 31/31/31/31/31/31
EVs: 252 HP/4 Atk/252 Def
Ability: Imposter
Held Item: Choice Scarf
Transform
Behold, the Pokemon that stops Dynamaxing! The one that ends all colossal sweepers! The ultimate mirror-matching opponent, Ditto! The last team member is full of surprises as it copies the current stats of the opponent's Pokemon. Yes, CURRENT. Plus, when it Dynamaxes, it's HP gets increased even further. One last thing to tell you is that Choice Scarf always helps it win every Speed battle imaginable. They might know everything Ditto's going to do, but that's not gonna help since IT knows everything THEY'RE going to do. Strange, isn't it?
Transform...it is the ultimate move that brings fear to sweepers. The mighty move transforms the mighty Ditto into-what? It doesn't have to since it has Imposter which helps it instantly transform? Oh, um...uh...yay.
Even Ditto has it's own weaknesses. Once it transform to one Pokemon, the opponent can switch out for a Pokemon that has a type advantage against it. Mind games can make it topple in defeat at the wrong times even with the help of Choice Scarf. There's nothing else to say about Ditto's disadvantages, really.
~ CONCLUSION ~
As I look at the Battle Spot Singles team, it can go all the way to the Master Ball Tier if moves are done correctly. According the the team as a whole, the Pokemon that I think would be the most troublesome is Charizard, especially when it Gigantamaxes as it has the necessary moves to pulverize this team if Ditto is not chosen. Other than that, I reckon it could be improves even further.
What do you think? Is there anything I need to change before the big day? Please let me know as your feedback is greatly appreciated.
Have a nice day and stay fresh! ;)
Here's the PokePaste version for further reference:
https://pokepast.es/373420551ea44b1b