Well, its everybody again. This time with an NU team, my first NU RMT actually, even though I've played it alot. This team can probably be described as bulky offense, and I kind of like it how my team are all pure types. I know X and Y is coming soon, and I really wonder what it will do to this team. Anyway, this team was tested on PO, and peaked around 1250s. The reason it couldn't go farther because I'm starting to think PO is inaccurate. I mean, there are ferroseeds, dusclops, gastrodons, hariyamas and houndooms! With that aside, lets get to the team now...

Here it goes...
Jake (Serperior)
Leftovers
Overgrow
Timid
252 HP / 12 Def / 12 SpDef / 232 Spe
-Taunt
-Leech Seed
-Glare
-Giga Drain
A pretty standard set, yet very effective. Serperior taunts you to see from behind those empty walls, which is great for stopping status, hazards, and trick room. Glare spreads the ever useful paralysis, and leech seed provides some useful recovery and damage. Giga drain is if serperior has nothing else to do, and is another tool for healing.
Drake (Samurott)
Leftovers
Torrent
Modest
252 HP / 120 Def / 8 SpAtk / 120 SpDef / 8 Spe IVs: 30 Att, 30 SpAtk
-Scald
-Ice Beam
-Encore
-Hidden Power Grass/ Rest
Here is an attempt at a bulky samurott. It used to be octillery, but now I see that samurott is stronger, faster, and bulkier. Samurott also has a superior defensive typing compared to lapras. Scald is a keeper. An awesome move for bulky offense. Ice beam handles grass and flying types, and encore can really screw up some setup sweepers. Hidden power grass is for those other water types. Rest could be useful. I used to put it on Octillery, but I ended up with my team having trouble against water types. Samurott is my favorite 5th gen starter, so I'm joyful I got to include him before 6th gen comes in.
Augustus (Torkoal)
Rocky
Helmet
Shell Armor
Bold
252 HP / 212 Def / 44 SpDef
-Stealth Rock
-Rapid Spin
-Lava Plume
-Protect
I never really liked torkoal before, but man, its so useful! He gets hazards up, and spins away hazards too. Lava Plume is for even more burn spreading chances, as well as taking care of the types in lands SE damage on. Protect is to stall for burn damage, possibly leech seed, but most importantly, if a copycat roar gets out of hand. I did face a team with riolu, but I played smart so that I didn't have to rely on protect too much. Serperior and torkoal were the key players against that team, and what do you know, they are my most common leads.
Nero (Muk)
Black Sludge
Sticky Hold
Adamant
208 HP / 252 Att / 24 Def / 24 SpDef
-Poison Jab
-Shadow Sneak
-Rock Slide
-Curse
Muk is the newest member to the team. I searched for a powerful, yet bulky poison in NU and I found muk. He absorbs Toxic Spikes which was a sticking problem before, and he does some decent damaging. He usually isn't supposed to go curse sweeping, I just get a curse up if I can. Curse fixes his defenses, while powering him up. HP EVs are so that Black Sludge heals more efficiently. I tried Poison touch before, but the first time I tried him, I got tricked a choice scarf :(
Lash (Misdreavus) @Eviolite
Levitate
Bold
232 HP / 220 Def / 56 SpDef
-Shadow Ball
-Pain Split
-Heal Bell
-Perish Song
Spinblocker, cleric, wall, setup stopper. Misdreavus is full of perks. Shadow ball helps with ghost and psychics and makes her not taunt bait. Pain split is for recovery, heal bell saves my bulky pokemon of poison, burn and paralysis. It also is another reason why rest can be viable on samurott. Perish song is to scare off any setup sweeper, or pretty much any pkmn misdreavus fails to harm. No will-o-wisp here cause I already am spreading lots of status. The EV spread is a bit different from the smogon set, as I lowered the HP to make her take the least possible amount of residual damage, while making pain split slightly more effective, and the rest is dumped to sp.def. Both defenses are at an even number for that eviolite boost.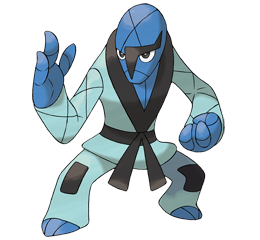 Caracalla (Sawk) @Choice scarf
Sturdy
Adamant
4 HP / 252 Att / 252 Spe
-Close Combat
-Ice Punch
-Stone Edge
-Earthquake
Very Standard. Sawk is my cleanup guy, he tears through the weakened teams, and punishes normal types. He is the frailest guy on the team, but thats OK.
Conclusion
So that is the team. Might be a bit standard, but oh well. Please Let me know if there are any outstanding problems. I'm going to miss this metagame where electric types can be paralyzed. Its only 20 more days until X and Y comes out.
Notes:
-Wow I made this on the 22nd day of the month just as usual...YES!
-Before I got sweeped by venoshock, I had a dunsparce instead of muk, and octillery with rest instead of samurott. I fought someone who kept his full team alive for 82 turns! I managed to win in the end because sawk's earthquake was just enough to muscle through dusknoir and miltank.
-Serperior, Samurott, and Misdreavus' nickname are based off of the same thing, do you know?
-Torkoal, Muk, and Sawk's nickname are based off of the same thing, do you know?
-Get my title? Eh.. probably not.