Another round of RU suspect testing means another team for me to have fun with. As is the case with just about every round of RU suspect testing I take part in, I build a team to ladder with for that round exclusively. This was an incredibly fun team to use, especially on the RU suspect ladder (Stage 17 had 2 different ladders) where I feel this team really got its chance to shine. I made one Pokemon change in between ladder runs to better prepare the team for a ladder that didn't feature Mega Steelix and Tyrantrum by making sure it could more reliably pressure a threat I feel would rise as a result of the two suspects not being on the ladder. I was able to peak 10th on the ladder with it before I got cut down a bit by hax and someone actually knowing how to use my own Band Scrafty team. As always, I will go through the teambuilding process and you can view that if you care to, but I don't see a reason to delay this any longer, so let's go!
I felt offense would be a pretty common sight on the 2nd ladder without Mega Steelix and Tyrantrum holding those teams down, so I wanted two ways to control Speed. That, and it gave me a really good excuse to build around OTR Diancie without resorting to a Trick Room core.
Using my past experience with Diancie, I knew that Fighting-types were going to be an issue, and again, I wanted an excuse to use something I had been wanting to try. Defensive Venusaur was something I had not had the chance to use ever since Amoonguss left the tier at the beginning of May, and it ended up proving to be quite a bit better than even I thought it was going to be. Definitely not as good as an offensive variant, but the Fighting check was much more necessary than offensive firepower
I knew I'd want a Stealth Rock user that would be able to check Choice Band Escavalier since I felt that would be a major threat on the 2nd ladder (and it was / is) It also gave me a much more reliable check to Meloetta, Exploud, and Electrics in general as Diancie was not nearly as bulky as most are. Alomomola was an easy choice to finish the Grass-Steel-Water core that many balance teams rely on since it gave the team invaluable Wish support and a Knock Off user. Not to mention it could check Emboar and most other Fire-types.
The team was a little weak to stall since it lacked a cleric of any kind, so I decided to throw on Calm Mind Delphox as the final team member. Despite its effectiveness, I began to notice some issues the team would likely have on the 2nd ladder, so I would end up swapping out for something else. That said, Delphox did win me a fair few games on the 1st ladder and I did use it the entire run up the 1st ladder, so I felt it necessary to acknowledge it here.
Although the team had a decent defensive answer to Escavalier, it lacked a real way of threatening it offensively. Not only that, but I also noticed the team struggled to switch into most Will-O-Wisp users due to Delpohx's frailty and / or tendency to be weak to them. For these reasons, I chose to replace it with Expert Belt Emboar in between ladder runs and it did not disappoint. It gave the team a way to lure in and remove bulky Water-types, extra priority, and a secondary Dark-type check, Houndoom in particular.
Team in Detail
Aura Burst (Diancie) @ Life Orb
Ability: Clear Body
EVs: 232 HP / 24 Atk / 252 SpA
Quiet Nature
IVs: 0 Spe
- Trick Room
- Moonblast
- Earth Power
- Diamond Storm / Psychic

Diancie was the main reason I decided to build the team and this set is just so much fun to use. Thanks to Trick Room and many teams not preparing for an offensive Fairy-type capable of outspeeding just about everything, Diancie is able to easily get the upper hand on quite a few teams. Trick Room is obvious so that Diancie gets the Speed advantage it absolutely wants to have. Moonblast is a great move that I generally just would throw out early game if I couldn't sweep but could surprise something. A 95 BP Life Orb STAB move is going to hit a lot harder than most opponents would like considering most Diancies don't even invest in Special Attack. Earth Power obviously gives Diancie much-needed coverage on Steel-types as well as opposing Diancies. Diamond Storm is slashed first because I used it for most of my run on the 2nd ladder and is what I currently have on it as I'm making this. With Escavalier usage increasing, Diamond Storm allows me to KO it once it drops to around 42%, which is pretty easy to force to happen with this team. Psychic was nice to have against stuff like Venusaur and Weezing, but hitting Escavalier and Braviary much harder ended up being much more important for this team on the 2nd ladder. Special Attack is maximized while the HP investment hits a Life Orb number. The rest is just lumped into Attack to give Diamond Storm a better chance of OHKOing Sub Bulk Up Braviary from full if that scenario arises. If you choose to keep Psychic, just split the Attack EVs into defenses.

"This is gonna hurt!" - Reyn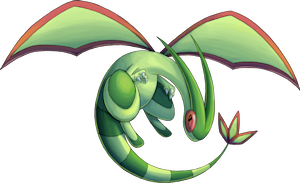 Double Wind (Flygon) (F) @ Choice Scarf
​
Ability: Levitate
EVs: 252 Atk / 4 Def / 252 Spe
Adamant Nature
- Earthquake
- U-turn
- Outrage
- Tailwind / Defog

In the teambuilding section, I mentioned I wanted two ways to control Speed. Well, you've met the first, so here's the second! Choice Scarf Flygon gives the team a lot of safe switch-in chances as well as some great Speed control against offensive teams in the late-game. Flygon also has a knack for luring in defensive Pokemon, Bronzong specifically, to pivot out of into whatever the best repsonse is. As far as the moveset goes, I don't feel there's a whole lot to explain. Earthquake is the move Flygon wants to spam late-game if it can help it since there's no lock-in or fatigue confusion associated with it. U-turn is the trigger-happy move early game for Flygon to wear stuff down whenever possible and Outrage is the stronger of Flygon's two STAB options, albeit the much riskier one since using it too early could result in Flygon going down prematurely. I went with Tailwind for the majority of my run through both ladders, but I did have Defog for a little bit on the first ladder as this team is prone to Spike-stack without it. That said, Tailwind provides a lot more utility late-game since it can allow Emboar to clean up if it's still healthy enough to do so. I chose Adamant over Jolly because Flygon is laughably weak with Jolly and if the opposing Scarf Flygon decides to use Jolly Outrage, I can just setup with Diancie and hopefully win (or at the very least, remove it)

"You're mine!" - Number 7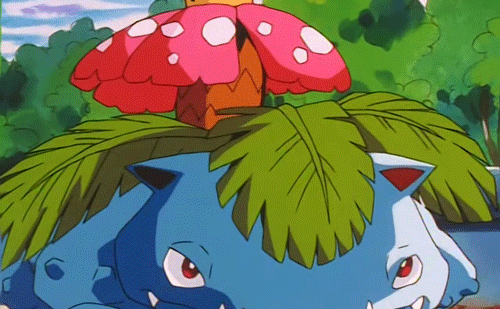 Lurgy (Venusaur) (M) @ Black Sludge
Ability: Overgrow
EVs: 248 HP / 216 Def / 24 SpA / 20 SpD
Bold Nature
IVs: 0 Atk
- Giga Drain
- Sludge Bomb
- Synthesis
- Leech Seed / Sleep Powder

A Diancie on a team you intend to be balance-based means you're going to be a bit weak to Fighting-types usually. So, to prepare for this and to also pressure bulky Water-types, I decided to put Venusaur on the team with a defensive EV spread. I'll get into what the spread does later, but this Pokemon fooled so many opponents during the run I had and there were quite a few battles where it could just beat 3-4 Pokemon on its own if I chose to. The first three moves don't really need much introduction. Giga Drain is a Grass-type STAB that also heals, Sludge Bomb is a secondary STAB for opposing Grass-types and might poison, and Synthesis gives Venusaur needed instant recovery. The last slot is where it gets fun. Leech Seed is a move that just sounds like Venusaur has no business running. I mean, why Leech Seed of all things? The answer is pretty simple. Once the opponent finds out Venusaur is defensive, they'll want to try to switch in more offensive Pokemon, such as Emboar, Escavalier, and Mega Camerupt. With these Pokemon hit with Leech Seed, they're forced to take at least 24% damage just to launch an attack. What's more is that health goes directly to Venusaur + whatever mon I decide to switch into in order to respond to the opponent's switch-in, thus meaning that my team's defensive backbone can generally outlast the stuff they're supposed to beat. Even on more defensive responses like Registeel and Bronzong, it's nice to give Emboar a much easier time switching into them. I used Sleep Powder for most of the first ladder, but the misses just started to hurt me too much and Leech Seed was just really nice to ease the pressure on Alomomola to keep the team healthy. The EVs keep Venusaur from being 2HKOed by Reckless Hitmonlee's High Jump Kick, Choice Band Sawk's Close Combat, super effective Hidden Powers from Jolteon and Tangrowth, and ensure Sludge Bomb always 2HKOes Virizion.

"You have LURGY!" - Riki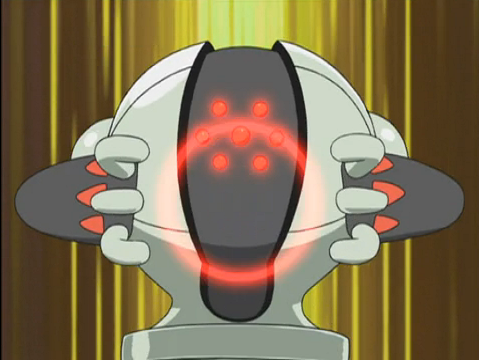 Metal Blast (Registeel) @ Leftovers
Ability: Clear Body
EVs: 248 HP / 28 Def / 216 SpD / 16 Spe
Calm Nature
IVs: 0 Atk
- Stealth Rock
- Toxic
- Protect
- Seismic Toss

Registeel is a fantastic Pokemon on most balance teams for the sheer amount of threats it can end up walling and wearing down, and it's no different for this team. Pure Steel is a fantastic defensive typing, and Registeel is just able to set Stealth Rock, throw out a Toxic, or simply Seismic Toss most things that can't hit it for super effective damage because it'll live the hit. Toxic is especially useful for this team because it catches stuff like Alomomola and Slowking fishing for Scald burns. Protect is extremely useful on Registeel due to how reliant it is on Leftovers recovery and how reliant some teams are for luring it into a false sense of security. Seismic Toss does consistent damage to all targets and is pretty easy to throw out if Stealth Rock is up and the opposing Pokemon can't do that much to Registeel. The EVs outspeed Mega Camerupt and give a very sizable amount of special bulk with a little extra Defense to take resisted Outrages and Head Smashes a little better.

"Rip through the air!" - Sharla



Light Heal (Alomomola) (M) @ Leftovers
Ability: Regenerator
EVs: 120 HP / 136 Def / 252 SpD
Impish Nature
- Wish
- Protect
- Scald
- Knock Off

Alomomola is that fish everyone loves and hates at the same time. It's responsible for holding so many teams together, but it's also the source of the frustration of many players because it does its job so well. Alomomola's main duty is to keep most Fire-types in check as well as to ensure this team isn't overly weak to stuff like Hoopa and Meloetta thanks to Knock Off. Wish and Protect are what you'd expect out of Alomomola to keep itself and the rest of its team healthy, and it works no different for this team. Protect is also a very useful scouting tool for any Choiced Pokemon that decided to come in on Alomomola. Knock Off is used over Toxic on this team because Registeel already covers Toxic and removing items is never a bad thing to do in order to make it easier to break through defensive walls or make it easier to switch into offensive powerhouses. Because Knock Off is used, Alomomola has a major focus on special bulk without neglecting the usefulness of some physical bulk to reliably sponge and pivot into physical attacks. Impish is used over Bold so that Alomomola can prevent SubCM Meloetta from setting up Substitutes until it lets itself be hit.

"Don't overdo it" - Shulk


\
Summon Flare (Emboar) (F) @ Expert Belt
Ability: Reckless
EVs: 252 Atk / 4 Def / 252 Spe
Adamant Nature
- Flare Blitz
- Superpower
- Wild Charge
- Sucker Punch

Expert Belt Emboar wasn't a Pokemon I used on the first ladder at all, but after realizing how hard it was for me to reliably switch into Will-O-Wisp and offensively threaten Escavalier, I decided to put it on here. The move was a great one as Emboar is able to do exactly what this team needs it to do; threaten Steel- and Grass-types offnesively, absorb Will-O-Wisps, and lure in bulky Water-types to give Flygon and Diancie a much easier time sweeping. Flare Blitz is the move Emboar uses the most and is generally very safe to throw out. Superpower is nice to put a dent into opposing Diancies if that's their main Fire-type check. Wild Charge is really the golden move of this set as it's the move that ultimately lets Emboar do its job of luring in and crippling / KOing bulky Water-types. Sucker Punch gives the team some form of priority and is a great way to chop down Sigilyph and Fletchinder should they think you're locked into something else. Expert Belt is the only way this set works the way it needs to for the team as it powers up super effective moves and lets Emboar bluff a Choice item early game. The key to getting the most out of this set for this team is to feign being Choice locked until the target you want to lure in comes out. However, this goes even deeper. If it's early game (especially if Flygon hasn't come out yet) it's best to simply hard switch out of something like Slowking or Alomomola to give them the impression that you are Choiced and can't do anything with them if they come into Flare Blitz. Adamant is used over Jolly as Emboar needs the power boost to beat physically defensive Slowking with Flare Blitz + Wild Charge after Stealth Rock, but Jolly has the advantage of outspeeding Exploud, Jolly Scrafty, and Modest / Mild Hoopa.

"Star-searing flames are the solution!" - Melia



Light Heal (Alomomola) (M) @ Leftovers
Ability: Regenerator
EVs: 120 HP / 136 Def / 252 SpD
Impish Nature
- Wish
- Protect
- Scald
- Knock Off

Aura Burst (Diancie) @ Life Orb
Ability: Clear Body
EVs: 232 HP / 24 Atk / 252 SpA
Quiet Nature
IVs: 0 Spe
- Trick Room
- Moonblast
- Earth Power
- Diamond Storm

Metal Blast (Registeel) @ Leftovers
Ability: Clear Body
EVs: 248 HP / 28 Def / 216 SpD / 16 Spe
Calm Nature
IVs: 0 Atk
- Stealth Rock
- Toxic
- Protect
- Seismic Toss

Lurgy (Venusaur) (M) @ Black Sludge
Ability: Overgrow
EVs: 248 HP / 216 Def / 24 SpA / 20 SpD
Bold Nature
IVs: 0 Atk
- Giga Drain
- Sludge Bomb
- Synthesis
- Leech Seed

Summon Flare (Emboar) (F) @ Expert Belt
Ability: Reckless
EVs: 252 Atk / 4 Def / 252 Spe
Adamant Nature
- Flare Blitz
- Superpower
- Wild Charge
- Sucker Punch

Double Wind (Flygon) (F) @ Choice Scarf
Ability: Levitate
EVs: 252 Atk / 4 Def / 252 Spe
Adamant Nature
- Earthquake
- U-turn
- Outrage
- Tailwind




​