Hi everyone, im here today for posting this
beautiful
team i made, and took me to the top 1.
The team complete importable can be found here:
https://my-pokemon-base-client-hllemoefpf.now.sh/team?id=5ba29de7bf5793005055e662
This team is built around
Toxapex Band,
but he is not the center of the team, its used for cleaning sweepers wall and excercising pressure on the opponent team.
¿Why toxaband?
Cuz is cool, he can actually kill a lot of his counters, make a great damage and can wall-regenerate for recovering the momentum.
Let's start explaining the mons:
This mon is the main counter to
Zygarde
he can defeat almost any set of it, focus punch hits
HARD
against Ferrothorn and Heatran, you can also use it for recovering momentum, or simply kill physical sweepers​
USE THIS MON SMARTLY
he can kill almost any mon in the game, he is your
main
sweeper, you
need
to make the correct choice of moves, you can predict the annonying
Ferrothorn
with a focus blast, then switch, you can excercise a lot of pressure with this mon,
use it!
and
protect it!
is also a very common lead when i think he is gonna start with
Tapu Koko
​
This is the team
defogger
and main
Kartana
counter, personally i
hate
him, i dislike his rock weakness, but i need it for counting Kartanas, he is good walling mons, and absorbing damage, you have the 30% of paralysis. Note he is fully defensive, you dont want to take special hits with it​
Oh.... Magearna, i started using a Fully Defensive set with specs, it resisted Lando EQ, Banded Zygarde Thousand Arrows, Hawlucha's SD HJK, Mega Medicham HJK, and he was veery good in the team, and can be used effectively, but i gave a chance to this scarf set due my weakness to some
boosters
like serperior or manaphy​
Previously he was a
Blissey
due to the lefties recovery, but i needed some extra defense, so here we have
Chansey
, the Wish set is veery important, you want to keep it healthy and use it like a pivot for recovering damaged mons, that is its main role,
recover the other mons
​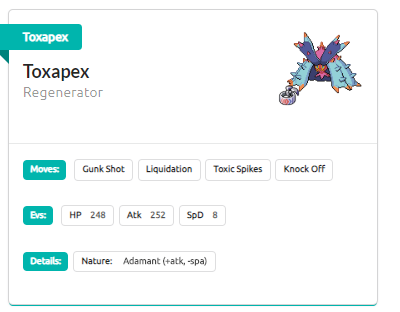 This is the most controversial mon here, i have been
blamed
a lot by some friends for using this mons, but he is actually pretty good, his Gunk Shot hits VERY HARD, you can OHKO
Tapu Koko, Tapu Lele, Greninja
and hit a looot of switch ins, he is amazing, he deals 70% - 100% to Heatran, so if they switch in
Heatran
against
Tapu Lele,
you can switch to this and punish that trapping Heatran, you can surprise chanseys, and put toxic spikes to pressure, his main counter is another
Toxapex
, and you must be aware of it, the good part is you can use that toxapex as a bridge for switching tapu lele and take off one of their mons​
So... ¿How do we use that team?
Leading:
+ You must obviously analyze your enemy's team and try to guess what will he play
+ You can start with
Tapu Lele
, if you see he has Tapu Koko, then try to predict what will he do and try to take off one of his mons, for example, if you see he has a ferro, you can Focus Blast against Koko
+ Against
Lando
you can go risky and start with mag, or you can throw zapdos and try to neutralize him
+ Against
Heatran
you can go with
Toxapex
, but also with
Magearna
, then volt switch and enter
Toxapex,
he will normally try to EP after Magma Storm, so you punish with Liquidation, and it's done
Middle Game:
+ Your goal is to
kill
his mons, try to predict and enter into his holes, a lot of teams are weak to
Tapu Lele
, use it smartly, pivot with some mons and recover the momentum
+ Mantain your enemy's boosters in mind, you need to neutralize them quickly
+ Use the enemy knowledge about your team in his counter, this team is not surprise-dependant, but you can also use the enemy's knowledge about your team and make predictions with it
+ Sweep, sweep and sweep, this mons hits hard, your goal is to kill his team with strong moves
Tapu Bulu @ Choice Band
Ability: Grassy Surge
EVs: 248 HP / 252 Def / 8 SpD
Impish Nature
- Horn Leech
- Wood Hammer
- Roar
- Focus Punch

Tapu Lele @ Choice Specs
Ability: Psychic Surge
EVs: 4 Def / 252 SpA / 252 Spe
Modest Nature
IVs: 0 Atk
- Psychic
- Psyshock
- Moonblast
- Focus Blast

Zapdos @ Leftovers
Ability: Static
EVs: 252 HP / 252 Def / 4 SpD
Bold Nature
IVs: 0 Atk
- Defog
- Volt Switch
- Heat Wave
- Roost

Magearna @ Choice Scarf
Ability: Soul-Heart
EVs: 252 SpA / 4 SpD / 252 Spe
Timid Nature
IVs: 0 Atk
- Volt Switch
- Ice Beam
- Fleur Cannon
- Focus Blast

Chansey @ Eviolite
Ability: Natural Cure
EVs: 248 HP / 252 Def / 8 SpD
Bold Nature
IVs: 0 Atk
- Wish
- Protect
- Toxic
- Seismic Toss

Toxapex @ Choice Band
Ability: Regenerator
EVs: 248 HP / 252 Atk / 8 SpD
Adamant Nature
- Gunk Shot
- Liquidation
- Toxic Spikes
- Knock Off
Thanks for your replies, and i hope you enjoy
Last edited: