Storm Eagle's Top 500 Ubers/Anything Goes Stall Team
​
Proof that this team has gotten me to Top 500 on both ladders:
http://imgur.com/a/vFPat
This is a stall team that has been carried over and expanded upon from Generation 6. Some of the Pokemon in this team were inspired by other teams, but for the most part this team is genuine.
Arceus-Fairy @ Pixie Plate
Ability: Multitype
Shiny: Yes
EVs: 252 HP / 56 Def / 144 SpD / 56 Spe
Calm Nature
IVs: 0 Atk
- Judgment
- Stealth Rock
- Recover
- Toxic
Arceus is a Fairy type that I need that's bulky enough to endure hits from Yveltal, who otherwise checks my team entirely. 252 HP and 144+ Special Defense allow it to survive two Specs Hurricanes from Yveltal, should I encounter an opposing Yveltal with that set. 56 Speed outspeeds base 90s and the rest goes into Physical bulk.
Judgment gets chip damage and punishes Dragon and Dark types who try to set up on Arceus.
Stealth Rock allows Arceus to phaze the opposing team over time by getting chip damage on switch-ins. Recover boosts longevity as needed when it can get a free turn.
Toxic puts a timer on the opposing Pokemon especially if they decide to set up on Arceus, or Arceus cannot otherwise get decent damage on them.

Ferrothorn @ Leftovers
Ability: Iron Barbs
Shiny: Yes
EVs: 248 HP / 8 Atk / 252 SpD
Sassy Nature
IVs: 0 Spe
- Leech Seed
- Power Whip
- Gyro Ball
- Protect
Ferrothorn manages to check Primal Kyogre and put intense pressure on opposing Pokemon that aren't named Primal Groudon. Leech Seed, Protect, and Leftovers all make Ferrothorn incredibly self-sustainable and Power Whip/Gyro Ball hit decently hard to prevent it from being setup bait. I can often spam Leech Seed multiple turns to play mindgames with the opponent. Ferrothorn is preferred over other Steel types in sole virtue of it's Grass typing and moveset.

Giratina @ Leftovers
Ability: Pressure
Shiny: Yes
EVs: 248 HP / 252 Def / 8 Spe
Impish Nature
- Toxic
- Dragon Tail
- Rest
- Defog
Giratina completely counters Primal Groudon and it's fantastic for that alone. Altered Form has Pressure, which was why I chose it over Origin and it had more bulk to boot. Maximum Physical Defense ensures that nothing Primal Groudon can do will have any sort of impact on my team. Toxic puts it on a timer, Dragon Tail forces it out so it can't sweep, Defog removes hazards that Utility Groudon might set up, and if the rare Thunder Wave variants of Primal Groudon appear, I can just use Rest after poisoning it. Giratina doesn't necessarily require Sleep Talk, and while I've tried it, I've just gotten more frustrated with not having the other three moves in it's moveset as well.
Sableye @ Sablenite
Ability: Prankster
Shiny: Yes
EVs: 248 HP / 252 Def / 8 Spe
Impish Nature
- Fake Out
- Will-O-Wisp
- Foul Play
- Recover
Another bulky Pokemon, and Mega Sableye instantly took my spot over Skarmory when I had it. Fake Out gets chip damage and allows it to Mega Evolve regardless of almost every scenario, Will-O-Wisp punishes Arceus and other setup sweepers that may attempt to setup on Sableye, and Foul Play ensures that Sableye always does incredible damage. Recover boosts longevity which is important especially seeing I can't allow for Hazards to be set up.

Clefable @ Leftovers
Ability: Unaware
Shiny: Yes
EVs: 248 HP / 8 Def / 252 SpD
Calm Nature
IVs: 0 Atk
- Moonblast
- Heal Bell
- Wish
- Protect
Clefable is special in that it's incredible against setup sweepers, notably Xerneas. Unaware is a fantastic ability and Clefable is underestimated in almost every game due to that. Wish and Protect are it's most reliable recovery options, and it allows for Clefable to not only scout, but to waste the opponent's PP. Moonblast hits Xerneas hard because Clefable ignores opposing Special Defense boosts. Heal Bell can get rid of poison and burns on my team as well as wake up Giratina if need be. Clefable is and always has been the GOAT.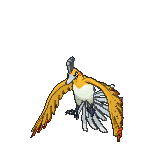 Ho-Oh @ Leftovers
Ability: Regenerator
Shiny: Yes
EVs: 248 HP / 208 Def / 52 SpD
Impish Nature
- Sacred Fire
- Recover
- Toxic
- Brave Bird
Ho-Oh is obscenely good in both metagames. It shrugs off virtually every specially offensive attack imaginable and heals it passively with Regenerator. It has fantastic bulk with solid offenses too. Sacred Fire allows for Ho-Oh to nuke Steel types and to get burns on the foe. Recover is better than Roost due to Ho-Oh not losing the Flying type, which is beneficial in some cases. Toxic puts the foe on a timer and prevents setup sweeping and Ho-Oh can just nuke Steel/Poison types that attempt to switch in anyways. Brave Bird is the last STAB and it's generally the STAB of choice due to Sacred Fire only having 8 PP. The spread chosen allows for Ho-Oh to get better overall bulk.
Can I have some thoughts on this?