INTRODUCTION
Hello, I recently built a Bulky Offense team around Tornadus-T and Tapu Fini, so i thought i would share it with everyone here to hopefully share a decent team, and receive some feedback on it.
So, at first I knew I wanted to build a Bulky Offense around Torn-T, so I started off with

.
Then I knew I had to have an electric immune and a rocks setter, so
fit the bill perfectly for this.
I next had to build a defensive core around these two. After some trial and error, I came to the conclusion that

and

would compliment each other very well as a pairing for a defensive backbone.
I next felt that my team needed an offensive tool which would also deal with setup sweepers: enter

And finally, I needed some good old fashioned speed control, in the form of

, which aided my offensive matchups greatly.
THE TEAM

Landorus-Therian @ Leftovers
Ability: Intimidate
EVs: 248 HP / 16 Atk / 244 Def
Impish Nature
- Earthquake
- U-turn
- Knock Off
- Stealth Rock
This is the mandatory rocks setter for the team, with U-turn for momentum, Earthquake for STAB, Knock Off for removal of the ever present Leftovers and Heavy-Duty Boots and Stealth Rock, to well, get up rocks. I feel this Landorus set doesnt leave much for wanting, with the EVs being optimised for bulk, to ensure rocks are always set.

Ferrothorn (M) @ Rocky Helmet
Ability: Iron Barbs
Shiny: Yes
EVs: 244 HP / 80 Def / 172 SpD / 12 Spe
Careful Nature
- Thunder Wave
- Iron Head
- Leech Seed
- Spikes
Ferrothorn here is your traditional wall; punishing and annoyingly bulky. Thunder Wave is present to be used in conjunction with Iron Head to deal with Fairies, namely CM Clefable as the 12 speed EVs outspeed an uninvested Clefable when paralysed. Leech Seed is for passive recovery and longevity, while spikes are there for a hazard stacking synergy with Landorus-T.
Slowking-Galar @ Assault Vest
Ability: Regenerator
EVs: 252 HP / 176 SpA / 80 SpD
Sassy Nature
- Future Sight
- Sludge Bomb
- Flamethrower
- Earthquake
The ever popular AV Glowking is back again, this time with earthquake to deal with Heatran, Future Sight to pressure the opponent and Flamethrower and Sludge Bomb to deal with Steel and Fairies respectively. I think this is a very useful special wall for this team, with the EVs designed to maximise its utility and firepower.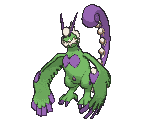 Tornadus-Therian @ Heavy-Duty Boots
Ability: Regenerator
EVs: 252 SpA / 4 SpD / 252 Spe
Timid Nature
IVs: 0 Atk
- Nasty Plot
- Defog
- Hurricane
- Focus Blast
The ever-present threat in Tornadus-Therian is back again, this time with hazard removal and an offensive tool in Nasty Plot STAB Hurricane. I felt defog was the natural option here, and it was easy to slot on along with my robust defensive core. Focus Blast is mainly coverage for bulky Steel types that tend to prevent Torn-T from doing its job.
Tapu Fini @ Leftovers
Ability: Misty Surge
EVs: 252 HP / 200 Def / 56 Spe
Bold Nature
IVs: 0 Atk
- Taunt
- Calm Mind
- Draining Kiss
- Scald
I feel Tapu Fini is an underrated pick in the metagame right now, due to its amazing utility in shutting down setup sweepers and its underestimated bulk. This set is designed to outspeed heatran and clefable, to get the jump on them with the taunt. Draining Kiss and Leftovers enable Fini to generate enough passive recovery to allow it to safely setup, while scald is both a secondary stab and form of status, when the hugely beneficial Misty Terrain expires.
Tapu Koko @ Heavy-Duty Boots
Ability: Electric Surge
EVs: 252 SpA / 4 SpD / 252 Spe
Timid Nature
- U-turn
- Thunderbolt
- Dazzling Gleam
- Roost
And finally, here we have the speed control/pivot, in the form of Tapu Koko. With its great offensive typing and speed tier, this mon generates some amazing momentum for the team and puts sufficient pressure on the opponent with its dual stabs. Roost can be used to capitalise on switches, meaning Koko can increase its longevity, and of course its self boosting Terrain puts it at an instant advantage, removing any other terrain already there.
IMPORTABLE





As always, any feedback is appreciated, and I hope you can all express your opinions/thoughts below!
Last edited: