Hello everyone! Here is my second RMT, an Ubers team ! This team is a very successful trick room offense team: I peaked the number 1 place in Ubers ladder with a score of 1805. I created this team since Mega-Mawile was ban from OU (yes, I used it in my OU teams). So I had the idea to use it in Ubers, and I'm thinking: Well let's use Mega-Mawile, and other OP and slow pokemon, and support them with Trick Room, and let's see!
Here is my team building:
I started with Mega-Mawile, my favourite Mega. It has simply the best unboosted attack in the tier, also great offensive moves and a nice defensive typing. But slow speed !
Now I choose Kyogre as my main Special Attacker. Of course, a Specs one! The idea is to put this monster under Trick Room with his low base speed, when compared to the main others mons in Ubers. Also Drizzle is nice to help Mawile taking some fire moves.
Ferrothorn is my 3rd offensive pokemon (no! that's not a joke!) who is also able to take Zekrom hits and Xerneas under Kyogre's Rain (except Focus Blast). A Swords Dance set! A nice idea from the Ubers room so I decided to try that. +2 Stab Gyro Ball with 150 base power under Trick Room, deal with it ;)
Now let's choose the Trick Room users. I needed one Offensive Dragon who has access to Trick Room. So I had the choice between Palkia and Dialga. I finally decided to take Dialga on my team, because I like his defensive typing making him a good Trick Room user: it's not Fairy neither Dragon weak.

Ouch, 3 Steel Pokemon... I'm fight weak. So I need a Ghost type. I don't hesitate: my choice was Arceus-Ghost. My favourite version of Arceus in this gen with its great ability to counter Mega-Kangaskhan, MMX and such. And Arceus has also access to Trick Room!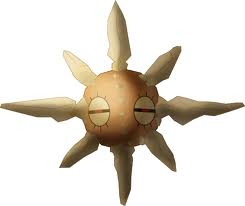 Ladies and Gentlemen, here it is, the last pokemon in my team! SOLROCK! But why a pokemon from the PU tier you will ask me? Simple answer, I needed a good lead with access to Stealth Rocks and Trick Room. Furthermore, it has the great ability to check Ho-Oh thanks to its typing and Levitate, something that Deoxys-D cannot. So Solrock can setup again on Ho-Oh. He's even better than Diancie with Levitate and access to Magic Coat!
So it's for me the best choice as a Trick Room lead. It's the star of my team! Uh no, the sun. Oops.
Now let's see in details the team:
Hey Groudon (Solrock) @ Focus Sash
Ability: Levitate
EVs: 252 HP / 4 Atk / 252 Def
Relaxed Nature
IVs: 0 Spe
- Trick Room
- Magic Coat
- Stealth Rock
- Explosion
Here is the lead Solrock! The strategy is simple: set up Trick Room and Stealth Rocks then go boom with Explosion to let place safely a sweeper for the next turn.
Magic Coat is useful here to bounce back non-damaging moves such as Taunt, hazards or Spore.
This Solrock is able to setup on a lot of Ubers pokemon. Here are some examples:
Against hazards lead such as Deoxys-S, Smeargle: use Magic Coat until Taunt or Spore is bounced back, wait until switch, then setup Rocks. You have the choice to keep the sashed Solrock for later, or setup Trick Room.
Against offensive mons such as Scarf Kyogre: take the hit with the focus sash then Trick Room. Outspeed the opponent with Stealth Rocks and let Solrock die. If he's not and sashed break, use Explosion.
Of course, Solrock has got some counters. He will have some problem against Darkrai (50-50 game), Taunt Yveltal, Taunt Mega-Gengar and Taunt Knock Off Deoxys-A. It's better to lead with something else against these pokemon (Kyogre against Darkrai, Arceus against Mega-Gengar and Deo-A, Mawile against Yveltal)
JeezTheJaws (Mawile) @ Mawilite
Ability: Intimidate
EVs: 252 HP / 252 Atk / 4 SpD
Brave Nature
IVs: 0 Spe
- Swords Dance
- Play Rough
-
Fire Fang
-> Stone Edge
- Sucker Punch
Mega-Mawile is an absolute monster under Trick Room! He outspeeds pretty much everything and punch holes in a lot of Ubers pokemon with its monstrous attack boosted by Huge Power. Play Rough is his Stab of choice, OHKOing Dragons, Dark types and most versions of Xerneas (thanks Fairy Aura). Also it hits for neutral (and huge!) damage a lot of stuff like Kyogre and Mewtwo.
Fire Fang is here to not be blocked by Mega-Scizor, Foretress and Ferrothorn
. Stone Edge smashes incoming Ho-Oh and OHKO Heatran after a Swords Dance. This move also hits Scizor and Foretress for neutral damage. Sucker Punch is a nice and very powerful priority especially when Trick Room is gone and if Mawile set up an SD. It's also nice against Aegislash. Finally, Swords Dance permits to raise Mawile's attack to sky-high levels if needed, if Mawile is burned or Intimidated, or to pass through Stall teams, Groudon...
Plouf (Kyogre) @ Choice Specs
Ability: Drizzle
EVs: 248 HP / 252 SpA / 8 SpD
Quiet Nature
IVs: 0 Atk / 0 Spe
- Water Spout
- Surf
- Thunder
- Sleep Talk
The very known and terrible SpecsOgre! One of the biggest threat in Ubers, this time under Trick Room! His speed reaches 166 so He can outspeed a very large number of pokemon under Trick Room. Correctly placed, Kyogre is able to wreck even His main counters with a full life Specs Water Spout: Non Assault Vest Palkia after Rocks, Arceus Water, Arceus Grass and Giratina are 2HKO and cannot outspeed Kyogre! Surf is used if Kyogre lost a certain amount of HP. Thunder to hit harder Water pokemon, mainly Palkia harder than Surf. I decided to remove Ice Beam to make Kyogre a Sleep Absorber with Sleep Talk, otherwise Darkrai would be annoying. I don't have a lot of problem with Arceus-Grass since I have Dialga and Ferrothorn on my team. Plouf is the French name of the noise "splash". Oh well, curse you Gastrodon.
GOD (Ferrothorn) @ Leftovers (Or Lum Berry)
Ability: Iron Barbs
EVs: 248 HP / 252 Atk / 8 SpD
Brave Nature
IVs: 0 Spe
- Swords Dance
- Gyro Ball
- Power Whip
- Knock Off
Haha!! Swords Dance Ferrothorn! This poke is really powerful, no only resistant. Ferrothorn outspeeds everything under Trick Room. His attack reaches 630 after a Swords Dance, making him a really nuke with his Stab Gyroball, most of the time at 225 base power with the Stab! He can OHKO a lot of stuff like offensive Arceus after a Swords Dance, making him a very good EKiller Arceus counter. An unboosted Gyroball has enough power to OHKO Mega-Gengar and GeoXerneas. Power Whip hits water types super effectively, Palkia, and also Ground pokemon like Groudon. Knock Off is a coverage move to hit Aegislash and other steels. A +2 Knock Off also permits Ferro to OHKO offensive Ho-Oh after Stealth Rocks damage!
His name is GOD because he saved me in a match against a BP team. So honour to Him.
http://replay.pokemonshowdown.com/ubers-168950368
Dialgg (Dialga) @ Life Orb
Ability: Pressure
EVs: 248 HP / 252 SpA / 8 SpD
Quiet Nature
IVs: 0 Atk / 0 Spe
- Trick Room
- Draco Meteor
- Thunder
- Fire Blast
Offensive Trick Room sweeper. Maybe you already use it? Simple, you setup Trick Room, then you hit with a Life Orb boosted 438 Special Attack and with the Dragon/Fire/Electric coverage.
Stab Draco Meteor hits like a truck, but results a special attack drop. Don't let the opponent setup because of the drop, especially if Trick Room stops the next turn (GeoXern for example). Fire Blast hits Steel type pokemon, and is better to use when the rain is stopped. Thunder gives a good coverage along with Dragon and permits Dialga to hit Ho-Oh and Kyogre, and is nice to spam under Rain. Nothing to say much, the maximum HP permits to take hits better and setup Trick Room easier.
Hi MegaBrellow (Arceus-Ghost) @ Spooky Plate
Ability: Multitype
EVs: 252 HP / 4 SpA / 252 Spe
Timid Nature
- Trick Room
- Perish Song
- Judgment
- Recover
Arceus-Ghost is the fastest pokemon in the team and is my Mega-Khanga check. He provides specific utility in my team. I use it to revenge kill some pokemon with Judgment if Trick Room stopped. But not only! I use also Trick Room on it while forcing a switch. How to do? The move Perish Song. This move is great. It forces the opponent to switch after 3 turns or his pokemon will be KO. This move help me to place Trick Room by hindering the opponent and avoid some delicate situations (Opponent's CM Arceus, E-Killer, and....... Baton Pass teams !). I can also let Arceus be KO after setup Trick Room due to perish song, and bring safely a sweeper. Also this move can destroy the last pokemon of the opponent's team. Well, you could see some replays that prove the efficiency of this (very) original set!
http://replay.pokemonshowdown.com/ubers-169103469
http://replay.pokemonshowdown.com/ubers-169100296
http://replay.pokemonshowdown.com/ubers-168956505
http://replay.pokemonshowdown.com/ubers-169077253
Bonus ! the team against BP :
http://replay.pokemonshowdown.com/ubers-168962865
My main counters are:
-Substitute Ho-Oh, who avoids Solrock's Explosion. So Stone Edge might be an option for Solrock, but instead of which move?
-Specs Kyogre
-Defensive Arceus Grass and Arceus Water with Will-O-Wisp
-Gastrodon. Rare but counters Kyogre, can outspeed my sweepers, and burn my Ferrothorn on the switch
-Focus Blast Geoxern if Trick Room isn't up
-> LO Yveltal if Mawile is not mega evolved
Thank you to everyone to read my RMT and also the players who compliment my team ! I hope this original team will please you! Now Rate My Team!
Last edited: