Verified Ladder Scurb 乁( ◔ ౪◔)ㄏ
Hey everyone, this is going to be my first

ever

RMT. I based it on the core of Cacturne and Lanturn, two nice Water and Electric absorbers that I believe have gained viability with the new tier shifts. I've used the team and its past variations numerous times in private matches testing with my NU pals and I've also tried it out on the ladder (Didn't peak or anything just a solid 18-1 record so far. Damn Mach punch Magmortar...)
​
Without further ado I'll walk you through how I built this fun team and how it functions.

Teambuilding Process
​
​
Had to start off the with the core, but I knew in this meta I certainly need a Sneasel and Tauros check so I added Carracosta right off the bat. Lanturn absorbed electric for Costa and Cacturne took resisted Grass hits.
​
​
At this point I decided to fall back on habit and knew I wanted to have a bunch of reliable recovery and a nice fighting resist so I added Plume, which seems to be on 50% of my teams. I also added Archeops because I love having a defogger with recovery. Archeops' speed also helped make up for how slow my team was starting to become.


/

I wasn't feeling too great about this team at this point, I knew I could get swept by Mega-Dino or a bulky Calm-Minder with coverage to hit Cacturne. I also was relying way too much on Archeops to revenge things with all my Pokemon's dismal speeds. At this point I alternated between Nasty Plot Mismagius with Destiny Bond as a fallback as well as Calm Mind Uxie with Giga Drain as quick fixes to my half-decent team.

I knew it was time for an overload as this team had little to no synergy and speed was still an issue and I still had significant problems with hazard stack, specifically Ferroseed. I knew it was time to make large changes, I even strongly considering replacing Cacturne, but I remained determined that I could make a good team with the Cacti.



I decided to resort back to the bread and butter of my NU ladder success, Xatu, in order to build up confidence in the team. It also paired very nicely with Lanturn who could easily take Electric and Ice attacks that Xatu hates. I also needed a strong check for Sneasel and I was getting fed up with Costa, so I upped my Defences further by adding the 200 Defence God Regirock. My confidence in the team was certainly building at this point, but I still needed answers for Malamar and other Dark types.



I remembered my earlier success of sturdy Sawk paired with Xatu from NUPL and decided he would be a great recipient of a Volt switch to annihilate something on the opponents team every time he came in. This team was no longer slow and passive...
I was ready to crush shit.



Lastly, I knew I wanted a win condition AND solid check to Malamar in one. Enter Scyther, who covered both of these tasks in one with a crisp Swords Dance and U-Turn set to keep momentum if needed.

​
The TURNT UP TEAM
CacTURNT (Cacturne) @ Life Orb
Ability: Water Absorb
EVs: 4 Atk / 252 SpA / 252 Spe
Rash Nature
- Giga Drain
- Dark Pulse
- Destiny Bond
- Sucker Punch



The Pokemon who this entire team was built around; Cacturne provides an offensive presence that nothing wants to switch into. He soaks up water hits aimed at Regirock and halts opposing Lanturn in their tracks in conjunction with LanTURNT. Sucker punch is also strong and sweet priority which is not threatened by Aqua jet due to Water Absorb. Destiny bond is for matchs gone awry and a panic button for slower threats that you may have difficulty beating, such as Malamar if Scyther has fallen, or Swords Dance Mawile that breaks through Regirock.


LanTURNT (Lanturn) @ Leftovers
Ability: Volt Absorb
EVs: 40 HP / 176 SpA / 252 SpD / 40 Spe
Calm Nature
- Volt Switch
- Scald
- Thunder Wave
- Heal Bell
​
This isn't your ordinary and friendly support-set Lanturn. This 176 Spc attack invested Lanturn is pissed off and ready to turn up the offense on this team. Unlike Defensive Lanturn, LanTURNT is capable of out-speeding and 1HKOing 252hp Rhydon and applying offensive pressure to teams who expect nothing out of this seemingly-friendly fish. It easily soaks up Electric moves for Xatu and provides Heal Bell and Paralysis support for the entire team. With 252+ Spc Def, LanTURNT also has copious amounts of Special bulk to tank any annoying Fire or Ice attack as well as most neutral special attacks with ease.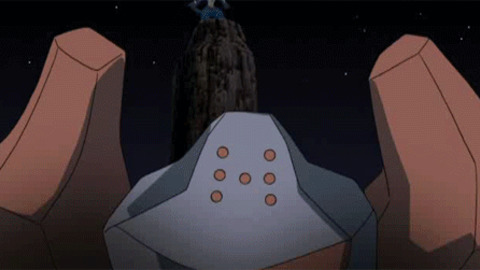 Rek (Regirock) @ Leftovers
Ability: Clear Body
EVs: 248 HP / 252 Atk / 8 Spe
Impish Nature
- Rock Slide
- Thunder Wave
- Stealth Rock
- Drain Punch



Rek the Regirock takes defence to a whole new level, and if you doubt its defensive capabilities you will likely get Rek't. Capable of taking any Sneasel, Tauros, or Kangaskhan hit with ease and retaliating with Thunder-Wave, Rek provides the defensive foundation for this team. He also fulfills a role as a reliable rock setter, who can break through Xatu and isn't too passive despite his huge bulk. Drain punch is nice coverage and a bit of recovery for Regi who lacks it otherwise. Regi works well in tandem with Scyther and Xatu which take Fighting moves he fears with 4x resistance. EVs are made to maximize defensive bulk while not making Regi too passive and the 8 speed EVs are for vital speed ties in the common 50 speed tier.
SCYTHA (Scyther) @ Eviolite
Ability: Technician
EVs: 248 HP / 44 Atk / 216 Spe
Jolly Nature
- Aerial Ace
- Swords Dance
- Roost
- U-turn
Although Scyther probably got worse with the new drops of Magneton and Fletchinder, he fit so well on my team it was hard to pass up. SCYTHA sets up with ease on most Pokemon with its huge Eviolite bulk or Uturns out into Sawk, LanTURNT, or CacTURNT on bulky rock or steel types

.

The set is pretty standard and set to outpace the 100 speed tier and put the remaining EVs in attack to make it decently strong before boosting. Most of the time I find myself U-turning with SCYTHA until late-game when I can sweep with Aerial ace. He also serves as a nice fighting resist or Knock-Off absorber if Xatu is already too weakened.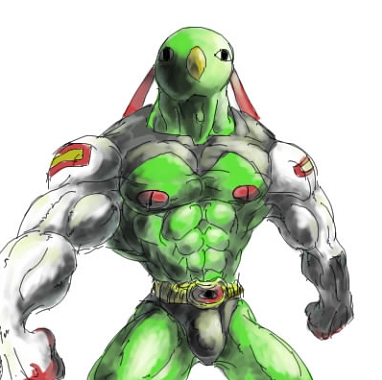 TooT TooT (Xatu) @ Rocky Helmet
Ability: Magic Bounce
EVs: 200 HP / 252 Def / 56 Spe
Bold Nature
- Psyshock
- Calm Mind
- Roost
- Giga Drain/Heatwave
Like always, Xatu finds a way on my team again; TooT TooT blocks hazards, provides a fighting resist, and offers a win condition all in one. The EVs are meant to out-speed max speed 70's without a positive nature, and the HP and Defensive EVs are meant to give it maximum defensive bulk. TooT can provide a win condition vs Mega Audino and breaks through most stall teams with ease. A lot of pressure is on this burd;however, because the team does not have hazard removal. I used Giga over Heatwave to keep pressure on rockers so I can beat most of them 1v1 and ensure I never allow rocks up.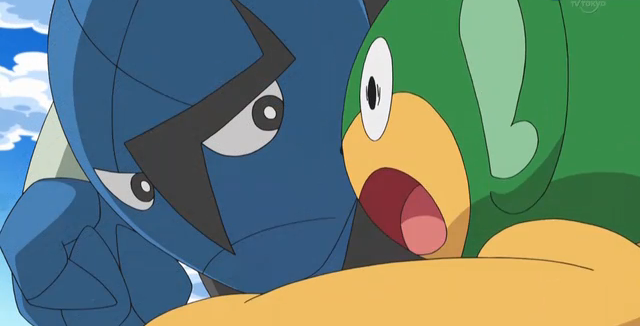 Sek (Sawk) (M) @ Choice Band
Ability: Sturdy
EVs: 252 Atk / 4 Def / 252 Spe
Jolly Nature
- Close Combat
- Ice Punch/Zen Headbutt
- Earthquake
- Knock Off



Sawk's one role on this team to to annihilate the opponents team, and that means every-time he comes in he is going to put a huge dent in the opponents game-plan. He appreciates hazard support from Xatu to keep his Sturdy intact from faster threats. I made him Jolly to outspeed annoying Mesprits and Kabutops, yet he still does a number to most Pokemon. Ice punch is for Vileplume or Colburr Xatu mainly and is interchangeable with Zen-Headbutt if you prefer. Not much to say about Sawk other than his job is to keep the pressure on the opponent.
Threatlist
Offensive Mawile: Mawile can break through Regirock relatively easily and resists Scyther's, Xatu's, and Cacturne's attacks. In most instances I weaken it with LanTURNT or cripple it with T Wave on the SD or sacrificed CacTURNT with D-Bond. Fortunately, offensive Mawile is quite uncommon in the new meta so I have had very few issues so far.
Klingklang: Like Mawile, Klingklang has dipped in usage recently, and I made this team based off the fact that it is pretty uncommon at the moment. However, if they do have Klingklang I am quite in trouble. I suppose I could swap Regirock for Carracosta; however, I'm not sure it is worth it with such low usage.
A few other threats such as Nasty Plot Mismagius come to mind as potential threats, but I am usually able to neutralize them with sucker punch mind games with Cacturne or by using T-Wave support. Rock Polish Rhydon can be an issue with its immunity to T-Wave though.
Last edited: