UBERS PREMIER LEAGUE VIII POWER RANKINGS - PRE-SEASON
The discord goes silent and the jaws of every UPL participant drops. All eyes focus on Nayrz, whose string of consistently poor decisions are finally met with a beacon of hope. History has been made, and we are all a part of it as UPL for the first time ever has expanded to 8 teams. Welcome to
Ubers Premier League VIII
, where the consistent saltiness and trash talk will surely make up for the dip in quality of games due to the two-team expansion.
Welcome to the Power Rankings where we are going to be doing a few things different this year. Among the usual rankings which include a team write-up, tier rankings and overall rankings, I will also be included a few predictions such the following: Dark Horse Team, Dark Horse Player, Rookie of the Year, Flop of the Year, and MVP. Will the Durians take home the title for the fourth consecutive year? Can the new expansion teams cause an up-set? Can Nayrz learn French in time to lead his team to victory? Only in due time will we know these exciting answers, but until then – let us speculate!
Let us all give a special shoutout to
Minority
for hosting this year, it is a thankless job and most certainly a headache. We all appreciate you as we as a community strive to put Ubers back on the map and in the hands of competitive tournament play. Next is
Lord Thorx
who took the initiative to set up the PR's and get results, could not have done it without you brother. Thank you to everyone who participated in ranking players, you guys are the heart of this community. And finally, thanks to me for stepping up, leading the New Era Stag and having the determination to see the community succeed. Despite the best efforts of Highlord and Dream to consistently give this community an unwarranted bad name, users such as Belvin, Cynara, and myself are determined for this wonderful community to prosper. So, without further ado, let's get it.
Choice Bandits
Managed by steelskitty + iry
SS:
crucify
SS:
Alpha Rabbit
USM:
Hugo Barrington
ORAS:
Dominatio
BW:
Endill
DPP:
Lord Thorx
ADV:
squinn
BO3 (SS | USM | ORAS):
Zesty43
Subs:
Peli, Rhmsitb, Shitegotreal, WreckDra
Steelskitty and iry are no strangers to teaming together as iry was the ADV ace for the Bandits last year. These two got together and came up with seemingly what many could consider an ambitious line-up. The initial plan for them was to lock in BO3 with one of the best available options in the draft in Zesty43, his job will be to anchor down the most stacked tier in the tournament. Zesty is a high risk, high reward buy for the price he went for as he did not quite meet expectations last year. However, he can silence critics if he can perform at a high level versus the absolutely stacked BO3 competition. Crucify and Alpha Rabbit are holding down the front lines in SS, and many would consider crucify an absolute essential piece to the Choice Bandits puzzle as he has a lot of hype surrounding him, can he perform in his first UPL? Dominatio and Hugo Barrington make up the questionable picks section of the Bandit's roster as there was hot debate about their status within the community. While there is little doubt about their in-game performance, the overall hope is that they can be decent and clean community members and re-brand themselves. Their BW features Endill which they bought low on in order to utilize the excellent BW building skills of steelskitty, one of the best to ever do it. ADV rounds out their line-up in the form of Squinn, a UPL staple who may be poised for a breakout year.
Overall thoughts:
This team is well rounded – Zesty, Hugo, Dominatio, and Crucify should carry the team to a lot of wins if they all play to their tier potential. If they can remain a cohesive unit and work well together, they could be poised for a solid tournament.
Player to watch:
While all eyes are on Crucify, it might be to early for him to be the carry the team needs. For that reason, I am predicting
Zesty
to be the player he was meant to be last year and provide veteran leadership to this team. Zesty was clearly Steel and iry's main guy, so the team's success is largely on his shoulders.
Dapper Dracovish
Managed by Stone_Cold + absdaddy
SS:
Icemaster
SS:
cromagnet
USM:
Eternal Spirit
ORAS:
orch
BW:
Carl Murray
DPP:
absdaddy
ADV:
hs
BO3 (SS | USM | ORAS):
PurpleGatorade
Subs: Ophion, shrang
Veteran describes the duo of Stone Cold and absdaddy, who leave a lot of questions marks coming into this tournament. Can Stone Cold be efficient enough to lead an Ubers team? Can absdaddy stay unbanned until the end of the tournament? They lead off with an aggressive strategy of manager-retaining absdaddy for DPP due to the weak pool, and then shocking the UPL world by paying a total of 20k for a Durians staple PurpleGatorade who can flex SM and BO3. Icemaster and Cromagnet lead the SS positions for the Dracovish which makes them on paper one of the strongest duo's, but their lack of experience in UPL could work against the Dracovish. Sheet savior Eternal Spirit flexes along with PurpleGatorade in SM/BO3 and while his results in Ubers are lacking, his overall tournament experience could work in his favor. Orch and Carl Murray are tasked with ORAS and BW respectively and both are absolute wild cards in this tournament. Orch has a knack for the game but has underdelivered while Carl Murray ran a train on his PO BW Ubers opponents, but this isn't the minor leagues, it's the majors. HS rounds out the team in ADV and after he was unable to participate last year, he has the itch to excel for this 8th installment of UPL.
Overall thoughts;
This team is high octane with a high risk formula. Spending 40% of their budget before the draft began has positioned this team directly on the backs on PG and absdaddy to perform as two of the best in their respective tiers.
Player to watch:
Although veterans absdaddy and PG are expected to perform, it's icemaster who will be the player to watch. Touted as a top player at his position, he possesses the tools necessary for the team to go over the top. It's in his hands for the Dracovish SS slots to succeed.
DaReal Drizzlers
Managed by
Nayrz
+
Melee Mewtwo
SS:
TrueNora
SS:
Ballfire
USM:
Perry
ORAS:
Persephone
BW:
64 Squares
DPP:
Staxi
ADV:
l'habitat
BO3 (SS | USM | ORAS):
SiTuM
Holy Ghost, default0, LaBalladeDesCieux
Unfortunately for Nayrz, his Alzheimer's kicked in around the 30-minute mark of the draft and he forgot it was a multi-gen format. Despite drafting an all SS team, their team is surprisingly well-rounded. Hoisting the undisputed best SS duo, the Drizzlers made waves by making TrueNora the player to watch of the entire tournament. Expectations are high for this ladder hero, and like many of the top SS participants, it will come down to whether they can perform on the main stage. Ballfire is the second half of the highly touted duo and is no slouch himself. His self-sufficient play style should complement Nora as they look to defend their #1 ranking. Perry, Persephone, and 64 Squares make up USM, ORAS and BW with below average expectations. 64 Squares and Perry have high upside potential while Persephone is a relative wildcard, recently known for participating in ORAS OU for SPL. 64 Squares boasted a 8-0 record in CPL absolutely dismantling his opponents, this could be a seriously good pocket pick. Staxi holds down the weak DPP pool, and despite him not maining the tier, his overall skill level makes him an excellent choice to take that slot. Speaking of high skill level is l'habitat, named by many as a top 5 SS player, he's taking his talents to ADV after placing runner-up in the finals of Ubers Classic for ADV. SiTuM rounds out the team as one of the weaker talents in BO3 – but hey, it's Pokémon, anything can happen when you least expect it. Oh, MM2 exists too.
Overall thoughts:
This is a top-heavy team that decided not to retain any of the previous year Drizzlers. They live or die by their SS, and if it fails, expect them to fail. Luckily, if one person does not work out in SS, they have unlimited options to sift through making that a very unlikely scenario. Nayrz having PTSD after his teams overall 2-14 in current gens Ubers last year led to him trying a different formula for success.
Player to watch:
TrueNora has the pressure of the entire team on their shoulders. This goes beyond wins, Nora is tasked with being an active leader and someone who can provide consistency to their teammates. If they can be a 5-tool player, this team can be extremely dangerous.
Defiant Durians
Managed by Skysolo + Enzo Gorlami
SS:
Skysolo
SS:
TonyFlygon
USM:
byronthewellwell
ORAS:
Duncajuwon
BW:
Kebabe
DPP:
Hamhamhamhamham
ADV:
The Kyle
BO3 (SS | USM | ORAS):
TDK
Subs:
Cam, Catalystic, benbe, Steve Angello, Krauersaut
The CHAMPS ARE BACK, with puppermaster Pohjis tactfully retaining three of the absolute best players from the previous iteration of UPL. The trio of TDK, Kebabe, and byronthewellwell were a combined 16-1 last year, putting on an absolute clinic. Is it reasonable to think that will be repeated? No, it is not. But it increases community expectations of these players. Joining this absolutely stacked trio is Skysolo, who takes their previous UPL record up to 21-2 meaning that it's up to the remaining players to get a single win if this team picks up where they left off last year. As an aside, byronthewellwell should absolutely give Ojama tips on how to appropriately tank his price while avoiding a ban. A round of applause is necessary. Moving on to ORAS, the roster falls down to earth for a brief second with Duncajuwon, however with ORAS being one of the lesser-respected tiers, he shouldn't be underestimated. Hamx4 and The Kyle make up the non-SPL Premier League staple tandem as these two enter absolutely every PL on the site. Whether they will be good or not is to be determined, but you can bet your ass they will continue their participation streak. And no, Tony Flygon was not forgotten – the jerk staple was a no brainer for this team and his battling abilities make him the deciding factor for this team's success. If he takes it seriously, this team could be very well on their way to a 4th trophy.
Overall thoughts:
The Durians got away with highway robbery by getting Byron for 16k and getting an absolutely stacked core 4 of the best Ubers players in the tournament. Of course, while that type of success isn't normally sustainable, the Durians defy expectations every year. If these guys have an off-weak, I am unsure if the rest of the team can pick them up or not, but they have plenty of sub options should someone perform below Durian expectations. Gunner, Skysolo and Pohjis did a knockout job with this team and it's clear they are early favorites.
Player to watch:
TonyFlygon is my pick for player to watch. Tony is a fantastic teammate and he isn't afraid to bring out pocket picks in order to throw his opponents off guard. If he can chain together consistent wins, this team will have an express trip to the grand finals.
Delta Rayquazas
Managed by Mysterious M + Blim
SS:
Goat Heart
SS:
Jaajgko
USM:
The Dovahneer
ORAS:
CKW
BW:
Chill Shadow
DPP:
Aishia
ADV:
Wamr
BO3 (SS | USM | ORAS):
Garay oak
Substitutes:
TSR, Ismakhil
Myterious M and Blim look to repeat their Most Wanted success by adhering to the saying: "if it ain't broke, don't fix it". Garay ascended to a different level during Most Wanted delivering a performance of a lifetime. He looks to maintain that success by pairing with one of the most talented and controversial players in the tournament, Goat Heart. His talent isn't in question, his morals are. If Goat Heart stays on the interstate and doesn't detour on any back hyw's, he should be in route to a very successful tournament. Jaajgko joins Goat Heart as the second half of this stout SS core. His finalist placing during the winter ssnl allowed for a jump in his stock and turned a few heads along the way. These two guys are two to keep an eye on. The Dovahneer and CKW both sit around the middle mark in their respective tiers and both offer enough skill to have positive success. Chill Shadow on the other hand made a public statement similar to xray's declaration of SS OU only, that he would only touch BW Ubers this tournament. A positive record is expected out of CS, let's see if he can adjust to his new home, which shouldn't be hard given the assman. Aishia and Wamr round out the team with relatively low rankings, but in DPP, it's all relative as Farceus has restructured the metagame. This team overall has an extremely high ceiling and their high-risk picks are in low-risk tiers evening it out. Overall, Mysterious M and Ubers GOAT-Candidate Blim came in with a plan and executed it well.
Overall thoughts:
Can Goat Heart be a secondary leader? Does he even need to be? Mysterious M and Blim offer incredible support to their already stacked ace duo of Goat Heart and Garay Oak. The sky is the limit for this team. Blim having a credible pilot in BW along with the SS+BO3 core should give this team a lot of wins this season. Time will tell if it's that easy, but this team is an early playoff candidate in my eyes.
Player to watch:
Goat Heart. He could really take this team over the top with a solid performance. Being a consensus top 3 SS player by the majority of the community, if he can join Garay's efforts as a carry, I am hard pressed to believe there is a better SS core than the Rayquaza's.
Devastating Dialgas
Managed by Mr.378 + Terracotta
SS:
Reje
SS:
100%GXE
USM:
HunterStorm
ORAS:
Lasen
BW:
Hack
DPP:
Manaphy
ADV:
IoSonoNeon
BO3 (SS | USM | ORAS):
March Fires
Substitutes: loving1096, malefic
Considered by many as pre-week 1 favorites, with a stout draft that has very little downside to their tiers – tie Dialga's vision was quickly derailed by p2 being…ps2, and loving1096 forgetting he signed up for UPL. However, even without these two players, the Dialga's look absolutely stacked with Hack and March Fires being the two retains that Mr. 378 and Terra decided to build around – and for good reason. Hack was a monster last year and his ability to play any tier at a high level is an asset to admire. March Fires has a lot to prove after hitting only .500 last year, the hype around could be warranted though. Their SS is middle of the pack to the lower side of the spectrum as Reje is their SS1 and had a lot of hype surrounding his ability. 100%GXE is a great 3k buy to take a risk on as the meta is new and still unexplored. HunterStorm is a top tier pickup with a lot of hype, but he's been a ghost for some time, it'll be interesting to see if he can pick up where he left off years ago. It's another low risk pick where his upside is greater than his downside. Next up is Lasen and look guys – lightning very rarely strikes twice. Lasen is determined to rise from the ashes and redeem himself and I am expecting a spectacular effort out of him. Coupled with his best bud Reje, and their verbal target Mr. 378, I expect that this trio will mesh absurdly well. Manaphy rounds out DPP and it could go either way, he's a competent player and DPP is a coin flip tier as it stands. The player base for DPP will be defined once this tournament comes to a close. ADV isn't worth mentioning – IoSonoNeon has nothing to lose and that can make a player dangerous.
Overall thoughts:
This team has excellent chemistry by targeting a group of close friends. If Tape and Hack can show motivation at a high level and carry this team, they could go places. However, if that motivation dips, they could easily crash and burn and it wouldn't surprise me one bit if Hack and March Fires decided to not give a shit. This team's success could very well be decided by how well they do in the early weeks.
Player to watch:
For the Dialga's I am opting to watch two players who interest me, the first being Reje. Most of the players to watch here are going to be SS guys, because what people don't realize is – the SS1 player usually has the responsibility of carrying not only hit slot – but often making viable teams for SS2 and the BO3 slot as well. Reje gets the opportunity to be a carry. He seems to be in form and really feeling himself at the moment, and if Hack and March Fires play to their expected level, Reje should settle in easily.
My second player to watch is HunterStorm. A highly regarded player, if HunterStorm can come out of the gate entirely in form, the Dialga's will be sitting pretty come late August. A player with tremendous upside, and for a reasonable price, he could very well be one of the best buys in the draft.
Heavy Duty Ho-Ohs
Managed by
Cynara
+
Djokra
SS:
dice
SS:
Shuwri
USM:
Lopunny Kicks
ORAS:
dream
BW:
watashi
DPP:
Melle2402
ADV:
Finchinator
BO3 (SS | USM | ORAS):
lax
Subs: Thiago Nunes, belvin, Watchog, Jordy, Nalei, Lazy_bread27
If this were SPL instead of UPLVIII, this team would be the consensus #1 team no doubt about it. Sheet record, individual skill, try hard attitudes, a little bit of controversial personalities – this team has it all, it's like a bootleg Dragonspiral Tyrants for UU. These guys could absolutely kill it, or they will crash and burn in Real Housewives of LA fashion. Either way, if you are a spectator and want to be entertained, I encourage you to look no further than the Heavy Duty Ho-Ohs. Before I begin, I do want to defend the Ho-Ohs because their rankings aren't exactly fair. In terms of individual skill, these guys are top notch. In terms of Ubers related skill, they are lacking. Does that really matter? Probably not, given that it's Pokémon and I'd be very surprised if any of the heavy hitters dipped below .500. To begin, Dice is a top tier talent and while his SS Ubers knowledge is understandably shoddy, he also has the potential to completely sweep the pool. Keep in mind, this is a seasoned veteran facing a pool of rookies, experience matters and Dice has plenty of it. Shurwi joins Dice as the second half of the Heavy Duty tandem and expectations are low in general. The potential is there for this tandem, but it's going to be a matter of Dice's overall motivation. Lopunny Kicks is a SM main, and I am guessing that the theory behind his drafting is that his skill in the tier could translate to Ubers? He took a dip in SPL, but he could excel in a tier where he is one of the more tournament experienced participants. Dream and Watashi make up UPL VII Bandits Core where Dream is expected to either go 0 wins, or 7 wins. Dream has the utmost confidence in himself, but the community is a mixed bag of opinions about him – ORAS is his signature tier however and the community seems to value him highly for the ORAS pool. Watashi will play his games on day 1 as long as you pass him a team, otherwise expect 100 lines by tournaments end and an overall .500+ tournament record. Melle steps into DPP – which before I get started on that, let's take note that Cynara did the bizzaro Nayrz strategy and drafted half of the ADV pool which included two of the best at the tier, Melle and Finchinator. Melle isn't as well versed in DPP, but he will pick it up and have a decent record I am certain. Finchinator could be the standout ADV player and if he adopts a winning attitude towards UPL, he could be a serious force in this tournament. Lax rounds out the Ho-Oh's starting lineup and has one of the most warped rankings I have seen yet. Lax is a top player on this entire site and his 2019 tournament year was one of the most absurd performances to date. He is ranked last strictly due to Ubers knowledge, if the ranking was based off individual skill, then I would be hard pressed to put anyone above him at the moment.
Overall thoughts:
A beautiful accident? A train wreck? Cynara's protest against the Ubers community? There's a lot of storylines here, and here's the bottom line because Stone Cold said so: if they care, they will win a lot. The chances of that happening are slim, these are all big personalities and there's potential for a lot of juicy UPL drama which the community is absolutely salivating for. Will Dice get into an argument? Probably. Will Dream say some shit that makes him utterly unviable? Definitely. Will watashi have more than 200 lines? Slim chance. Will Belvin have any contributing value? He hasn't for years. One thing is for certain though, these players are like Ash and Pikachu. Separately they are absolute butthole, but when they combine their efforts, they are a dark horse for the playoffs.
Player to watch:
I am giving it to Dice here. He has an innovative mind for the game and is really freaking good at Pokemon. I think that Cynara and Djokra can get him to care at a level where he puts forth actual effort into this tournament. Finchinator most likely will go positive leaving either Dice or Lax as the two players who could really help elevate this team. Lax is way better than his PR ranking indicates and I will make a bold prediction that he lands at least 5 wins IF he puts forth effort into this tournament.
Manly Melmetal
Managed by
Alkione
+
KyogreF4N
SS:
Royal1604
SS:
Fc04
USM:
Sharow
ORAS:
fourmi
BW:
PROBLEMS
DPP:
Tomahawk
ADV:
Kushalos
BO3 (SS | USM | ORAS):
KyogreF4N
Lacus Ichinose, Thimo, Fogbound Lake, Ayoukoo, Corazan, Kei Kikuno
First, I am pretty sure no one had more fun during the draft than Alkione. His automatic .5k for every single bid became almost routine and at one point, I was certain that he woulda .5k'd literally anyone who was nommed. They have an interesting team of personalities; a French mix up with a lot of high-risk players. The innocence of Alkione is shown here as I believe he will learn a lesson about scouting friend groups before drafting. Lacus Ichinose specifically may end up being a wasted buy due to their schedule and their unfamiliarity with many of the users. Problems and Kushalos are similar cases where you may get them trying hard, but I wouldn't be surprised if they were subbed midway through the season. Skill wise, the talent is there, getting them all to play and stick around is going to be a necessary test as a manager. The French SS core of Royal and Fc04 dead middle of the table, with a potential for high upside given that they have KyogreF4n as their captain. Sharow is expected to do well in the USM pool and is viewed rather highly among his Ubers peers. Fourmi remains middle table in the shit show that is ORAS and should produce good results. Their roster gets interesting with these next 3: Problems, Tomahawk and Kushalos. Problems and Kushalos can be red flags if they aren't drafted with their jerks, but they are both very high ceiling and risks worth taking. Tomahawk is resurging out of nowhere and I think could be a dark horse for a very good DPP record. We round out this line-up with the captain KyogreF4n, a top player in this entire tournament and the guy expected to lead this team to a championship. Can he do it? He's got hard work ahead of him.
Overall thoughts:
I think that if KyogreF4n can stay consistent, his performance can motivate his team to excel. If things ever go south, I don't know if this team can recover. Alkione and Kyogre are new managers, the key to success for them is working hard, carrying the French gens and letting their veteran old gens do their thing. If they try to micro-manage the old-gen egos, things could get ugly.
Player to watch:
Royal1604 and Problems. Oli is a polarizing player whose highs are incredible, and his lows are bottom of the barrel. He has a tough task ahead of him with this BW pool, but if he can gain immediate confidence, then I expect a strong showing form him. My unlikely hero though is Royal1604. Much like Zesty last year, high expectations tempered with mediocre results. The consensus though is, he is very good and with a UPL under his belt, I am expecting him to take it to the next level.
------------------------------------------------------------------------------------------------------------------------------------------------------------------------------------

SS UBERS RANKINGS: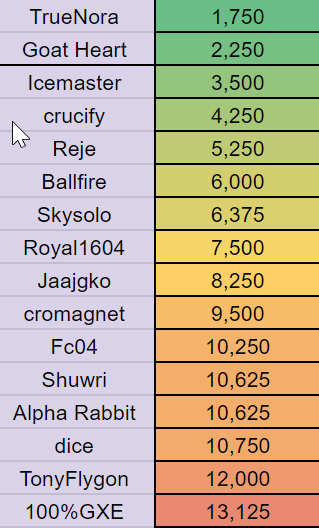 Drizzlers: TrueNora + Ballfire
Rayquazas: Goat Heart + Jaajgko
Dracovish: icemaster + cromagnet
Bandits: crucify + alpha rabbit
Melmetal: Royal1604 + Fc04
Dialgas: Reje + 100%GXE
Durians: Skysolo + TonyFlygon
Ho-Ohs: Shuwri + dice
Right off the bat, the Durians get a 7th place ranking which as we all know, is too good to be true. Tony is ranked second to last, but his tour experience and ability to adapt to any tier should push him and Skysolo up further as a duo. Meanwhile, no surprise who the #1 ranking is. TrueNora has all the hype surrounding them and they face tremendous pressure, but Ballfire being the 6th ranked SS player makes him no slouch. Meanwhile, the Rayquazas and the Dracovish nearly mirror each other in SS ranking with Goat Heart and Icemaster being beside one another and Jaajgko and cromagnet being paired towards the middle. Overall, this is about what you'd expect and if one thing is prevalent here, it's that these rookies have a lot of hype surrounding them: can they deliver?


USM UBERS RANKINGS:
No surprise that Byron is #1 in USM given he went undefeated last UPL and has maintained his form over the past year. If PurpleGatorade was ranked in USM, it would have been a tight race which instead leads to Byron taking over by a large margin. Sharow on the other hand seems to have come out of nowhere as the #2 recipient given their rather cheap 7.5k price tag. This pool overall will be quite a competitive pool given that even the last ranked player is exceptional, and the bottom 4 players were all ranked relatively close to one another with Lopunny Kicks and Perry technically being a tie. I expect a lot of change from this USM pool and it will be especially telling how users such as Hunterstorm and Dova perform.
ORAS UBERS RANKINGS:
This pool is rather uninspiring and given the top ranked players, this is anyone's tier for the taking. Lasen had a down year last year, and still ended in 2nd while dream who's often criticized is still a 3rd place ranking. It's clear that teams had the same strategy of buying low in ORAS while beefing up their other tiers. Dominatio was a whopping 15.5k for ORAS whereas Lasen and Dream hovered around the 8k mark. Everyone else was 5k or less, meaning that it's up to Dominatio to perform at a high level given the resources spent on him compared to the remaining 7 ORAS starters. So far, this tier seems the least interesting of every tier, it's going to be up to these guys to step it up and give the fans high-level matches. Otherwise, let's just bring in BO5 and ditch ORAS for good.
BW UBERS RANKINGS:
Holy moly: Now we're talking. One of the highest leveled tiers in the tournament, BW. Endill unfortunately is the odd man out as everyone else is relatively close in ranking. Hack was able to give el Kebabe a run for his money surprisingly, meanwhile Watashi sits at his normal pedestal and problems and Chill Shadow round out the upper half which was expected. Carl Murray is the surprise entrant into this fight, having exceptional BW Ubers results outside of Smogon, can that skill translate? Meanwhile 64 squares may be the most underrated player of the tournament. His recent success hasn't been convincing enough, however I wouldn't ever bet against a man with a chip on his shoulder, watch out for him.
DPP UBERS RANKINGS: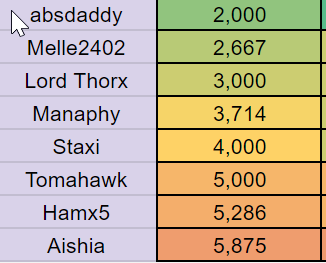 Nayrz nuking DPP Ubers has caused most of the mainers to shy away from the tier. Melle, who claimed DPP was his worst tier and that he seldom played it got a 2nd place position meanwhile, most of these players wouldn't of been playing DPP a year ago. Abs is the consensus number 1 by a long shot and the only one of the old guards participating this year, a surprise to many. His 20k price-tag may end up being worth it after all if he can find consistency and an edge over his opponents. Thorx, Manaphy and Staxi all have some sort of DPP results to back up their positions with Staxi reaching classic semi's. It would be to no one's surprise if any of these fellas were able to have an above-average tournament. Tomahawk unfortunately is a victim of recency bias as he's fizzled out and has been forgotten – although being an underdog while knowing the tier could be to his advantage.
ADV UBERS RANKINGS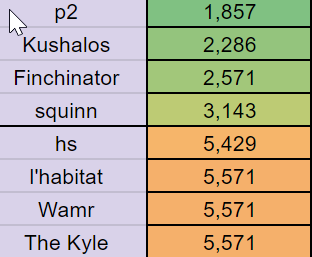 Note:
To keep the integrity of this tournament, everyone listed after p2 will be shifted up a spot with the benchwarmer for the Dialga's taking the 8th slot. Excellent drafting by the Dialga's getting the top ranked ADV'r for dirt cheap – unfortunately now you know why he was dirt cheap. Lesson learned kids: if it looks to good to be true, then it is too good to be true.
Moving on, Kushalos takes our top seed in ADV over Finchinator despite both men being absent since last year and Finchinator having the better record. It was a close race between the two however, and I would rank both similar in skill level. ADV appears to have some exciting new talent among them and I think players like hs, l'habitat, and the kyle could make major statements. The bottom half so close that we have a 3 way tie – which shows no justice to any of l'habitat's recent results as an ADV finalist in classic. Look for them to be a dark horse in ADV.


BO3 UBERS RANKINGS
Okay, let us immediately focus on the elephant in the room. This community just gave last years 6-1 BO3 player, and arguably the MVP of the entire tournament a 4th place ranking. SS is a new tier, so that is a major factor – and with Garay Oak's dominance and the consensus he's the best player of the entire tournament – it's understandable TDK is ranked below him. Not to mention, a guy who was 2-2 last year (despite his 2019 classic performance) is ranked 2nd with questionable activity gets ranked above TDK and KyogreF4n. Either way, this is quite possibly the most stacked tier in UPL and it's the most demanding. Any of these guys could blow up and have an undefeated record – even lax who is sitting at the bottom is debatably the best player when it comes to raw skill. We as spectators are in for a treat because this pool is going to be an absolute bloodbath.

Final Results

:

1)

Devastating Dialgas


2)

Manly Melmetal


3)

Choice Bandits


4)

Dapper Dracovish


5)

Delta Rayquazas


6)

Defiant Durians


7)

Heavy Duty Ho-Ohs


8)

DaReal Drizzlers

Definitely not the result many of you expected. First off – to you managers who placed high, don't get too excited. First place seldom wins the tournament, so let's temper expectations. In fact, the last place ranked team of this past SPL won the whole tournament. And the last place ranked team in Tsunami's UUPL PR won the entire tournament. Does that make DaReal Drizzlers the low-key favorite? Not exactly. Nayrz going heavy on new gens was a risk, and it could be one that pays off given his new gen flexibility. However, the shock of tour lays at #6 where it's clear that the Durians high spending strategy on their core 4 costed them slot rankings – along with that absurd BO3 ranking of TDK. However, a narrative where the Durians aren't the odds on favorite is a narrative I can get behind. Congratulations to the Dialgas and the Melmetal for defying expectations. Alkione showcased a risky draft strategy and while time will tell if it pays off or not, it at least landed him a sweet spot on the PR's. Meanwhile, Mr. 378 was the king of the draft – we gave him a last place ranking in ADV despite drafting the #1 ranked player and he still persevered as the top spot. While one could contribute p2's low price and high ranking as not effecting Daniel too much allowing him to splurge in other gens, it's clear they did their homework and picked a group of guys favored by the community.

Note:

Now that pre-season is officially over, the editor is going to take a stab at a few accolades for post-UPL. If you'd like to participate in your own predictions, feel free to copy my format.

Dark Horse Team:

Heavy Duty Ho-Ohs

Dark Horse Player:

Reje

Rookie of the Year:

Icemaster / TrueNora

Flop of the Year:

March Fires

MVP:

Garay Oak / Hack

----------------------------------------------------------------------------------------------------------

Closing:

Thank you all for tuning in. It was a blast, if the quality dipped at the end, it's because it's late and I did this in one sitting. And nah, I didn't gp myself - it's nearly 3am, i'll do it later. Sorry. OH! And before you get randomly offended by your ranking or a joke made, remember that this is all in good fun and were all a dysfunctional family. Let's have a good drama free, clean, UPL. Cheers!!
Last edited: